Tour Name:  Ocean City, NJ Beach Express
Date:   August 12, 2020
Tour Director:  Gene Gray
Driver:  Walt Deminski
Our day began smoothly with 18 pioneers for Starr's first public bus trip since the pandemic closed everything down in mid-March. And what a wonderful first trip it was! As always I reviewed the bus safety rules and showed the safety video, and then I discussed the new Covid protocols. Everyone adhered to the protocols perfectly. Masks were worn at all times, people used hand sanitizer at every opportunity, and our Tour Guests were pleased with their seat arrangements that provided physical distancing on the bus.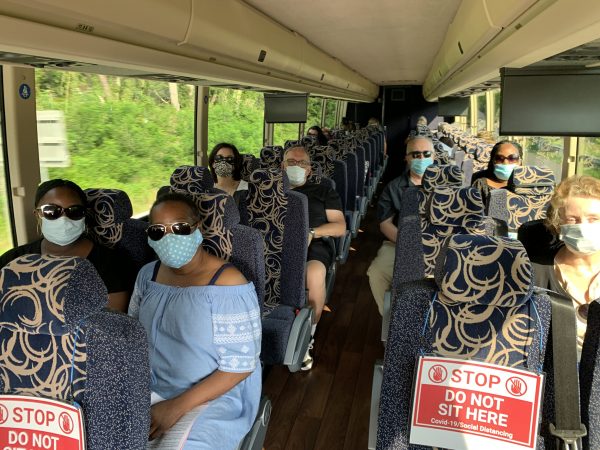 After I reviewed the detailed plan for the day, I provided a brief history of Ocean City, NJ as we traveled southward to  a short rest stop on the Atlantic City Expressway. Once we were on the road again, I played summertime songs such as "Under the Boardwalk," "Summer in the City," and "Surfin' USA" to get everyone hyped up for a fun day at the beach. We arrived on time and parked at the 13th Street Bike Rental Shop and Bathhouse in Ocean City.
Once off the bus, the Tour Guests scattered. Some went to the beach while others walked and shopped. Thankfully, the beach and the boardwalk were not very crowded. People were social distancing and about 50% of the people were wearing masks on the boardwalk. Although it was a warm and humid day, there was a nice ocean breeze that kept us comfortable. The water was 70° and delightful to immerse oneself in. The blue skies gave way to clouds about 2:00 PM but not a drop of rain fell on us. The Tour Guests indulged themselves with treats they remembered receiving as children on family beach vacations. Reminiscing about past memories and reliving a day on the beach and boardwalk keeps you young and vibrant. Everyone agreed that it was GREAT to be out and about after months of being cooped up.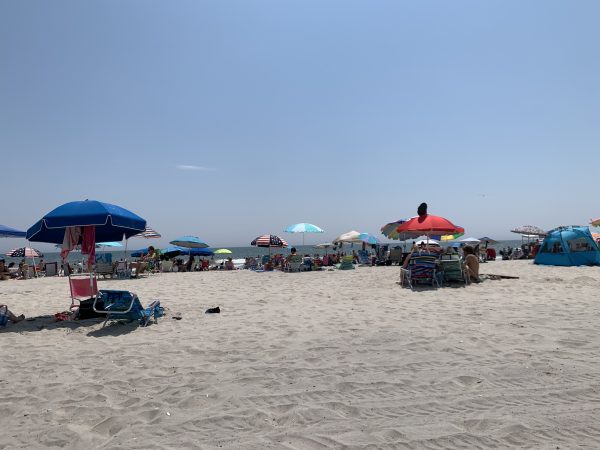 Every ten minutes, a recorded announcement from Ocean City reminded all beach goers and boardwalk walkers to socially distance and wear masks inside all establishments. Signs were posted in every store or restaurant window detailing the State Guidelines to maintain health. I was very impressed with the seriousness with which Ocean City followed the laws set up by the State of New Jersey. At no time did I feel uncomfortable and I've been extremely cautious and protective of myself throughout the pandemic.
Everyone arrived at the bus ten minutes early and we were soon on our way home with everyone continuing to follow Starr's safety protocols throughout the return trip. The trip was perfect in… almost… every way – a real tribute to hard work and diligence of the entire Starr family. Unfortunately, one Tour Guest's ice cream met an untimely demise at the hands claws of a seagull who decided to ruffle up her hair and make off with the sweet treat. Other than that, everyone had a wonderful and fulfilling day and there was hardly a sound on the bus as everyone was totally exhausted after a long day of play in Ocean City.
I enjoy working with Starr Driver Walt Deminski (my partner in crime for last year's Cross Country trip) and he was once again a pleasure to team up with. He always goes above and beyond and it is often the little touches that he includes on his bus that add extra delights to the experience. This trip, he made sure to secure his stuffed camel in the front of the bus in honor of it being "hump day." Both he and I made sure we led by example and masked up in or around the bus at all times.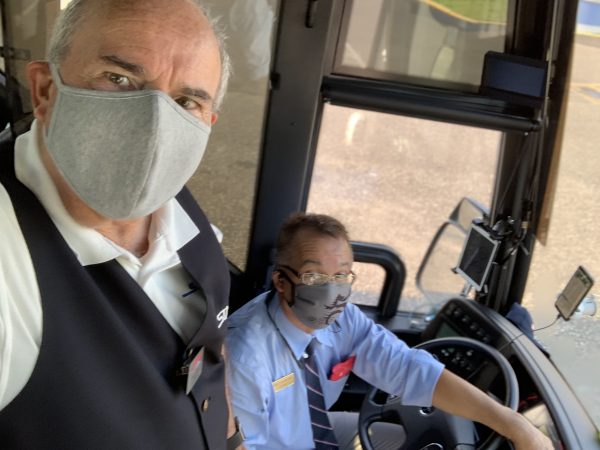 Walt and I met up with two passengers from my 2018 Cross Country trip who live in Ocean City. Jacque McLeer and and her sister, Mary Crane, read on Starr's Facebook Page that I'd be down in Ocean City for the day and texted me about 11:00 AM. We met at 2:00 PM and caught up for nearly an hour. It was great seeing both of them. Mary and Jacque are already booked for our 2021 Cross Country Trip and are looking forward to their upcoming Mackinac Island Trip with Starr this coming weekend!
On a personal note, it was GREAT for me to be back on the road. I didn't realize how much I had missed traveling with Starr. I so appreciate the measures Starr has created to make travel as safe and worry free as possible. I know the passengers were grateful and I certainly was as well. I definitely feel more confident to escort more trips after having experienced the safety protocols taken on this trip and I very much appreciate the monumental efforts Starr has gone through to remove as many anxieties from the travel experience as possible.
The Starr staff continues to be at the top of their game. 😊
Happy Trails Until We Meet Again,
Gene