We continue our Bucket List Resolutions for the Young at Heart series with our Charming Ports of the South tour. If experiencing the charming south has always been a dream of yours, then this Bucket List destination is for you! Featuring St. Augustine, Jekyll Island, St. Simon's Island, and beautiful Savannah, this bus tour offers a wonderful taste of some of the south's most beautiful port cities.
After making your way down south on Starr's comfortable motorcoach with expanded legroom, your experience begins with two overnights on the picturesque and tranquil Jekyll Island. What was once a private retreat for families with names like Rockefeller, Vanderbilt, and Morgan, is now one of the largest preservation projects in the southeast; earning state park status in 1948 from the governor and Georgia state legislature. Discover miles of wide-open beaches and live oaks draped in Spanish moss on a tram tour of the historic district including a tour of two of the many mansion-sized "cottages" that still stand today. After the tour, you will have an opportunity to visit the museum exhibits and view a video presentation that reveals the fascinating story of Jekyll Island-from its earliest inhabitants, across its fabled Club Era, to its wondrous restoration programs today.  This afternoon, you'll visit St. Simons Island, voted America's #1 Favorite Beach Town by Travel + Leisure Magazine in 2014. Enjoy a two hour tour that includes a view of Fort Frederica – built in 1736, a stop at Christ Church where John & Charles Wesley held church services and where author Eugenia Price is buried. You'll also see the fabulous "Avenue of Oaks" on former Retreat Plantation, and enjoy free time at the village as well as a visit to the St. Simons Lighthouse. Full of history and southern hospitality, St. Simons Island has a distinctive charm with an unhurried pace and abundant natural beauty. Later this evening, you'll enjoy dinner at the famed and historic Jekyll Island Club, which opened its doors in 1888 and was once one of the most opulent structures in the south, serving as a centerpiece of the social lives of the nation's rich and famous. Today, this beautiful resort is still a fabulous destination.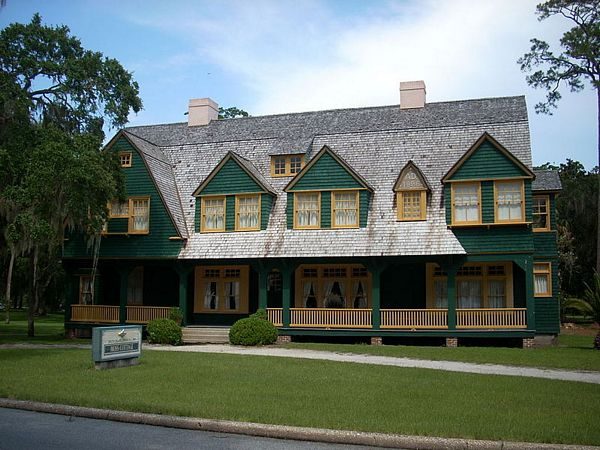 The next morning, you'll board the bus to heard over to the lovely Hofwyl-Broadfield Plantation, representing the history and culture of Georgia's rice coast. The plantation and its inhabitants were part of the genteel low country society that developed during the antebellum period. During your visit, you'll view a brief film on the plantation's history, and then enjoy a guided tour that features the home as the last heir, Ophelia Dent, kept it with family heirlooms, 18th and 19th century furniture, and Cantonese China on display. After your tour, you'll travel to St. Augustine, Florida – the nation's oldest city. You'll have some free time for lunch on own on St. George Street, one of several quaint and walkable streets in the historic district, before checking in to your St. Augustine hotel for two nights. This evening, enjoy dinner and a performance of "The Lives and Wives of Harry Flagler" a theatrical portrayal of the Flagler legacy and the man that brought commerce to St. Augustine.
Your next day is filled with fascinating history as you explore St. Augustine on an extensive sightseeing tour by bus that highlights over 430 years of history. Discover the roots of the Timucuan Indians that were native to the North Florida coast and their contributions to the Spanish settlers. Then, embark on a walking tour of the Mission of Nombre de Dios, the landing site of Pedro Menendez, founder of St. Augustine. After, experience more of the history of Harry Flagler on the Legacy Tour of Flagler College, the former Hotel Ponce de Leon that was one of the most exclusive resorts of its day. Last, visit the Lightner Museum featuring one of the finest collections of turn of the century art. Afterwards, quench your thirst at a wine tasting at San Sebastian Winery – tour included! You'll finish your fun-filled day with dinner at a local restaurant.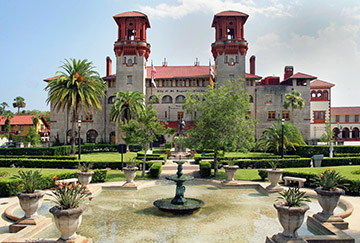 As you begin your journey back north, you'll stop in Savannah for an overnight stay beginning with a trolley tour. Enjoy hop-on/hop-off privileges as your trolley tour takes you throughout the historic district and your driver regales you with fascinating history and entertaining stories as you drive past beautiful buildings under the canopy of huge live oak trees dripping with Spanish moss. You'll also pay a visit to the Massie Heritage Center to learn even more about the history of Savannah, its city plan and beautiful architecture, and the people who have lived here for centuries. After a day of guided sightseeing and time to explore on your own, you'll understand why Savannah is "the town Sherman refused to burn."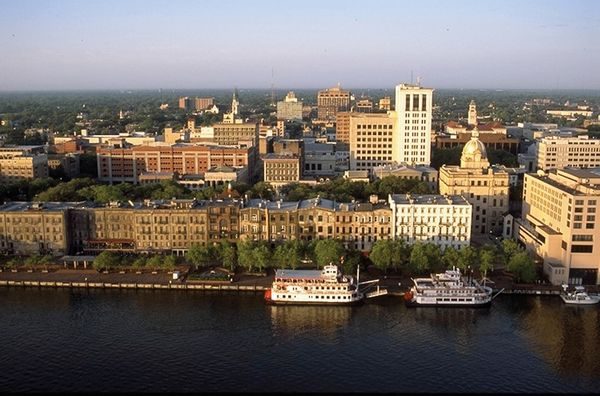 As you finish your journey back home, memories of beautiful nature scenes, picturesque towns, and fascinating history will make you realize that you have truly been charmed by these wonderful southern ports.
This is a bus tour you won't want to miss. Click here to join us in October!