Presenting the second half of our 2021 Cross Country Adventure recap by Starr Tour Director Gene Gray! (Click here to read about their Westbound journey.)
Day 15: Sunday, September 19, 2021
Once we departed LA, I began by telling about the history of Las Vegas including some Las Vegas trivia. Did you know there are 62,000+ hotel rooms in Las Vegas? I then showed a 50-minute History Channel documentary titled "Las Vegas".
We stopped at a Walmart in Barstow, California for a bathroom and shopping break. Everyone stocked up on breakfast foods and snacks for Las Vegas. Walmart continues to be an important stop on our Cross Country trips!
An hour later, we pulled into the Baker, CA Travel Plaza. The Travel Plaza is all indoors, fully air-conditioned, with plenty of seating. This is an excellent lunch stop in the middle of the California desert with outside temperatures hovering at 91°.
Once back on the road, I played the movie, "Viva Las Vegas" starring Elvis Presley and Ann Margaret. It's a "B" or "C" movie at best, but the music is great, and it takes place in Las Vegas.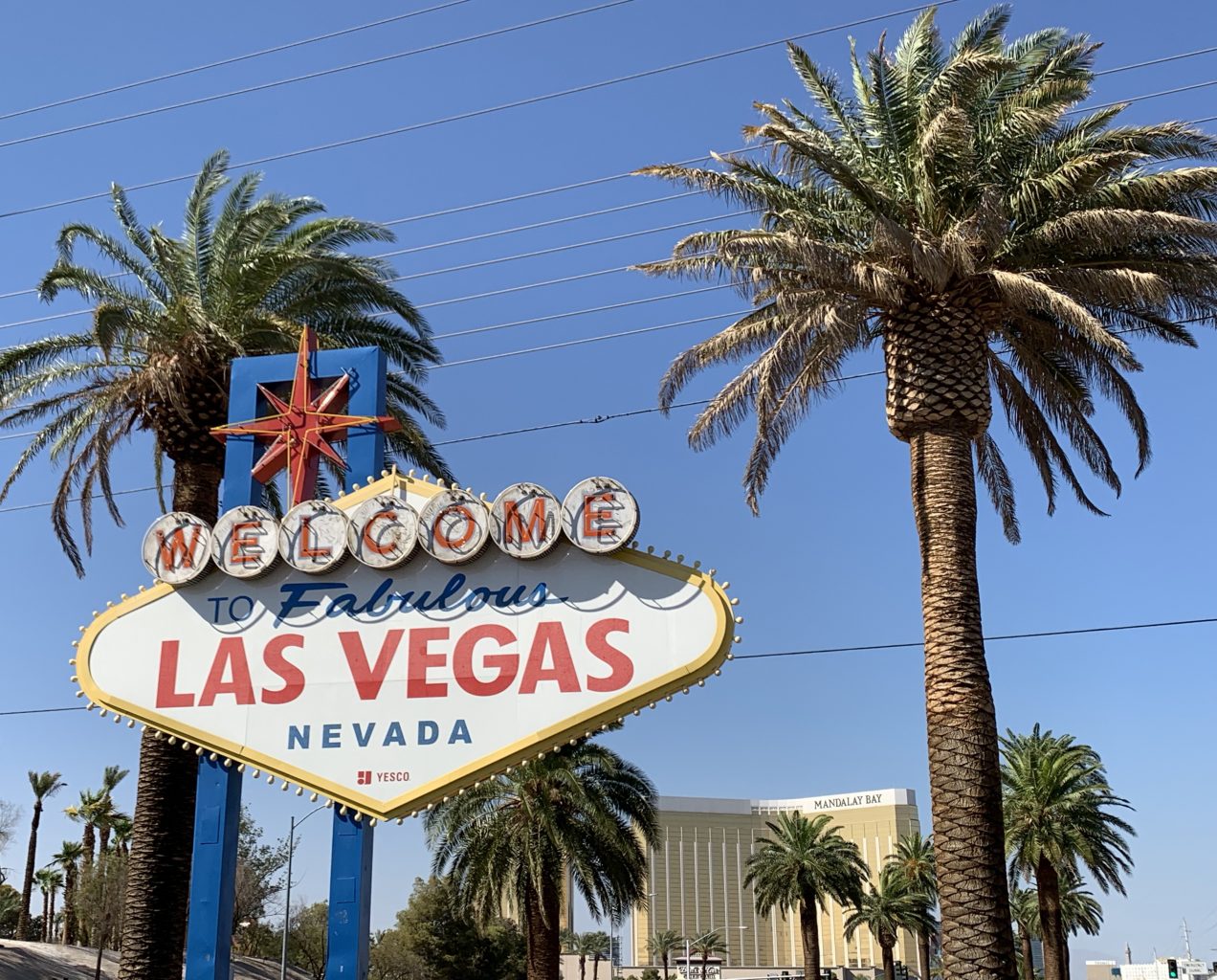 Upon arrival in Las Vegas, Walt took us on a little riding tour by driving to the northern end of Las Vegas Boulevard (The Strip) and turned south so we'd be passing all the major Las Vegas Hotels. The mini tour culminated at the Las Vegas Sign on the southern end of The Strip. Many took photos of this iconic sign. After checking in to the New York New York hotel, I hosted a walking orientation for our guests to learn their way around the hotel
No report for tomorrow. Everyone has different plans and Walt has some time off. "What happens in Vegas, stays in Vegas!"
Day 17: Tuesday, September 21, 2021
It was good seeing everyone after nearly two days apart as we departed Las Vegas. Everyone had a wonderful time – many took the Hoover Dam sightseeing tour, others saw a show, most enjoyed sleeping in, and quite a few walked from hotel to hotel to see all the unique attractions in each. On one hand, it was sad leaving Las Vegas. On the other, we were all looking forward to leaving city life and getting back to nature.
On the bus, I celebrated our reunion by playing songs that were requested on Day 1. I also played the DVD "The Harvey Girls" that explained the influential role of women waitresses in the Fred Harvey restaurant business between 1880 and 1960. Fred Harvey revolutionized the food business out west which included the Grand Canyon. He set up very strict and respectable rules for all women he hired and paid them a very high salary in a time when women were not considered part of the work force. Everyone enjoyed this documentary.
We arrived at our lunch stop, The Roadkill Cafe, on Historic Route 66 in Seligman, Arizona. Their slogan is "You kill it, We grill it". The Cafe is a marvelous piece of Americana. The food was delicious, and I thanked the staff many times for all their efforts on our behalf. Many went shopping in the Roadkill Cafe's unique gift shop and then walked next door to the General Store which sold Route 66 gifts and all sorts of items. Everyone really enjoyed this oasis in the desert.
We were an hour out of Flagstaff and our Drury Inn. Once on the bus, I played the IMAX video titled "The Grand Canyon," a wonderful film providing an overview through the past 4,000 years of how man existed in this rugged environment. The movie concluded as we entered the city limits of Flagstaff, the gateway to the Grand Canyon.
The Drury Inn was very excited to welcome us. Our early arrival gave us some quiet down time. After all, we had been burning the midnight oil the past few days. We were all excited to leave first thing tomorrow morning for the one and only Grand Canyon.
Day 18: Wednesday, September 22, 2021
Today was a spectacularly GRAND day. After a wonderful buffet breakfast at the Drury Inn, we boarded the bus for our 90-minute ride to Grand Canyon National Park. Grand Canyon National Park is the second most visited National Park in the United States (Great Smoky Mountains National Park is first) and one of the seven Natural Wonders of the World (along with the Northern Lights and Mount Everest to name three). During our ride, I showed the Grand Canyon National Park's Official Visitors' Center movie titled "Grand Canyon: A Journey of Wonder." It's a great introduction to everything the Grand Canyon has to offer.
We entered Grand Canyon National Park at the Eastern Entrance. Our first stop was Desert View and the famous Watchtower. It was designed by Architect Mary Colter in 1907 and constructed by the Santa Fe Railroad. It was completed in 1932. Desert View is the perfect introduction to the Grand Canyon. The bright sun from the east and dark blue sky from above accentuated the brilliant display of colors that make the Grand Canyon so surreal. Pictures never can do the Grand Canyon justice. One has to be here and experience this natural masterpiece for themselves. Quotes from tour guests from the Desert View overlook include "Awesome," "It doesn't look real," "I can't believe what I'm looking at," "It's unbelievable!", and many more thoughts of astonishment. I say, "You have to see it to believe it."
We continued West to other unique and powerful overlooks. Moran Point is a geologist's paradise. All the layers of rock from 270 million years ago at the top (the Coconino Sandstone) to 1.5 billion years ago at the bottom (the Vishnu Schist) are exposed and can be identified. Yavapai Point has great views of the two main hiking trails within the Grand Canyon; the South Kaibab Trail to the east and the Bright Angel Trail to the west. From Yavapai Point, you can also see the Kaibab Suspension Bridge that was built in 1928 for hikers to cross over the Colorado River to reach Phantom Ranch, where they can spend the night. You can also see the green trees of Indian Garden, the only place on the Bright Angel Trail with access to water – so vital for survival while hiking in the Canyon.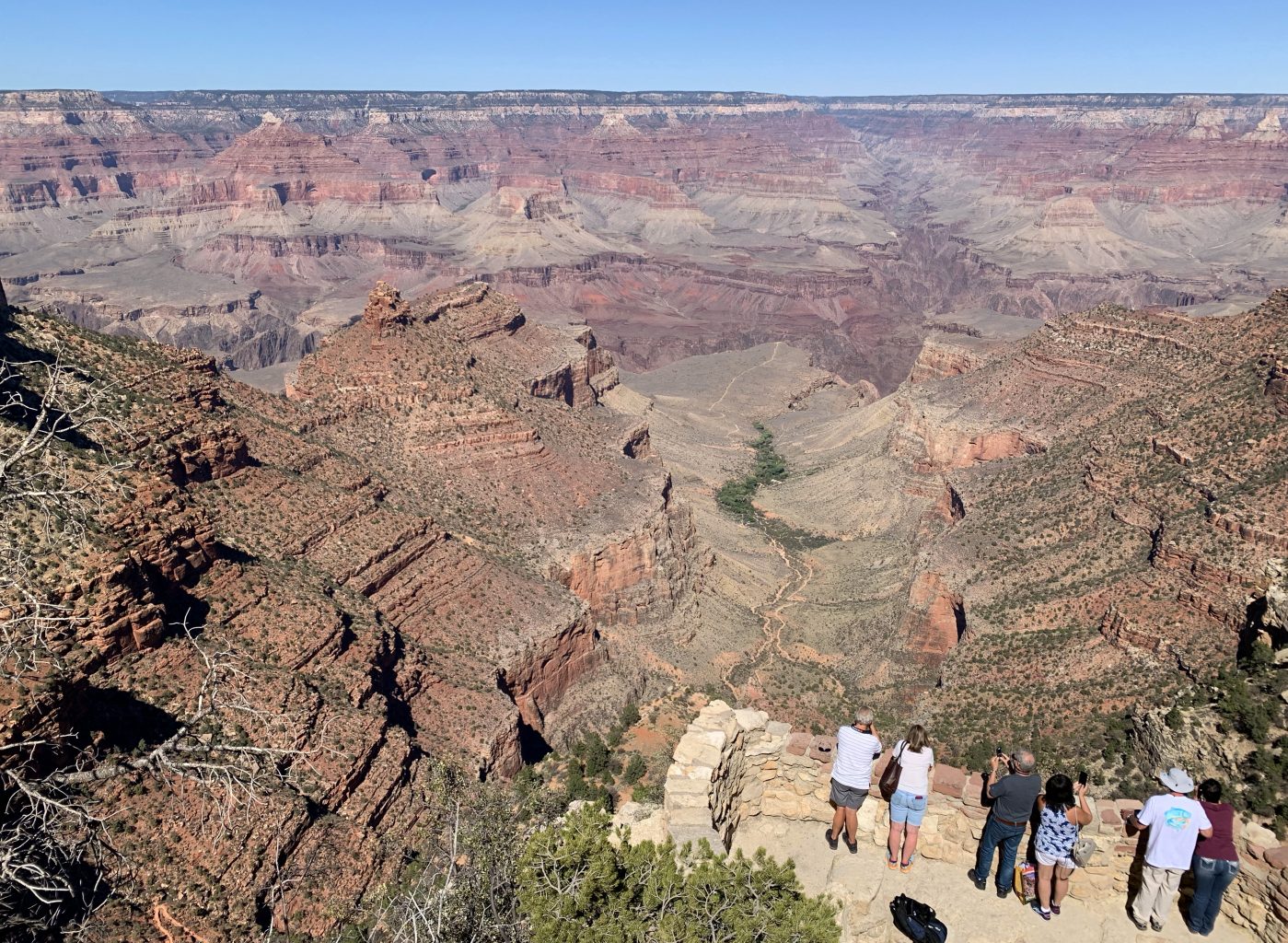 Our morning tour concluded at the Grand Canyon Village that houses the two great Grand Canyon Hotels; the Bright Angel Lodge and the El Tovar Hotel. More marvelous views of the Canyon can be seen from the .3 mile Canyon Rim walk that connects both hotels. And the Village hosts the best restaurants in the Grand Canyon; the El Tovar Restaurant, the Bright Angel Lodge Restaurant (that seats nearly 200 guests), and the quaint Arizona Room Steakhouse at the Bright Angel Lodge.
After lunch, Walt, who continues to do a fabulous job, drove us to the General Store for final Grand Canyon souvenir and gift purchasing. Our final stop was the Visitor's Center Complex and Mather Point, another breathtaking view of the grandeur of the Grand Canyon. At Mather Point, one can see for miles in all directions. Mather was the first Director of the National Parks Service and fought tirelessly for years to get the Grand Canyon protected and under government control. Despite some inconveniences due to COVID, we all knew that the purpose of today was to experience the Grand Canyon as completely as possible – and this was exactly what we did. We all experienced sensory overload and were overwhelmed with the awe-inspiring beauty of the Grand Canyon.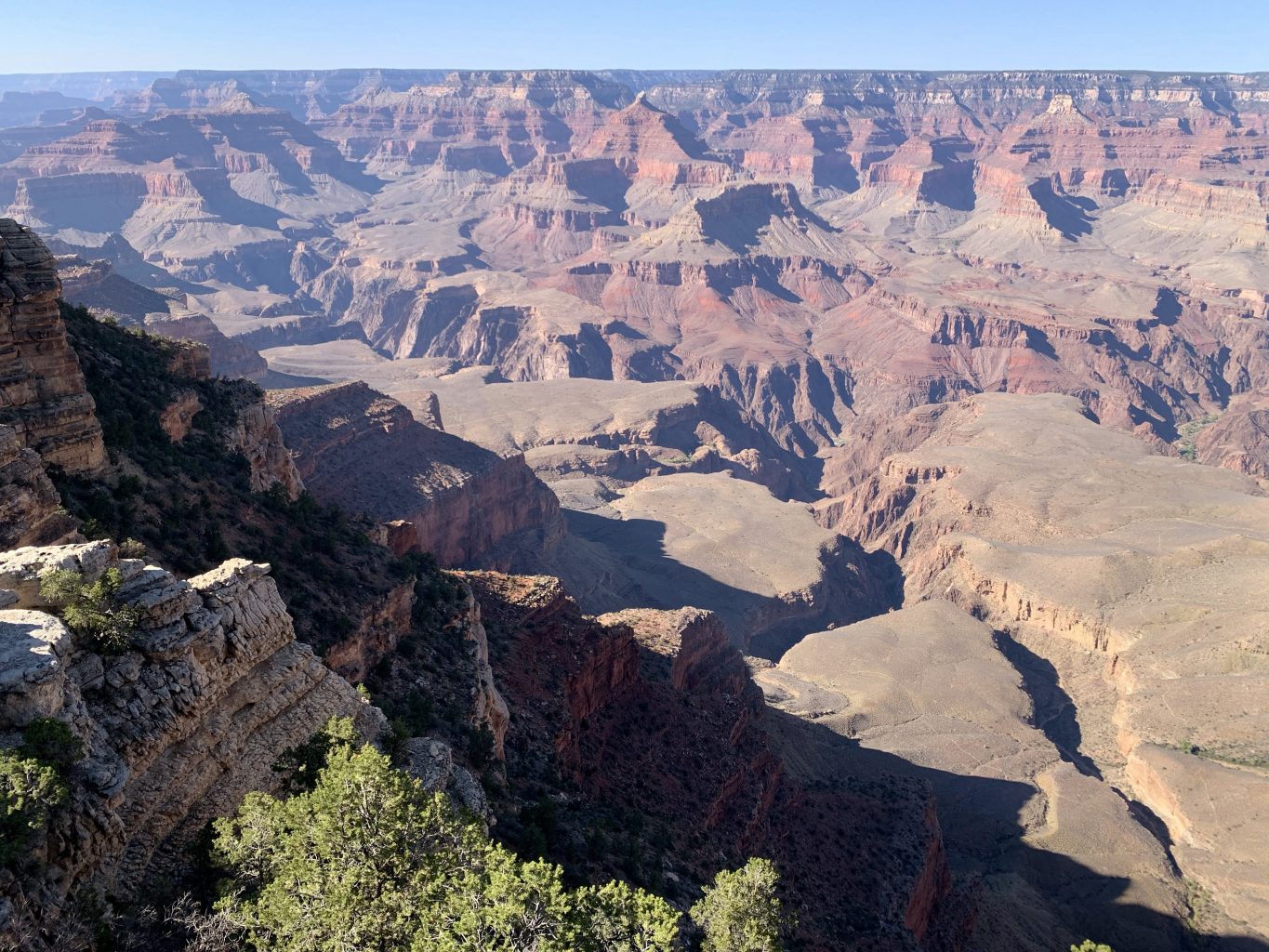 We flopped into our seats on the bus and traveled back to Flagstaff in reflective silence.
Day 19: Thursday, September 23, 2021
We left Flagstaff and continued our journey on Arizona Highway 163 North toward Moab, Utah. Being in Navajo Territory, our clocks turned one hour ahead. Despite residing in Arizona, the Navajo always change their clocks and stay on Mountain Time. We are consistently surrounded by beautiful rock formations of brilliant colors. The scenery extends as far as the eyes can see. Most of the area we're driving through is Navaho Territory and at times, you can see homes in need of repair. Their vehicles appear old and rusty. The land is hard and dry – desert conditions. There are no shops for miles. This looks to be a very sad and difficult way to exist.
I showed the DVD, "Arches National Park," from the Official Visitors' Center. It provided an excellent introduction to Arches and what we have in store for tomorrow. I further discussed that Delicate Arch, the park's signature piece of sculpture, is not accessible by vehicle and visitors must hike four miles mostly uphill, to see it up close. We will not be taking the time to do this, but we will stop at a place where one can spot Delicate Arch from a mile away.
We arrived at Sand Island Recreation Area to eat lunch. Everyone disembarked and ate their lunch at one of four covered picnic tables or found a comfortable rock to sit on. The scenery was beautiful. We were surrounded by magnificent rock formations and the cool flowing San Juan River. Everyone thoroughly enjoyed their boxed lunch from the Aspen Deli. We each had a sandwich, chips, a cookie, and a bottle of water. After lunch, some of us dipped our feet in the San Juan River. Most took pictures. Everyone agreed this was a wonderful place to eat our lunch.
Continuing our travels to Moab, I played quiet Native American tunes on the bus as some people slept and others relaxed. We completed our journey to Moab and the Aarchway Inn. After an hour to refresh, we boarded the bus for a five-minute ride to our Canyonlands By Night Dinner and Cruise.
Dinner was buffet style and included corn, beans, potatoes, mixed vegetables, BBQ chicken, BBQ beef, and BBQ pork. The food was tender, moist, and delicious.
The Canyonlands by Night Cruise was magnificent. It is hard to explain in writing. Everyone must experience this in person. At first, a guide trains you to use your imagination by looking at the colorful sandstone rock formations. Emboldened on the rocks, one could imagine ET, the Wicked Witch, Frankenstein, and a Dachshund, to name a few. As the light of day faded into total darkness of night, one could look up and see millions of stars shining down brilliantly, a sight we rarely get to see living on the east coast. Then the light show began. Spotlights lit up sections of the Canyon walls. Music played as the narrator told stories of Moab and the Colorado River. It was a complete multi-sensory experience that put you in a state of total relaxation. Following the narration, we floated down the Colorado River in silence with only the sounds of music until we arrived back at the dock. All of us came off the boat raving about this magnificent show.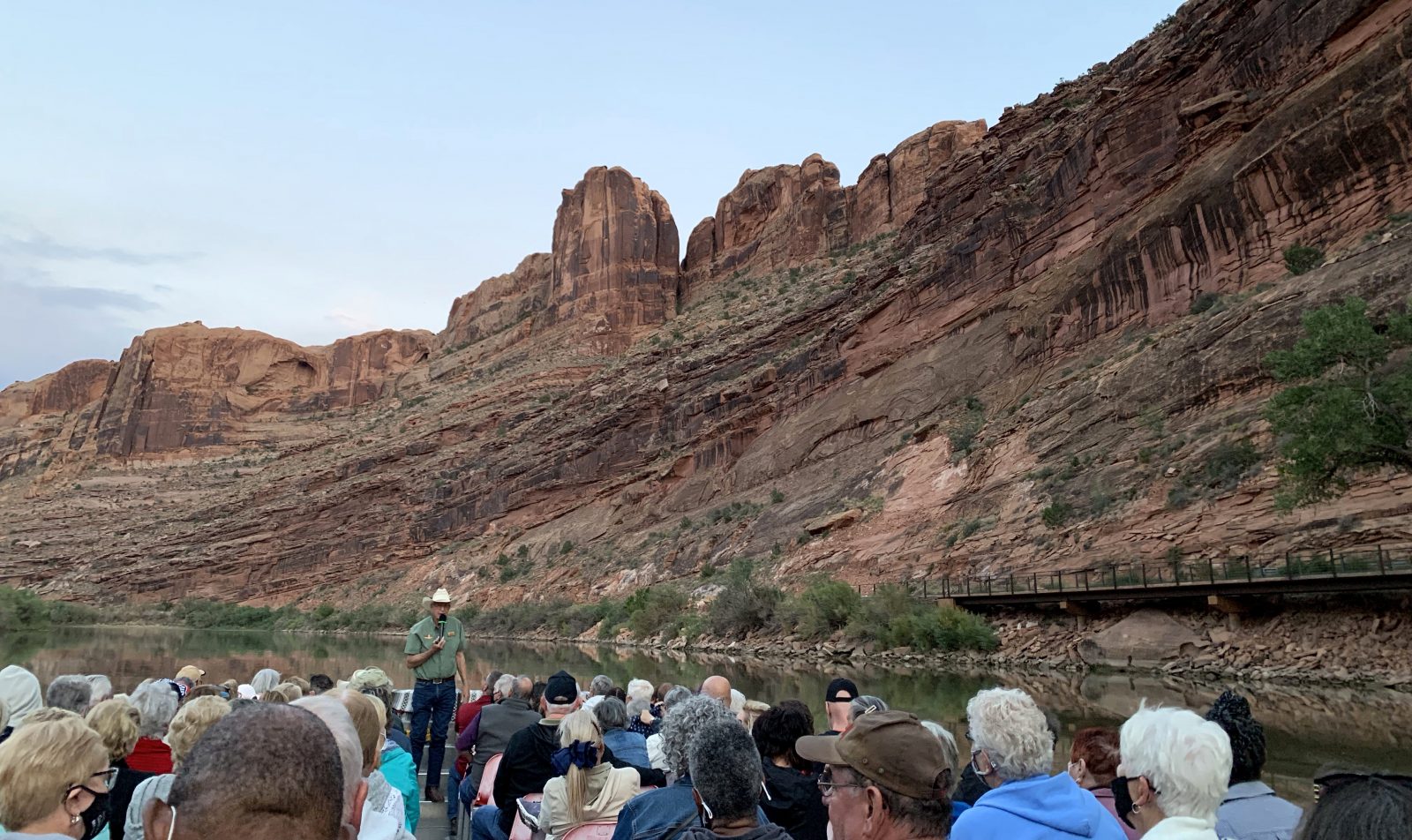 Another fabulous day with many different experiences! This seems to be the theme of this Cross Country Vacation.
Day 20: Friday, September 24, 2021
It was still dark outside when we departed the hotel for our five-minute ride to Arches National Park. Our first stop was the La Sal Mountain Viewpoint, the perfect place to see the sunrise – and it was magnificent!!!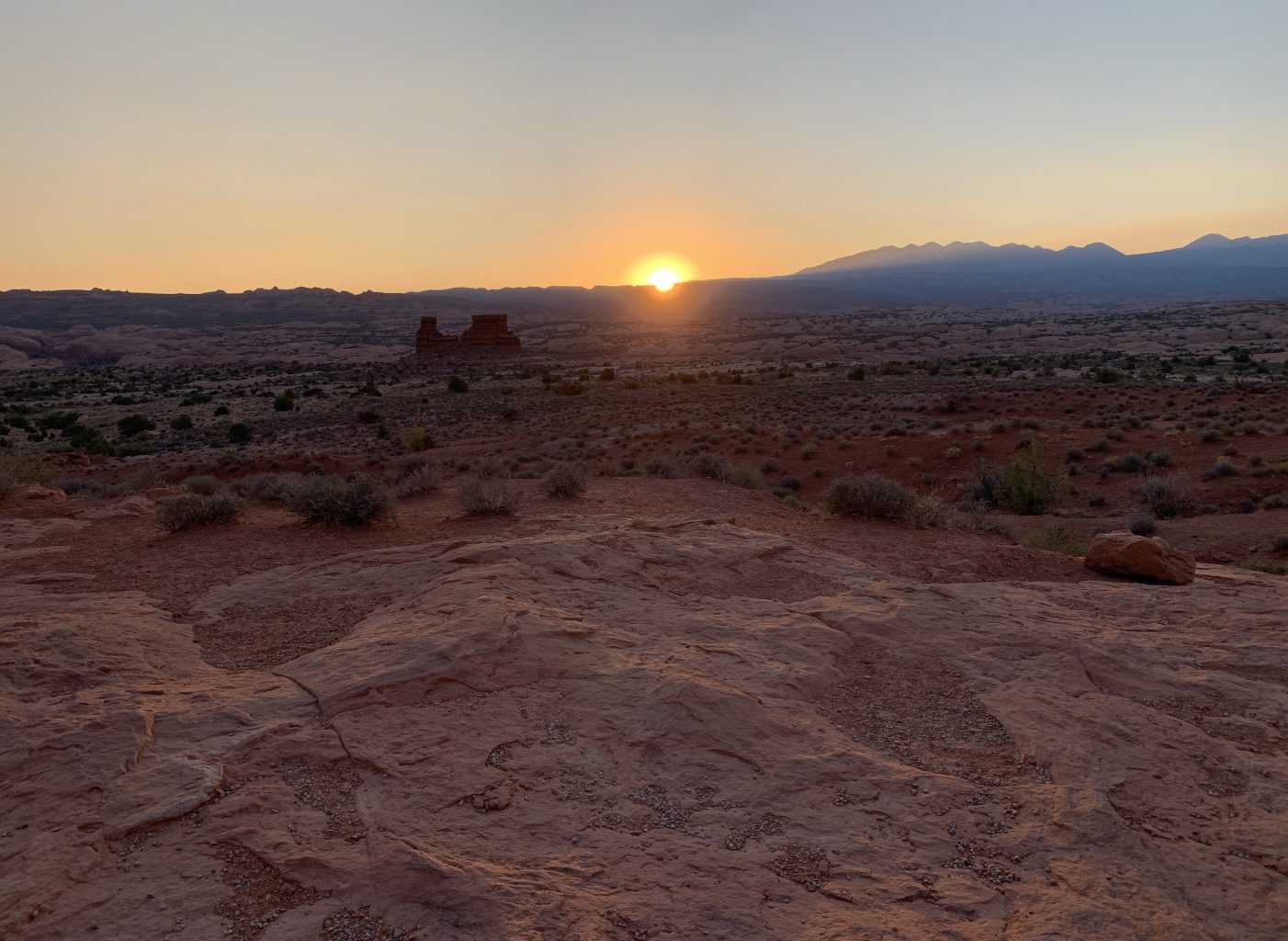 Arches is so beautiful. Huge rock formations surround you at every turn. We stopped at 7 stops and spent over four hours enjoying this unique National Park. Balanced Rock now stands alone after its adjacent balanced rock eroded away and fell in 1976. Arches is constantly evolving and one day, perhaps in a mere thousand years, the arches we see today will be gone, replaced by new formations. Balanced Rock is 128 feet in height and weighs 3,600 tons. We all took many photographs.
Our longest time at Arches National Park was spent walking/hiking within the Windows Section. The pathways are unpaved and consist of uneven steps, petrified sandstone, and rocks mixed with dirt. That did not prevent many of us from climbing the paths to Double Arch and North and South Window to stand beneath these unique formations. The hikes provided us with wonderful exercise. It's the only way to experience Arches, by getting up close and personal. Everyone enjoyed the 45 minutes we had to experience the Windows Section of Arches National Park.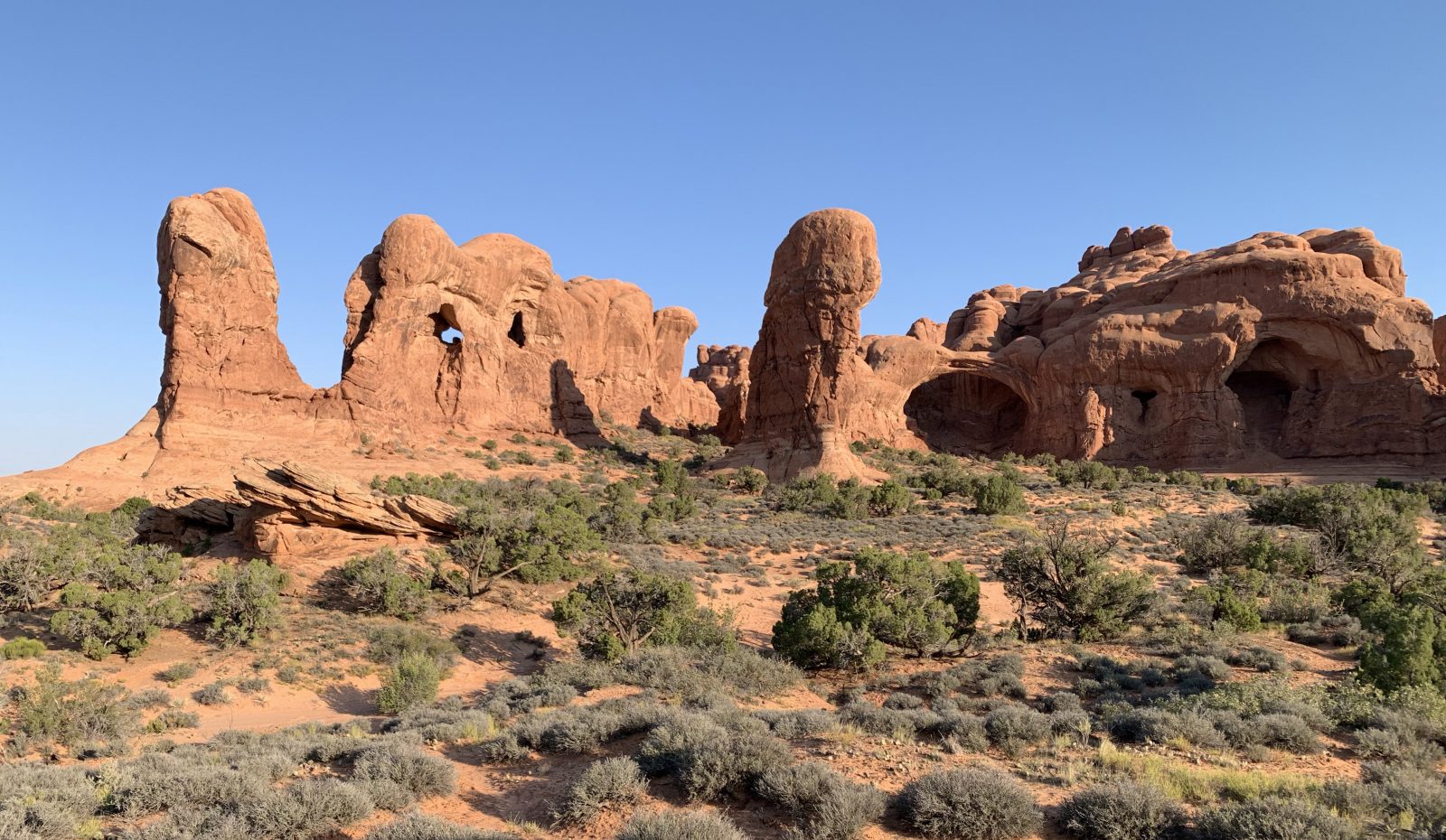 Our final stop was the Lower Delicate Arch Viewpoint from which we were able to photograph the Park's most prominent feature, Delicate Arch. Delicate Arch is the face of Arches National Park. It is seen on the cover of all publications and Arches National Park souvenirs. Although Delicate Arch stands a mile away from this viewpoint, we were all able to take many fine pictures. We then rode back to the Visitors Center for souvenirs and to get our Arches National Park Stamp for our National Parks Passport Book. We were soon on our way, saying goodbye to Arches National Park, and hello to Colorado.
Being near Iowa, the place where Buddy Holly, Ritchie Valens, and J.P. "The Big Bopper" Richardson were killed in a plane crash in February 1959, I played Don McLean's "American Pie" followed by two Buddy Holly songs. I then played the first hour of "The Buddy Holly Story" starring Gary Busey, who won Best Actor in 1978 for this role.
Our lunch stop was at the Mesa Mall in Grand Junction, Colorado. We easily found the food court which offered many different choices. It was another perfect lunch stop.
Once back on the bus, I showed the second half of "The Buddy Holly Story." The ending emphasized Holly's love for his wife, his music career, and for life. He was only 21 years old when his life and career were tragically cut short. We were now approaching the most scenic part of our ride through the Rocky Mountains. The green of the tall Ponderosa Pine Trees against the gray and red colors of the rock was a brilliant visual. The mountains rose to different heights as we climbed to over 11,000 feet in elevation. A swiftly running stream accompanied I-70 on our right for close to 100 miles. People were seen rafting in the rapids. John Denver music serenaded throughout the bus; "Rocky Mountain High," "Poems, Prayers, and Promises," "The Mountain Song," and many others. Between the sheer beauty of the Rockies and the calming effects of the music, we all were able to experience this magnificent section of highway to the fullest.
We arrived at the Drury Inn Denver and everyone was happy and tired. We had gotten up early to be at Arches National Park by 7:00 AM. We saw the magnificent sunrise, climbed rock, dirt, and sandstone paths leading up to the different formations, had a good lunch at the Mesa Mall, overloaded our visual and auditory senses riding through the Rocky Mountains, and we made it to the Drury Kickback. Today was another rewarding and successful day.
Day 21: Saturday, September 25, 2021
Everyone commented they had a wonderful rest last night after our active day yesterday. We boarded our bus for a ride into unknown territory culminating in a lunch stop in Fort Laramie and our visit to Mount Rushmore.
After a few morning songs, I showed the video, "Mount Rushmore" created by the History Channel. It provided all information about Mount Rushmore from conception to completion including authentic footage of the 1920's and 1930's. Gutzon Borglum created the initial scale models of his vision while his son, Lincoln, supervised the sculpturing and saw the project to completion. Mount Rushmore opened to the public in 1941.
We found a really fun rest stop with a convenience store that sold all things Wyoming gifts and souvenirs. It's actually a combined Sinclair Gas Station, convenience store, hotel and resort named "Little America." Outside sits Dino the dinosaur with a saddle on its back encouraging patrons to climb aboard, which many did!
We were riding through open prairie as far as the eye could see. After a quiet session on the bus, I played some western music. We could almost imagine the sheriff and his posse riding on this rugged terrain to find the outlaws. At noon, we arrived in Fort Laramie, Wyoming for our lunch stop at Vickie's Saloon.
Vickie's Saloon is directly out of those Western Movies. As you enter, the bar is on your right and runs the length of the saloon. The pool table is in an adjacent section on your left and the jukebox and piano sit on a wall towards the rear. Vickie put up signs to the public saying the Saloon was closed on Saturday from 11:30-1:30 PM. We knew we had the place all to ourselves. Vickie's Saloon is relatively small, with a legal capacity of 78 patrons at one time. Signs on the wall also indicated the Saloon was up for sale. Vickie shared she's owned it for ten years and wants to retire and travel.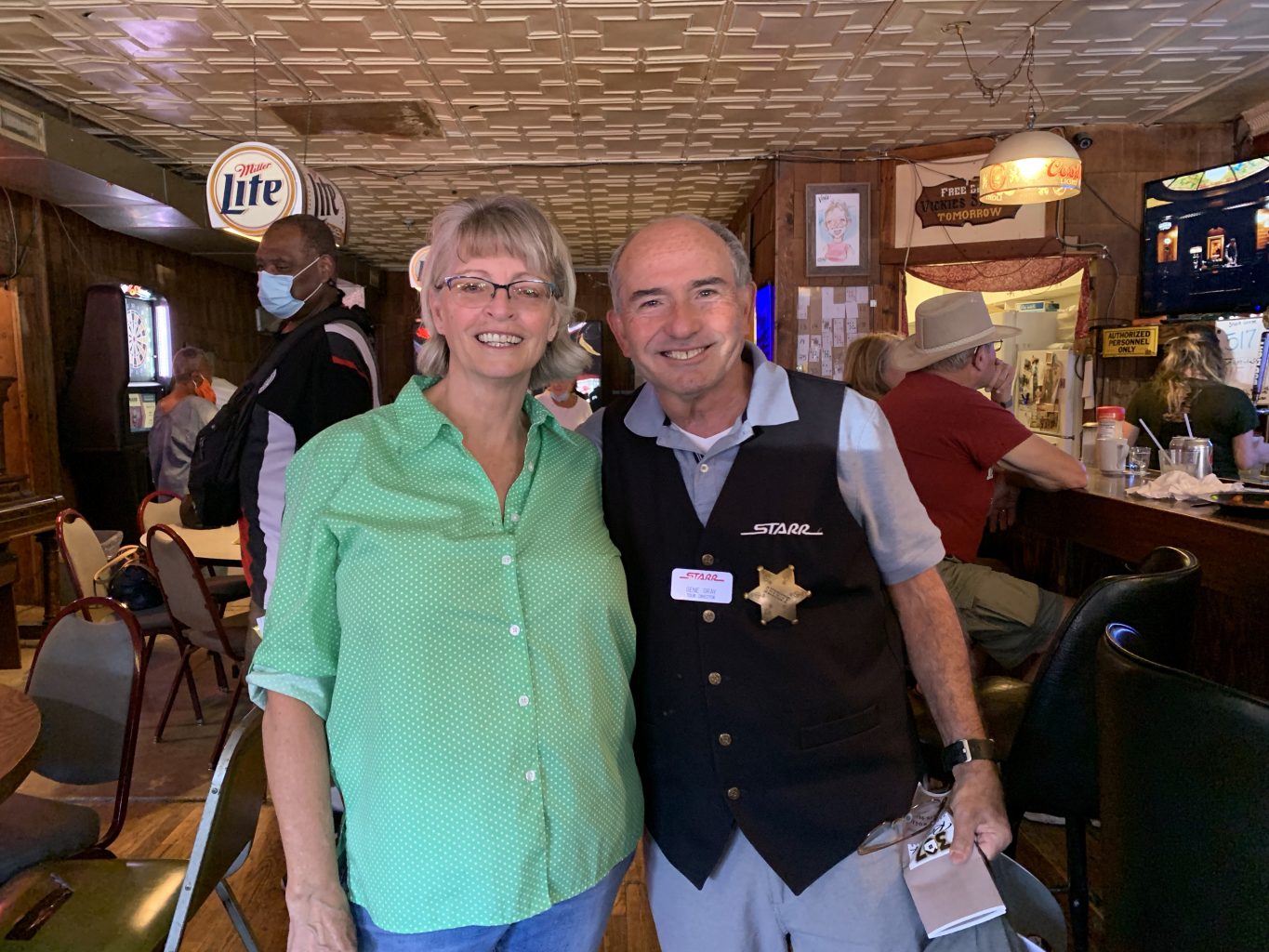 Vickie greeted us with open arms as we entered. Two guests selected songs in the jukebox and some began line dancing on the dance floor. A festive atmosphere ensued. Although lunch took a bit longer than anticipated, mostly everyone had a magnificent time. We departed Vickie's after taking group pictures with Vickie, outside her Saloon, and wished her luck in her impending retirement.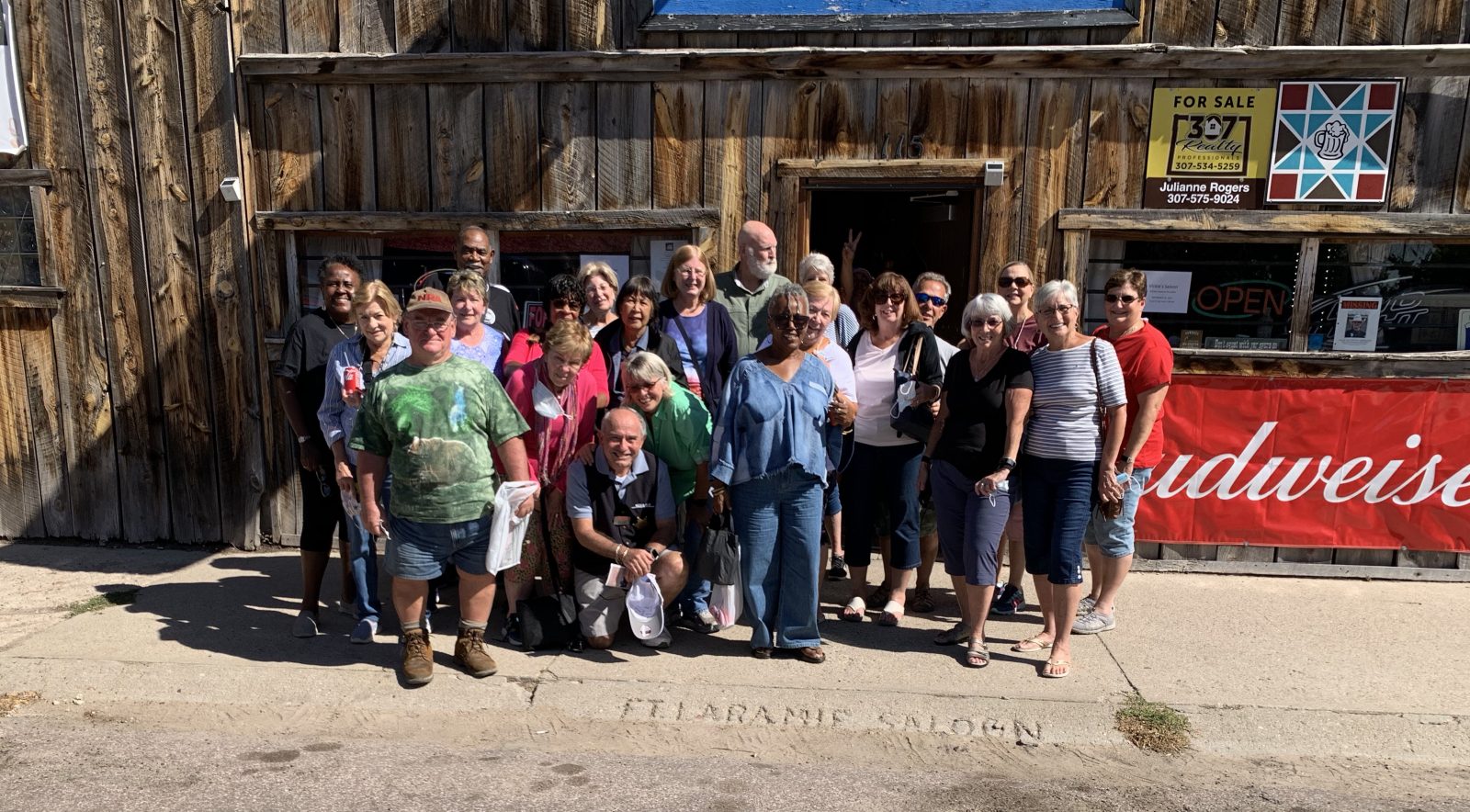 We were on the road to Mount Rushmore, one of the most anticipated attractions of this Cross Country Vacation.
Dry arid land soon gave way to the Black Hills as we crossed into South Dakota. Being off the interstate, we found the smaller state highways to be just as fast with speed limits averaging 70 mph.
After paying our entrance fee, we parked our bus next to the entrance. We were the only bus and we were able to maximize our time at Mount Rushmore. After entering, we walked through the pathway of flags (flags from each state and each U.S. territory) and looked up. The skies were a clear blue, the sun off to the western sky. We were able to take many fabulous photographs of the Gutzon Borglum's Fab Four; George Washington, Thomas Jefferson, Theodore Roosevelt, and Abraham Lincoln. Many chose to take the Presidential Walk. The National Park Service constructed a magnificent walkway so visitors could get up close to the Monument. The circular walkway has many steps and is about a half mile in length, and the close-up views are spectacular. We were able to shop in the Mount Rushmore Gift Shop and we departed Mount Rushmore for our half hour ride to the Best Western Hotel in Rapid City.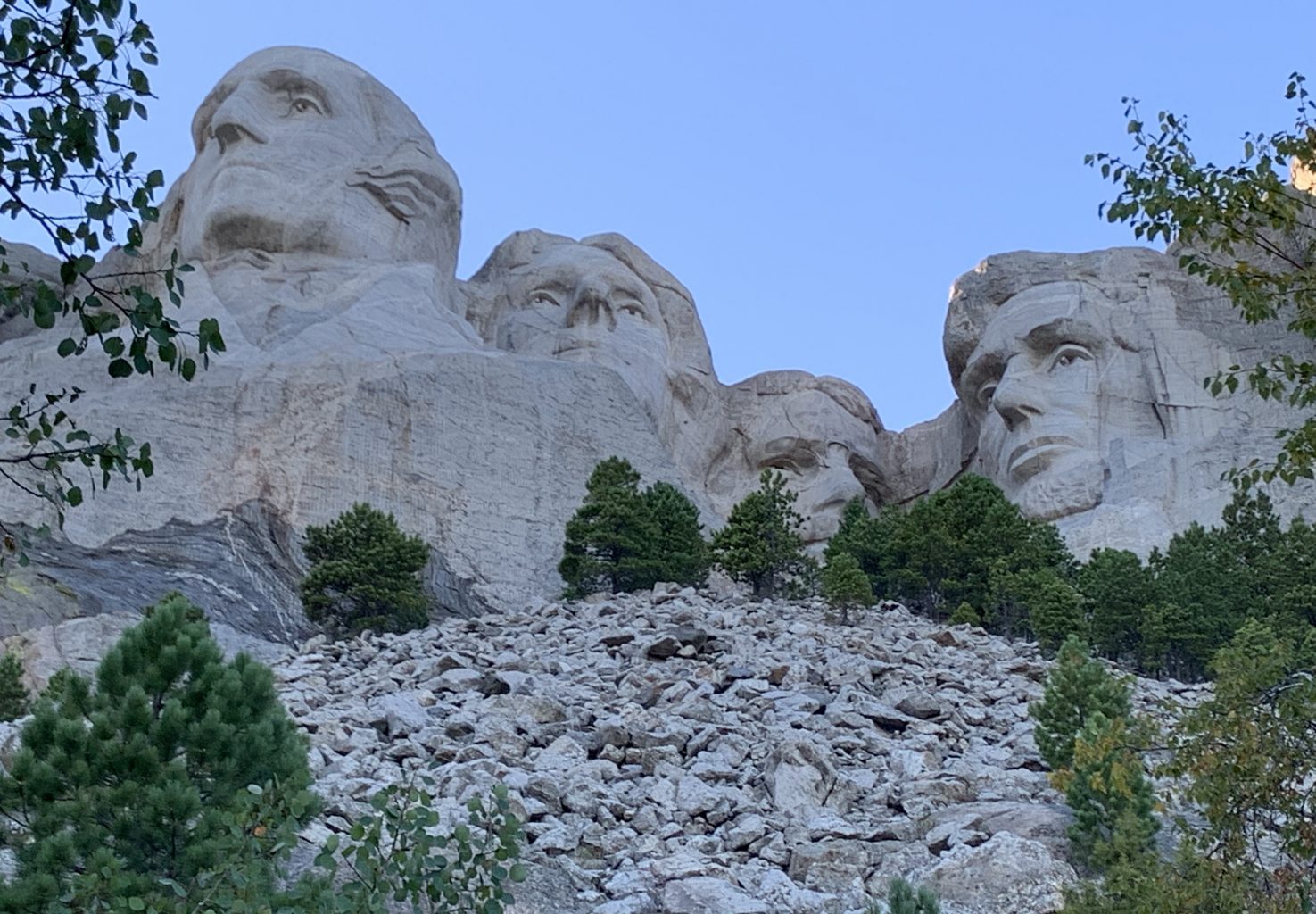 Day 22: Sunday, September 26, 2021
Today we set off for Badlands National Park, our final National Park for this trip.
Our first overlook stop was The Pinnacles. This awe-inspiring view depicted pointed spires lined up in rows stretching as far as the eye can see. At the next overlook, a bighorn sheep feeding 50 feet from our vantage point stole the show. The third stop was Prairie Dog Town. Prairie Dogs can be seen guarding their maze of tunnels against all possible invaders and heard making sounds to warn other Prairie Dogs when they feel threatened. The fourth stop was beautiful Panorama Point, a magnificent 180° view of the rugged terrain of the Badlands and a perfect place to conclude our tour. We stopped at the Visitors Center to purchase souvenirs and get our National Parks Passport Books stamped. Blue skies, temperatures in the low 80's, and prairie winds blowing at moderate speed added to our complete enjoyment of our visit to the Badlands.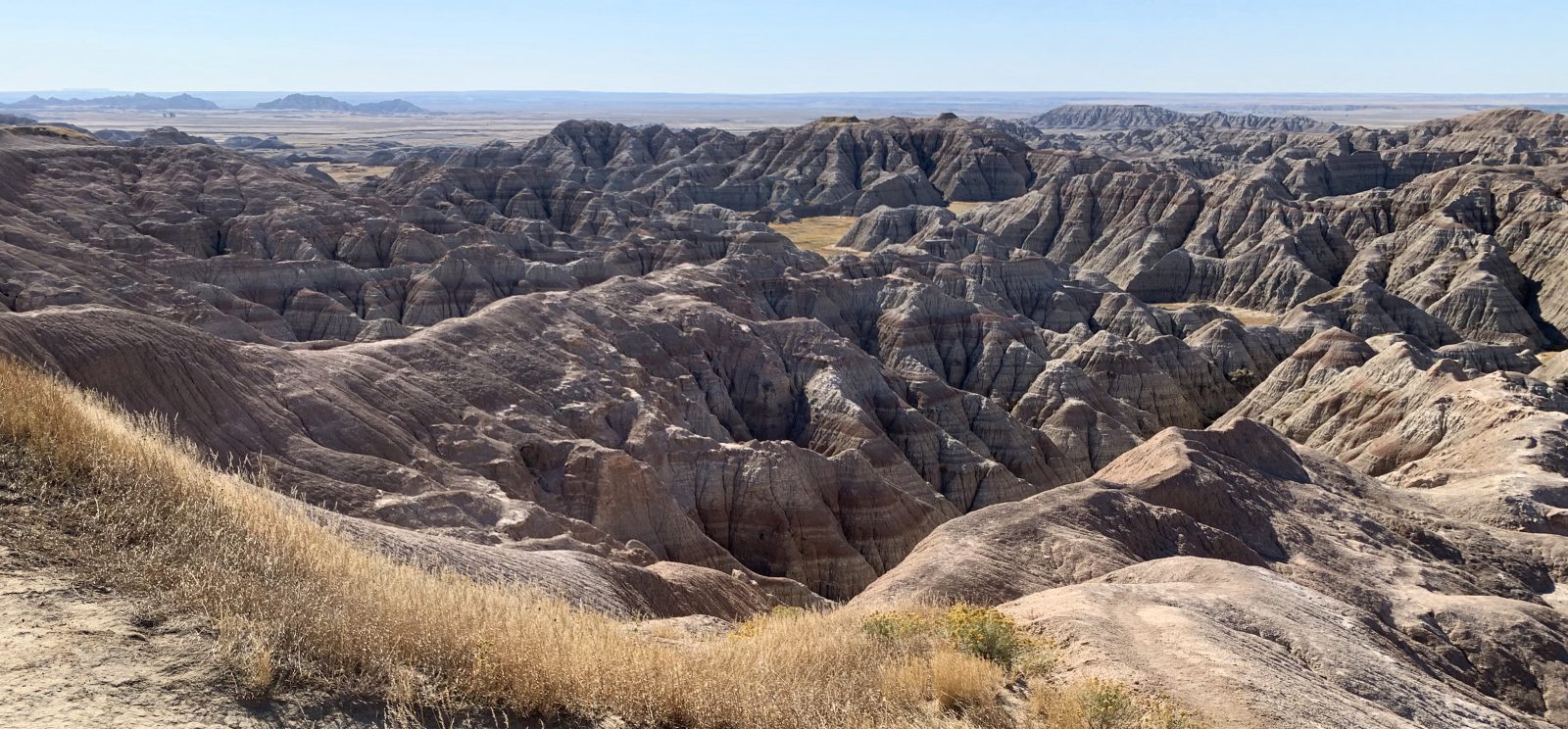 Wall Drugstore was a short ride from the Badlands and our lunch stop. Wall Drug sells everything from Cowboy Boots to health aids, souvenirs, and jewelry. Twenty-three average-sized themed shops are connected by a series of doorways and hallways. It's a shopper's dream for gift purchases, unique items, and necessities. In addition, Wall Drug has a cafeteria that seats 590 people. After a short wait on a line, you give the cashier your order, pay for it, and within five minutes, your order is ready. The cafeteria is fast and efficient, and the food is delicious. Everyone appreciated the two hours they had to eat and shop in this must-see establishment.
After lunch, we traveled 230 miles to the Comfort Inn in Mitchell, South Dakota. I played the movie, "La Bamba," the story of Rock N' Roll Hall of Fame inductee Ritchie Valens who, at 17 years of age, was killed in a plane crash with Buddy Holly. Valens had a short, powerful, and very influential music career. His plane crashed in Iowa, the state we will arrive in tomorrow. Everyone enjoyed the movie very much.
After a rest stop, we traveled the final hour to the Comfort Inn. Four restaurants surrounded the parking lot of the Comfort Inn so many made plans with each other to have dinner together. Tomorrow is a day of travel. Tonight is a night of celebration and a comfortable night's sleep.
Day 23: Monday, September 27, 2021
A five-minute ride landed us at the iconic Mitchell Corn Palace. It's a large arena with a seating capacity of over 6,000. It's the center of activity in a small South Dakota town with a population of just over 11,000. Its uniqueness comes from its giant wall murals made solely out of corn of many colors. As we entered, two people were tearing down the outside corn mural from this past year and will be replacing it with a brand-new mural for next year. The beautiful murals inside the arena remain the same.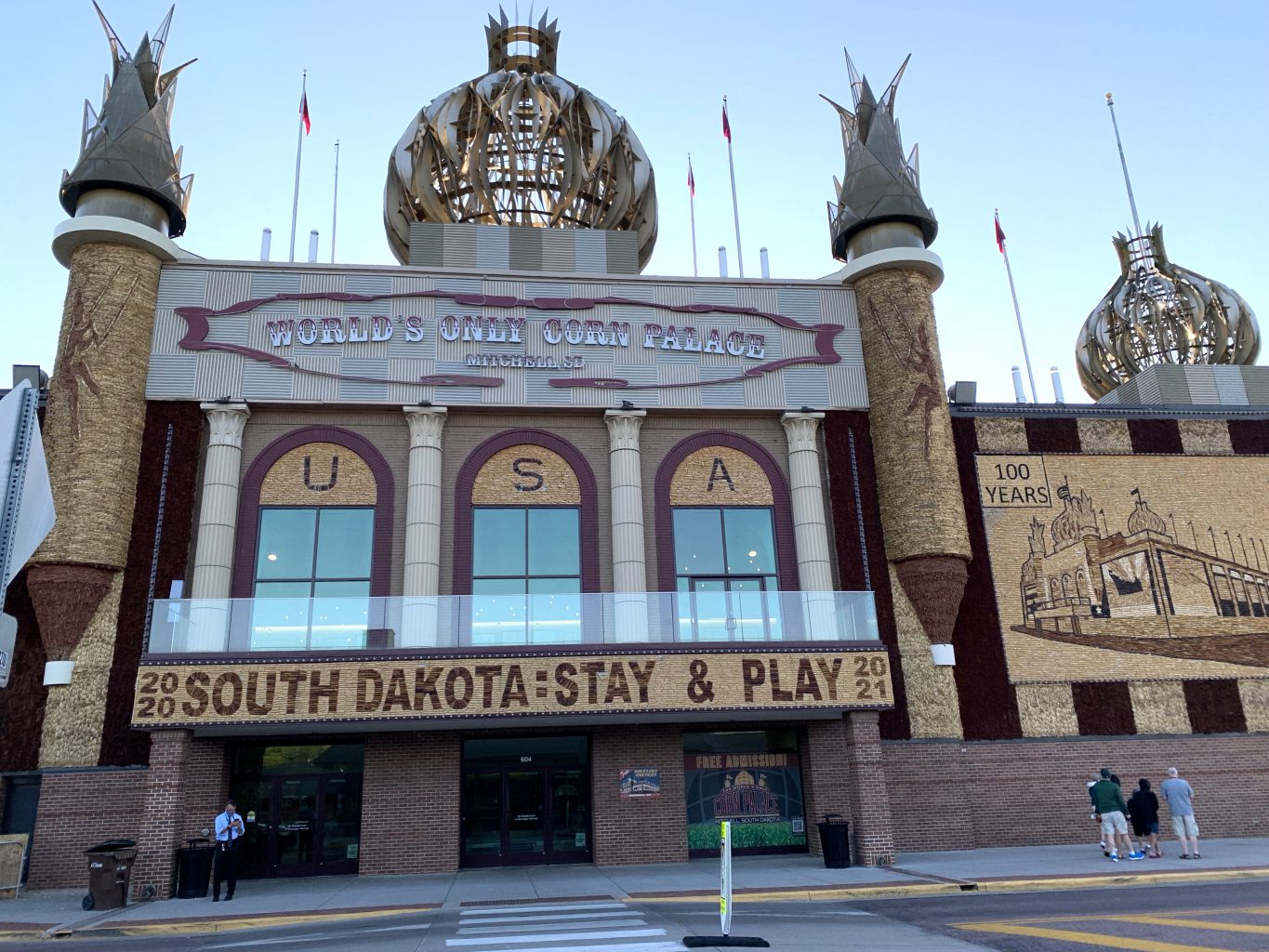 Everyone enjoyed their time at the Corn Palace and bought gifts in the Gift Shop. We departed Mitchell before 9:00 AM for a day of travel through three states, South Dakota, Minnesota, and Iowa. I played a few morning songs and we had some quiet time. Since our destination was Iowa, I showed the movie "Field of Dreams" starring Kevin Costner and James Earl Jones.
The movie set and field for "Field of Dreams" are now a major tourist attraction, located in Dyersville, Iowa, just 25 miles west of Dubuque, Iowa, where we will be spending the night. In fact, we pass the Exit for Dyersville on our travels. Major League Baseball held its first regular season game on a new field adjacent to the movie set with major league dimensions on August 12, 2021. The game featured the New York Yankees and the Chicago White Sox and was a home game for the White Sox. Many home runs were hit in the game and the White Sox won it 9-8. The players were introduced by walking through the corn field (similar to the movie) and wore uniforms resembling the 1919 baseball teams. The new field in Dyersville has a seating capacity of just over 8,000 and tickets cost upwards of $1,400 each. MLB has already scheduled the Cincinnati Reds and Chicago Cubs to play in Dyersville in August 2022. All enjoyed the movie and applauded its conclusion.
We had a fabulous lunch at the Ranch Restaurant in Fairmont, Minnesota. Sally, the owner, set up a private room for us and had three servers taking our orders upon being seated. Everyone raved about their delicious lunch and the efficiency of the staff. I was told many times that this restaurant is definitely a "keeper" for future Cross Country Trips. We were back on the road again in just over one hour.
We arrived at the Holiday Inn Dubuque and look forward to a good rest followed by two days in "The Windy City."
Day 24: Tuesday, September 28, 2021
The town of Dubuque borders the mighty Mississippi River so almost immediately following our departure, we crossed the bridge that spanned the Mississippi. We were now in the state of Illinois. I played "Proud Mary" by both Creedence Clearwater Revival and Tina Turner. Everyone was awake now!
After a brief rest stop, we were closing in on Chicago. It was time for Frank Sinatra to serenade our arrival with "My Kind of Town" and "Chicago, That Toddlin' Town." Walt dropped us off at the Chicago Navy Pier located on sparkling Lake Michigan and consisting of many restaurants, shops, and attractions. We had another beautiful sunny day with temperatures in the 70s. It was a perfect combination for everyone to enjoy their time at the Navy Pier, both inside and out, with plenty of time to eat lunch and stroll around the shops that feature everything Chicago. Many rode the Centennial Ferris Wheel for magnificent views of Chicago and Lake Michigan. Most enjoyed strolling on the Pier enjoying this beautiful September weather in the Windy City.
Our next attraction was The Ledge, the magnificent Skydeck Chicago at the Willis Tower. Stepping out onto The Ledge feels like being suspended in air. One can look down and see the streets of Chicago 103 stories below. The wonderful people in charge of crowd control gives everyone two minutes to enjoy (or fear) this fascinating experience. They will even take pictures of you on The Ledge. Those that did "Step Out" really enjoyed it. But it's not for everyone!
In leading our tour guests to the Skydeck Elevators, we pass through a wonderful interactive museum of everything Chicago. Many had fun taking pictures at Wrigley Field, with Oprah, the Obamas, and on the Chicago EL. The elevator ride to the 103rd floor of the Willis Tower takes one minute. Once on the Skydeck, the views were stunning. We could see for 50 miles in all directions on this beautiful clear day. The elevator down lets you off at the Willis Tower Gift Shop. Across the street from the Willis Tower is a Route 66 sign since Chicago is the beginning of Route 66. Many enjoyed taking pictures of that as well.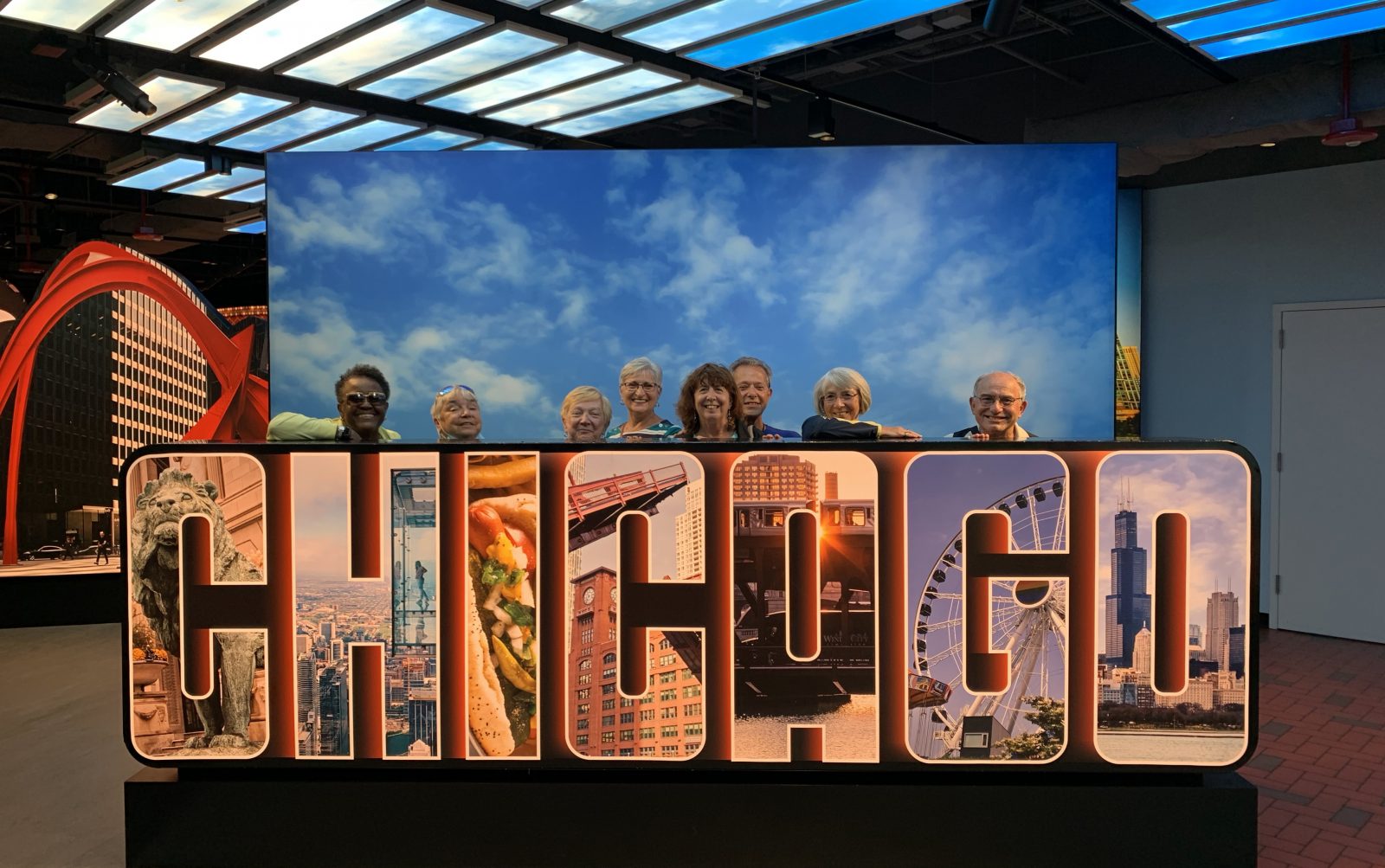 We checked into the Fairfield Inn, our hotel for the next two nights. Everyone enjoyed walking around Chicago and dinner as well as the energy this wonderful city provides. We look forward to a wonderful day touring this third largest city in the United States tomorrow.
Day 25: Wednesday, September 29, 2021
We had the unusual opportunity to "sleep in" this morning. Breakfast hours in the Fairfield Inn ranged from 6:00 to 10:00 AM and our tour of Chicago wasn't beginning until 10:00 AM. Walt is enjoying a day off today.
The two Trolleys arrived a little before 10:00 AM and we all hopped aboard. We began by heading South on Michigan Avenue, past the Wrigley Building, across the Chicago River and past Millennium Park. Our guide told us about the Bean, located at Millennium Park – it's a huge bean shaped shiny structure the size of a bus and hollow on the inside. It's great to take kaleidoscopic pictures from underneath. We continued past Soldier Field, home of the Chicago Bears (for now), past the Field Museum and the Chicago Aquarium. We stopped for photos overlooking the great Chicago Skyline. The tour continued on the North Side of Chicago with stops at iconic Wrigley Field where we got out to take pictures and beautiful Lincoln Park where we entered the Lincoln Park Conservatory for a brief picture and use of their facilities. The Trolley Tour is a great way to introduce this fabulous city from land. The two and a quarter hour tour was enjoyed by everyone.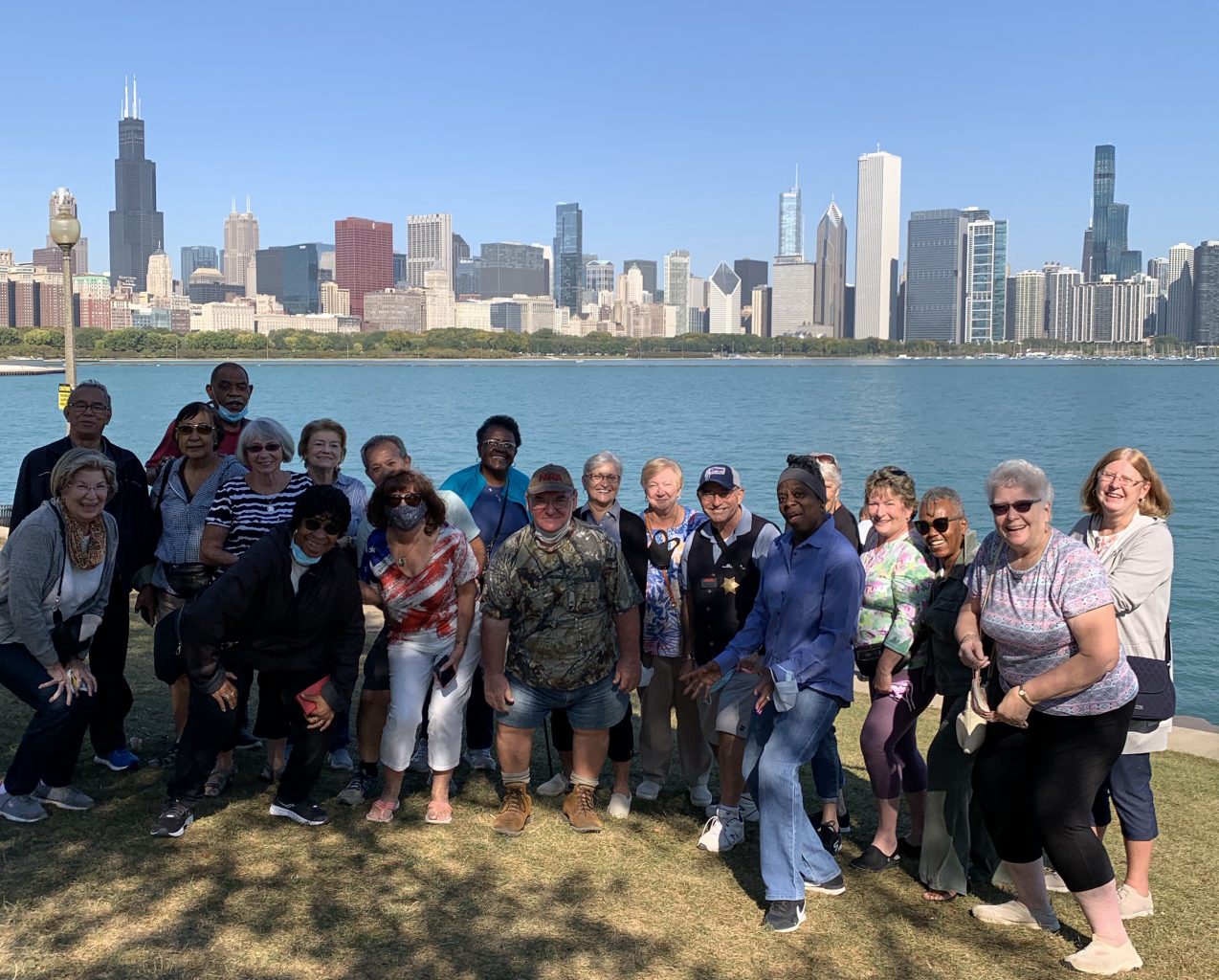 We were dropped off from the Trolley Tour at The Shops at North Bridge, a mall with a diverse food court and nearby the Wendella Boats where we would meet for a 2:30 PM boat cruise.
The Chicago River Architectural Cruise was truly the highlight of the day. Blue skies, little wind, and temperatures in the upper 70s made this a most comfortable and enjoyable cruise. We all sat on the top open desk while Zach, a brilliant 23-year-old guide, enthusiastically described and shared stories about every building we passed. He also provided many fun facts and proudly recited historical information about his city. People have said the best way to see Chicago is by the river, and today proved this correct.
The highlight of the Chicago River Cruise was going through a lock into Lake Michigan. Lake Michigan is five feet above the Chicago River so in order to pass from the river into the lake, one lock closes while the other lock leading to Lake Michigan opens slightly. At this moment, 80,000 gallons of water begin to flow into the river lock bringing our boat up five feet to smoothly sail into Lake Michigan. This was so cool to watch and experience from the boat. We toured Lake Michigan and the magnificent Chicago Skyline while Zach described each of Chicago's more prominent buildings. He highlighted the Willis Tower as the grandest in architectural design. Everyone found the Boat Cruise informational, entertaining, and fascinating.
We took a slow walk back to our hotel. Many stopped at Garrett's Popcorn to purchase a special treat to take home with them. We now had over an hour to relax before we needed to meet once again to take a short walk to dinner at Gino's East.
Chicago is a very impressive city. One guest who didn't particularly care for large cities, shared how amazed he was with the cleanliness of Chicago. The streets and sidewalks were free of debris. Flowers and different plants sat in large cement pots added beauty to the sides of the roads. The people here are friendly and very proud of their city.
Walt joined us on his day off for dinner. Dressed in shorts and a regular shirt, no one recognized him! Walt shared how he spent his day. After cleaning the bus, he walked to the Chicago Navy Pier, rode the Centennial Ferris Wheel, rented a bicycle, and rode back to the Willis Tower where he had his picture taken on the Ledge. We were all thrilled he was able to join us for dinner. Walt is an amazing bus driver and always gives 100% to caring for each and every traveler – and their luggage!
Our tables at Gino's East were all set up for us as we took our seats. Before everyone was seated, a large bowl of salad was placed on each table. The salad was followed by a plate of hot wings that we passed around the table for each to enjoy. Our next appetizer was Gino's famous hand-rolled spinach and mozzarella sticks with marinara sauce. Mmmmmm!!! By this time, everyone was beginning to slow down and feel full.  A few minutes later, the Chicago Deep Dish Pizza made its entrance. We were offered a slice of plain, mushroom, or pepperoni. The Deep Dish Pizza was thick, moist, and tasty. The mozzarella cheese stretched with every bite. Many used a knife and fork while some broke pieces of the pizza off with their fingers. It's difficult to pick up and eat. The crust was crunchy and tasty. One slice was all most people could handle at this time. However, soon a few thin crust pizzas appeared on our tables.
After a dessert of homemade brownies and chocolate chip cookies, we all made our best efforts to roll out of our chairs! Prior to getting up, everyone showed their approval with dinner by resounding applause. I made a short announcement thanking our servers and providing details for tomorrow morning. We all took a leisurely walk back to the Fairfield Inn.
Today we enjoyed getting to know Chicago in a more intimate way. Tomorrow we're up early to travel to Cleveland and maximize our time at the Rock & Roll Hall of Fame before our "Farewell Dinner" (hard to believe our Cross Country Trip is coming to a close) at the Hofbrauhaus.
Day 26: Thursday, September 30, 2021
We departed Chicago at 7:00 AM in order to arrive in Cleveland as early as possible and maximize our time at the Rock & Roll Hall of Fame.
It's hard to believe today is our final day of attractions with 38 marvelous travelers who are now good friends. As in any trip, we've overcome a few bumps in the road, but we all stuck together and cared for each other. Masks were always worn, and nobody got sick, not even a cold!
I played "My Kind of Town" as we departed Chicago. I then refocused by playing songs performed by Rock & Roll Hall of Fame Inductees. After a rest stop, I played the movie, "Bohemian Rhapsody," the sad story of Freddie Mercury, lead singer of Queen, who died of HIV at age 46 in the height of his career. The movie was interrupted with our lunch stop and was completed after we were back on the road.
We arrived in time to offer over two and a half hours to enjoy the Rock & Roll Hall of Fame. The brilliant, mostly glass, architectural masterpiece was designed by I.M Pei and opened on June 7, 1993. We disembarked the bus and were provided wrist bands upon entering. We spent the majority of time watching films, reading showcases, and listening to music. Featured exhibits honor the Influencers of Music in the early 20th century, provide history and photographs from Rolling Stone Magazine, and showcase instruments, clothing, and fascinating information on hundreds of Rock & Roll performers. Monitors are in place at every turn featuring musical performances of the singers wearing the clothing or playing the instrument on display. One guest described their experience at the Rock & Roll Hall of Fame "as spending a few hours reliving my childhood." Many were able to see the Hall of Fame Inductee Plaques and shop in the Rock & Roll Hall of Fame Gift Shop. Everyone enjoyed their time at this magnificent museum.
Walt had taken our luggage to the Drury Plaza Hotel while we were at the Rock & Roll Hall of Fame. He returned before 5:45 PM to pick us up and drive us one mile to the Hofbrauhaus, our venue for our Farewell Dinner. The Hofbrauhaus is the most organized and efficient restaurant one could ever experience. Upon entering, we found our name and dinner choice printed on a card that we brought to our table. We all sat in tables of eight and had plenty of room. Drink orders were immediately taken. Salad with a Bavarian Pretzel was served next. Our main dinner choice soon followed. The servers catered to our every need. A generous piece of Apple Strudel was placed in front of us for dessert. Everyone was extremely satisfied. We were able to talk, laugh, and enjoy each other's company in a relaxed atmosphere with good food and drink for one final night together as the 2021 Cross Country Travelers.
It's always bittersweet to end a fabulous trip and go home. This is what we're up against tomorrow.
Day 27: Friday, October 1, 2021
After Walt and I meticulously placed all luggage in the luggage compartments according to drop-off points, we were on our way home and preparing to say goodbye after 27 days of friendship. I began the journey home by playing "Homeward Bound" by Simon and Garfunkel.
I then led a summary of all 27 days of this magnificent trip. Highlights included memories of the Canyonlands by Night Boat Cruise and Light Show that most agreed to be this year's #1 attraction. Our lunches each day were completely different; from all of us enjoying one restaurant like The Ranch Restaurant in Fairmont, Minnesota to purposely stopping at an exit off the interstate where four different restaurants were positioned side by side. We ate lunch outdoors at the Painted Desert National Park in Arizona as well as along the banks of the San Juan River in Utah. Unless part of an attraction, our goal for lunch was to be served, eat, and back on the bus within an hour and we were able to achieve this goal every time except once.
We arrived at the Oakmont Plum Rest Area off of the Pennsylvania Turnpike for our first stop. Walt and I organized a little ceremony to honor all of our fabulous guests in completing this 27 Day Cross Country Trip. Following the ceremony, we boarded the bus and continued east.
I handed out the Starr survey asking guests to evaluate many facets of our Cross Country trip including all hotels. Everyone worked diligently on this and handed me their completed surveys sealed in an envelope. Since we all were completing a bucket list of sorts on this Cross Country trip today, I played the movie "The Bucket List" starring Morgan Freeman and Jack Nicholson.
After, I began a musical review of our trip. I purposely played specific songs throughout the trip depending on our location at the time. Guests made many requests for songs that I played or downloaded from iTunes. Our most energetic song for the 2021 Cross Country trip was undoubtedly "Uptown Funk" by Mark Ronson and Bruno Mars. I thank Cheryl and Hattie for this request. And once again, Lee Greenwood's "God Bless the U.S.A." received the most applause as the patriotic song of the trip. The music helped make this trip as special as it was.
After our final rest stop, we arrived in Bensalem, thus officially completing our journey across this beautiful country. Sandy was waiting with a "Welcome Home" sign and enthusiastically greeted us. She also boarded the bus and offered words of praise. To quote a famous writer in the late 16th century, "Parting is such sweet sorrow." Everyone was hugging each other and saying their goodbyes for now. We had made it, despite the constant cloud of Covid in the back of our minds.
Our experiences were vast. Our 27 days were all sunny and warm with clear blue skies. Who would ever have expected perfect weather! We had magnificent tour guests who cared about the welfare of each other. We stayed healthy. We wore our masks to keep us and each other safe. We completed our entire itinerary and more. The 2021 Cross Country Trip was a complete success! A big shout out goes to the hardworking Starr Staff, Nancy, Dawn, and Audrey for a magnificent itinerary and great support and organization.
Our outstanding driver, Walt Deminski, was the most important person and key ingredient to the overall success of the Cross Country Trip. Not only did he accomplish all the driving, he expertly handled every piece of luggage – checking off each piece daily before putting them into the luggage compartments beneath the bus. After a long day of driving, Walt spent the hours before going to his hotel room washing the outside of the bus, sterilizing the inside of the bus, and washing the floors and removing garbage. Walt's efforts were instrumental in all of us maintaining our good health and safety throughout the 27 days. In addition, he is an extremely caring and generous person who proudly presented hotel baggage handlers each day with state lottery tickets to show his appreciation for their work. Walt is a professional in every sense of the word and the 2021 Cross Country Travelers were truly blessed to have him for our Cross Country Driver. Thank you, Walt, for making this trip so successful.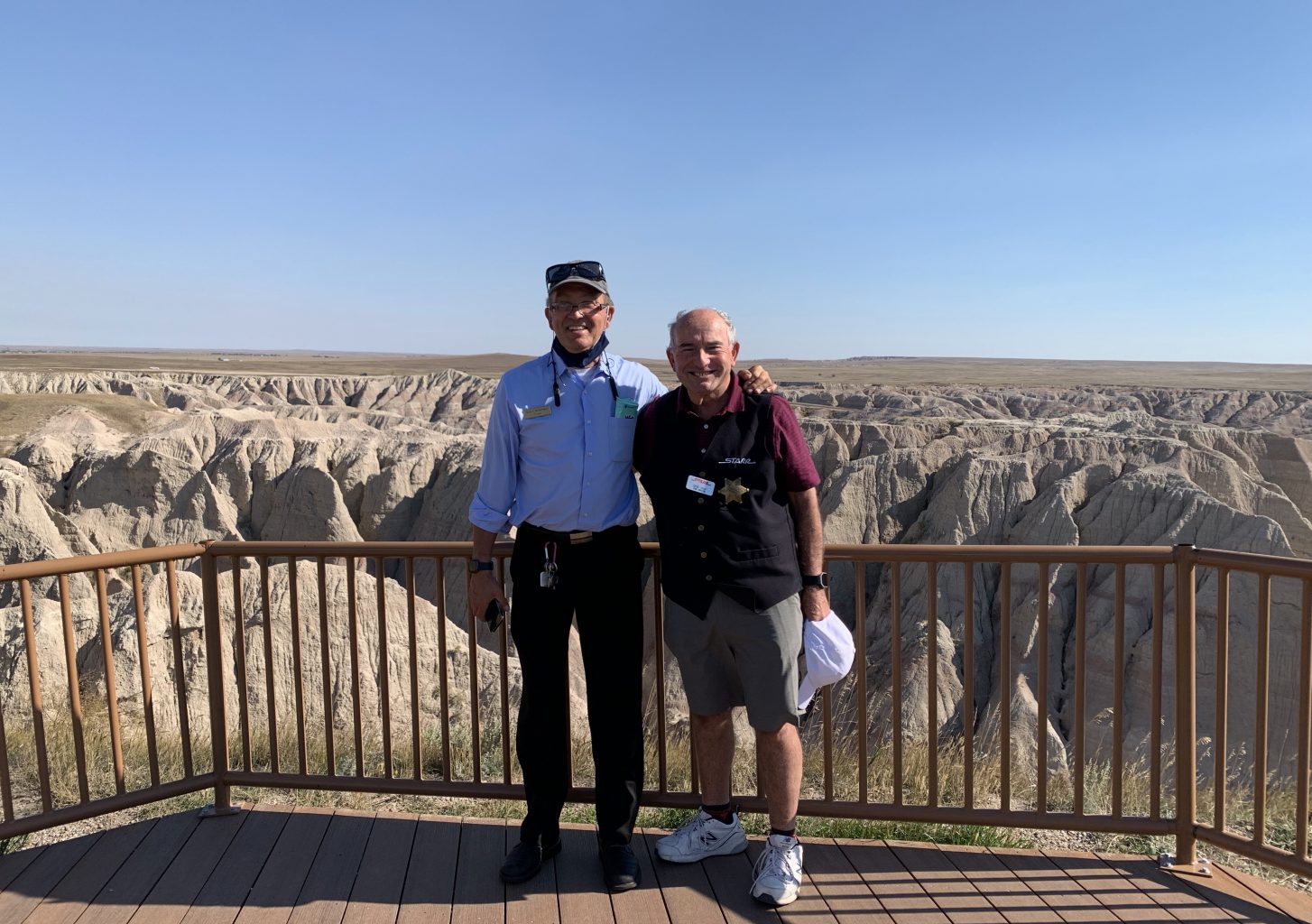 Gene Gray, Starr Tour Director
****ADDENDUM***
This part was added by Starr's Sandy Borowsky:
How could we finish a report like this without paying tribute to its author, Tour Director Extraordinaire, Gene Gray. Gene has been planning this trip since the day his last Cross Country trip returned in July 2019. He spent countless hours making sure every detail was prepared – every t crossed and every i dotted. In my 23-year tenure at Starr, I have never met a more devoted, loving and special Tour Director. Gene treats every tour guest (and every driver) like family. This creates the most wonderful experience for everyone onboard. When you travel with Gene, you don't just experience the destination – you have a wholistic experience that includes sensory (music, movies), friendship, stories and history, and so much more. All of this combines to make the most special memories that will truly last a lifetime. We thank you Gene for your dedication to Starr and this Cross Country tour and we look forward to your 5th journey across our great nation in 2022!