Our 2021 Cross Country trip (during a global pandemic!) went out in September! It was a huge success, and everyone remained healthy throughout the trip – not even a common cold! Starr Driver Walt Deminski and Tour Director Gene Gray led 38 travelers across our great country over the course of 27 days. On each of our trips, the Starr Tour Director is responsible for providing a day-by-day summary of every aspect of the trip. Gene's reports always offer a fun and vivid retelling of their adventures. It's clear that Gene goes above and beyond to make sure his tour guests are well informed and entertained. For your reading pleasure, here are Days 1-14.
Stay tuned for the second half of their amazing "Journey of a Lifetime"!
Overnight Tour Summary Report – Cross Country 2021
Date:  September 5 – October 1, 2021
Tour Director:  Gene Gray
Driver:  Walt Deminski
Coach #: 205
WESTBOUND
Day 1: Sunday, September 5, 2021
All tour guests arrived early and without incident. In Bensalem, once everyone was onboard and seated, Starr's owners, Alan and Renee Glickman came aboard and Alan delivered an inspiring sendoff message telling our guests that they were in good hands and sharing how tremendous this trip would be, and that one day they'd love to do it! With Alan and Renee still on board, I asked everyone to stand up, wave their flags, and partake in Whitney Houston's version of the Star-Spangled Banner. All stood and most sang along with Whitney. We were now officially ON OUR WAY!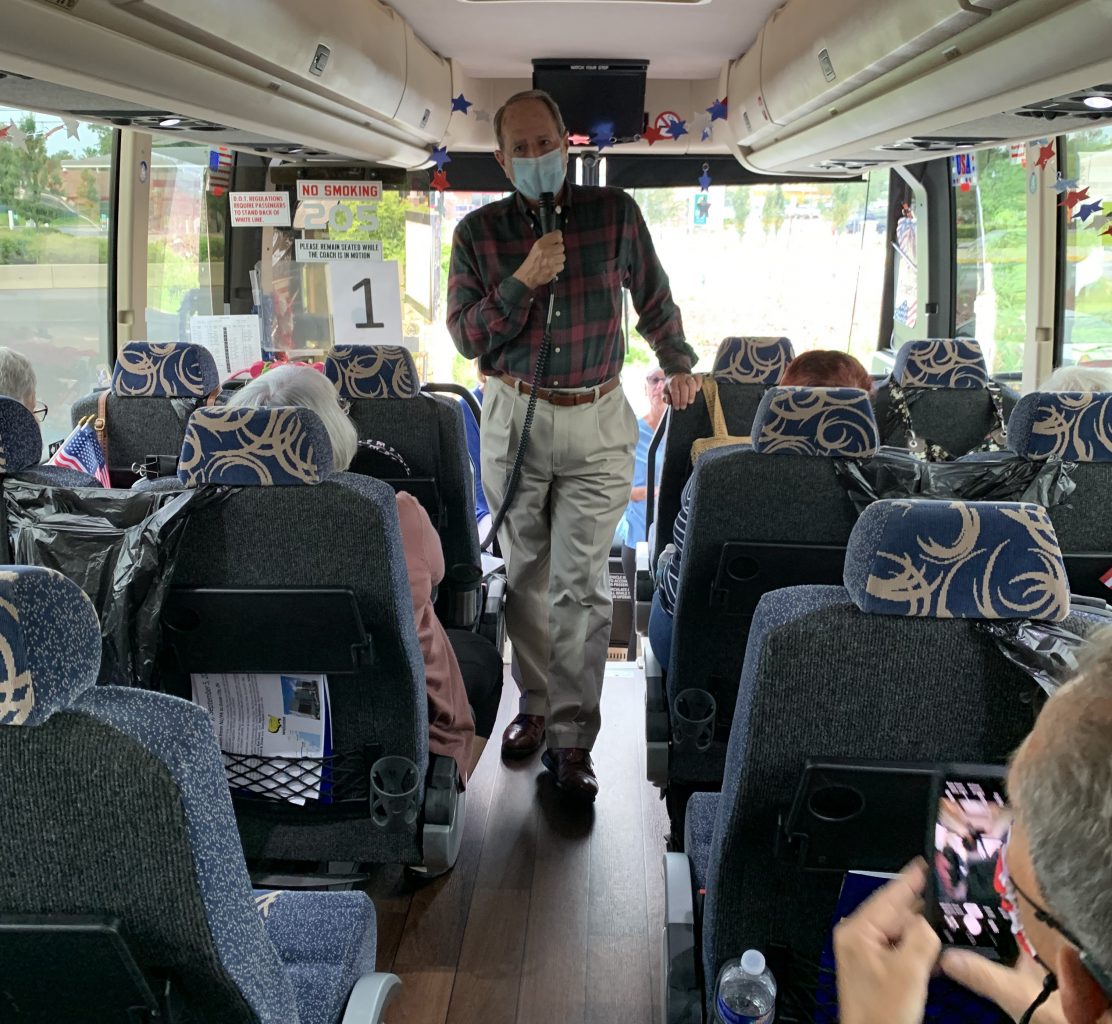 I played "America the Beautiful" by Alicia Keys and Ray Charles. I reviewed the Starr Welcome Letter and showed the Starr Safety DVD. I spoke adamantly about the importance of wearing masks, not only for our individual safety, but the safety of everyone in our group. Safety is, without a doubt, our #1 priority with "fun" way down the list at #2. We must all stay healthy together.
We arrived at the Peter Camille Rest Stop on I-76 for a twenty-minute break. I emphasized that "being prompt" was the key to success for this trip (actually any trip). Everyone was back on the bus on time. I can already see we have a wonderful group.
I proceeded to review the individual papers I included in the packet of information I created for each tour guest. This packet includes the itinerary for each day and a list of restaurants for meals on own. Maps of the area were also included. A six page "Things To Do in Las Vegas" was also part of the packet. To my delight, many guests heeded my second pre-trip letter and already booked a show in Las Vegas for at least one night. We were now ninety minutes from our lunch stop and I kept quiet until after lunch, giving everyone the space to do their own thing.
Lunch at Hoss's Steakhouse in Bedford, PA is a perfect stop. They seated us immediately, served us immediately, and we were all finished within an hour. The food was delicious and guests could order the extensive soup, salad, and dessert bar, a menu choice, or a combo of both.
I began showing the 1979 movie produced for ABC Television titled "Elvis" which told the history of his life. It was created two years after his death. This was to prepare us for Wednesday, the day we visit Graceland. We rode quietly for the final 2.5 hours after our rest stop to the Drury Inn and Suites in Grove City, Ohio. We arrived in plenty of time to enjoy the Drury Kickback which included three free beverages. Everyone seemed to perk up in a hurry! It was a very successful first day and we look forward to our day in Louisville, Kentucky tomorrow.
Day 2: Monday, September 6, 2021
The hot breakfast buffet at the Drury Inn was a great way to start the day. We departed Grove City and drove south to beautiful Louisville, Kentucky. I honored our many Veterans on board by thanking them and playing the Armed Forces Medley. I played songs related to Kentucky ("Kentucky Woman" by Neil Diamond and "Kentucky Rain" by Elvis to name two). I played a few baseball-related songs (including Abbott and Costello's "Who's On First" skit) in preparation for our on time arrival at the Louisville Slugger Bat Museum.
After we took group photos in front of "The World's Largest Louisville Slugger Baseball Bat" which adorns the entryway to the Museum, we were led to our lunchroom where boxed lunches from Subway were sitting on the table and waiting for us to take.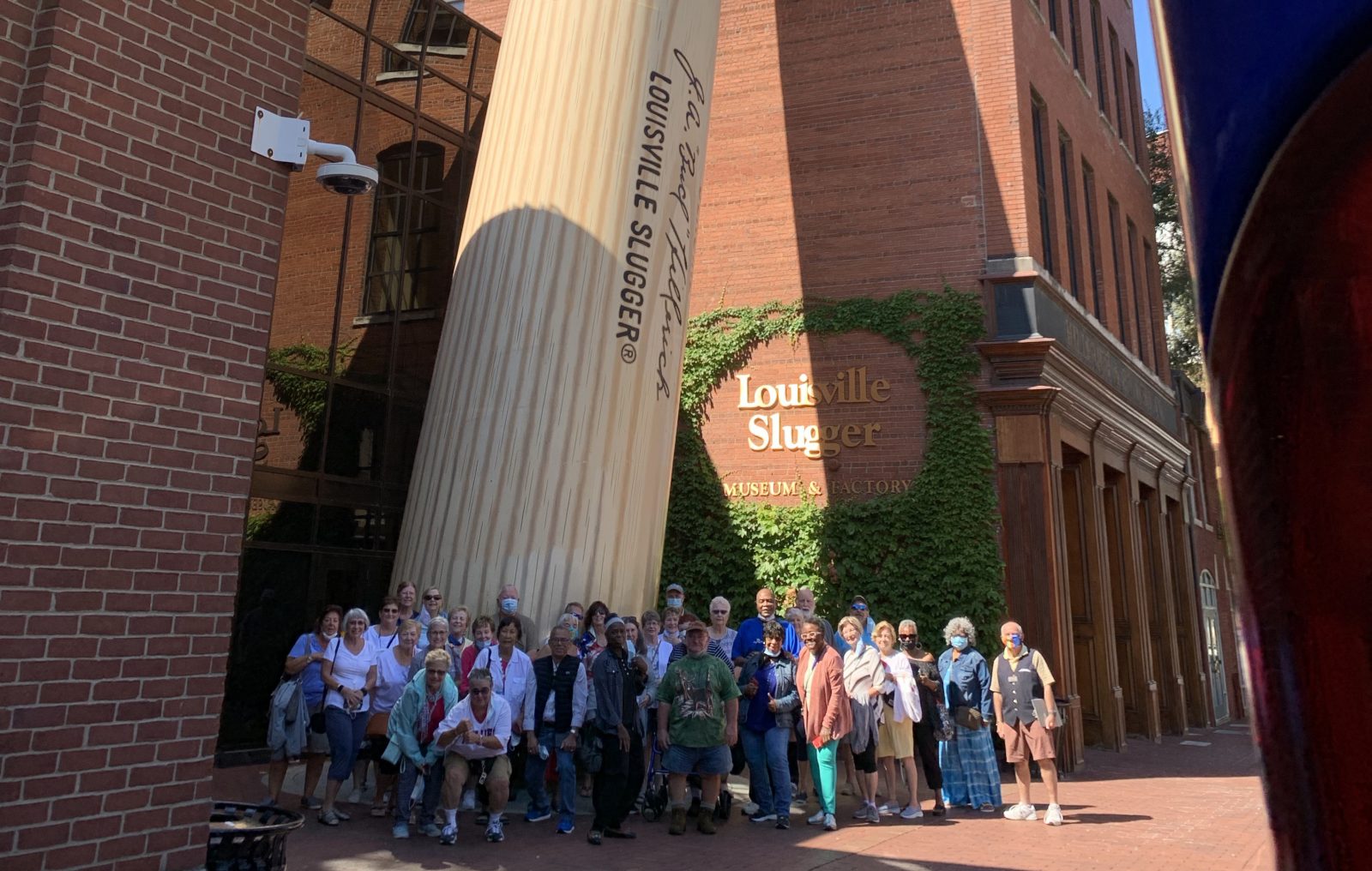 The Guided Tour of the bat factory was terrific. Multiple monitors in strategic locations displayed closed captioned videos to explain the bat-making process. Our Tour Guide filled in additional information. Did you know that the wood used in bat-making comes directly from the forests of Pennsylvania? Or that each ball player uses upwards of 100 wooden bats per season? Upon conclusion of the Tour, we each received a miniature Louisville Slugger Bat. Everyone really enjoyed this tour.
Our next stop was the Evan Williams Bourbon Tour. Eighty percent of the world's Bourbon is made in Kentucky and Evan Williams claims to be the world's best. The Guided Tour was fascinating. The Tour focused on four parts; the life of Evan Williams and the process of making Bourbon in his distilleries, which began in 1935, were the first two topics. The third section of the Tour was taste tasting four of their most famous Bourbons. We entered a mini bar and sat at a small table adorned with four small sipping glasses generously filled with Evan Williams Bourbons. Our Tour Guide explained the importance of sniffing Bourbon twice prior to tasting; first with your mouth closed and then with your mouth opened. He described the differences among the four types of Bourbon as we tasted each one at a time. Following the tasting, we were ushered into the Bourbon Store (the fourth component) where many purchased souvenirs along with bottles of Evan Williams Bourbon. We concluded the Tour by stumbling, err, walking to the bus for our fifteen-minute ride to the Drury Inn Louisville East, our home for the night.
The Drury Inn was prepared for us and everyone enjoyed dinner at the ever popular (free) Kickback that featured pasta in Alfredo Sauce, strips of tender chicken, baked potatoes, and salad items. Everyone was totally satisfied. I walked to my room leaving many tour guests talking and laughing together. Today was an absolutely wonderful day.
Day 3: Tuesday, September 7, 2021
What a great day from start to finish! Since we were eating breakfast at Churchill Downs, I encouraged everyone to eat lightly at the Drury Inn. We arrived at the Churchill Downs Backstretch Tour a little early, but Murray, our tour guide, was waiting for us. We were all disappointed to learn that there were no horses on the property due to vast construction on the track. Murray said this had never happened before and horses were always here training from February through November. The horses will be returning Thursday. Instead, Murray told us we'd be meeting a retired jockey named Charlie Woods Jr. whose career spanned from 1974-2009. Charlie was magnificent. He began speaking during our breakfast and stayed with us throughout the conclusion of the Backstretch Tour. Charlie's career peaked with many victories during the 1980's. He now has an artificial hip and told us jockeys suffer many injuries. Charlie complained he was gaining weight, but he was a small man of 5'4" tall and weighed 120 pounds. Everyone was endeared to him, many received his autograph, and everyone took a picture with him. Murray was also terrific, and we ended our Backstretch Tour by taking a group photo (with Charlie) in front of the starting gate that is only used for the Kentucky Derby.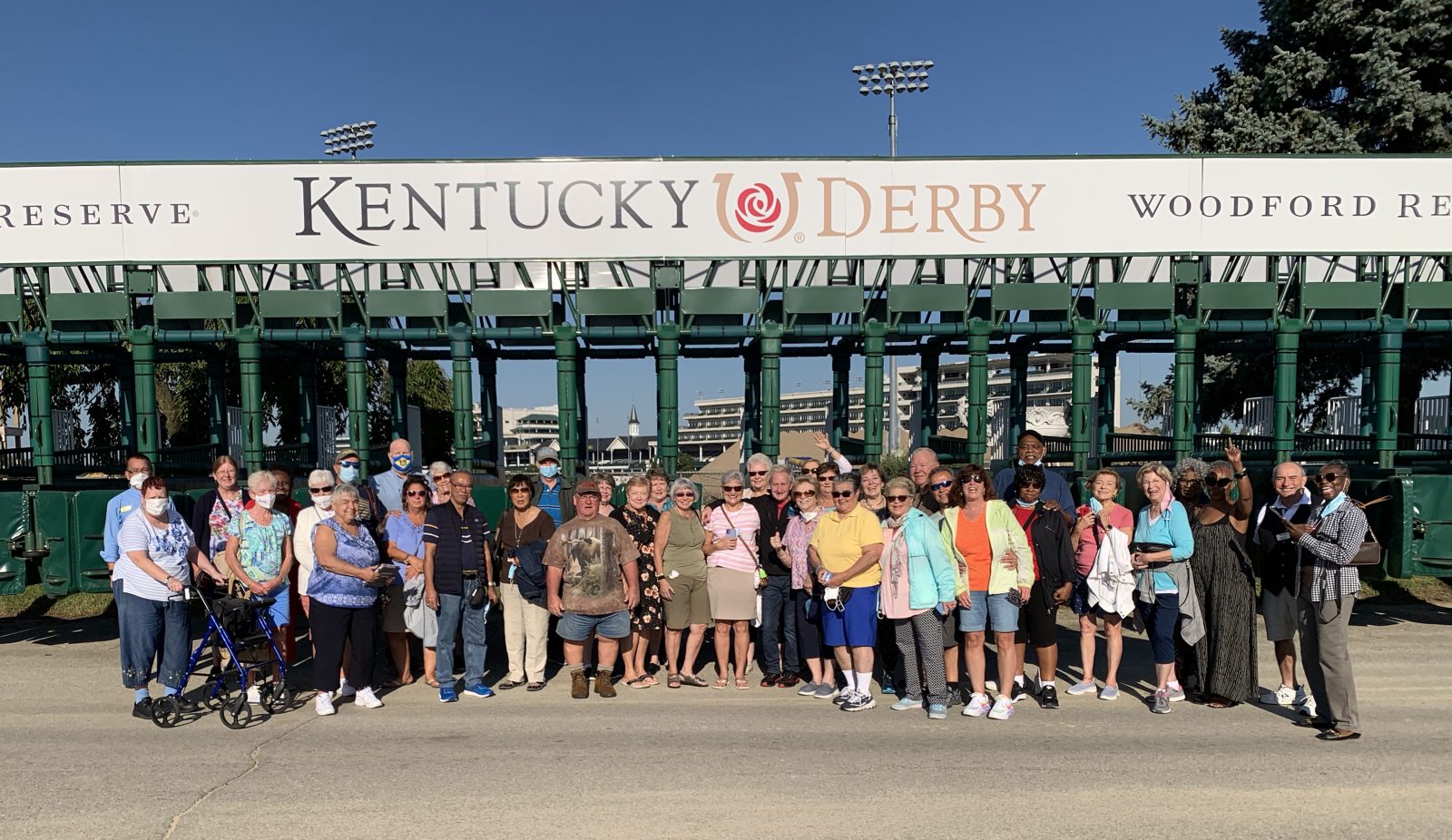 We rode around the block to the entrance to Churchill Downs Racetrack. We all took pictures of the iconic entrance that has a statue of 2006 Kentucky Derby winner Barbaro who is actually buried under the statue. Our tour consisted of the history of the Kentucky Derby and a walk into the lower grandstand of the racetrack, the same walk the horses take as they enter for the races. Our guide showed us the famous spires that are now protected by the Federal Government as a U.S. Landmark. He pointed out the winners' circle for the Kentucky Derby and explained that each winning horse receives three things; a gold medallion, a blanket of roses, and a check for $1.5 million. Following the tour, we were ushered into the 10:30 AM showing of "Churchill Downs" a powerful 360° movie about the history of the racetrack through the years. We sat on swirling stools in the center of this gigantic theater. Our final 45 minutes was spent in the gift shop and playing in the magnificent museum that honors the greatest horses that have ever raced!
Fun fact: Secretariat, the greatest horse of all time, won the Triple Crown in 1973 by breaking records in all three races. After Secretariat's death, they did an autopsy that showed his heart weighed 22 pounds when a normal racehorse's heart weighs only 8 pounds. Secretariat's greatness came from his ability to take in more air during a race and pump his blood faster throughout his body.
We departed Churchill Downs and headed West towards Nashville. At the 65-mile marker along I-65, the clock on our electronic devices suddenly jumped back an hour. We were officially in Central Time and will not return to Eastern Time until Day 26.
We arrived in Smith's Grove, Kentucky for an easy lunch stop. I played a set of Country Music tunes as we drove the final hour into Nashville, the Country Capital of the world. We arrived at the Wingate Nashville Airport Hotel and checked into our comfortable rooms.
Our tour guests had two wonderful hours to stroll around the beautiful Gaylord Hotel. We walked in as a group in order to secure maps while I oriented them to where we were on the map so they'd be able to easily find their way out. Everyone thoroughly enjoyed strolling the magnificent indoor forests, waterfalls, and shops. They each found a nice place to eat dinner.
Next on our schedule was a show at the Grand Ole Opry. This was a lively and wonderful show featuring six talented acts including one funny comedian. The music was terrific, and everyone had a wonderful experience, whether they were fans of country music or not.
Everyone had a wonderful day as we returned to the hotel to sleep. We needed to be up early tomorrow for Elvis.
Day 4: Wednesday, September 8, 2021
We departed and headed West on I-40 to Memphis. I played a plethora of Elvis tunes and took requests from our guests.
Graceland is the second most visited house in the United States, bested only by that large, white home in Washington DC. Upon arriving, I secured our tickets from the Visitors Center and walked back to the bus to hand out Graceland tickets, $15 lunch coupons, and maps to each tour guest. We had 4.5 hours to enjoy the complex of museums and home.
Most tour guests ate lunch immediately upon arrival. Some chose to view the Pre-Show film about Elvis and shuttle across the street to tour the Mansion first. The Pre-Show is a short film intended to teach about Elvis' major life moments. Then, you walk out a different door and walk towards the shuttle that takes you across the street to Graceland. Very friendly employees equip you with an iPad and headphones that will provide narration for each section of the 23 room mansion and outside grounds that are open to the public. Since Elvis was always very private in nature, the upstairs bedrooms will always be closed to public viewing out of respect.
Upon entering Graceland, one immediately can see the huge living room featuring a ten-foot sofa surrounded by elegant furnishings, a large television set, and a picture of Elvis. On the left is the dining room featuring Elvis's and Priscilla's wedding china. The narration continues to direct you downstairs to the billiards room and 3-TV room where he would watch three programs at a time on his luxurious furnishings. Each room is beautifully decorated in a different theme at no regard for expense. The entire tour is fascinating and breathtaking and is a must see. The approximately 75-minute tour concludes at Elvis's gravesite surrounded by the gravesites of his departed family members who he always showed loving devotion. Elvis died at 42 years of age in 1977. If still alive, he would be 86 years old.
Once shuttled across the street, we were able to stroll through the many museums that now permanently hold Elvis' cars including the iconic Pink Cadillac he presented to his mother (who actually couldn't drive), his many unique outfits he wore while performing, and one museum devoted to his hit records and many movies. Videos of Elvis looped at almost every turn, and it can take multiple visits to see each one. The trustees of Graceland have created a magnificent tribute to Elvis, a tribute truly fit for a KING!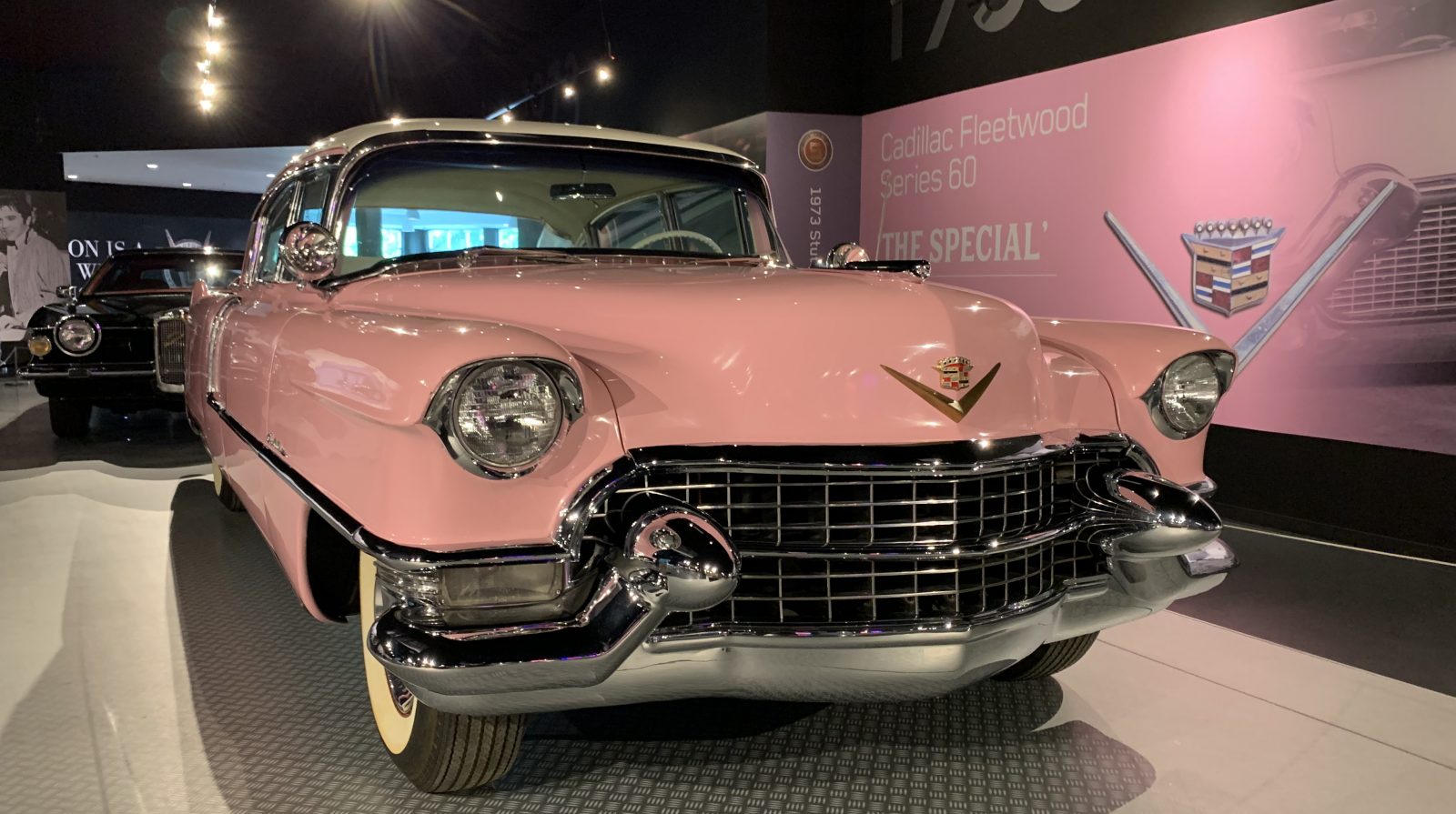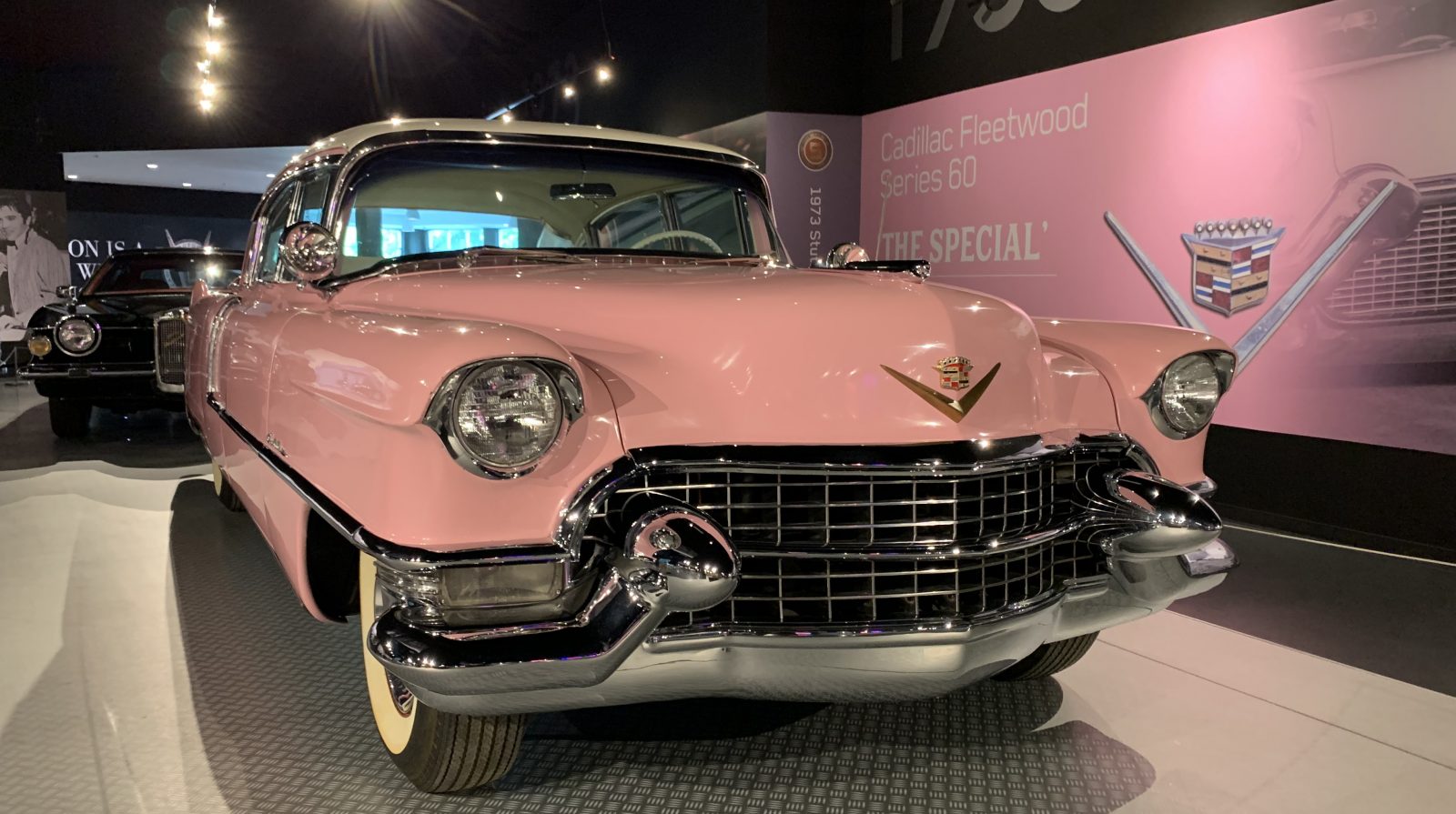 All tour guests walked the half block to famous Beale Street for dinner, drinks, and entertainment. Many formed new friendships and dined together. Beale Street was alive with loud voices and music flowing in every direction. Today was another perfect day.
Day 5: Thursday, September 9, 2021
Our Hotel was fabulous. It is a block from Beale Street and very convenient. In fact, they put ear plugs in each of our rooms so we'd sleep well. However, we never needed them and many saved the ear plugs as souvenirs.
It was 6:05 PM on Thursday, April 4, 1968 when Dr. Martin Luther King, Jr. was assassinated at the Lorraine Motel in Memphis. Since the Lorraine Motel was just a short drive from our hotel, Walt and I arranged for a photo stop before leaving Memphis. This was a pleasant surprise for our travelers!
The Lorraine Motel has been converted into The National Civil Rights Museum. Two Cadillacs used by King in 1968 sit in the parking spots below the balcony from which he was assassinated. A circular marker adorns the balcony railing at Room 306 where King last stood. It's an extremely solemn and surreal experience that I can only compare to standing on Dealy Square in Dallas.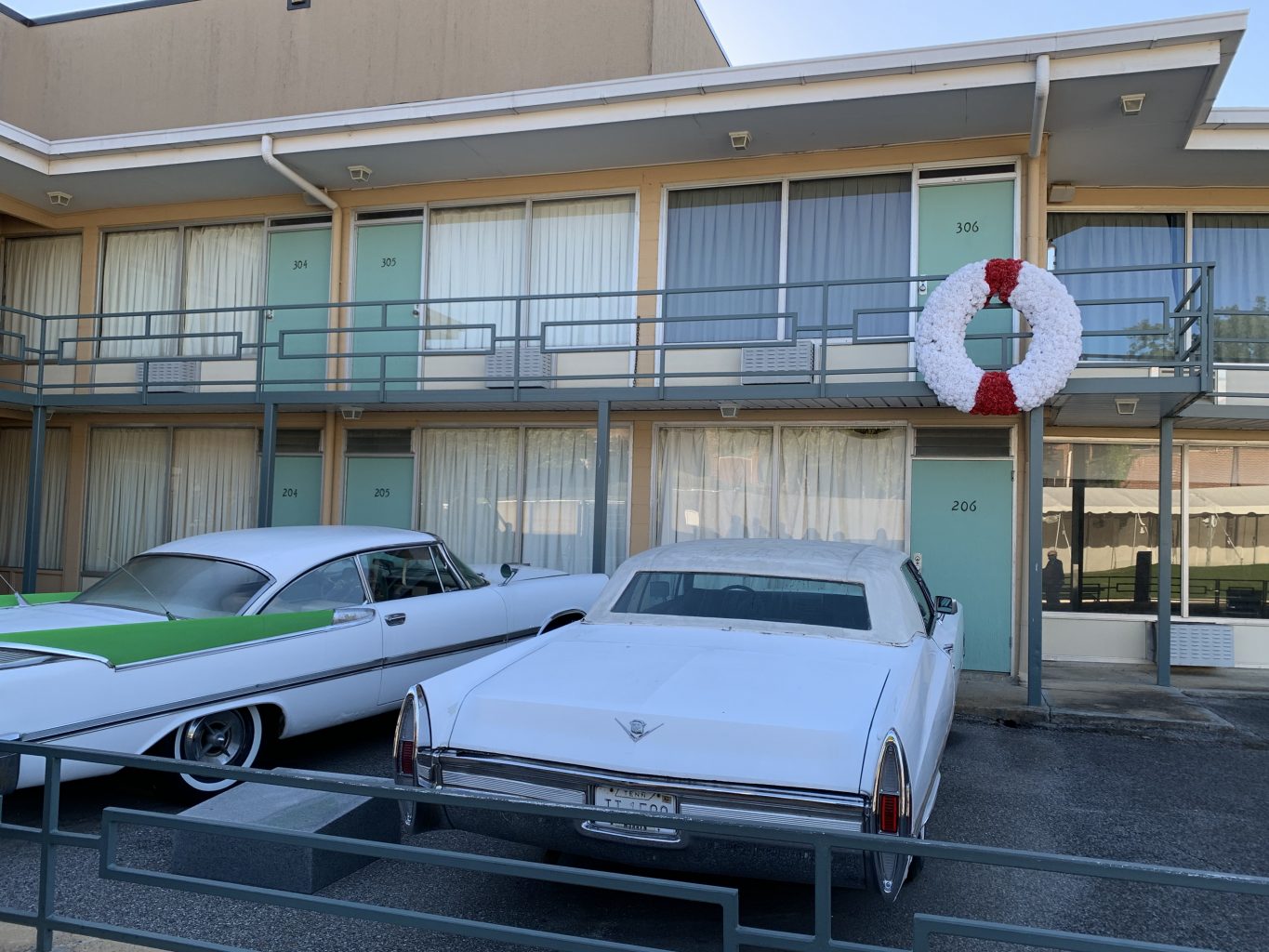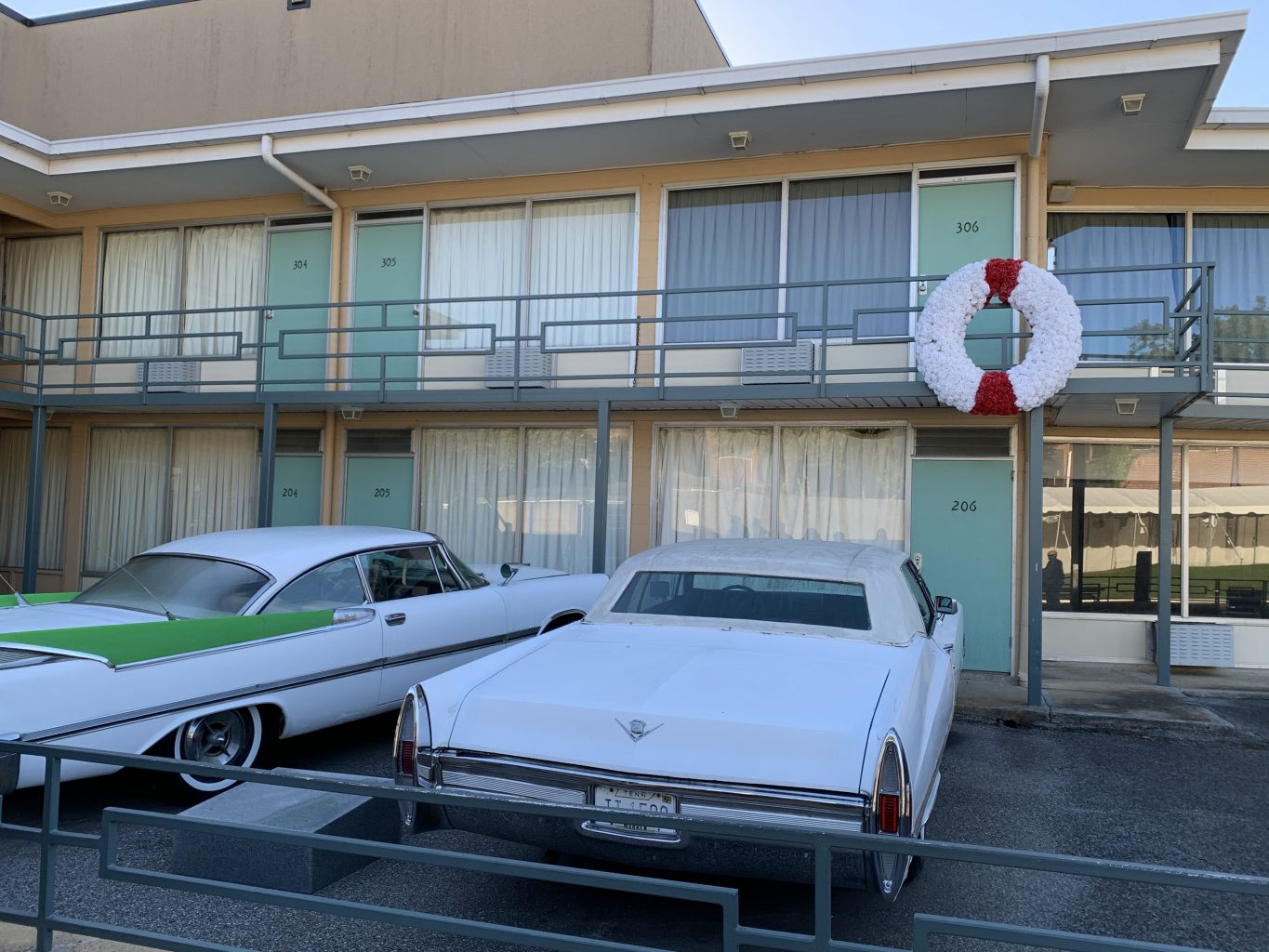 We left Memphis and began our day's ride to Oklahoma City on I-40. I played "Abraham, Martin, & John" by Dion, a sixties song honoring Lincoln, King, and both John and Bobby Kennedy. I concluded the set by playing "We Shall Overcome," performed by Peter Yarrow of Peter, Paul, and Mary. After a quick rest stop, we continued onto Alma, Arkansas near Fort Smith to our lunch stop. I showed the movie, "Ray," starring Jamie Foxx, on our big screens. "Ray" depicts the life of Ray Charles. This is the perfect movie for where we are in our trip. His music fit in perfectly with the R&B bands we listened to in Memphis last night. Ray was a first-year inductee into the Rock N' Roll Hall of Fame in Cleveland which we visit on Day 26, and Ray Charles is being inducted this year into the Country Music Hall of Fame in Nashville, the city we departed from two days ago. All tour guests watched intently and enjoyed the movie.
We arrived in Alma, Arkansas for lunch. Back on the bus in under an hour, we continued our travels.
We crossed into Oklahoma. The song began. The tour guests sang. By the end of the song, we were all spelling the name of the state!
Next, we stopped in Okemah, Oklahoma for a break. Okemah is the childhood home of folk singer Woody Guthrie. So, I spent the final hour of our journey today playing folk music beginning with "This Land is Your Land" by Woody Guthrie. The tour guests sang along with the many songs that have been engraved in our lives since childhood.
We arrived at the Hampton Inn OKC Northwest in very good time which allowed Walt to drive about half of us to the nearby Penn Square Mall for dinner and shopping. Today was a relaxing day of riding with a movie and music that was enjoyed by everyone.
Walt is doing an absolutely amazing job. He's extremely thoughtful, always thinking ahead, and takes care of the bus like no other. He keeps the bus spotlessly clean and handles all technical needs like a pro. Walt treats all travelers with great respect. It is a pleasure traveling with Walt at the helm. He is the definition of a professional driver!
Day 6: Friday, September 10, 2021
Breakfast was delicious and the hotel was very comfortable. Walt made the suggestion to stop at the Alfred P. Murrah Federal Building, site of the Oklahoma City Bombing on April 19, 1995, for a brief stop. Everyone was delighted. I told the story of that fateful day on the ride over. We disembarked and a National Park Ranger was available to give us a short briefing about the symbolism of this Memorial. There are 168 chairs, representing the 168 people killed, arranged in unique order and size to represent each life lost. It was a very somber moment of our trip.
Our guides were waiting for us as we all entered the National Cowboy & Western Heritage Museum. This is such a brilliant museum with paintings and bronze sculptures created by Western artists such as Frederic Remington, Charles Russell, and former New Jersey resident Charles Schreyvogel. Our guide pointed out details in artwork that were unique to each artist. We also experienced clothing made from all beads and one particular jacket made from porcupine quills. All guests loved this museum! Lunch was delicious and included a beautiful display of sandwiches, chips, pickles, cookies, and drinks.
As we departed the museum, we saw our first "Historic Route 66" sign. Nat King Cole sang for us for the next three minutes. Traffic was light and moving as we made good time towards our rest stop, 26 miles from the Texas border.
I began showing the movie that takes place in Texas, "Hidden Figures." It is the true story of Katherine Johnson, the black mathematician who saved the NASA program's liftoff of John Glenn in February 1962. I paused the movie when we crossed the Texas Border to play "Deep in the Heart of Texas". Everyone clapped and sang along and then we finished the movie.
We arrived in Amarillo and, after checking into our hotel, we boarded the bus to travel to dinner at the Big Texan Steak Ranch. Upon disembarking, we lined up in front of the Ranch for a group photo. Once inside, we were seated to the right of the Contest Table, prime seating! Unfortunately, no one dared to eat the 72-ounce steak with all the fixings tonight. Most of us couldn't even finish our delicious 16-ounce steak or chicken with a salad, beans, baked potato, dinner roll, and piece of cheesecake for dessert.
The atmosphere at the Big Texan Steak Ranch is ultra-casual. We sit on chairs at long tables seating 16 people. Looking around, many moose heads hang from the rafters. Guitarists come around and play and sing for you. It is extremely festive with a hard-working staff that takes pride in handling all your needs. Following dinner, you can wander into the Gift Shop and take a look at the live rattlesnake in an aquarium. You can shop for Texas and Route 66 souvenirs. You can take a photo sitting in a gigantic chair or holding onto the bars in a jail. We had an hour to play and all had a wonderful time.
Today was a full and exciting day filled with great experiences. We look forward to tomorrow.
Day 7: Saturday, September 11, 2021
As today is the 20th anniversary of the 9/11 attacks, it was important to pay tribute to those who lost their lives and to thank those who saved lives. I played "America the Beautiful" by Barbra Streisand and the song "Let's Roll" by Neil Young depicting Todd Beamer's heroics on Flight 93. I concluded the memorial tribute with a moment of silence.
Our first stop was Cadillac Ranch, an artistic sculpture consisting of old Cadillacs dated from 1948 to 1961. Each vehicle is inserted halfway into the ground with the tail fins sticking high into the air. Created in 1975 by three hippies from San Francisco, this is truly a different form of art. The Cadillacs have been stripped completely over the 45 years since this was created. Spray paint sits on the ground encouragingly all visitors to add to the already thick layers of paint. Our guests enjoyed this roadside attraction very much. It's a must see!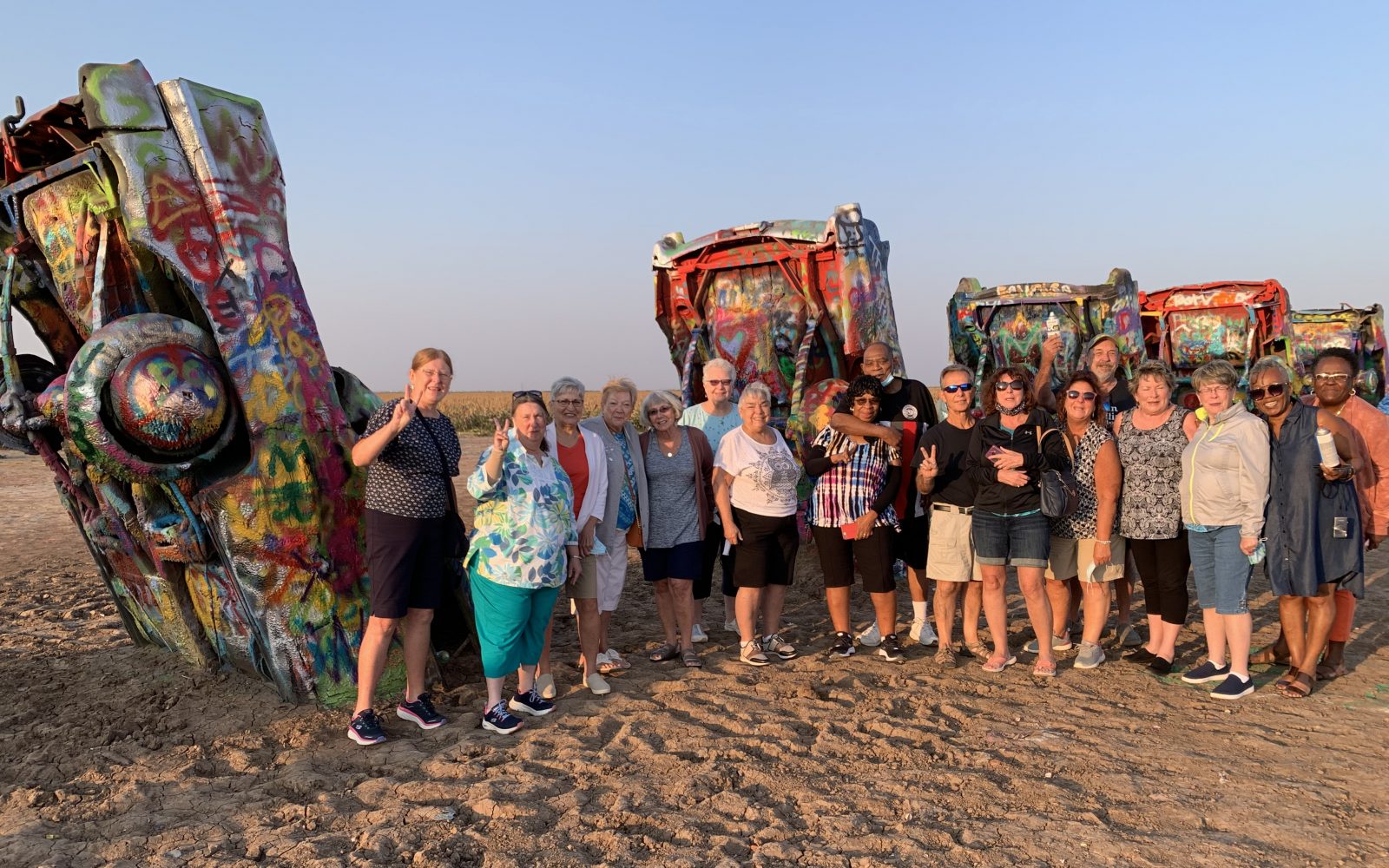 I played the conclusion of "Hidden Figures" as we crossed into New Mexico. After a rest stop, I played the 50-minute documentary entitled "Route 66." It depicted great footage of the 1920's through the 1950's, the heyday of the Mother Road. We are driving through a stretch of flat lands where you can see for miles in all directions. The land is dotted with green/yellow grasses and small green bushes at an elevation of 5,800 feet. There is not a trace of civilization around this barren land.
After a second brief rest stop, we meandered through beautiful mountainous terrain, the foothills of the Rocky Mountains, that led into Albuquerque. We soon arrived at the Sawmill Market in Albuquerque for lunch. This was a magnificent food emporium with dozens of small food kiosks. Food from a dozen countries was represented here along with specialty burgers and pizza. The dessert kiosks put pounds on you by just looking at them. Plenty of seating was available both inside and outside. There also was a very good band playing outside as well. This was, without a doubt, the best lunch stop on the trip and everyone raved about the large variety of different foods to choose from.
The Sandia Peak Tramway was our next stop. The skies were a clear blue offering visibility for miles and miles. The views were breathtaking. We all crowded into the tramcar (50 person maximum) and climbed 15 minutes at 12 miles per hour until we reached the Sandia Peak at 10,378 feet. We walked around the boardwalk paths to many different viewpoint and it was impossible to take a photo that wasn't beautiful.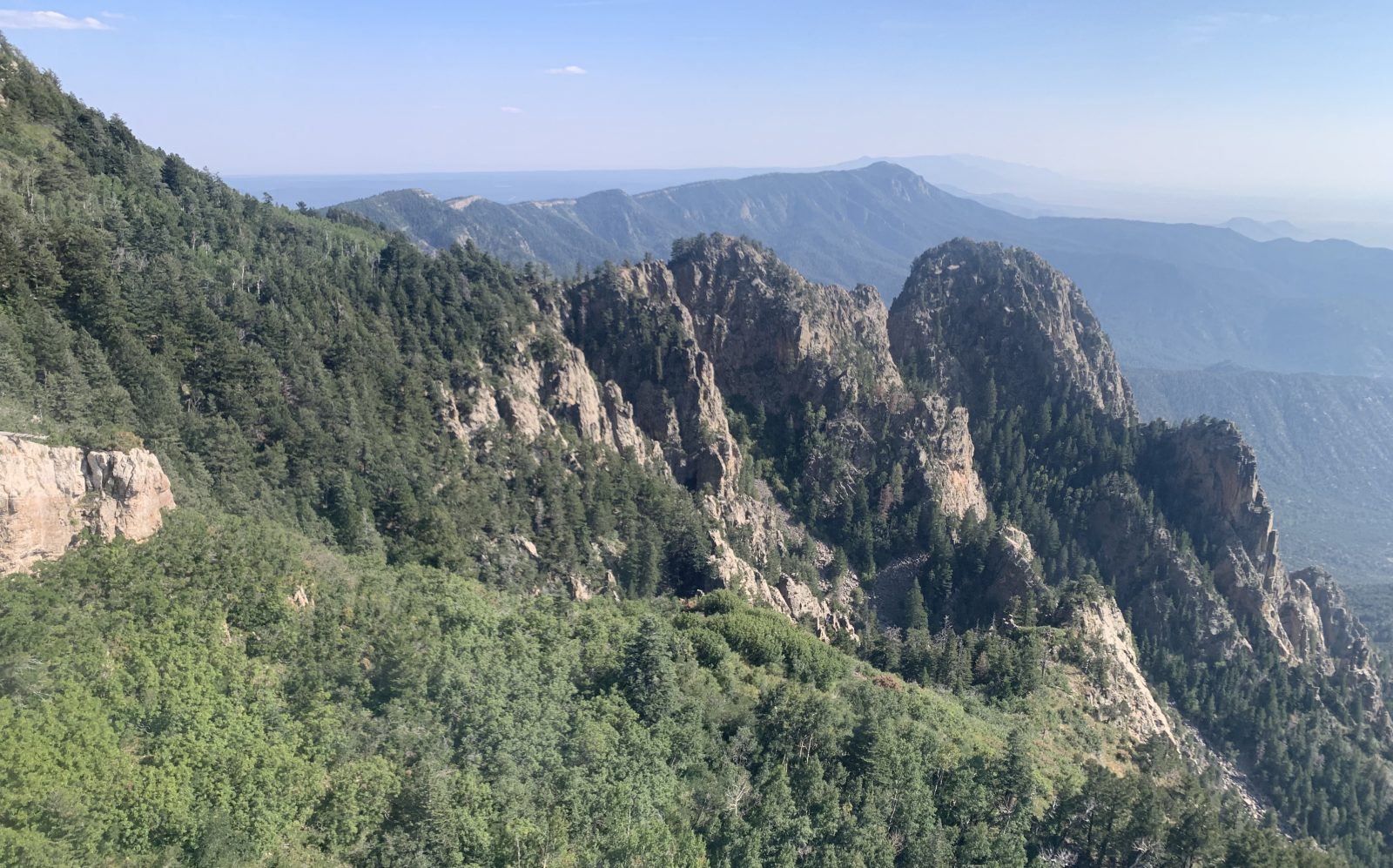 Once down to a mere 5,000 feet above sea level, we drove to the Drury Inn. Walt had already dropped off our luggage so I just handed out the room keys and everyone was on their own. The "Kickback" was beginning shortly. Another wonderful day with many different experiences!
Day 8: Sunday, September 12, 2021
Today Walt has a day off so we were picked up by a friendly driver named Thomas from Herrera Coaches. He safely drove us to the Balloon Museum for us to learn about the history of ballooning. The first balloon launch was in Versailles when the King of France questioned its safety and sent up animals. The sheep and birds landed safely thus encouraging man to launch next. The museum is very interesting and was enjoyed by all.
Next, we visited Old Town Albuquerque with its many unique shops and restaurants as well as many places to purchase souvenirs of Albuquerque and Route 66.
The Pueblo Cultural Center was another different and very interesting experience and we were lucky to be there for a performance! The Dancers performed to the beat of the drums and the chanting of four singers and represented gratitude to the Earth for all it provides. It was interesting to watch! Following the performance, our Tour Guide led us around the fascinating museum explaining the history, culture, and traditions of the Pueblo Indians in New Mexico. He covered 800 years of history in one hour like a college professor. We all enjoyed the Pueblo Cultural Center thus completing another day of wonderful experiences.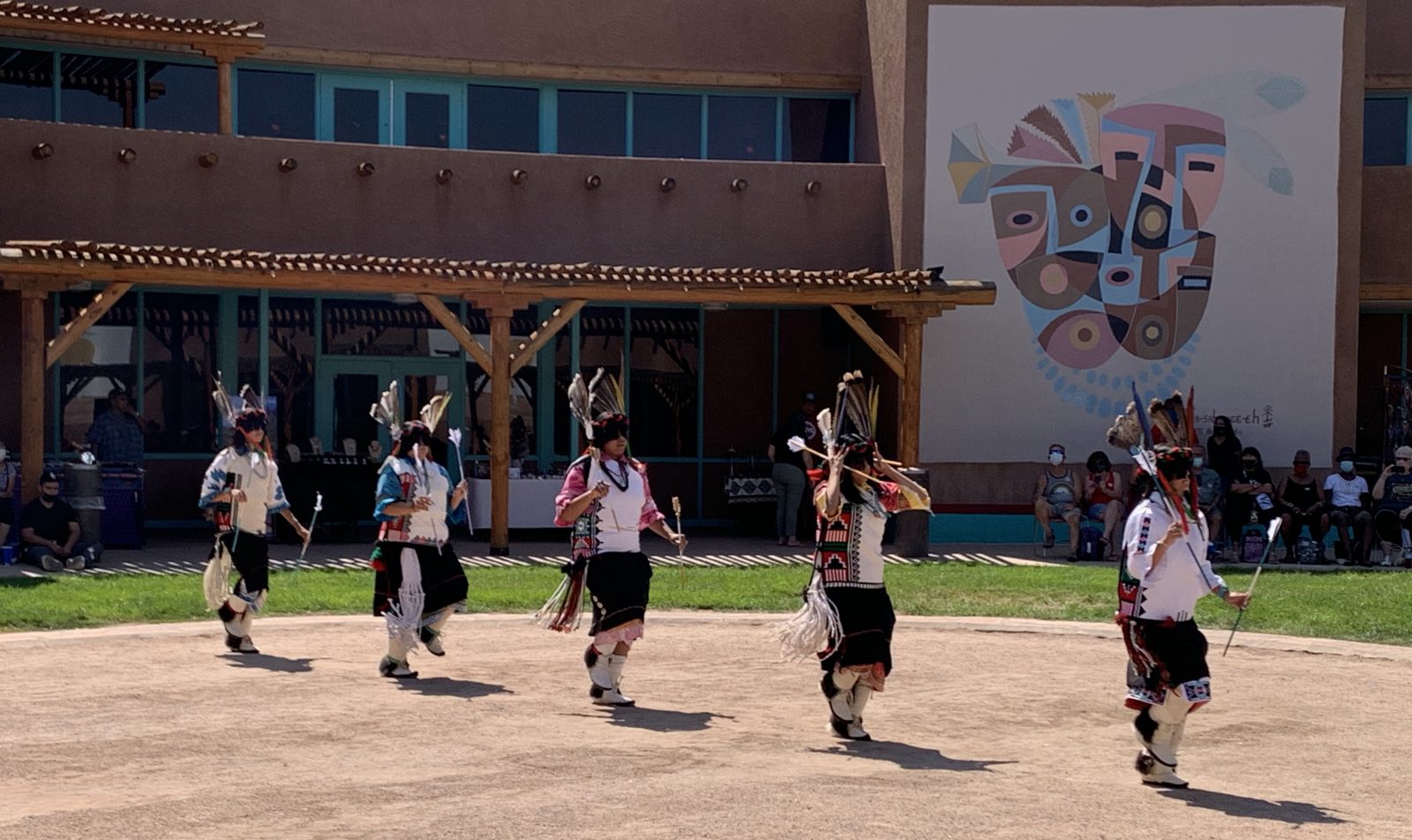 Day 9: Monday, September 13, 2021
We continued west and stopped at the Navajo Travel Plaza for a rest stop. This is the best rest stop since it has all kinds of jewelry, blankets, and souvenirs at very reasonable prices. Soon after departing, we crossed into Arizona and our clocks went back one hour. I played the video that is shown at the Petrified Forest National Park auditorium on the bus. I explained about purchasing the National Park Passport Book and stamping their book at each National Park we visit. Of course, I played Western songs since we continued riding through the desert.
We soon arrived at The Painted Desert and Petrified Forest National Park. We stopped at the Visitors Center and many of us bought the National Park Passport Book and self-stamped their book. We stopped at the first overlook upon entering the park as an introduction to its magnificence and everyone had difficulty believing the beauty of the land, with vibrant colors in all directions. Our second stop was for lunch at the renovated picnic area. Everyone really enjoyed their boxed lunch from Panera that included a sandwich, a pickle, a chocolate chip cookie, a bag of chips, and a bottle of water.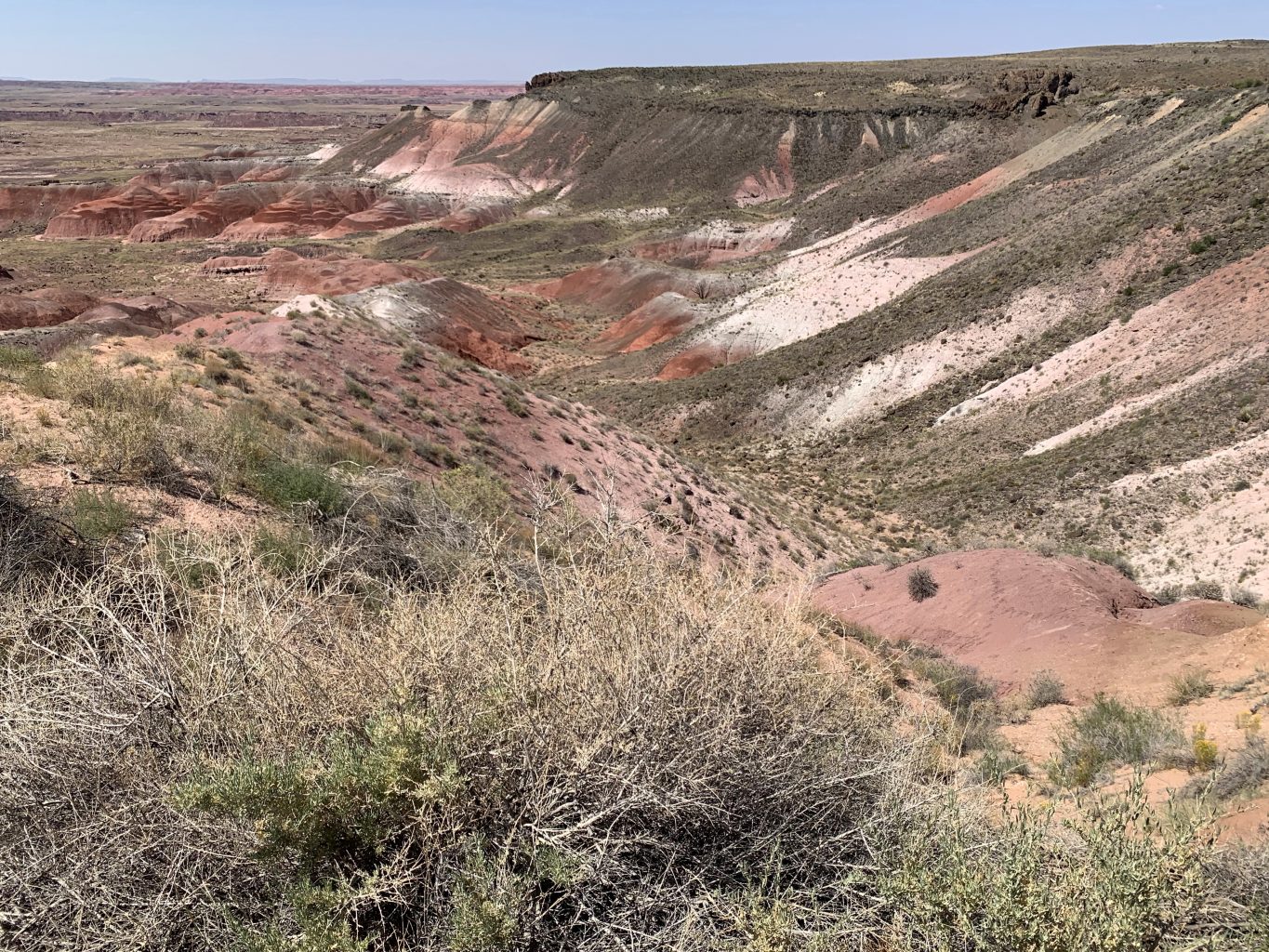 We stopped at two more overlooks in the Painted Desert before crossing into the Petrified Forest. One stop in the Petrified Forest featured petroglyphs (writings) created by Pueblo Natives 2,000 years ago. Our second stop featured a long-petrified log bridge that once spanned a river. Today, the National Park Service has reinforced the bridge with concrete so it won't collapse. Our next stop was the Crystal Forest where many chose to take the ¾ mile circular hike into the backcountry to experience Petrified Wood at its grandeur. You see large pieces of petrified wood with brilliant colors sitting on the ground. Some are large enough for a group to sit on which is where we took a group photo of our hikers. The hike was scenic and invigorating.
Our final stop in Petrified Forest National Park was the gift shop and Visitors Center at the south end of the park. We then boarded the bus for our drive to beautiful Sedona, Arizona, the town of the breathtaking red and orange cliffs.
Our host for the evening, Holiday Inn Express in Oak Creek Canyon, is a wonderful hotel situated among many restaurants within easy walking distance. Everyone marveled at the massive cliffs and colors that surrounded us. Tomorrow, we are looking forward to our Pink Jeep Tour into the badlands (rugged terrain) of Sedona.
Day 10: Tuesday, September 14, 2021
The morning sun on the massive orange and red sandstone rock formations was inspiring. We divided into groups of six or seven for our Pink Jeep Tour and boarded our pink jeeps for our backcountry ride in Sedona.
The Pink Jeep Tour was absolutely invigorating. We each sat holding on as the Jeep rolled over large rocks that felt like mini boulders. A few times we were moved out of our seats. Our drivers told stories about Sedona and explained the plant life and beautiful scenery. All six jeeps rendezvoused at a particular spot. This is where we all got out of the jeeps to stroll around. It was here we took gorgeous pictures including a group photo with the red rocks in the background. We then bounced, rocked, and rolled back to Sedona, thus completing our tour. It was really exciting, and everyone loved this experience.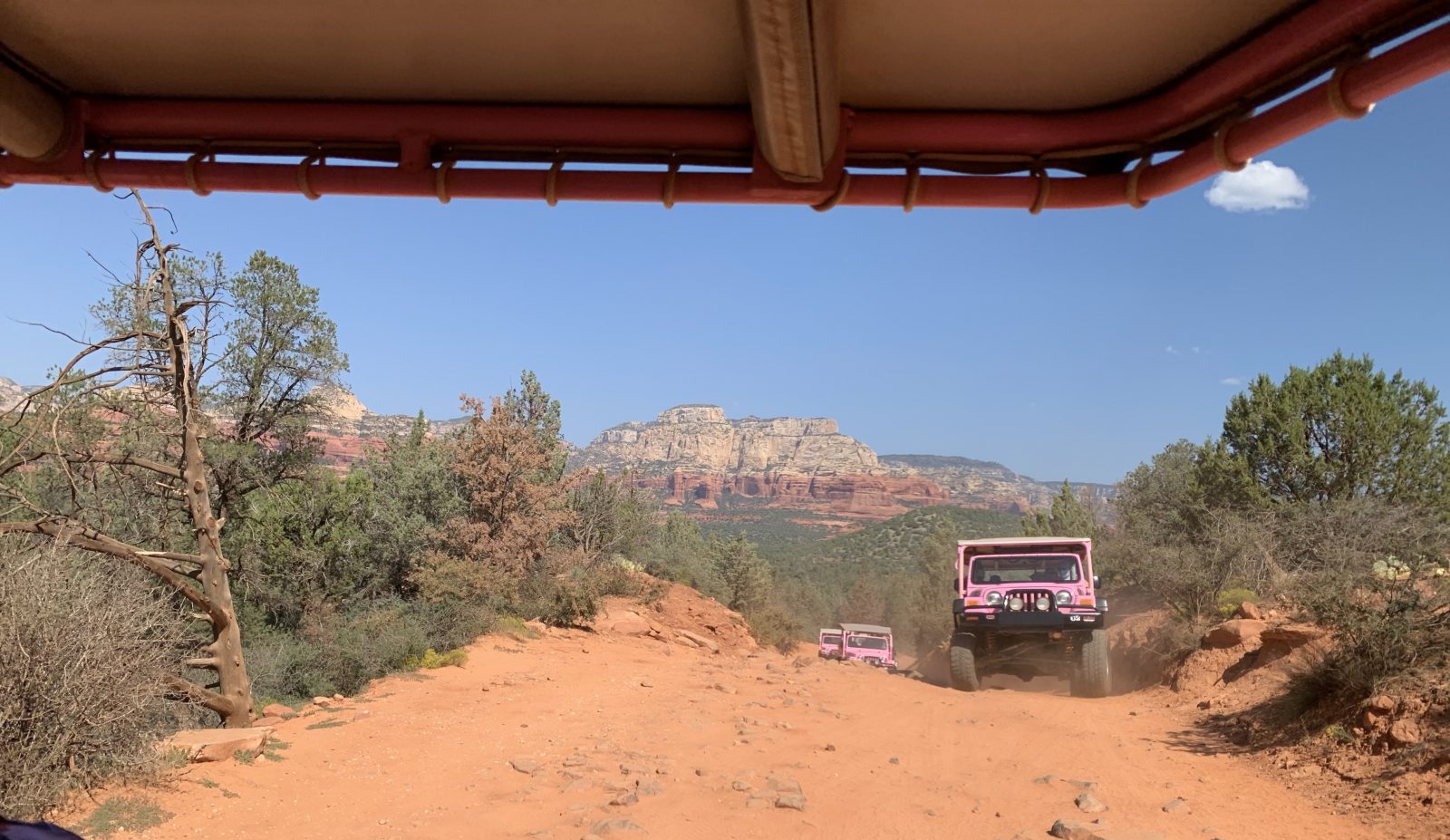 We left beautiful Sedona and traveled from an elevation of 4,500 feet to 2,000 feet towards Scottsdale. We began to see Saguaro Cacti along the road as we descended lower than 3,000 feet. We were in the Sonoran Desert, the greatest desert environment in the United States to see these massive 40-foot Saguaros. By the time we got to Scottsdale, the temperature outside hit triple digits and was going up to 107° during our stay.
Old Town Scottsdale is three city blocks long with a few stores and restaurants on either side of a four-lane major thoroughfare. We exited the bus to 106° temperatures and ate lunch.
We returned to the bus and traveled two blocks to the Western Spirit Museum. We were greeted by four knowledgeable and enthusiastic docents who gave us magnificent tours of the many western figures, sculptures, paintings, and artists on display. My favorite was a combination tomahawk at one end and peace pipe on the other used by Meriwether Lewis on the Lewis and Clark expedition. Whenever Meriwether met new groups of Native Americans, he would show the tomahawk but play the peace pipe and hope they'd cooperate. And it worked. The 90-minute tour seemed to fly by and was greatly enjoyed.
The Drury Inn in Chandler is our hotel for the night. Today was another successful day filled many with different experiences. Tomorrow, California Here We Come!
Day 11: Wednesday, September 15, 2021
We departed Chandler and proceeded west to San Diego. After playing the theme from Rocky to get us going, I put on the DVD "The Founder," starring Michael Keaton. The very first McDonalds, before Ray Kroc took ownership, was located in Pasadena, California and run by the McDonald Brothers. This is the story of how Ray Kroc, played by Michael Keaton, built his McDonalds Empire. Our tour guests seemed to enjoy this movie very much.
After a brief rest stop, we continued our 85-mile ride through the Sonoran Desert to the California State Line. The Beach Boys welcomed us across the California border with "California Girls" and "I Get Around." Al Jolson added "California, Here I Come." We continued riding through the Mohave Desert. For many miles, we passed mounds of sand as far as the eye can see like in Lawrence of Arabia. The outside temperatures kept rising. Soon we reached El Centro, California, for our lunch stop.
The temperature was a balmy 106° here in the Mohave Desert but all establishments were really close to where Walt was able to park the bus. Everyone enjoyed their lunch and in less than an hour we were back on the bus to complete the final 70 miles into San Diego.
The Hilton Gaslamp Hotel is in the heart of the Gaslamp District of San Diego. It is a beautiful hotel! The staff at the hotel were extremely friendly and eager to please us. Bellman Ray got our luggage labeled and delivered to our rooms while concierge Mark gave me restaurant maps of the area for everyone. These maps outlined over 50 eating establishments on 5th Avenue, one short block away. Everyone went up to their room to refresh before our night out on the "Old" town.
An hour after our arrival, we departed for Old Town San Diego. The temperatures were a chilly 72° but felt so delightful! San Diego has the most consistent climate in the United States with average yearly temperatures of 77° with less than 8 inches of rain. Old Town is quaint with many restaurants and shops with Mexican flair. Live music can be heard and viewed from many places and restaurants. It is a festive atmosphere filled with color, wonderful restaurants, and unique shops. We all thoroughly enjoyed Old Town San Diego.
Another wonderful day was enjoyed by all. We look forward to the famous San Diego Zoo tomorrow.
Day 12: Thursday, September 16, 2021
There are many opportunities for breakfast including the wonderful Cine Deli across the street. Many called their breakfast order in to the Cine Deli at 6:00 AM and walked over to pick it up. Others bought fruit and muffins in Old Town San Diego. All were on the bus on time for our short ride to the San Diego Zoo.
Before entering the San Diego Zoo, we took a group photo in front of the giant statue of the first lion cared for by officials back in the 1930's which gave rise to the zoo concept. We then went through the turnstiles and hopped on the Bus Tour, a 35-minute guided tour around the park. Following the Bus Tour, everyone was on their own to explore this magnificent zoo.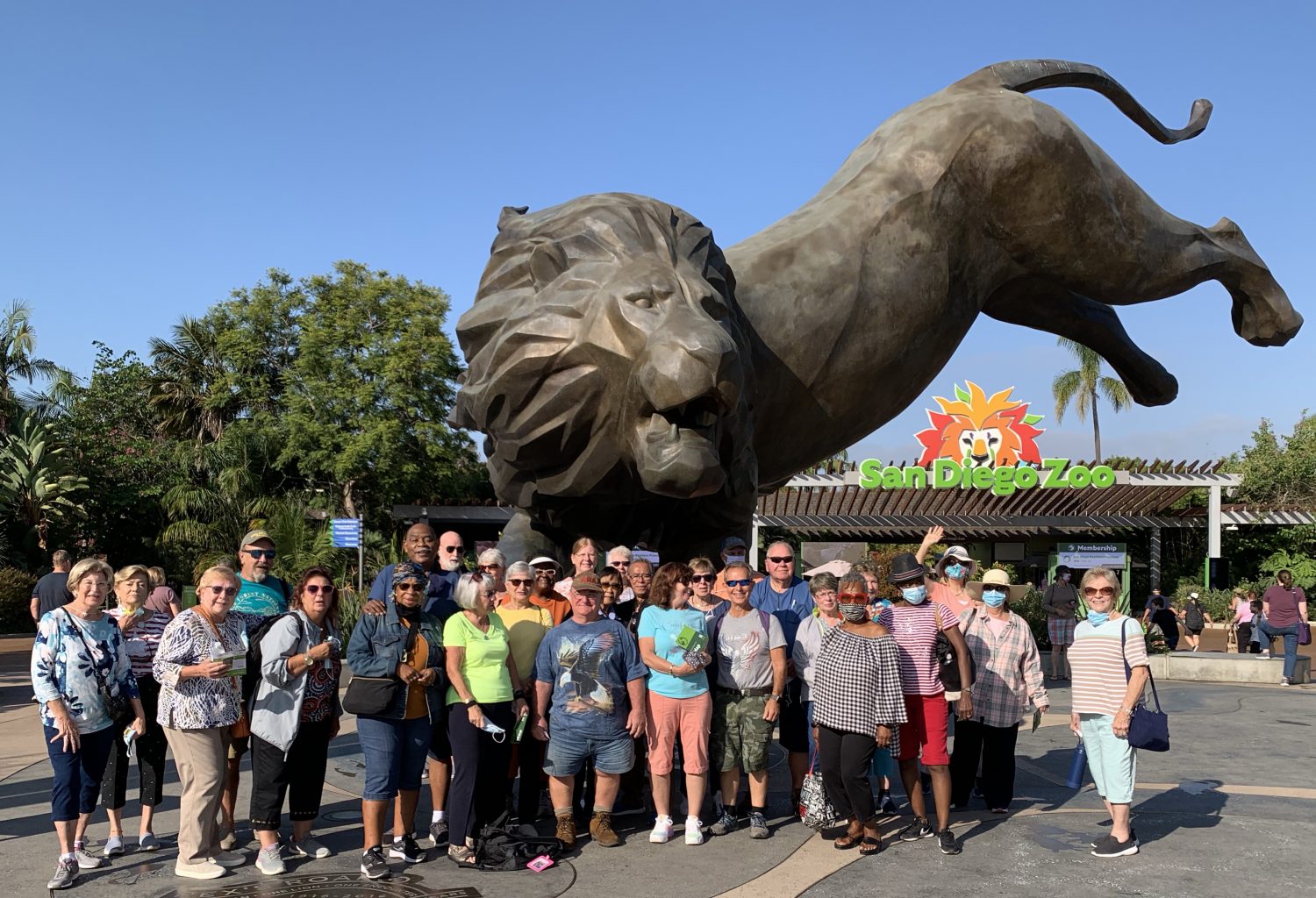 The koalas were on everyone's priority list. Despite sleeping for 20 hours a day, they looked so adorable perched in their tree without a care in the world. We all took wonderful pictures of animals eating. It must have been feeding time at the zoo. The time seemed to fly by and before we knew it, our 4 1/2 hours vanished. We headed back to the hotel to relax and refresh before heading out to our San Diego Harbor Cruise.
The two-hour San Diego Harbor Cruise aboard the Spirit of San Diego was relaxing, informative, and displayed unique landscapes like no other. We cruised past the United States Naval Base complete with battleships, aircraft carriers, cruisers, and a hospital ship. We passed a seal experimental feeding ground and saw dozens of seals lying out on a wooden walkway. We cruised by Navy helicopters and fighter jets sitting on the ground awaiting their next mission. The setting sun was putting on a spectacular show over the Pacific Ocean. One thing is for certain; the United States is the most powerful nation in the world, and this cruise proves part of this statement.
We returned to the hotel and many went out to a nice restaurant within two blocks of the Hilton Gaslamp Hotel for dinner. This hotel is in a perfect location for our needs with many different amenities within a short walk.
Today was another wonderful day filled with new and different experiences. Tomorrow we look forward to heading into the City of Angels, Los Angeles.
Day 13: Friday, September 17, 2021
Breakfast was on our own again this morning. Again, the Cine Deli across the street from the Hilton Gaslamp proved to be a welcoming spot for most. The food was delicious, the prices were reasonable, and the takeout service was quick.
We began our drive north towards Los Angeles. After playing "Hotel California" by the Eagles and "Surfin' USA" by The Beach Boys, I played three television episodes of "The Beverly Hillbillies." Everyone enjoyed the comedy relief and the show brought back memories. Tomorrow, we expect to see the street in Hollywood the Clampetts drove down during the opening credits of the show.
We arrived in Yorba Linda, the birthplace and Presidential Library of Richard Millhouse Nixon where we were met by three extremely knowledgeable and passionate guides who were prepared for our tour.
We began the Nixon Tour by going outside the museum to the 2,000 square foot home that stands alone where Richard Nixon was born. The home was built at this location in the early 1900's and the Presidential Library was constructed around it. We toured the inside of his home where pictures of the Nixon family adorned the walls and the home's original furnishings filled the space. Once outside, we passed by the gravesites of both Richard and Pat Nixon which are marked by black granite foot stones before re-entering the Presidential Library and Museum.
The museum is brilliantly done, and the tour was magnificent. Nixon's major accomplishments as President are highlighted. His work for women's equality, the environment, world peace (his China tour), and ending the Vietnam War are creatively detailed in large separate rooms. Towards the end of the tour is a large room dedicated solely to Watergate and his resignation as President. The museum honestly portrayed all aspects of the Nixon years, including a room dedicated to the major protests of the Vietnam War and social issues that plagued the United States. This is a fabulous attraction that brought back vivid memories of our lives some 50 years ago. Our tour guests confessed they were not looking forward to this attraction but upon departing, wished they had more time to thoroughly explore the Nixon Museum!
Walt drove us a mile to a new shopping and restaurant center named the Yorba Linda Main Street. Many different restaurants in close proximity were available to us. There was a burger restaurant, a cafe, a healthy smoothie shop, and many more. Comfortable outside seating provided us a great place to eat. This was another perfect lunch stop.
Once lunch was finished, we drove an hour and checked into the Hilton Garden Inn in Burbank, California. We were warmly welcomed by four Hilton staff members as being their first tour bus since prior to the pandemic.
Tonight, Walt graciously drove 22 of us to the Universal CityWalk, a festive restaurant row with many unique Los Angeles retail stores that surrounds Universal Studios. Many enjoyed a relaxing dinner at Bubba Gumps or Margaritaville while others ate at a faster-food establishment. Everyone enjoyed strolling into the shops such as Universal Studios Gift Shop, the Los Angeles Dodgers Team Store, and many clothing stores. People watching was also fascinating.
Today was another different and fabulous day. We look forward to our Guided Tour of Los Angeles tomorrow.
Day 14: Saturday, September 18, 2021
Judy Parisi, our Los Angeles Tour Guide in 2018 and our guide for today arrived and we happily welcomed each other with elbow bumps! Judy brought fellow tour guide, Jane, with her so we got two experts for the price of one! We represented their first tour since February 2020 and both were so eager to get back to work.
It was time to enjoy this beautiful day in L.A. and learn all about this marvelous city. Our first stop was the Hollywood Bowl – even though we were not allowed to enter the arena, Judy and Jane shared their experiences of seeing many fabulous events here. Judy then took us into Hollywood and the TCL Theater (formally the Grauman Theater) and the Hollywood Walk of Fame. We all disembarked from the bus as Judy and Jane led us up the stairs that the stars use that lead to the Dolby Theater, home to the Academy Awards (but no red carpet for us, although I thought we deserved one). We then walked to the spot where the HOLLYWOOD sign was visible and took numerous pictures. Judy explained that each letter of the Hollywood sign was 45 feet in height and donors paid over $25,000 to restore each letter. Alice Cooper of Kiss, for example, bought the first "O" in memory of his friend Groucho.
Everyone was given time to walk around on their own to see the Walk of Fame and shop for souvenirs. Some were able to get their name spelled out on a star and have their picture taken with it. Following the Walk of Fame, Judy took us in to Beverly Hills. We were able to disembark and take pictures of the infamous Beverly Hills Sign. To our surprise, Ringo Starr of the Beatles, in 2019, donated to Beverly Hills a silver statue of two fingers in the shape of a peace sign with the words "Peace and Love" etched below it. Many of us enjoyed Ringo's statue over the Beverly Hills Sign. Continuing our tour, Judy and Jane shared iconic stories about the stars. We passed Rodeo Drive to to the iconic Farmers Market. We had 90 minutes for lunch and shopping. Many bought their lunch from McGees, the original food stand that began the Farmers Market back in 1932. McGees makes a wicked corned beef and pastrami sandwich.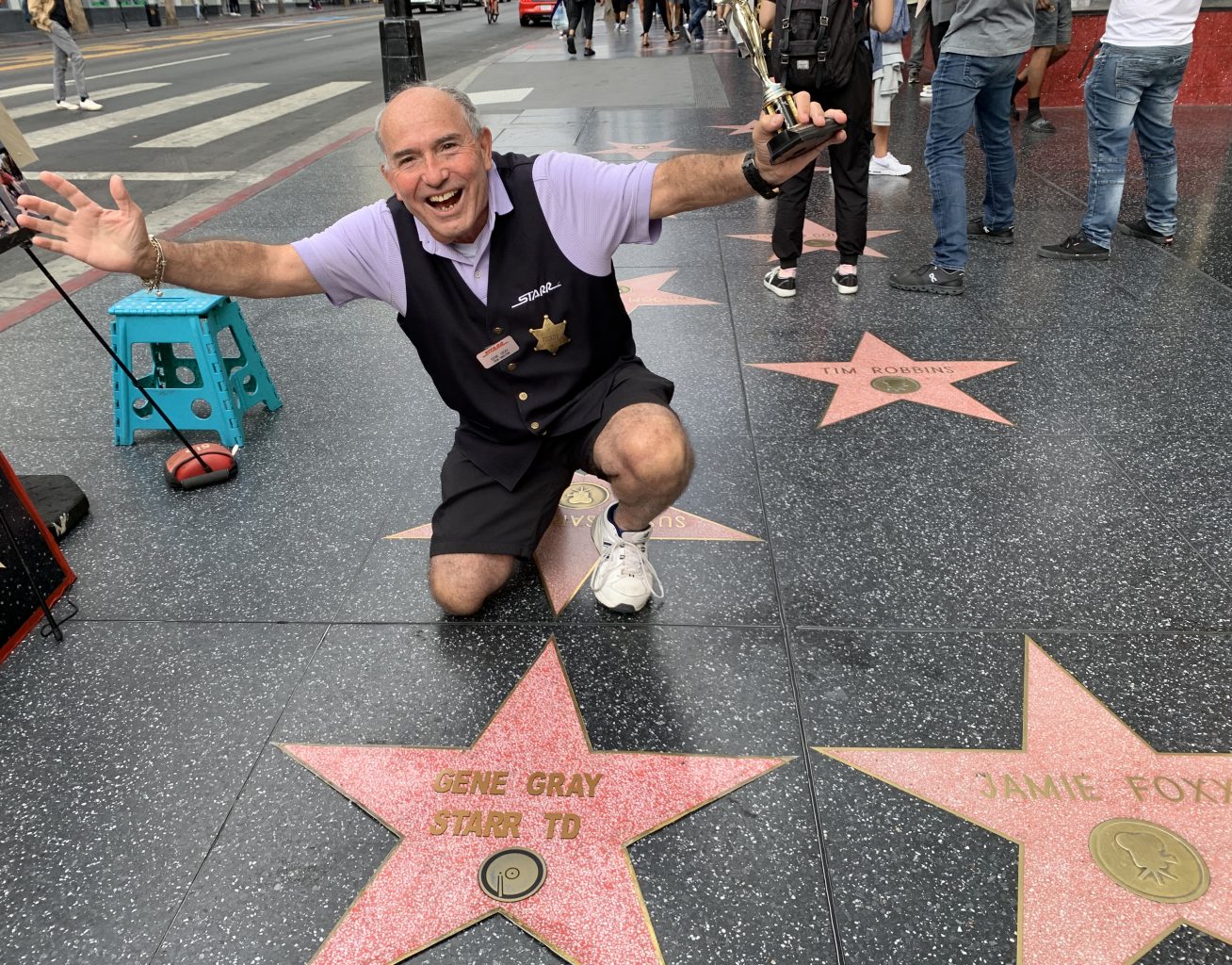 Following lunch, Judy took us past the remnants of the Ambassador Hotel, in which Robert Kennedy was shot on June 6, 1968. It is now a unified school system for grades K-12. We drove past MacArther's Park as Donna Summer began singing the song with the same name. We passed the Los Angeles City Hall which was the backdrop to the beginning of the early Superman episodes ("It's a bird, it's a plane,……"). It was a magnificent tour enjoyed thoroughly by everyone!
Once we returned to the Hilton Garden Inn, everyone was on their own to enjoy the remainder of the day and evening. Today was another in a string of magnificent and unique experiences. We look forward to Las Vegas tomorrow.