Presenting the second half of our 2022 Cross Country Adventure recap by Starr Tour Director Gene Gray! (Click here to read about their Westbound journey.)
Day 15: Sunday, September 18, 2022
Loud groans reverberated from our guests when I announced we were beginning our journey Eastward. I played "Viva Las Vegas" by Elvis which instantly improved the mood. I provided many interesting facts about Las Vegas and how it got its start. Then I showed a 50 minute documentary from The History Channel on Las Vegas. Most people watched with interest. We soon arrived at our rest stop, Walmart in Barstow, California. I mentioned that since meals are expensive in Las Vegas, including breakfasts, they might want to stock up on a few items.
Once back on the bus, I reviewed my ten page Las Vegas packet in detail providing ways to get around the three mile Las Vegas Strip, unique opportunities to experience in each hotel, and much more. I answered a few questions as everyone formulated their plans for the next day and a half. We arrived at the Baker Travel Plaza in Baker, California for lunch. We had a choice of five restaurants and 45 minutes later, boarded the bus for our final approach into Las Vegas.
The Las Vegas Raiders were in the 4th quarter of their football game at Allegient Stadium across I-15 from our hotel. I asked the tour guests to remain on the bus while I got the keys. The line for Hotel Registration stretched around the corner and could have taken up to an hour. I took a deep breath, walked up to the desk, and asked (begged) for our keys. The keys were all ready and rubber banded together. Within two minutes, I was walking out to the bus and handed each guest their key! Lucky us!!
Everyone was now on their own and accordingly, this will be my last journal entry until Tuesday morning because what happens in Vegas, stays in Vegas!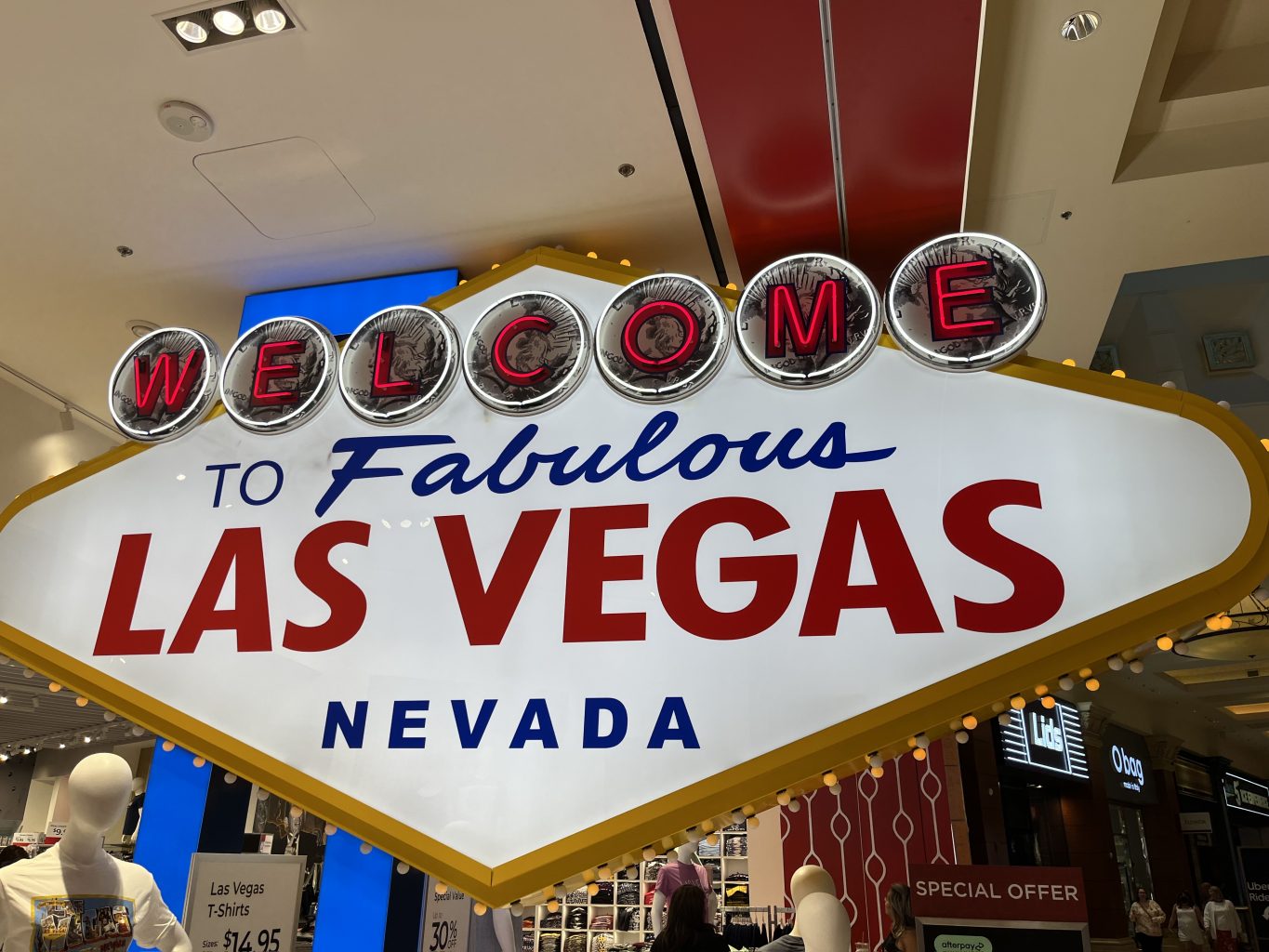 Day 17: Tuesday, September 20, 2022
We left Las Vegas exactly at 8:30 AM. The tour guests were abuzz about the shows they had seen, the fine restaurants they had eaten in, the tours they had taken, and the miles and miles of walking they had done. Many had visited Fremont Street and were sharing stories about its "different" atmosphere. Everyone had an exciting time in Las Vegas.
We were all tired as we traveled through the beautiful Sierra Nevada Mountain Chain and began climbing in elevation. I showed the documentary video titled "The Harvey Girls." Fred Harvey, beginning in the late 1800's, hired single women between 18 and 30 years old to serve food to travelers in the restaurants he built adjacent to the Santa Fe Railroad train stops in Western United States. Most of the guests enjoyed this film that told the story through interviews with real Harvey Girls as well as actual film footage from the early to mid 1900's.
We arrived at the Roadkill Cafe on Route 66 in Seligman, Arizona just past noon. Aaron was holding open the door, greeted us, and instructed us to take a seat at any table that had water. Within a very short time, we were delivered the food we had preordered. After eating some very strange dishes, we had time to shop at the General Store next door and play in the old western town facsimilea adjacent to the restaurant. Everyone enjoyed this lunch stop along Historic Route 66.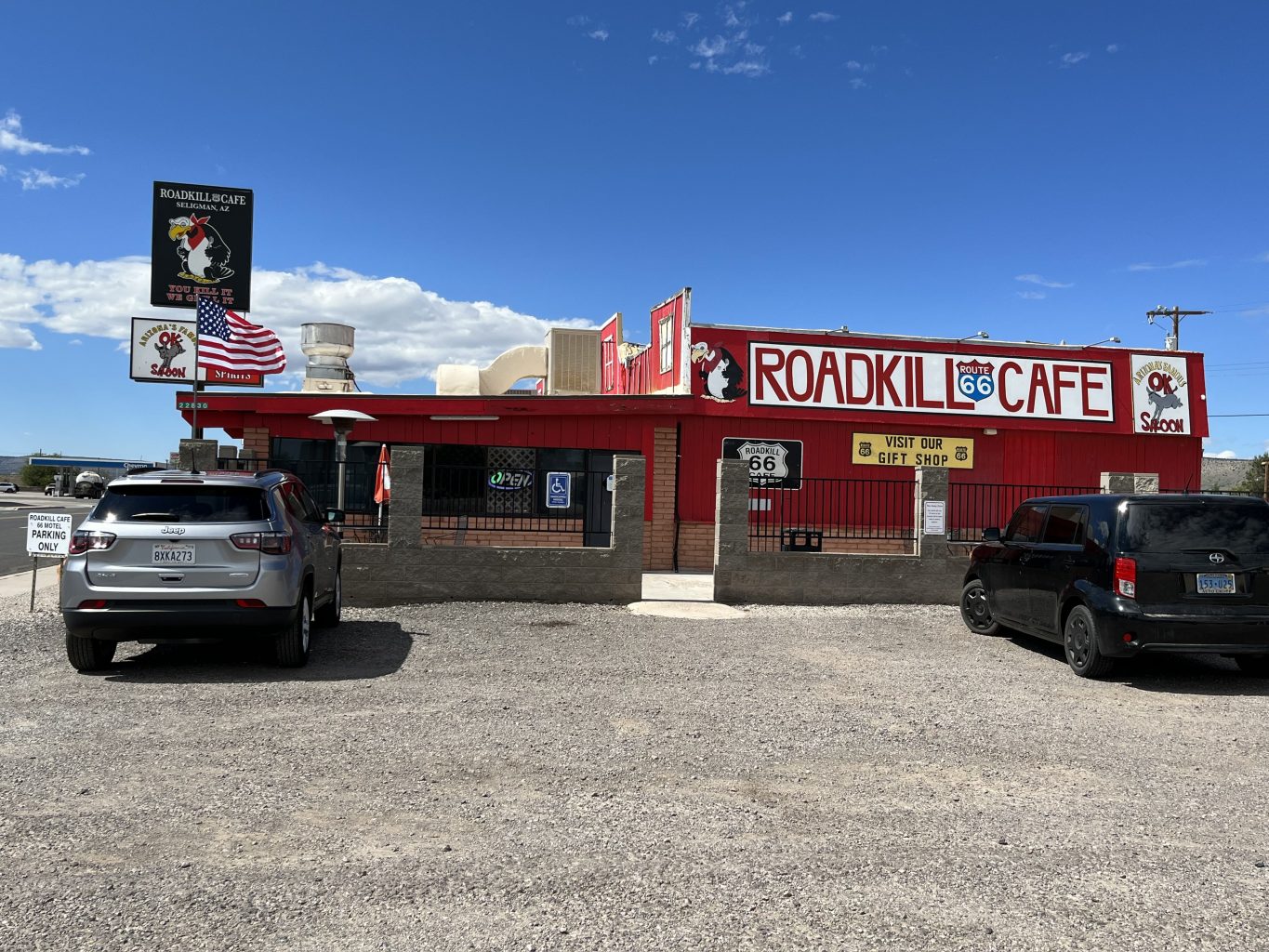 Shortly after lunch, we arrived at the Drury Inn in Flagstaff. The remainder of the day and night was on our own. Almost everyone chose to stay in, relax, and enjoy the Kickback for dinner. We were all looking forward to visiting our second National Park tomorrow, the Grand Canyon.
Day 18: Wednesday, September 21, 2022
A light rain was falling in Flagstaff as we departed the Drury Inn for the Grand Canyon. Low lying clouds covered the mountain peaks. The weather forecast showed a 30 to 60 percent chance of rain at the Grand Canyon. I played the Grand Canyon National Parks video to introduce the Grand Canyon to our guests. I also shared many interesting facts about the Canyon's geology such as the youngest layer, the Kaibab Limestone, is 250 million years old while the Vishnu Schist at the bottom is over two billion years old. I also identified the Grand Canyon as one of the seven natural wonders of the world and as the number two most visited National Park (next to The Great Smoky Mountains) in 2019.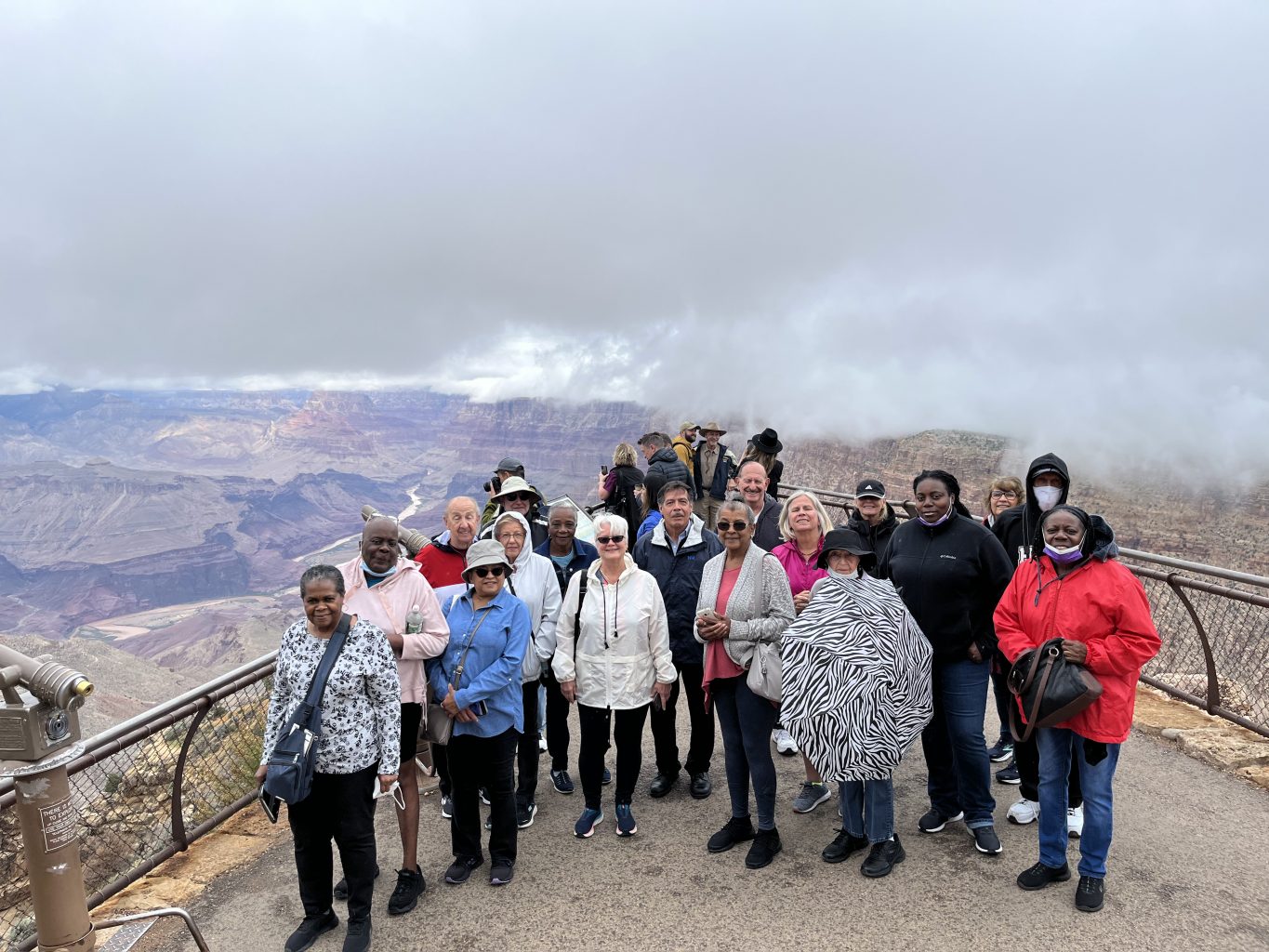 As we approached the National Park, the fog became so thick, Fernando needed to slow the bus down to a crawl to navigate us through. We were always hopeful that the weather would eventually cooperate, however, I emphasized that we were going to view a totally different and wild side of the Grand Canyon and the colors and shadows would be constantly changing. We arrived at the entrance and received maps and brochures for all of us. We stopped at the Desert View Overlook for our first glimpse of the Grand Canyon.
The clouds were low over the Canyon making it initially difficult to see the entire view. But we did have a fabulous view of the Colorado River meandering a mile below. The clouds were constantly moving thus revealing different colorful scenic views with every look. Despite the light drizzle and limited visibility, we were able to experience the massiveness of the Canyon.
We began our 25 mile tour towards the Grand Canyon Village by stopping next at Lippan Point. The low clouds did little to lessen our enthusiasm towards this view that displays the colorful layers of the Canyon's geology. We then stopped at Moran Point where one can see the Canyon's magnificence in all directions. The clouds were rising which allowed us to experience the brilliance of color. We continued onto the Grand Canyon Village and lunch at the Bright Angel Lodge.
We had two hours to eat and enjoy the beautiful views of the Canyon Rim. The low clouds had lifted completely, and the sun began shining through, creating beautiful ever-changing views. We continued our Grand Canyon Tour at Yavapai Point where you could now see for miles in all directions. One can see the Suspension Bridge that was built for hikers crossing the Colorado River and Phantom Ranch where hikers can register (15 months in advance) to camp for the night a mile below. The views were magnificent. Our final stop was Mather Point and the Visitors Center Complex. The sun was shining brightly now highlighting these breathtaking views of the Grand Canyon.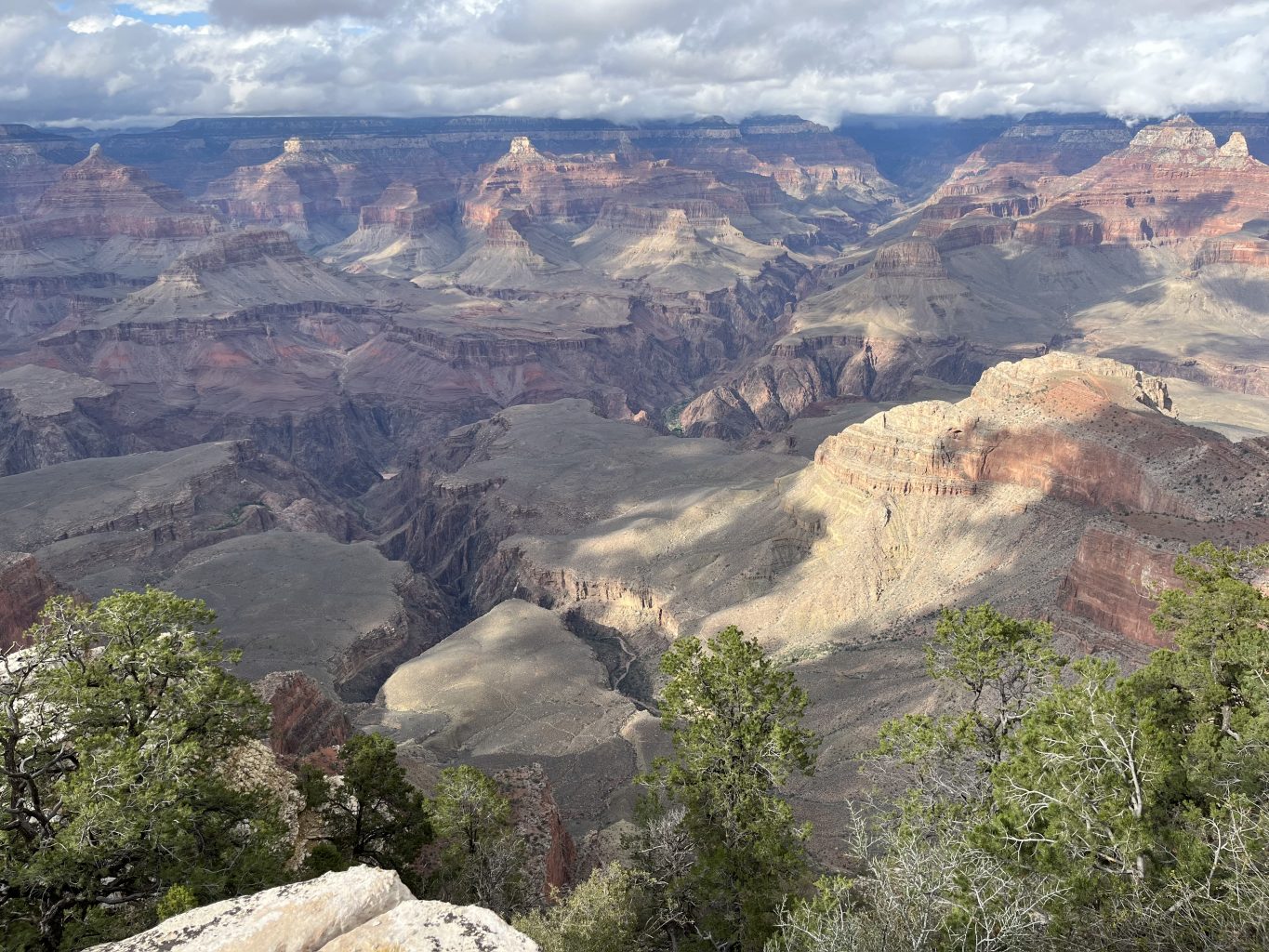 We departed the Grand Canyon having experienced its magnificence with a variety of weather conditions. We were all tired and extremely satisfied with this fabulous day. It was now time to relax with the Drury Inn Kickback and get a good night's sleep.
Day 19: Thursday, September 22, 2022
After a very good breakfast, the owner of the Aspen Deli delivered our bag lunches. I handed out a bag to each guest and we departed Flagstaff to travel north on Arizona Highway 160 through Navajo land. Weather-beaten houses and older pickup trucks dotted the dry, desert land. We soon turned onto Arizona Highway 191 and began traveling northeast towards the eastern corner of Utah. Beautiful canyons along with open desert land as far as the eye could see alternated dominance of the landscape. We continued to pass Navajo homes in disrepair that dotted the scenery. We stopped for a short rest stop at the Navajo owned Shonti Marketplace in Arizona. Masks were required per Navajo mandate. Most made a small purchase and returned to the bus.
I played many songs by request from many tour guests. An hour later, we arrived at our lunch spot along the San Juan River at the Sand Recreation Area near Bluff, Utah. We ate at picnic tables along the river surrounded by red cliffs made of sandstone. Beautiful sunshine and dark blue skies added to the magic of this area. Everyone enjoyed their bagged lunch and took many pictures of their beautiful surroundings.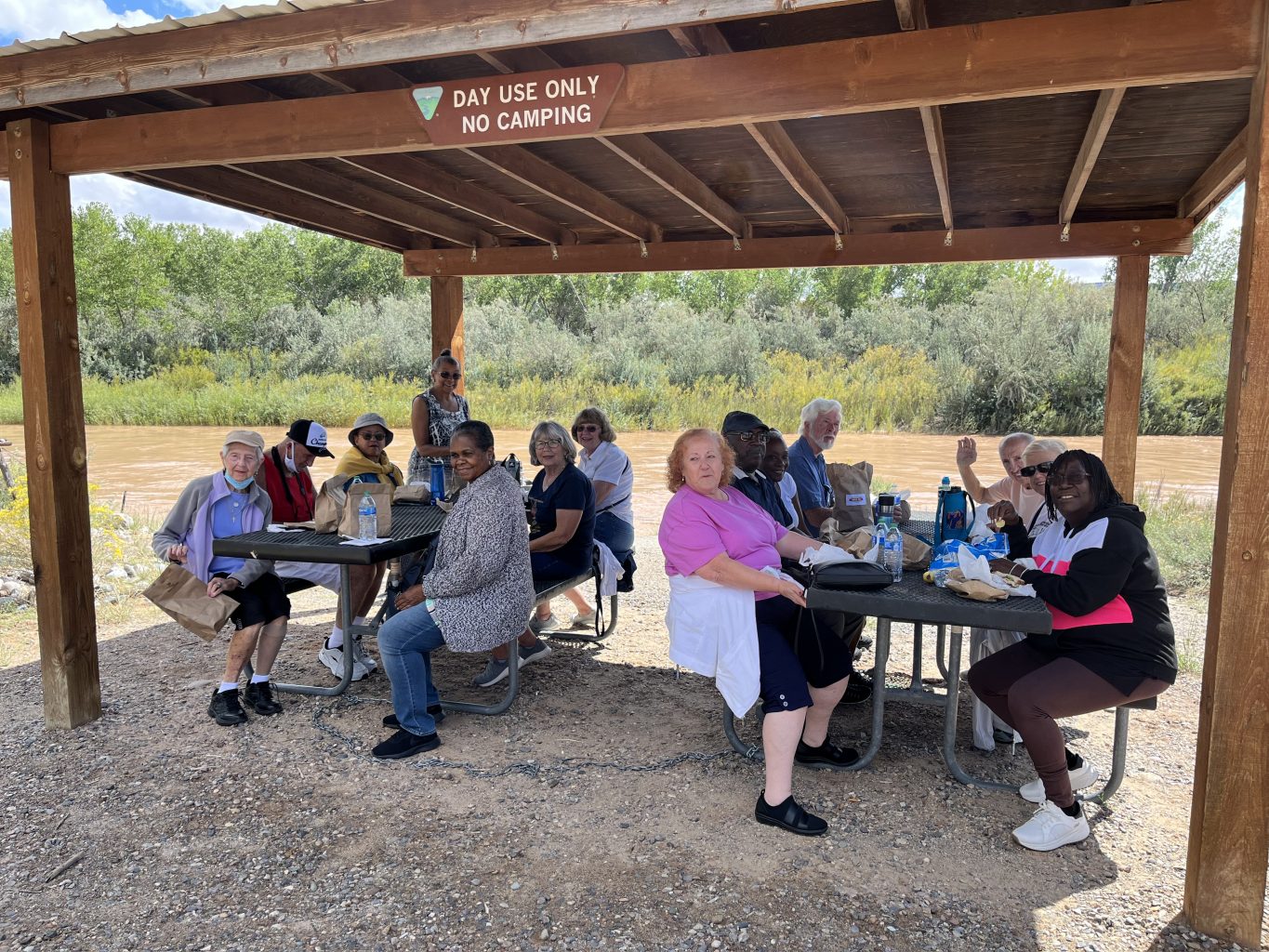 Following lunch, we completed our travels to Moab, Utah. While on the bus, I played the Arches National Park DVD that is shown every half hour at the Arches Visitors Center. The guests gained a wonderful insight into the many wonders and scenic beauty Arches has to offer.
We arrived at our hotel, the Aarchway Inn, after a brief scenic rest stop surrounded by high cliffs that provided beautiful photo ops. After check in, we had time to relax and refresh before traveling a short distance to the Canyonlands By Night Dinner and Cruise.
We arrived at the Canyonlands By Night Dinner and Cruise early enough to visit the Gift Shop. Dinner was a delicious buffet with a salad bar, barbecued chicken and pork, pulled roast beef, potatoes, vegetables, dessert, and soft drinks. The serving staff then took off their aprons and transformed into the cruising crew. We were led down a few steps to the open-air boat equipped with 144 chairs neatly arranged in 18 rows of 8 chairs per row separated by an aisle down the center.
The sun had just set but the skies were light enough to appreciate the beauty of this region. We motored upstream in the Colorado River surrounded by the cliffs of Arches National Park on the left and Canyonlands on the right. A fantastic narrator provided interesting facts about Moab, the Colorado River, and encouraged us to use our imaginations as he used his powerful laser to point out rock formations that might resemble a dog, a witch, and even ET! Soon, it was dark enough and we had reached the area of the river where they began the light show on the rock formations coinciding with a prerecorded narration. It was magnificent to watch as the narrator told us about the history of this region of Utah along with spine-tingling patriotic music of today. By this time, the stars in the sky were putting on their own brilliant show making this an emotional and personal experience for each of us. Everyone thoroughly enjoyed this entire evening.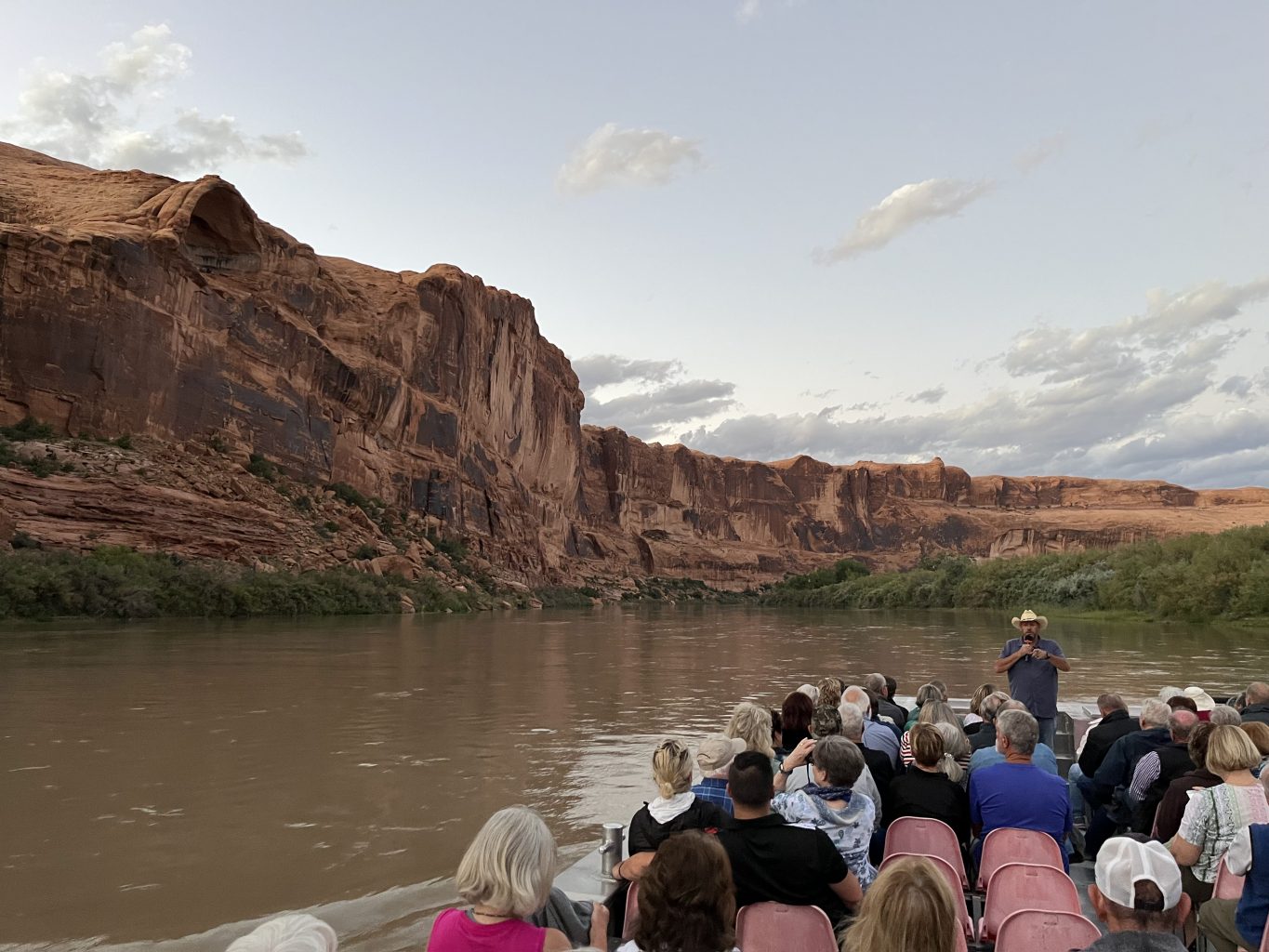 We returned to our hotel to get a short night sleep in order to experience sunrise at beautiful Arches National Park.
Day 20: Friday, September 23, 2022
The Aarchway Inn served a very good hot EARLY breakfast buffet allowing us to depart in the dark for a short ride to the Arches National Park entrance. At the entrance, we received maps and continued on to the Courthouse Viewpoint to witness the magnificent sunrise at Arches National Park. It was an absolutely incredible experience and worth getting up early!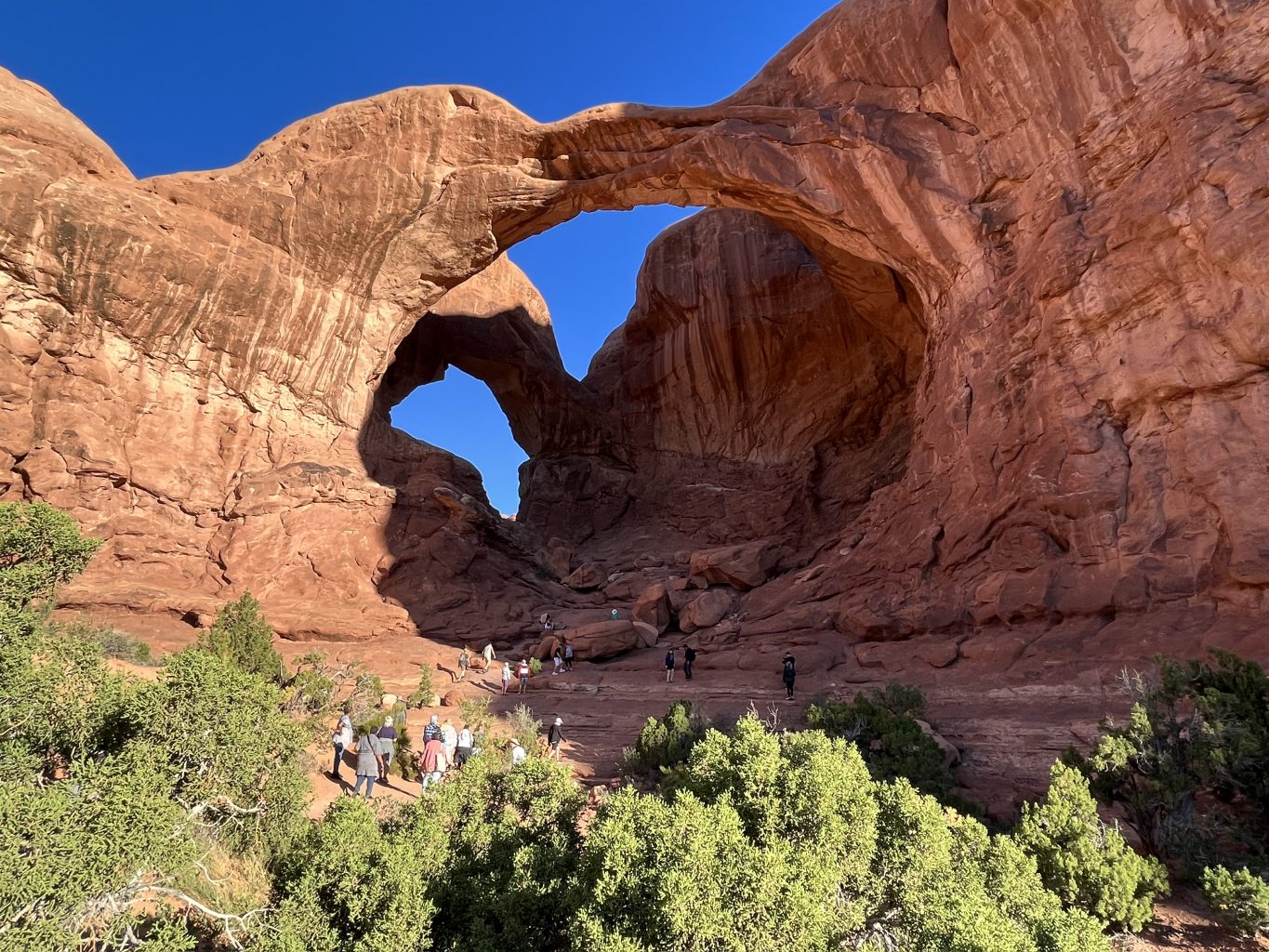 The sky was a dark blue and the sun was shining brightly on the rock formations causing their brilliant colors to sparkle. We stopped at Balanced Rock and took many pictures including a group photo. We continued onto the Windows Section and spent an hour hiking trails to infamous Double Arch, North Window, and South Window. We also took pictures of the Parade of Elephants rock formations. Our next stop was to the Delicate Arch Viewpoint. Here, you can see the iconic Delicate Arch from a far distance. To see it up close, one must hike over two miles uphill which needs over three hours to complete a round trip. Our final stop was the Visitors Center. We had time to shop and enjoy the museum. It was a perfect day to explore Arches National Park in its infinite beauty. Everyone thoroughly enjoyed the experience.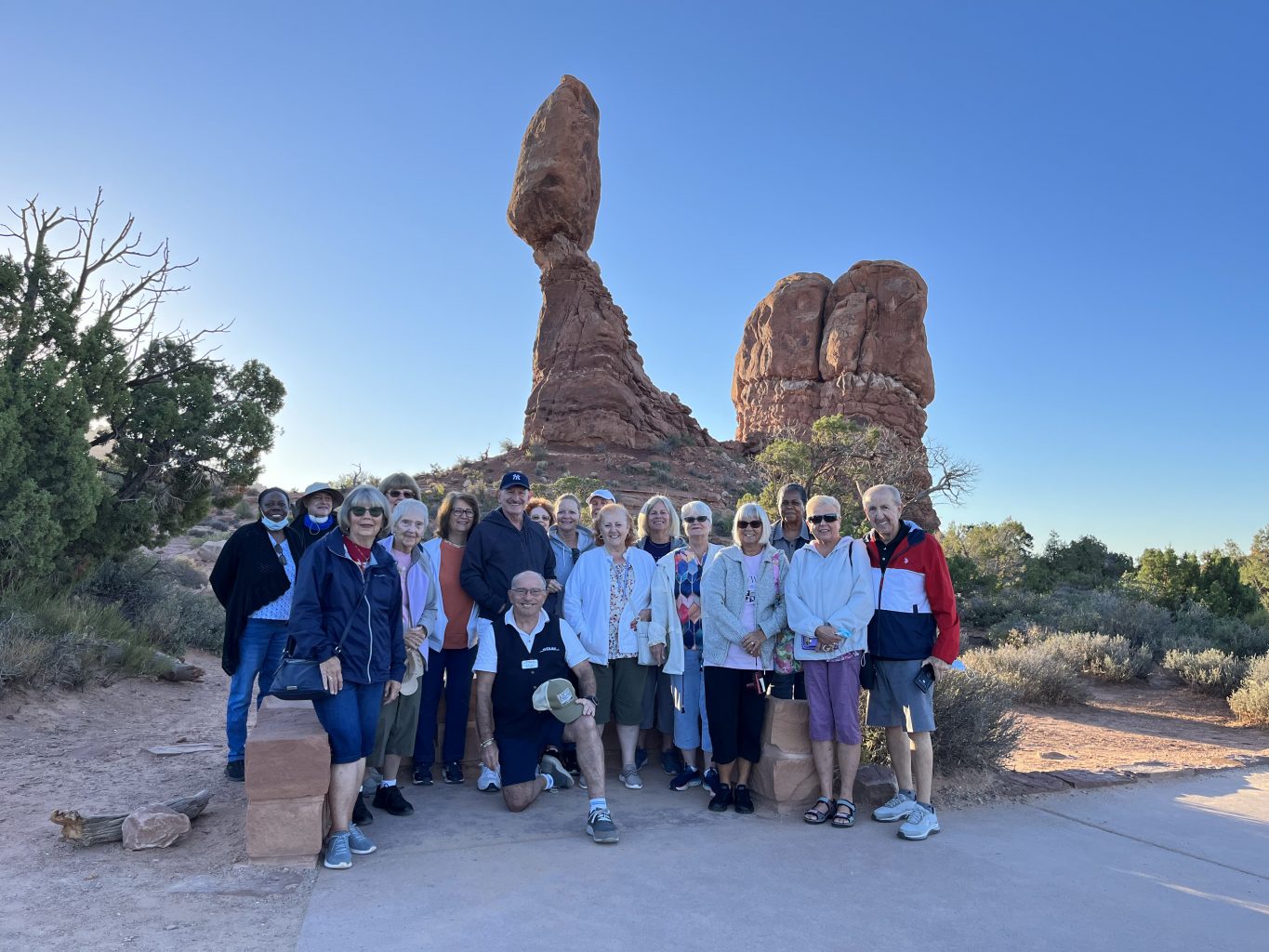 We departed Arches and traveled into Colorado continuing on towards Denver through one of the most scenic stretches of highway in the world, the Rocky Mountains.
"Rocky Mountain High" by John Denver was echoing throughout the bus as we admired the colorful rocks, the high mountain peaks, and majestic Ponderosa Pines. We climbed to an elevation of 11,100 feet as we crossed the Continental Divide sixty miles from Denver. We passed the well-known ski resorts of Aspen and Vail. Sheer beauty dominated every curve in the road. Our entertainment today was looking out the bus windows and listening to the music that reinforced the scenery.
Tonight we slept at another Drury Inn – in Denver. Today, we overdosed on the magnificence of America. From Arches to the Rockies, it doesn't get any better – unless you're heading to Mount Rushmore as we are – tomorrow!
Day 21: Saturday, September 24, 2022
After a fine Drury Inn breakfast, we departed Denver and headed North toward Wyoming. The weather was beautiful, and the sky was a deep blue for as far as the eye could see. We crossed the Colorado border into Wyoming and stopped at "Little America" in Cheyenne, the Sinclair Gas Station that includes a store with clean bathrooms. Outside was a green dinosaur with a saddle that many tour guests enjoyed getting on and posing for pictures. Everyone enjoyed this rest stop.
Continuing on to our lunch spot at the Fort Laramie American Grill, I showed the History Channel's documentary "Mount Rushmore." It tells how Gustav Borglum was chosen to create this marvelous sculpture and his obsession with its completion. It was an excellent introduction to Mount Rushmore.
We arrived at the Fort Laramie American Grill and the owner waved us into his dirt parking lot and welcomed us. He had closed his restaurant to locals so we had it all to ourselves! We walked in and everyone took a seat at four long tables with eight chairs at each table. The maximum capacity in this small establishment is forty, so we basically filled the place.
Today's lunch took much too long. The poor service and extremely slow cooking overshadowed the hot, fresh food that was finally served.
After lunch, we continued our travels north into South Dakota's magnificent Mount Rushmore National Monument. Since we're traveling towards Iowa, I played the movie, "La Bamba," the story of Ritchie Valens who died in a plane crash in Iowa on February 2, 1959. He was only 17 years old. Don McLean dubbed this "The Day the Music Died." The movie was entertaining and heart wrenching. Most everyone watched intently.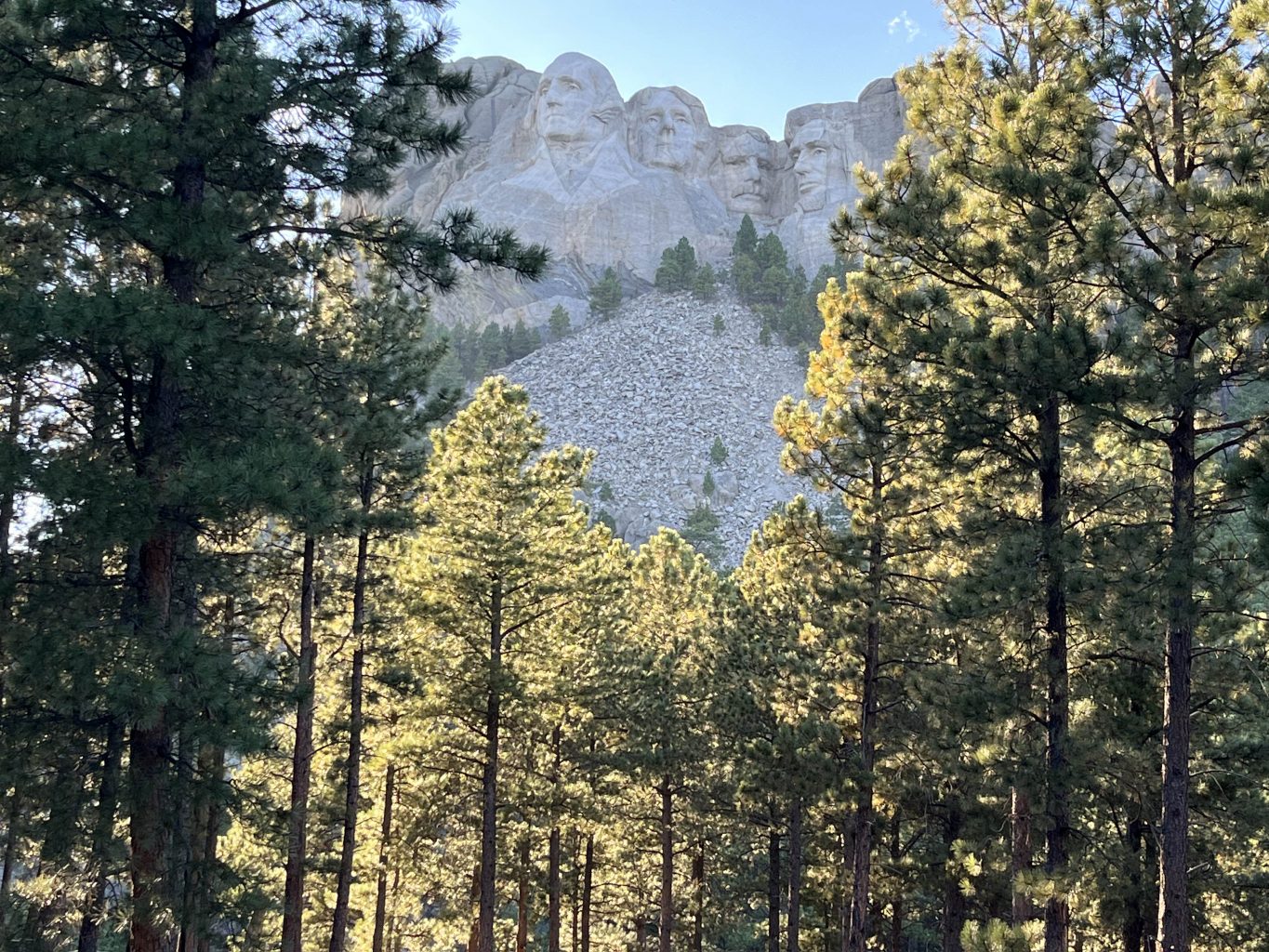 Mount Rushmore is always a highlight of every Cross Country trip. The weather was perfect for viewing today and the pictures were spectacular. Carvers is a huge restaurant just to the right of the entrance. The equally large Gift Shop is to the left. Walking straight ahead takes you over a bridge with flags and plaques identifying each state and territory of the United States. You are now standing on the large overlook facing this majestic work of art. The four Presidents; Washington, Jefferson, Theodore Roosevelt, and Lincoln, stare heroically with great confidence. Many guests walked the Presidential Trail, a challenging walk that circles underneath the Monument where the greatest views of each President can be seen. The many steps involved make the trail challenging. Everyone thoroughly enjoyed their time at Mount Rushmore National Monument.
We then traveled to the Fairfield Inn in Rapid City, South Dakota. We arrived after dark, but the entire area was well lit. This Hotel is beautiful! Two fine restaurants are within steps of the Fairfield Inn; Perkins and Sliders.
Today was another wonderful day. Seeing Mount Rushmore completed a huge bucket list item for our guests. Tomorrow, we tour our fifth and final National Park of this Cross Country trip, the Badlands of South Dakota.
Day 22: Sunday, September 25, 2022
We departed for Badlands National Park under sunny blue skies. Upon arrival, we received maps for each of us. We stopped at four distinctly beautiful viewpoints and the Visitors Center. Pinnacles Viewport displayed multicolored sandstone mounds all eroded at different rates. The Basin Viewpoint featured Prairie Dog Town. Prairie Dogs could be seen guarding their tunnels from intruders and predators and squeaking to each other in communication. They were cute but could get viscous if confronted. Many deer were spotted eating grass along the sides of the road. The Homestead Viewpoint featured colorful mounds of sandstone along with prairie land with high green grasses. Settlers once lived in this section of the park. The Badlands is beautiful, diverse, and wide-open. The air is clean and crisp as every breath is a feeling of freedom. The Badlands, as with all National Parks, has to be experienced to be appreciated. Everyone loved their tour of Badlands National Park and most bought mementos at the Visitors' Center.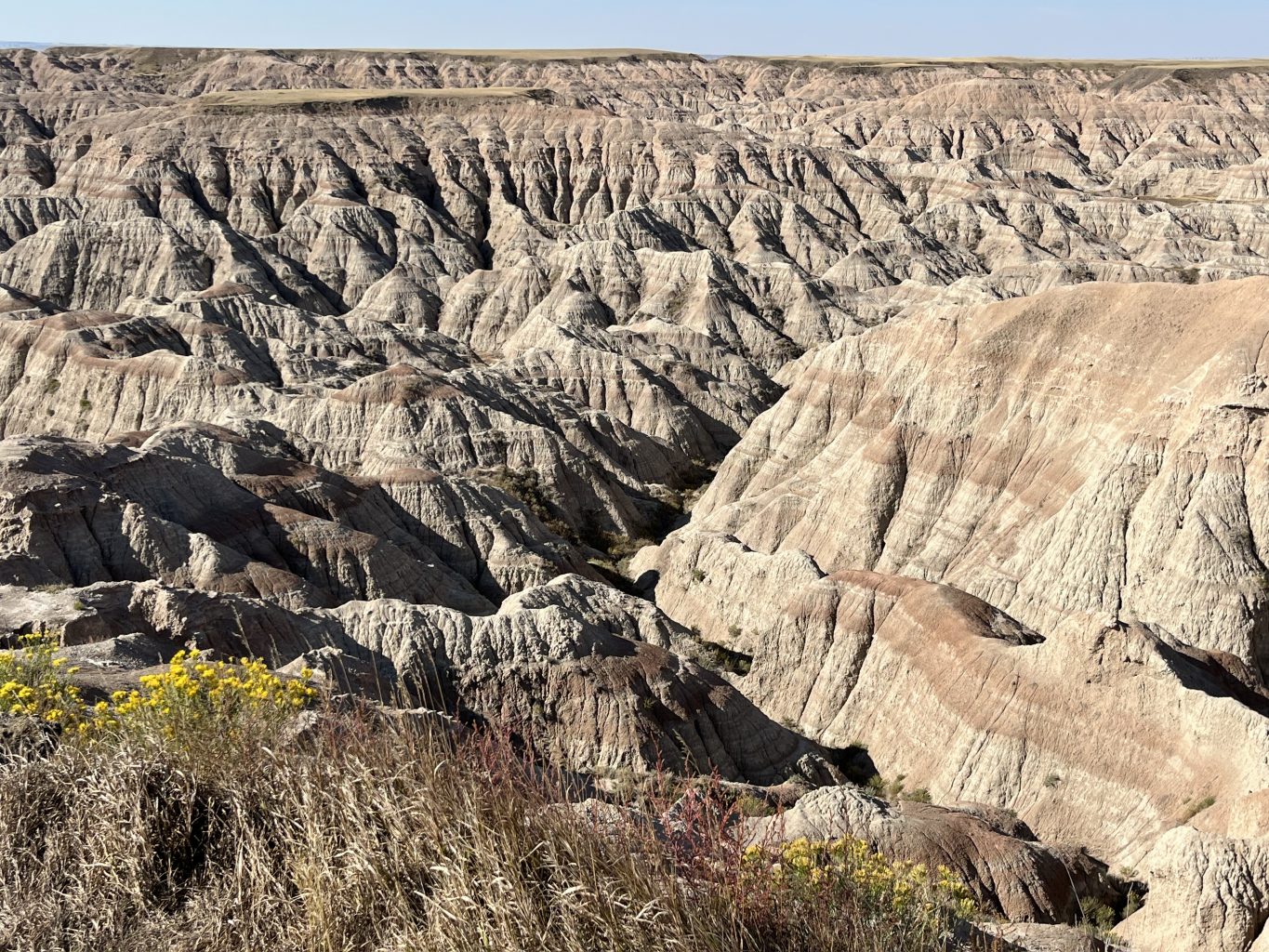 Next, we traveled to Wall Drug, the amazing all-encompassing tourist trap in the country! Ted and Dorothy Hustead opened a pharmacy in 1931. It began attracting travelers to Mount Rushmore only after Dorothy's idea of advertising free ice water on billboards. Today, 23 shops under one roof including a restaurant that seats over 500 patrons, attracts travelers from all over the world. Everyone enjoyed their lunch and shopping as they returned to the bus carrying another package.
We traveled for three hours, stopping once at a Phillips 66 Travel Plaza, before arriving at the Comfort Inn in Mitchell, South Dakota. I planned to show a movie during this ride, but since many were sleeping, we continued in silence until our rest stop. We all needed this down time after experiencing so many once-in-a-lifetime attractions during the past few days.
The Comfort Inn in Mitchell welcomed us and we had four restaurants to choose from by simply walking across the parking lot in different directions. Some of us even did our laundry.
We experienced our fifth National Park today on this magnificent trip. Tomorrow is one of our four longer days of travel landing us just four hours from fabulous Chicago.
Day 23: Monday, September 26, 2022
We boarded the bus and traveled just two miles to the Corn Palace in Mitchell, South Dakota. Our guide was Troy, a 31 year trustee of the Corn Palace. He spoke with so much enthusiasm and pride about his beloved Corn Palace, explaining its history, the many performers who had played here, and the many events that occur here. "Just this past Saturday," he explains, "we had a tractor pull event for kids up to twelve years of age. Kids and families attended from ten states, and it was a great event!" The Mitchell High School basketball team also plays here. Troy explained to us about the fabulous murals made of corn and rye that hang in the Corn Palace. We learned that each has an important historical significance related to South Dakota. It was an excellent tour lasting about 20 minutes and ending, of course, at the gift shop.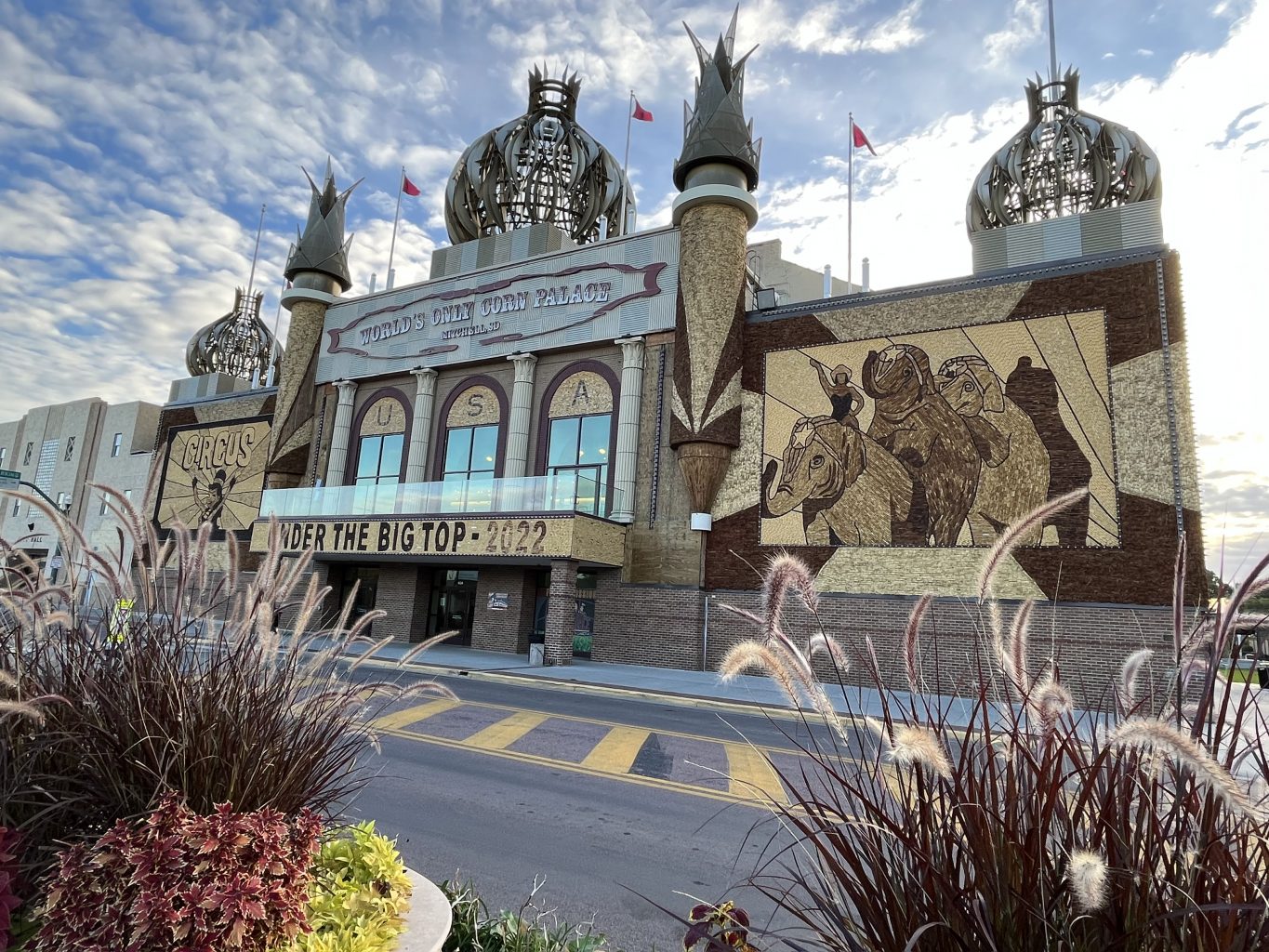 We began our longer day of travel towards Dubuque, Iowa. Fall is in the air with morning temperatures in the 40's. I introduced "The Buddy Holly Story" by playing a few of Buddy Holly's hits. Then I showed the movie. Many watched, some slept, and others kept themselves occupied with games and puzzles. Portrayed by actor Gary Busey, Buddy Holly rose to fame quickly. Two of his most famous works were "That'll be the Day" and "Peggy Sue."Buddy Holly was one of the initial inductees into the Rock N' Roll Hall of Fame in 1986. His death, along with that of Ritchie Valens and J.P. Richardson, occurred on that fateful day, February 2, 1959, and defined as "The Day the Music Died" by Don McLean in his hit song.
We stopped briefly at a Love's Travel Plaza and continued on to Fairmont, Minnesota for our lunch stop at the Ranch Restaurant. Its owner, Sally, prepares an entire room in the restaurant just for us!
We continued traveling into Iowa. Dyersville is where the movie "Field of Dreams" was made, and we pass Dyersville en route to Dubuque. I showed "Field of Dreams" starring Kevin Costner and James Earl Jones. Most guests watched this classic movie intently. After, we arrived at the Holiday Inn in Dubuque. Some tour guests chose to explore Dubuque which sits on the banks of the Mississippi River. Others went to dinner. Dubuque is a small town with much charm.
After a longer day of travel, we look forward to two nights in America's third largest city.
Day 24: Tuesday, September 27, 2022
The Holiday Inn provided a wonderful, private breakfast buffet in their Clarion Room. We departed Dubuque and immediately crossed the mighty Mississippi River into the state of Illinois. Chicago was a few hours away. Frank Sinatra serenaded us with "Chicago, Chicago, That Toddlin' Town." I showed the History Channel's documentary on "The Sears Tower." It depicts the building of Chicago's tallest building which will be our 3:00 PM destination known today as the Willis Tower. Many enjoyed this video. After a brief rest stop, I played a few more Chicago songs as the beautiful Chicago skyline began looming in the distance.
Fernando dropped us off at the Chicago Navy Pier. The skies were sunny with puffy cumulus clouds over Lake Michigan. The temperatures were in the upper 50's. Some guests walked the pier both inside and out. Some rode the Centennial Ferris Wheel for magnificent views of Chicago and Lake Michigan. Everyone ate lunch. I saw many trying the Chicago Hot Dog with The Garden or the Italian Beef. Some bought a small bag of Garrett's Popcorn featuring the Chicago Mix. To enjoy Chicago completely, many realized the sense of taste is as important as sight and sound. Everyone enjoyed their time at the Navy Pier.
Fernando had dropped off our luggage at the Fairfield Inn and then drove us across town to the Willis Tower. We all stayed together until we reached the lower level, and I passed out the tickets. The Museum that leads to the elevator that takes us up to the 103rd floor continues to undergo improvements and new construction. Everyone had a fun time taking pictures in front of the Chicago skyline, Wrigley Field, with Oprah and the Obamas. We walked right onto the elevator and took marvelous pictures from up to fifty miles in each direction from the top of this skyscraper. Next, many walked out onto The Ledge. It's an inch and a half thick glass that juts out over the streets of Chicago, 103 stories below. Many pictures were taken and those that dared to experience The Ledge had a great time.
After checking into our hotel, everyone was now on their own to follow my many restaurant suggestions and map directions to walk successfully around downtown Chicago. We look forward to sleeping in due to a later start to our day and enjoying a full day in Chicago tomorrow.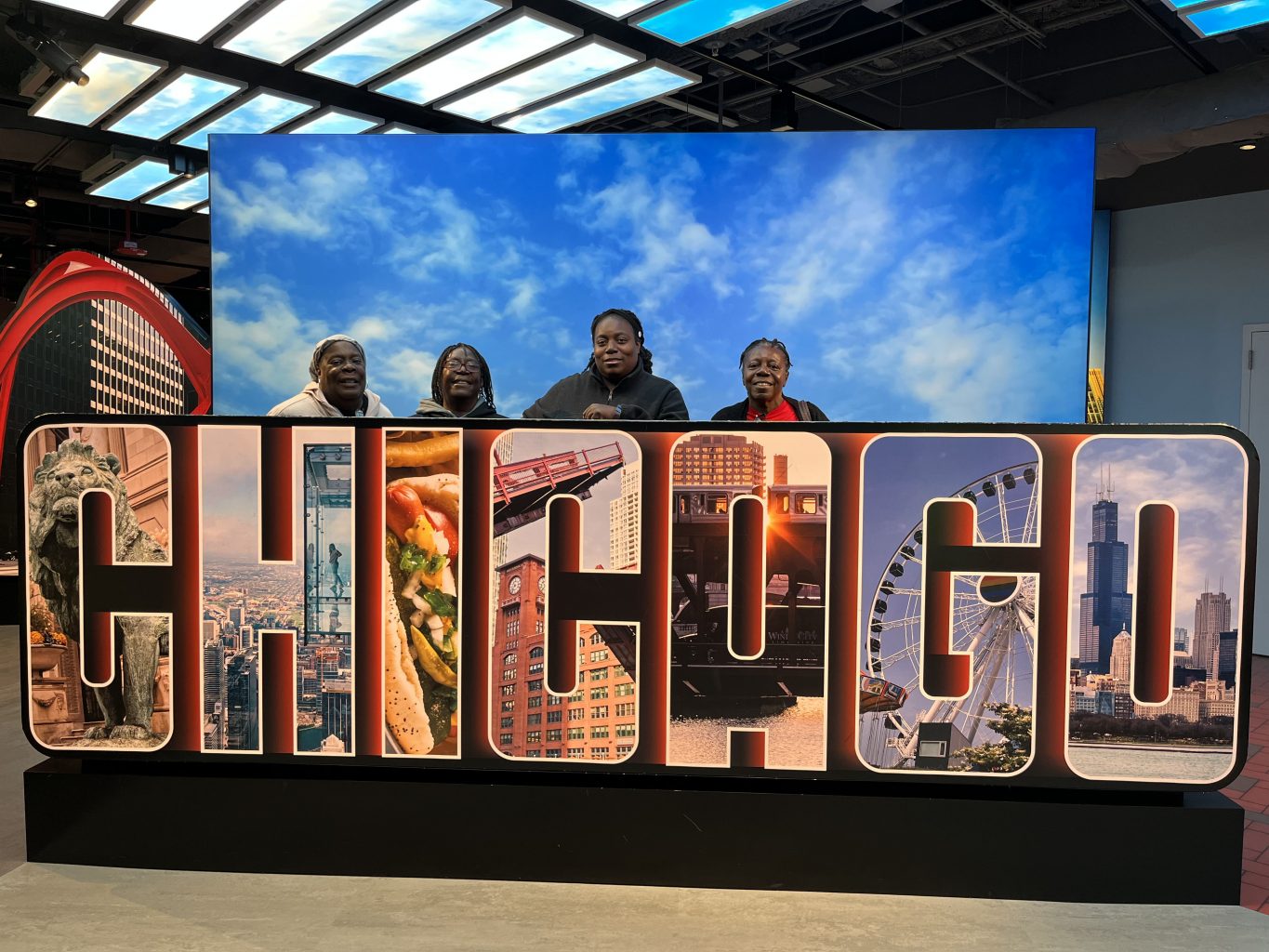 Day 25: Wednesday, September 28, 2022
Breakfast was a wonderful hot and cold buffet. The Aires Trolley pulled up to our hotel and we boarded to begin our tour of this fabulous city.
Jun-te was our driver, the same entertaining man who had driven former Starr trips. His driving skills were excellent, and his narration was interesting and kept us entertained. We drove past the hotel in which Oprah lived on three floors. We passed a church on the Magnificent Mile that had a five year waiting list for weddings along with a mandatory $5,000 deposit that you'd lose if you changed your plans. On the North side, we disembarked briefly at Wrigley Field to take pictures in front of this iconic stadium, and we stopped briefly at the Lincoln Park Conservatory. Jun-te was constantly sharing facts about his beloved Chicago causing everyone to enjoy this tour.
We were dropped off at the Shops at North Bridge for lunch. Guests could eat in the food court on the fourth level or walk to many other fine restaurants along Michigan Avenue. Many just chose to explore the Magnificent Mile and some of its fine stores. The Magnificent Mile in Chicago can be compared with Rodeo Drive in Los Angeles and 5th Avenue in New York for great shopping.
Everyone met on time at the Wendella Tours and Cruises in front of the Wrigley Building on Michigan Avenue. I handed each person a ticket for a cruise on the Chicago River and into Lake Michigan. We walked down the 62 steps to the dock and boarded the boat. We mostly took seats on the upper level to maximize our views despite the cold but sunny weather conditions.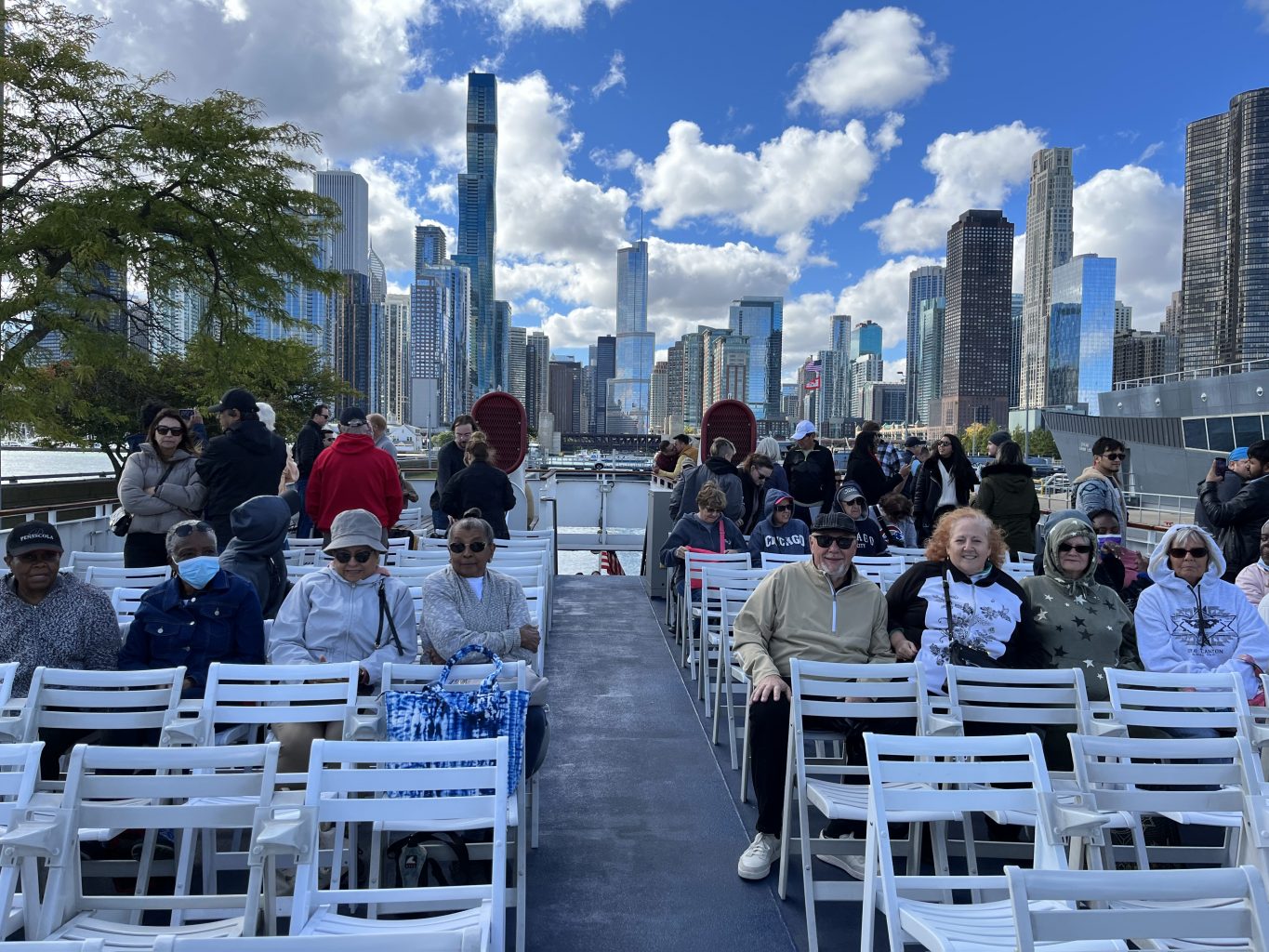 John was our Guide and he was terrific. He told details about every building along the Chicago River such as their height, their owners, and costs involved. We rode through the lock into Lake Michigan which lies three feet above the Chicago River. People were comparing this to the trip through the Panama Canal. Once on Lake Michigan, John talked about the Skyscrapers in view such as the Hancock Building and the Willis Tower. He pointed out that Chicago gets its water from Lake Michigan and one filtration plant is built twenty stories below the ground. Everyone loved the Wendella Tours and Cruises Architectural Tour and came away with an even greater fondness of this wonderful city.
We all easily walked back to the Fairfield Inn on Michigan Avenue to Ontario Street. After a short rest, we met again in the lobby and walked to Gino's East for dinner. We were given the entire upstairs room and spread out at many tables. The food began being served. Vegetable sticks, hot wings, salad, pasta, Chicago deep dish pizza, and thin crust pizza were delivered to each table until no one could eat anymore. Cookies and brownies rounded out dessert. It was an Italian feast Chicago-style, and everyone enjoyed their food. Many tried the deep dish pizza and liked it. Following dinner, we all rolled three blocks back to our hotel for the evening.
Tomorrow is an early departure so we can maximize our time at the Rock N' Roll Hall of Fame.
Day 26: Thursday, September 29, 2022
We departed Chicago a little after 7:00 AM to maximize our time at the Rock N' Roll Hall of Fame in Cleveland. On the bus, I talked about the history of the Rock N' Roll Hall of Fame, why Cleveland was chosen for its site, and who were the initial 1986 Inductees as well as the current 2022 Inductees. I then played a song by each of the 2022 Inductees; Carly Simon, the Eurythmics, Lionel Ritchie, Dolly Parton, and Pat Benatar. Our devices and time pieces soon changed one hour ahead into Eastern Time. We had not been on Eastern Time since Day 3!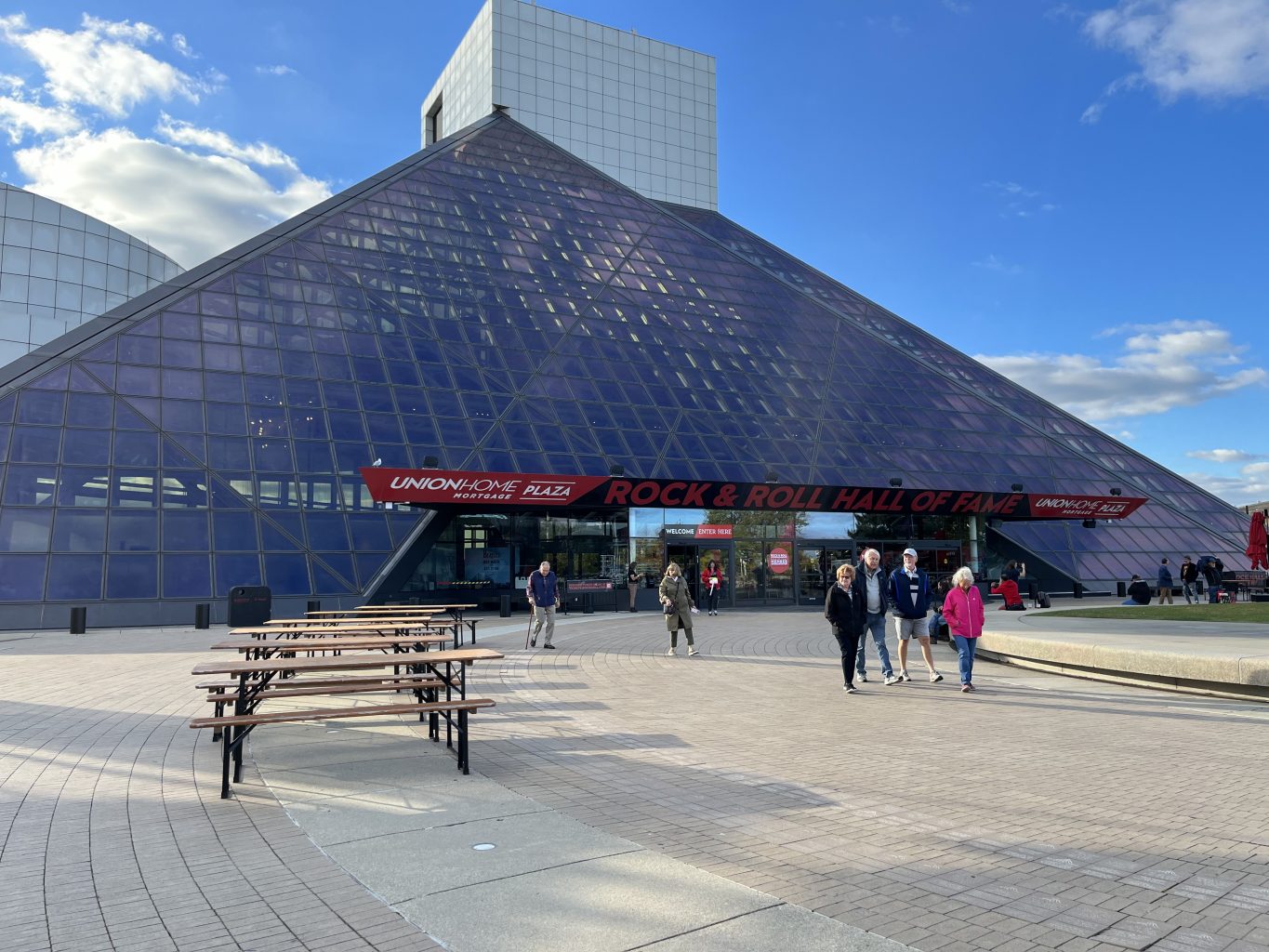 On the bus, I showed the award-winning movie about the rock group that was inducted into the Rock N' Roll Hall of Fame in 2001 titled Bohemian Rhapsody. It's a powerful movie starring Rami Malik as Freddie Mercury and chronicles the story of Queen through the Live Aid Concert in 1985. After, I played songs from each of the 2022 Rock N' Roll Inductees as well as songs from the original Inductees in 1986. We soon arrived in Cleveland.
I secured the Rock N' Roll Hall of Fame wrist bands and handed them out. We entered and took the escalator down to the lower level to begin our tour in the Ertigan Memorial Hall. Showcase after showcase of outfits worn during concerts, musical instruments used, and original handwritten songs (among other items) could be seen for each of the Rock N' Roll Inductees. Films and videos accompanied many of the exhibits as well. The Beatles "Get Back" Rooftop Concert was still being featured until October so I plopped myself down in front of the big screens and enjoyed the music. We all had a very special and unexpected surprise – Rock N' Roll Hall of Famer, John Mellencamp, was performing live and in concert on the stage inside the Hall of Fame lobby! A huge crowd had gathered to listen to him. Many of us saw the concert and heard him sing his big hit song, "Jack and Diane." It was clear that everyone had a great time at the Rock N' Roll Hall of Fame.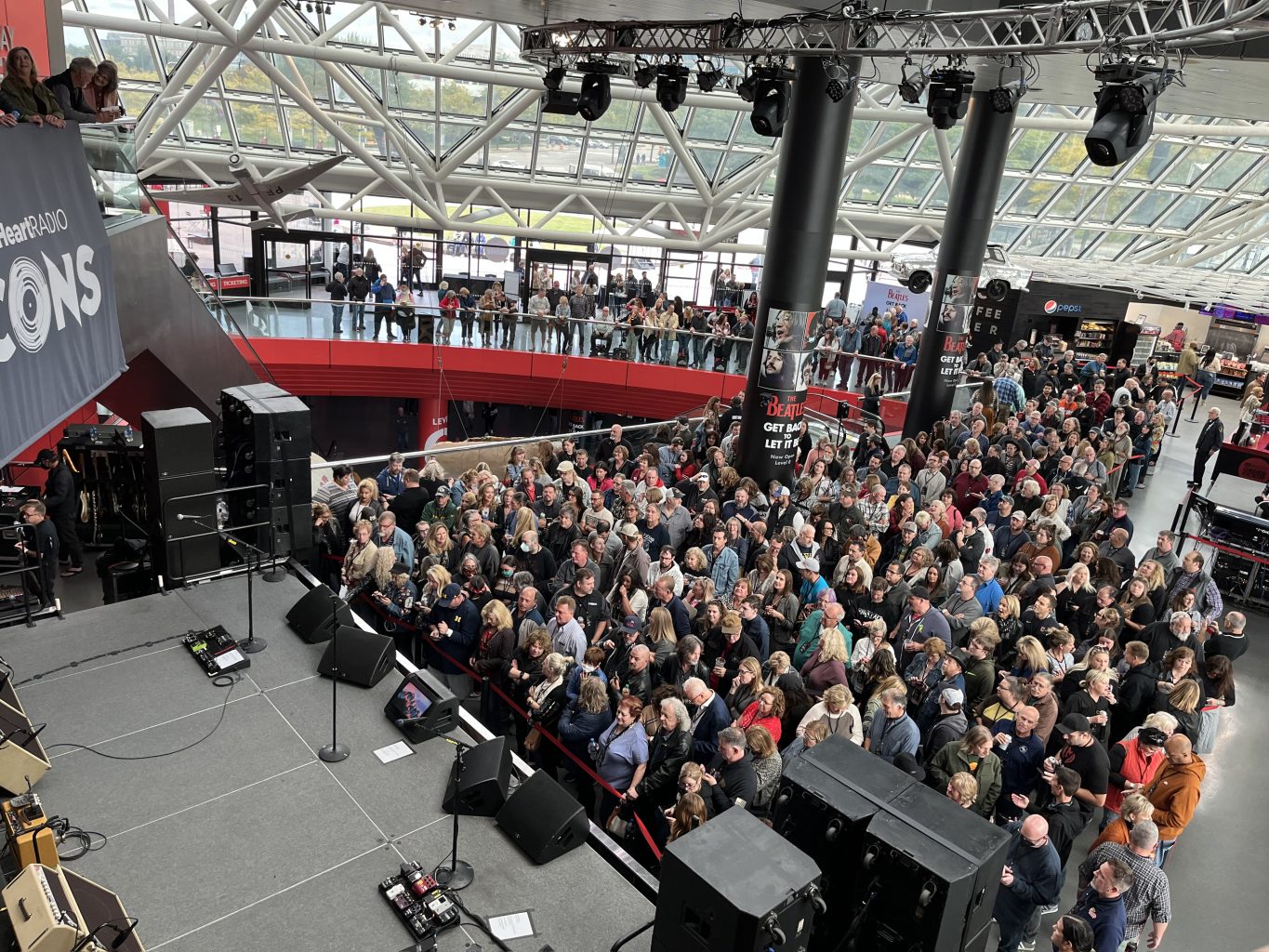 From the Rock N' Roll Hall of Fame, we rode around the corner to the Hofbrauhaus for our Farewell Dinner. We were warmly greeted and led to our reserved section of the restaurant where we sat in groups of seven or eight. When our drinks arrived, we all had a toast to continued good health and a fabulous "Trip of a Lifetime." We were served a Bavarian Pretzel and our pre-chosen main course. Our Farewell Dinner concluded with a delicious piece of delicious German (of course!) Chocolate Cake. We enjoyed both the food and the warm camaraderie among new lifelong friends.
Tonight's Drury Inn in Cleveland is unique. It is a converted school with 20 foot high ceilings. Everyone said their good night wishes for the last time on our 2022 Cross Country Trip.
Day 27: Friday, September 30, 2022
We all enjoyed our final Drury Inn breakfast and we ate it in the Teacher's Lounge! A good thing was that no one had to be sent to the Principal's Office! We were on our way home. Simon and Garfunkel serenaded us with "Homeward Bound – I wish I was Homeward Bound."
I summarized our 27 days, played a few songs that coincided with specific days, and then to a break to let everyone rest. Before arriving at our first rest stop, I handed each guest my 8 page Cross Country Statistics packet. Everyone was surprised and delighted at this gift. At the Oakmont Rest Area on the Pennsylvania Turnpike, I led our annual farewell ceremony and gave a speech thanking everyone for their excellent participation and enthusiasm each day of the trip. I concluded by handing out special Cross Country Awards to each guest. Again, everyone greatly appreciated this added surprise.
Back on the bus, I passed around Starr's Cross Country Survey QR Code and explained the procedure. We soon arrived at the Sideling Hill Rest Stop on the Pennsylvania Turnpike for lunch and after, we were on the road again. I played a few patriotic songs and a few favorites that sparked memories of our trip. After a short rest stop at the Valley Forge Rest Area, we arrived in Bensalem after traveling exactly 7,021 miles in 27 magnificent days. We were now saying our sad goodbyes. Parting was such sweet sorrow!
Sandy Borowsky, Starr's VP of Tours and Alan's daughter, greeted us on the bus with a warm welcome home. Since everyone disembarking needed multiple trips onto the bus to remove all their belongings and to say their goodbyes, it took some time for all guests to disembark. When all guests had boarded their shuttle or got back in their seats to continue to their drop off location, we continued on to Cherry Hill and then Hamilton.
The trip in its entirety was magnificent. Everyone grew to respect each other and look out for one another. We all agreed this Cross Country Trip was definitely a "Trip of a Lifetime." Gene Gray, Starr Tour Director
Gene Gray, Starr Tour Director