Our September 2022 Cross Country trip just returned with Gene Gray at the front and Fernando Berrios at the wheel! Our Starr Driver and Tour Director (Fernando and Gene, respectively) led 31 travelers across our great country over the course of 27 days. This was Gene's 5th trip and the 1st for Fernando! Seeing their smiling faces when the trip returned was proof enough that it was a success!
On each of our trips, the Starr Tour Director is responsible for providing a day-by-day recap of every aspect of the trip. Gene's reports always offer a thorough and real retelling of their adventures. It's clear that Gene goes above and beyond to make sure his tour guests are well informed and entertained but you can see for yourself.
For your reading pleasure, here are Days 1-14.
Stay tuned for the second half of their amazing "Journey of a Lifetime"!
Overnight Tour Summary Report – Cross Country 2022
Date: September 4-30, 2022
Tour Director: Gene Gray
Driver: Fernando Berrios
Starr Bus #: 206
WESTBOUND
Day 1: Sunday, September 4, 2022
All shuttles arrived on time and all tour guests boarded the bus without incident. Alan Glickman, Starr's owner, was waiting for us in Bensalem and gave an inspiring speech to send us on our way. This will be my 5th Cross Country and I am just as excited as my 1st time! I played our first song of the trip: The National Anthem performed by Whitney Houston. Everyone stood and waved their flags – it was a special moment! Alan wished us a safe and wonderful trip and we drove out of Bensalem at 8:40 AM to begin our "Trip of a Lifetime."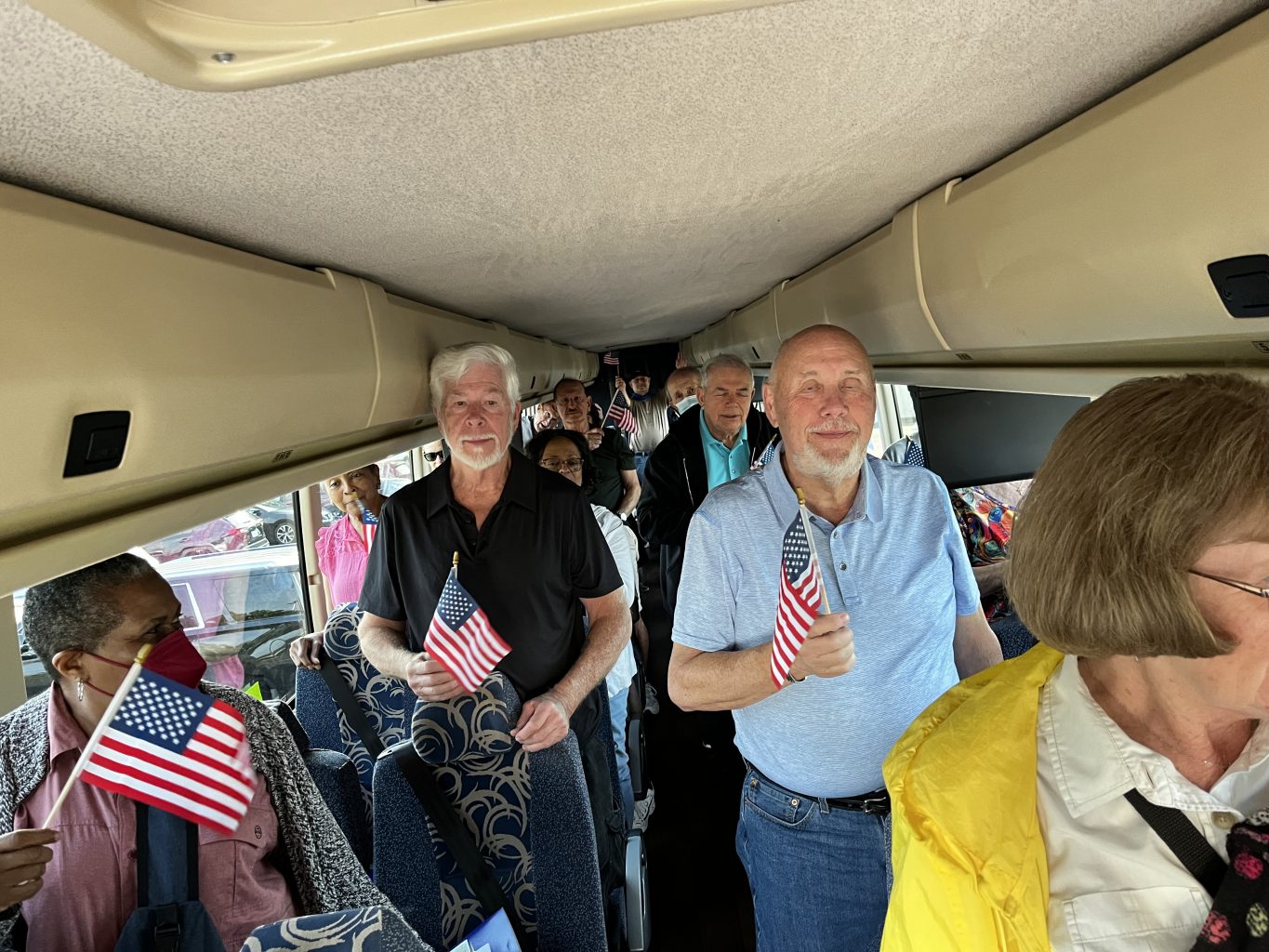 After reviewing the Starr Welcome Letter and showing the Starr Safety Video, I honored our Military Veterans on board.
We stopped at the Lawn Service Plaza on the Pennsylvania Turnpike for a short rest stop. Afterwards, I briefly reviewed our 27 day journey using the Cross Country Booklet I made for our travelers. I answered their questions and gave them time to digest all the information.
We soon arrived at Hoss's Steakhouse, our lunch stop. Hoss's is always wonderful as they seated everyone within minutes and served us just as quickly. And the food is delicious. We were back on the road in an hour.
We soon arrived at Hoss's Steakhouse, our lunch stop. Hoss's is always wonderful as they seated everyone within minutes and served us just as quickly. And the food is delicious. We were back on the road in an hour.
Following lunch, I showed the movie "Elvis" to get us into the Elvis and Graceland spirit. Most watched with keen interest. The video is the 1979 movie created for ABC Television two years after Elvis's death. The movie, starring Kirt Russell as Elvis, is extremely well done. This took us into our final Rest Stop of the day in Belmont, Ohio and finally to our Drury Inn in Grove City, Ohio at exactly 6:00 PM.
I handed out the room keys inside the lobby of the Drury Inn and the tour guests were on their own to enjoy Drury's Inn's Kickback (free dinner & drinks) which everyone took advantage of. All our travelers (including Fernando and me), had great anticipation of what lies ahead. It was a perfect first day and orientation to this Cross Country adventure.
Day 2: Monday, September 5, 2022

We all enjoyed a wonderful Drury Inn Buffet Breakfast and boarded the bus one person at a time due to a torrential driving rainstorm. Once safely onboard, Fernando carefully began driving south towards Cincinnati and eventually our first attraction, the Louisville Slugger Bat Museum in Louisville, Kentucky.
I began the ride by playing "Raindrops Keep Falling On My Head" by BJ Thomas. Many guests were singing along. Since today was about baseball, I played "Take Me Out to the Ballgame" and Abbot and Costello's epic skit, "Who's On First". As we continued south, the rain came to an end and bits of sunshine began peeking through the clouds. I played the movie "The Babe" starring John Goodman as Babe Ruth. It was a powerful movie about this larger-than-life baseball hero both on and off the field. Most of the tour guests watched intently and thoroughly enjoyed the movie. Following the movie, which ended with some applause, I gave everyone an assignment for the Louisville Slugger Bat Museum; to find Babe Ruth's actual baseball bat and pick it up. Many groaned about my teacher-side coming through (wink wink).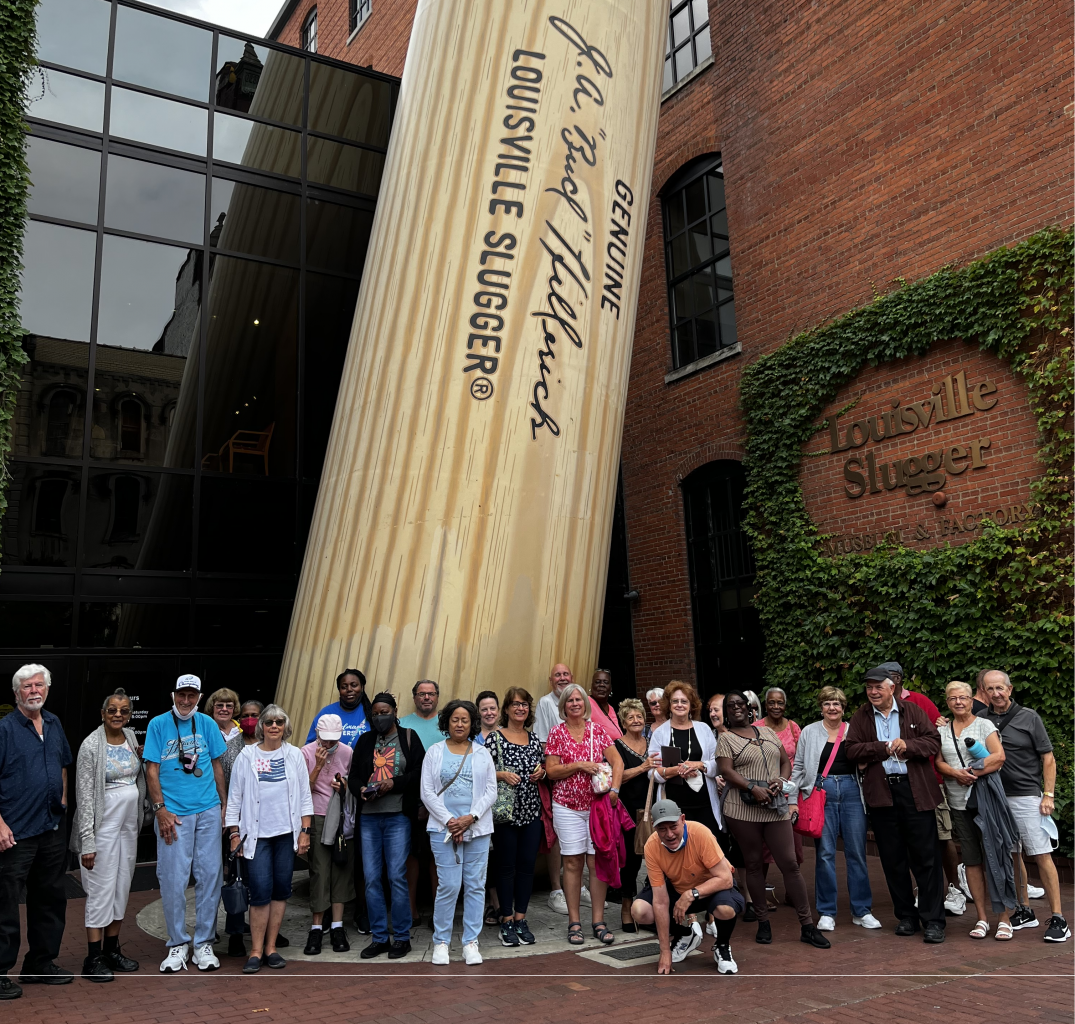 After a brief rest stop, we arrived at the Louisville Slugger Bat Museum. We first took the obligatory group photo under the giant baseball bat that adorns the entrance to the Museum. We were directed to the second floor where boxed lunches awaited our arrival. Our guided tour of the Louisville Slugger Bat Museum was fabulous. It delved into the entire baseball bat making process from finding the perfect trees in Pennsylvania to signing contracts with professional ball players for personalized bats with their unique preferences. The tour also taught the history of the Hillerich family and the fascinating occurrences that lead them to making baseball bats as early as the 1870's. Everyone enjoyed the tour very much and each person received a miniature Louisville Slugger Bat as a parting gift for taking the tour.
After enjoying the museum and taking pictures holding Babe Ruth's bat, we rode to the Evan Williams Bourbon Experience, just three blocks away. We divided ourselves into two groups of 16 and enjoyed a fabulous guided tour of the Bourbon making process along with the history of Evan Williams who began making Bourbon in the 1740's. The tour was extremely creative combining short movies, brilliant information from our tour guide, and wonderful peeks into the machinery needed to make the Bourbon. It concluded with a taste testing experience of four Bourbons aged from one year to 14 years. Of course, the longer a Bourbon is aged, the better it tastes, and the more expensive it sells for in the gift shop! And the Gift Shop is our last stop of the Tour. All tour guests enjoyed the entire Evan Williams Bourbon Experience and many left with a bottle or two as "souvenirs."
Tonight's hotel, the Drury Inn in Louisville, was only fifteen minutes away. We arrived by the Kickback which everyone enjoyed. We were able to relax after a wonderful day filled with Bourbon and Bats. Tomorrow, we will visit the horses.
Day 3: Tuesday, September 6, 2022
This morning everyone was able to choose where they would eat their main breakfast; here at the Drury Inn or at Churchill Downs during our Backstretch Tour. Most chose the Backstretch Tour and only ate something light at the Drury.
We arrived at the Backstretch Gate following Murray's perfect directions he provided me over the phone. Murray is the most knowledgeable local Churchill Downs Tour Guide. He greeted us and began sharing magnificent information about what happens with the horses and personnel on this side, the backstretch side, of Churchill Downs. One would only need to look ahead in order to see horses being shod (a ferrier, or blacksmith, puts a new set of shoes on each horse every 30 days on average). Horses were also being totally bathed with soap and water following their workout for the day. Many were being trained to run on the Churchill Downs Racetrack. These horses were mostly two-year-olds being trained to run in the 2023 Kentucky Derby as a three-year-old. It was magnificent to watch the hustle and bustle of this mini village filled with action and marvelous animals.
Churchill Downs provided us a breakfast that consisted of eggs, bacon, sausage, and choice of beverage which everyone enjoyed. After, we completed our Backstretch Tour by watching the horses run on the iconic track and taking a group photo in the starting gate of the Kentucky Derby. Murray was absolutely fantastic, and everyone learned a great deal.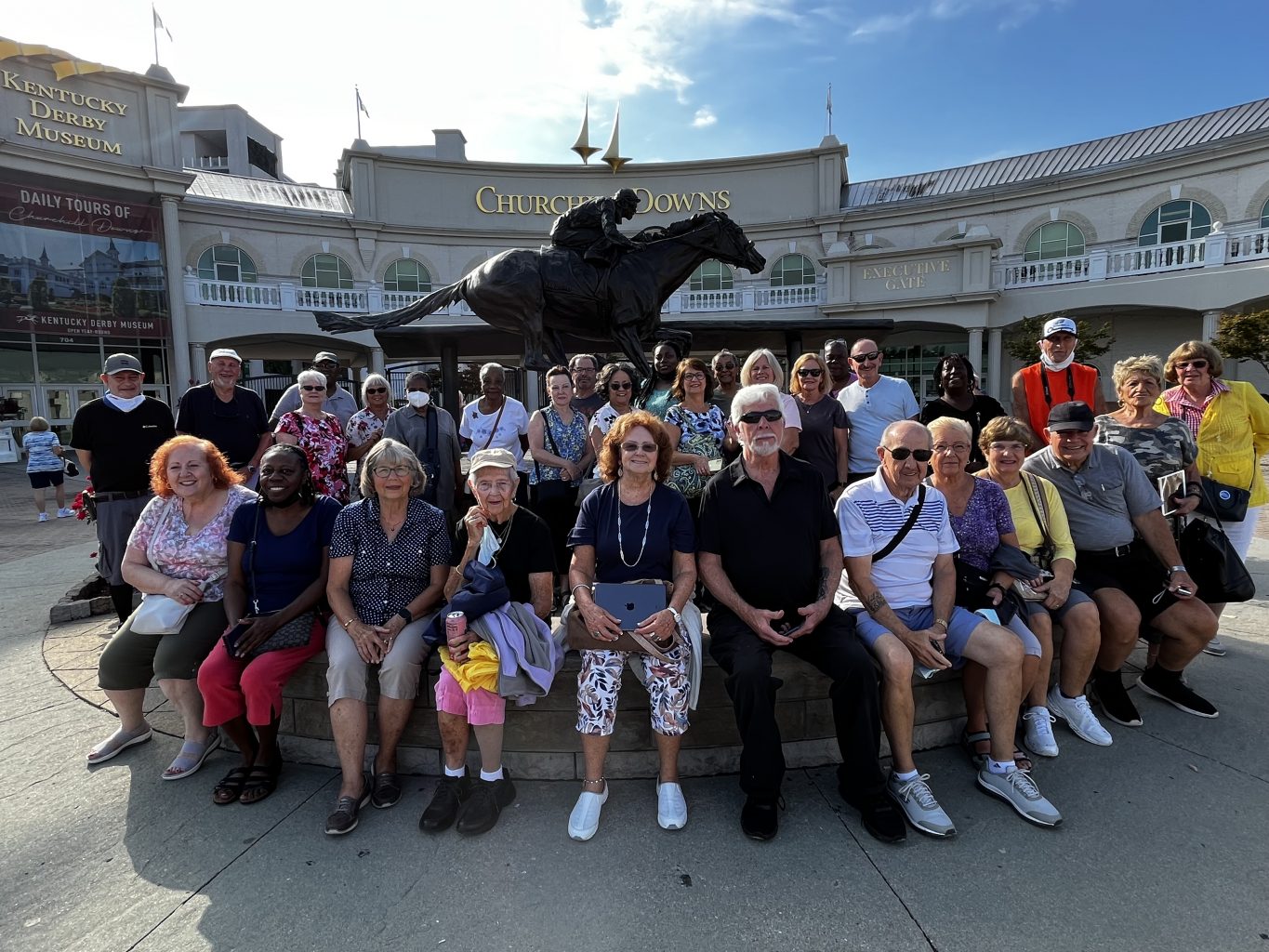 Next, we drove around the block to the entrance to Churchill Downs and took a group photo at the famed statue and gravesite of Barbaro, the Kentucky Derby Winner buried beneath the statue because his owner wanted him to always be available to the public. We had a wonderful 30 minute tour of Churchill Downs by an extremely knowledgeable guide including a walk out to the racetrack and to the grandstands. On Kentucky Derby day, there could be as many as 120,000 people in attendance enjoying mint juleps, betting, and cheering their horse to victory. There was lots of construction here that is expected to be completed in two years. Primarily, they are rebuilding the horses' entrance leading to the Racetrack.
We departed Churchill Downs and began our travels into Central Time, which took place 50 miles west of Louisville. We stopped for lunch at an exit in Smiths Grove, Kentucky and most chose Schlotskys, a fast-food sandwich, burger, and pizza restaurant for lunch. The service was fast, the people were friendly, and the food was delicious. We were all done eating within 45 minutes and continued our travels into Nashville only an hour away.

Our Nashville Hotel is the Hyatt Place Opryland. It is located five minutes from the Gaylord Opryland Hotel and the Grand Ole Opry. Our keys and rooms were all ready upon our arrival and all luggage was immediately delivered to our rooms. The hotel staff was extremely friendly and welcoming. Many tour guests commented on their beautiful rooms.
Our next visit stop was the Gaylord Opryland Hotel where we were able to stroll around, enjoy the magnificent decor, do some shopping, and grab a small bite to eat. At 6:00 PM, Fernando drove us to the Grand Ole Opry for our show. There was plenty of time for tour guests to shop in the Gift Shop prior to curtain. The Grand Ole Opry presented another lively show with eight acts; opening with the old country & western band, "Riders in the Sky" and closing with Pam Tillis, the talented daughter of Mel Tillis. It was great seeing a live show!
It was a magnificent day. Tomorrow is another early day as we travel to Memphis to spend the day in Elvis's world.
Day 4: Wednesday, September 7, 2022
We were scheduled to depart at 7:30 AM so we started breakfast at 6:30 AM. The Hyatt presented a delicious buffet breakfast with eggs, ham, sausage, potatoes, cereals, and waffles. Everyone enjoyed their breakfast followed by our departure for Memphis.
Elvis was the music of the day. Tour guests requested Elvis songs for the first 30 minutes of our journey. Since Johnny Cash also got his start in Memphis, I showed the movie, "Walk the Line" starring Joaquin Phoenix as Johnny Cash and Reese Witherspoon as June Carter. Most of the tour guests watched intently.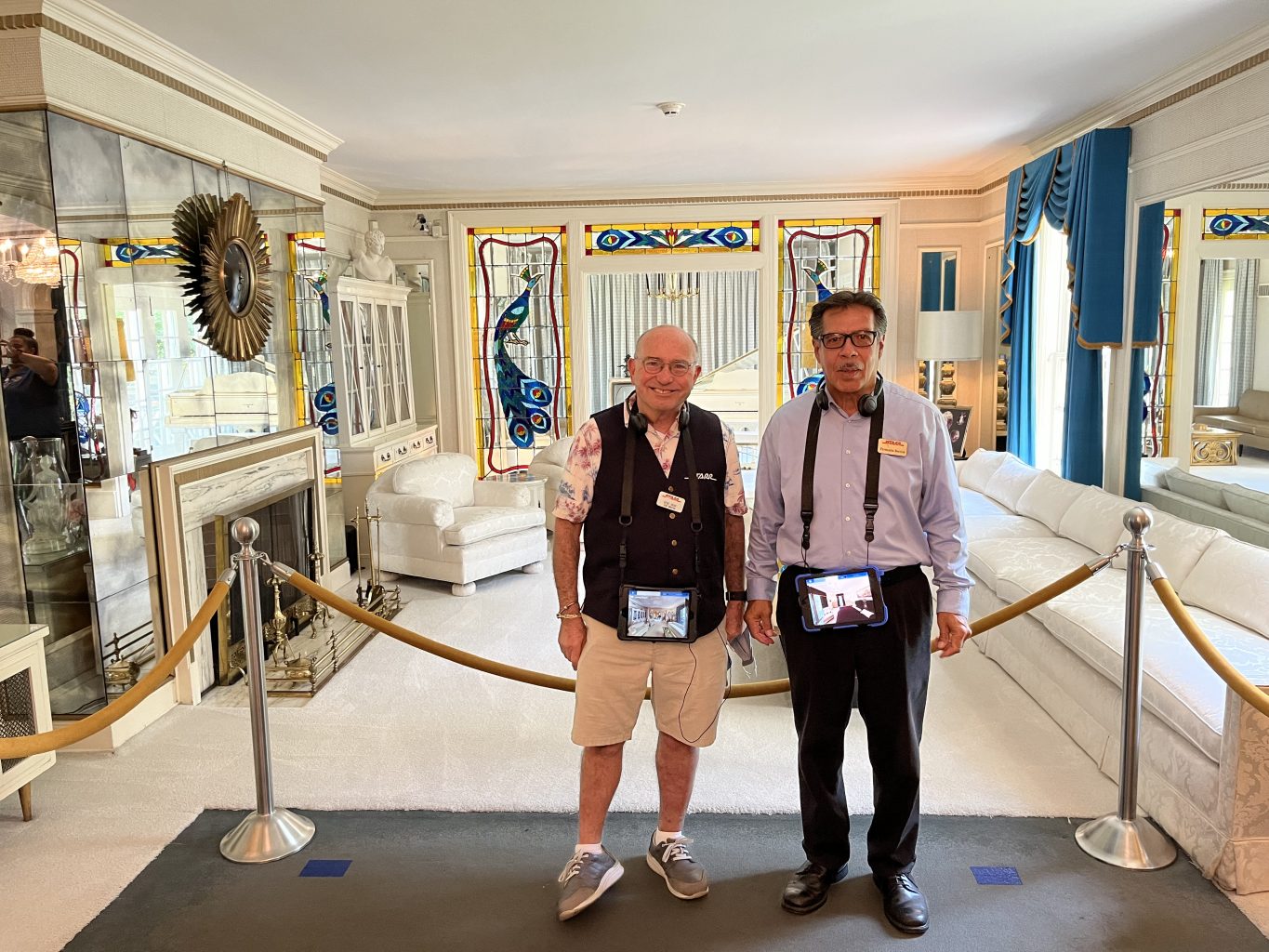 We pulled into Graceland as the clouds disappeared and the sun shined brightly. I picked up the tickets and $15 food vouchers and handed them out to the tour guests waiting by the bus. Everyone was now on their own to enjoy Graceland and Elvis to the fullest.
Most of the tour guests first chose to use their food voucher and eat lunch at Vernon's Smokehouse. Many shared that the food was delicious and substantial. Some immediately took the shuttle across the street to the Graceland Mansion for their tour. Before entering the shuttle, we were provided with a headset and tablet that is programmed with room-by-room narration of Graceland. Upon entering Elvis's home, an elegant living room with a full-length sofa, baby grand piano, and a large 1950's RCA television set sits on your right. The grand staircase leading upstairs to Elvis's bedroom (totally off limits to everyone except the curator, Priscilla, and Lisa Marie) is straight ahead. The magnificent dining room with a table set for 10 and a beautiful chandelier above is to your left. The narration continues to provide details of the kitchen, downstairs to his television and billiards rooms, and finally the famed Jungle Room from which Elvis actually recorded an album titled "Songs from the Jungle Room". Elvis had sixteen television sets throughout Graceland. The tour continued to other buildings outside including his racquetball court and concluded in the Meditation Garden where the gravesites of Elvis and his family are tranquilly displayed. An eternal flame sits behind Elvis's grave.
Back across Elvis Presley Boulevard, six magnificent museums and six gift shops await the visitor. Included in the many museums are Elvis's iconic cars, the many glitzy outfits he wore on stage, and plaques representing his hit records and movies. Everyone thoroughly enjoyed their time at Graceland whether they were Elvis fans or not.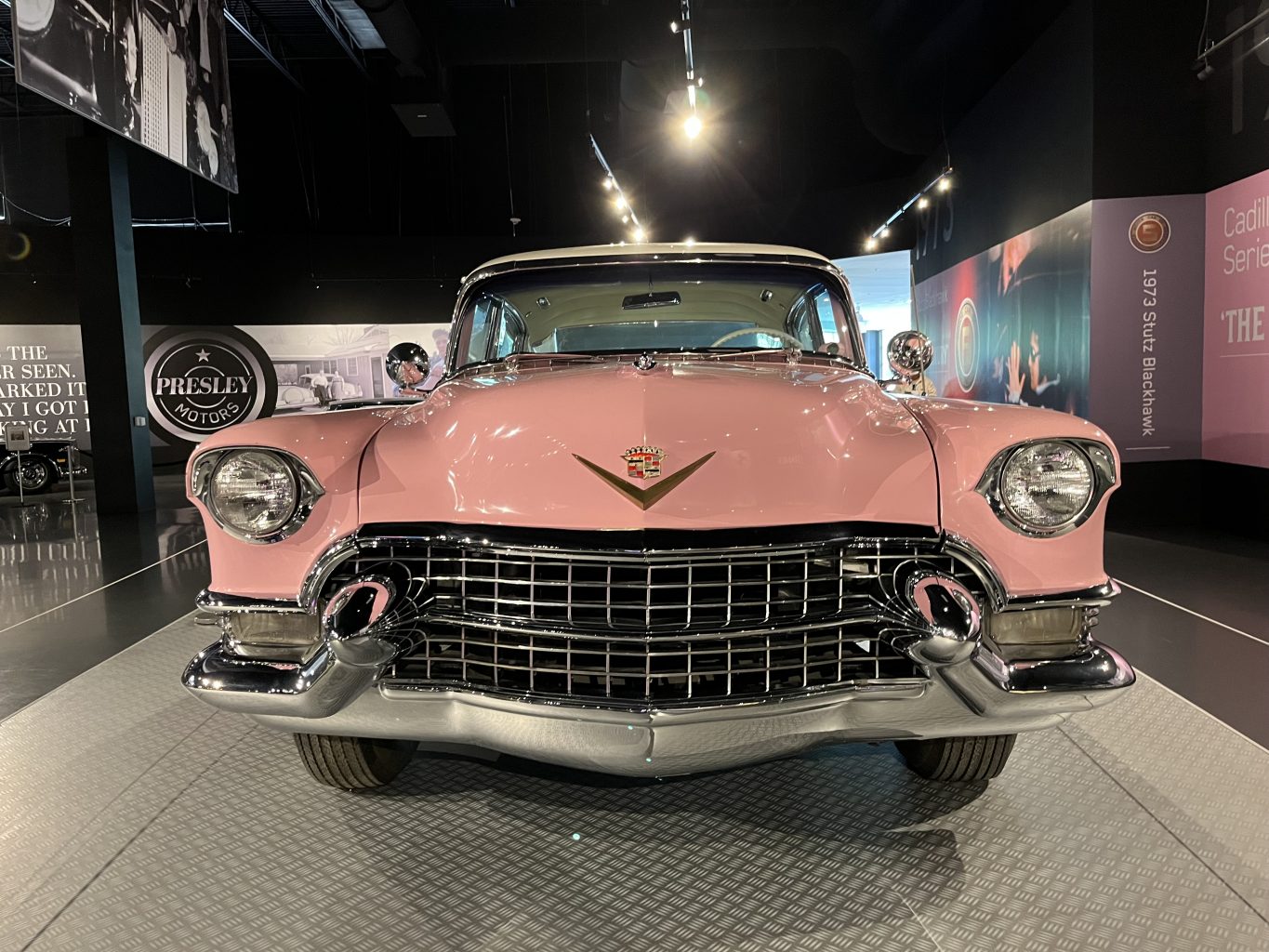 We arrived at the Doubletree Hotel in Memphis at 4:30 PM. The keys were ready, and I handed them out to the tour guests who were now on their own to enjoy Beale Street, blues music, and a fine restaurant. Most rested awhile before taking the three-block walk to Beale Street. Some stayed close to the hotel to enjoy a restaurant nearby. Beale Street, closed to vehicular traffic, was bustling with many locals and visitors accentuated by many bikers on motorcycles. Perhaps a hundred cycles were permitted to park inside the pedestrian Beale Street. Our tour guests enjoyed their evening and returned to the Doubletree very enthusiastic.

Today was another wonderful day filled with fabulous attractions, history, and new experiences.
Day 5: Thursday, September 8, 2022
The Doubletree Hotel by Hilton served us our own private buffet breakfast consisting of eggs, bacon, sausage, fresh fruit, and biscuits with gravy. It was plentiful and delicious.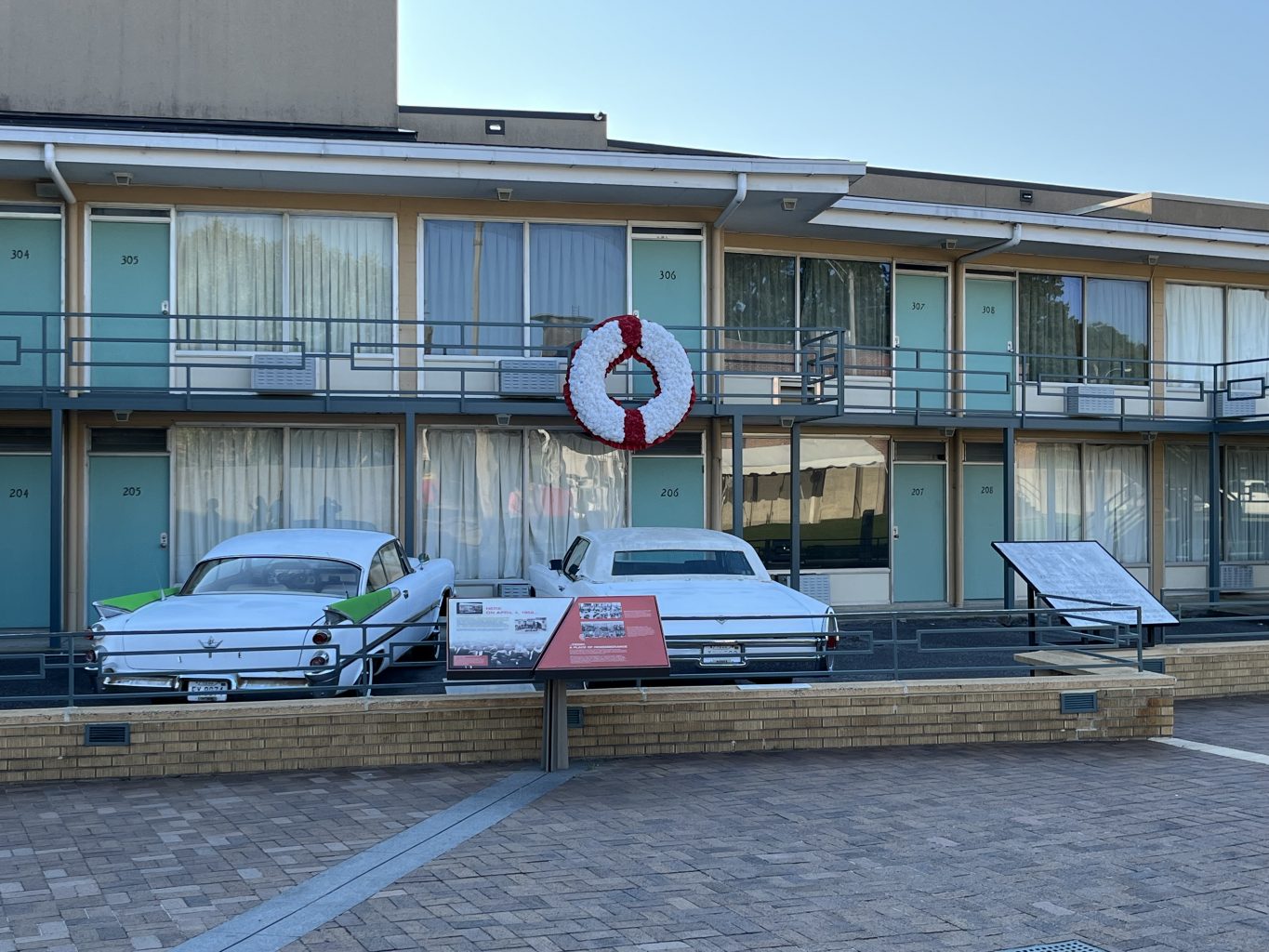 Before departing Memphis, we stopped to pay our respects to Dr. Martin Luther King Jr. at the Lorraine Motel. It's a sacred memorial that highlights the balcony adorned with a beautiful wreath from which he was assassinated. King's two Cadillacs are resting beneath his balcony. There's also a solid line on the ground that leads to the window from which the assassin shot the rifle. It's a fitting Memorial to a great American leader. Everyone thoroughly appreciated this stop.
We departed Memphis and immediately crossed the Mighty Mississippi putting us officially in the western half of the United States. We were now in the state of Arkansas. I played a few songs by Dolly Parton (by request) and Ray Charles. I followed the music by showing the movie "Ray" starring Jamie Foxx as Ray Charles Robinson. Foxx won the 2004 Best Actor Oscar for his role as Ray Charles. Tour guests intently watched this dynamic portrayal of a musical genius battle with heroine that almost cost him his career and marriage. Midway through the movie, we stopped at a Loves Service Plaza for a short break. We drove for another 180 miles, completed the movie, and pulled off of I-40 at Exit 13 in Alma, Arkansas for our lunch stop.
The tour guests had many choices for lunch. Clumped together were Burger King, KFC, Subway, and two more across the street. We were back on the bus and ready to complete our journey into Oklahoma City within 50 minutes.
During this stretch of the trip, the bus was silent and many people slept. We stopped at another Love's Service Plaza for another break. These stores are equipped with the traveler in mind and are excellent for bathrooms, food, snacks, electronics, and many other items.
We arrived in Oklahoma City at the Hampton Inn in good time. Twenty of us chose to go out for dinner at the nearby Penn Square Mall and Fernando graciously agreed to drive us the short distance. We had an hour and forty-five minutes to shop and eat. The Penn Square Mall has an excellent food court as well as many larger restaurants such as the Cheesecake Factory. Today was another wonderful day as evidenced by the enthusiastic tour guests who are quickly getting to know and respect each other.
Day 6: Friday, September 9, 2022
After a very good breakfast at the Hampton Inn, we stopped at the Oklahoma City Memorial. It is a solemn dedication to the 168 children, women, and men who lost their lives on April 19, 1995. It's composed of two parts. First, two large stone monoliths sit on either end of a reflecting pool. One monolith has the time of 9:01 and the other has 9:03 carved in large letters. The actual bombing took place at 9:02 AM so the monoliths symbolize peace before the bomb and calling for emergency assistance after it blew. The second piece consists of 168 chairs of different sizes, placed on the hallowed ground where the original Federal Building once stood. It is a very moving and respectful Memorial honoring all who perished on that fateful day.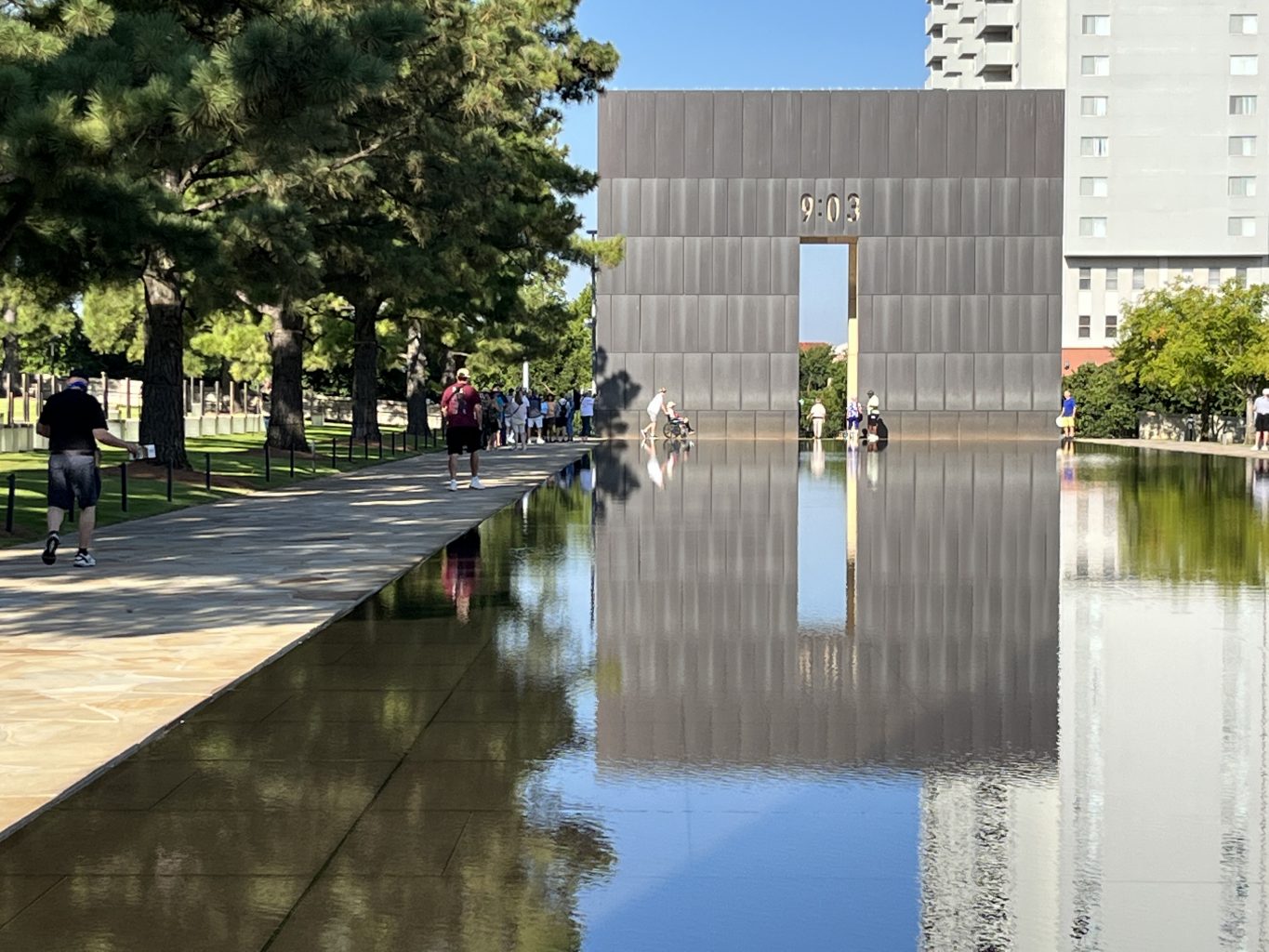 The National Western Museum is massive and magnificent. We were taken on a tour of art galleries with paintings that reflect the way of life in the real West. Our guide continuously compared Hollywood's fake portrayal of the West to the way people lived in reality. We learned the West wasn't really "wild" and very few people were killed in gunfire. Another gallery honored the singing Cowboys who performed on TV and movies. Showcases with pictures and artifacts from John Wayne, Roy Rogers, and Gene Autry took us all back. Creative and colorful life-sized dioramas adorned other rooms and depicted life on the prairie. The Rodeo was highlighted in another section with life sized bucking broncos. Showcases told about women riders who did tricks on horseback like standing on a horse and riding. Everyone enjoyed their time and learned new perspectives on the history of the American Cowboy.
A very good lunch was set up for us in a private room of the museum. We chose from a variety of sandwiches. Pickles, chips, a chocolate chip cookie, and a bottle of water were also available for our taking. The food was plentiful and many took leftovers for the road.
We departed the National Western Museum and traveled to Amarillo, Texas. Our tour guests relaxed, and many slept during the first part of our 240 mile journey. As we approached the Texas border, I played "Deep in the Heart of Texas" and put on the movie, "Hidden Figures." This movie features the gifted Catherine Johnson as a NASA employee who is responsible, but not given the credit, for launching John Glenn into space in February 1962. It highlights the Jim Crow segregation laws that separated people by race. Most of the guests watched intently and enjoyed the movie. We did make one rest stop at a TA Travel Plaza before arriving at the Country Inn and Suites in Amarillo.
This Hotel was warm & welcoming. As we pulled up, three young people were waiting to bring the luggage to our rooms. With luggage delivery fast and efficient, we were easily able to leave for dinner at the Great Texan Steak Ranch on time.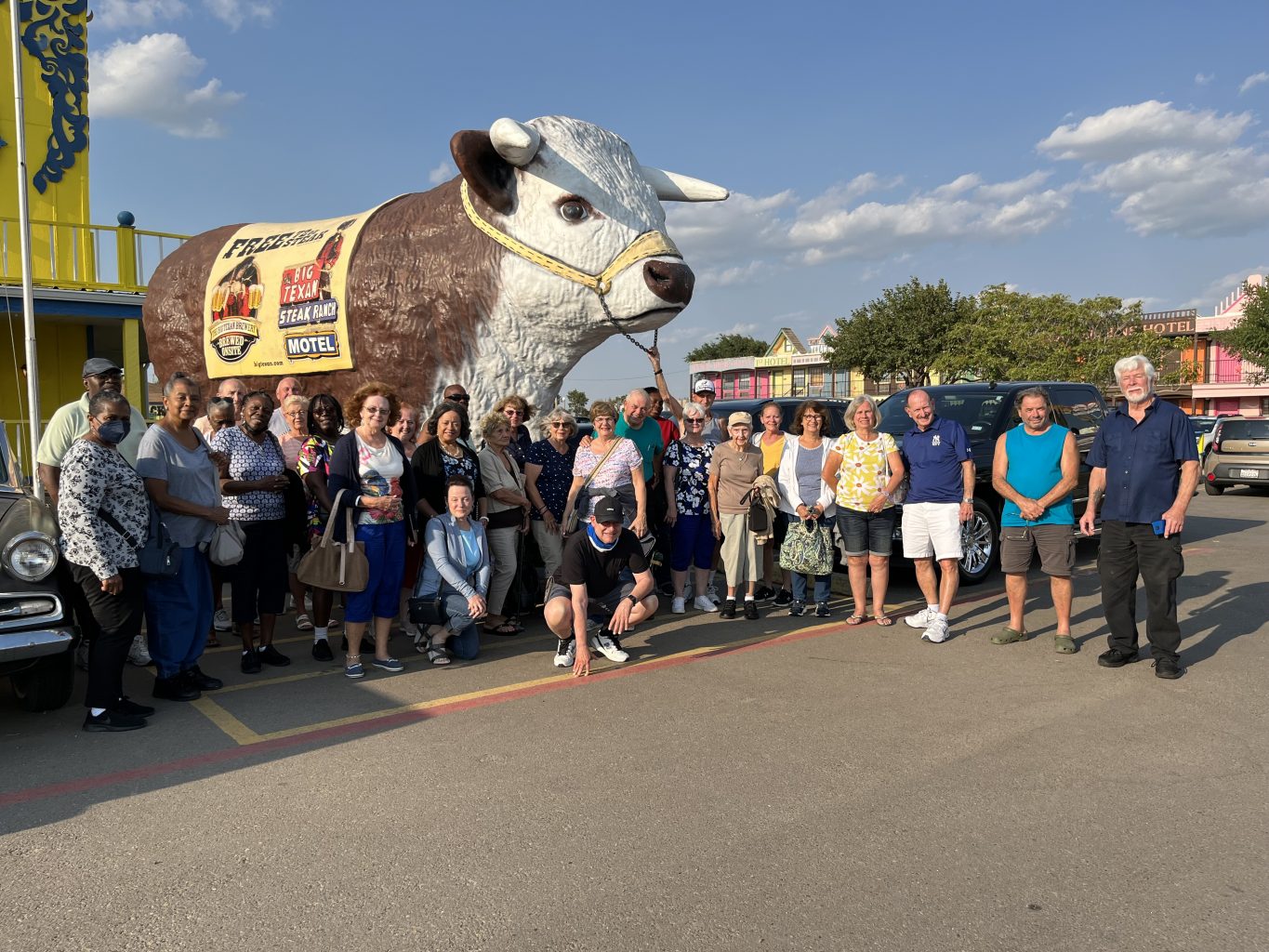 Our short wait was worth it! The 18 ounce steaks or chicken breasts were juicy and tender, grilled to perfection. There was one young man on stage doing the contest by eating the 72 ounce steak and all the fixings. However, he gave up and had to pay the $72 for the meal. If he had completed all his food within 60 minutes, he would have won the contest and gotten his meal for free. We were all totally full and satisfied with our meal at the Great Texan Steak Ranch.
Following dinner, we had time to play and shop. Some took shots in the shooting gallery. Many took pictures while behind bars. And we had a lot of fun getting into and out of the giant chair. Tonight was another exciting and memorable evening.
Day 7: Saturday, September 10, 2022
After a delicious breakfast, the hotel staff efficiently loaded our luggage and we boarded the bus for our first stop, a very strange artistic creation.
Cadillac Ranch is three miles west of Amarillo in a large field. In 1975, three hippies had the idea to stick 10 Cadillacs into the ground heads buried with their tails sticking high into the air. Since then, the vehicles have been completely stripped and are now only frames. Spray paint is always available for visitors to put their artistic touch onto the cars. To my eyes (after 5 visits), it seems like the cars are slowly sinking into the ground. Nevertheless, everyone took pictures, and many had a good time spray painting the Cadillacs.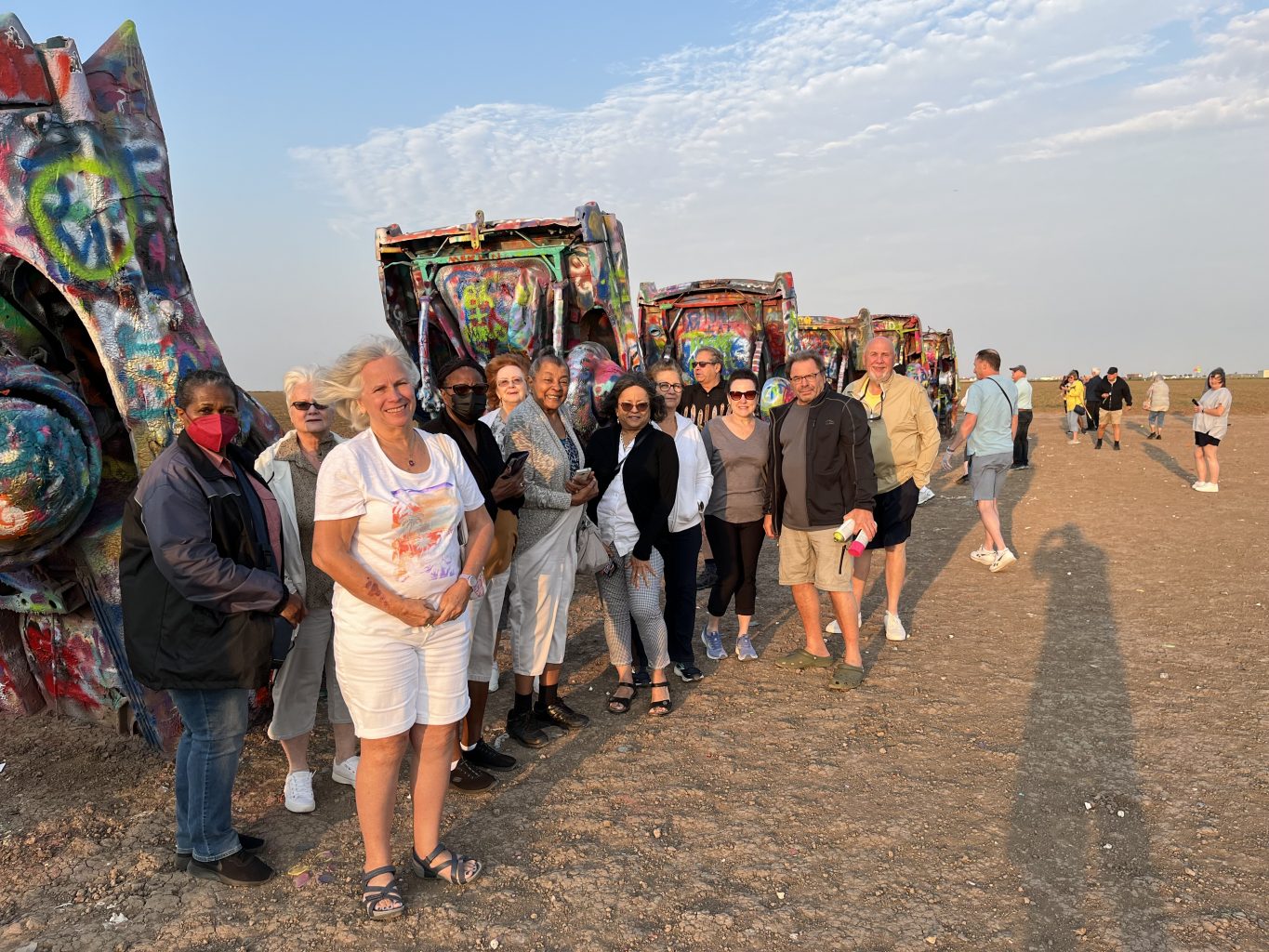 Today was all about Route 66. Of course, Nat King Cole started us off. We traveled parallel to Route 66 and saw many abandoned hotels, gas stations, and stores. I told everyone that Route 66 was officially opened in 1926 and decertified on June 27, 1985 when I-40 was completed. We stopped at the Glenrio, New Mexico, Welcome Center immediately upon entering New Mexico for our rest stop. They were well equipped with information about New Mexico, and I received some great advice from a very knowledgeable person. She handed me their last Route 66 magazine and photocopied a page summarizing all Route 66 Points of Interest in New Mexico.
Once back on the bus, I played the History Channel's Documentary "Route 66." It depicts the purpose and creation of this iconic Route and has actual footage from the time. Most watched and found it fascinating.
I studied the information I received at the Glenrio Rest Stop and found a famous Route 66 sign that was five minutes off an upcoming exit. With Fernando's agreement, we left I-40 at Exit 131 and found that unique and famous Route 66 sign. Everyone was thrilled and disembarked to take pictures. Afterwards, we rode on Route 66 for two miles, passing so many abandoned structures, until it merged with I-40 once again. I am glad we discovered this trip detour!
We continued onto Albuquerque. We were now in Mountain Time as our devices went back an hour. We were traveling through the desert for the first time. After a short rest stop, we arrived in Albuquerque at our lunch stop, the Sawmill Market. The Sawmill Market contains many unique fast-food restaurants, bars, and dessert kiosks. We chose from pizza, burgers, Asian food, and dishes with a southwestern flair for lunch. Some bought the delicious Vietnamese Noodle Bowl and stuffed spring rolls. The prices were very reasonable. Everyone thoroughly enjoyed this unique southwestern lunch stop.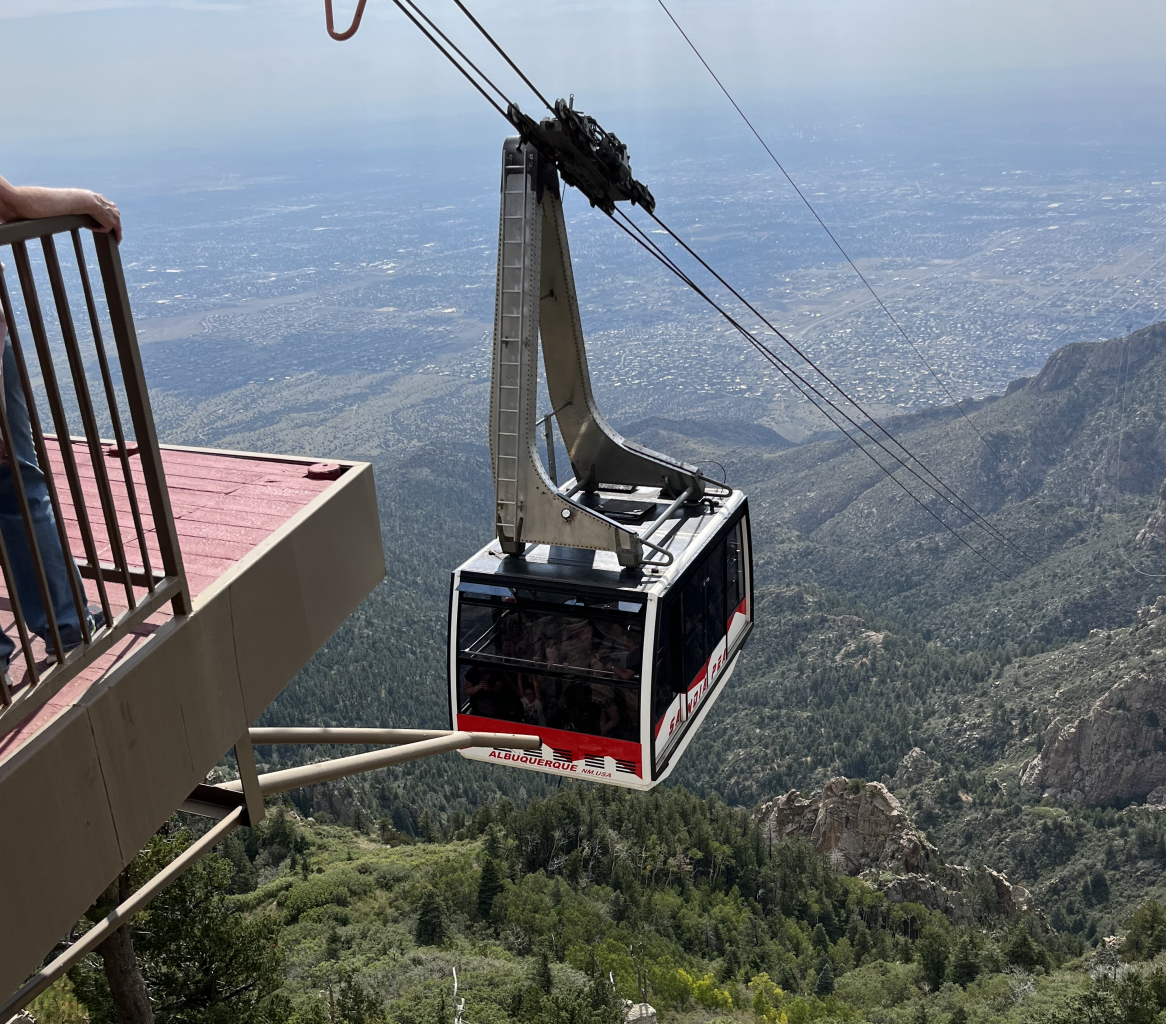 The sun was shining, and the clouds were scattered, a perfect time to traverse the Sandia Mountains on The Sandia Peak Tramway. After purchasing the tickets, we all walked into a large tramcar that holds 50 people. We ascended for 15 minutes to a height of 10,300 feet and disembarked at the top. We were at the peak of the Sandia Mountains with breathtaking views of Albuquerque below. Usually, it's much colder at this height, but it was 72° and very comfortable. We all took many magnificent pictures, and everyone thoroughly enjoyed this attraction.
We arrived at tonight's Drury Inn and the keys and luggage handlers were waiting for us. After distributing the room keys, we were on our own to enjoy the kickback or go out to a nearby restaurant. We were all looking forward to our first two-night stay at a hotel. Today was another wonderful and unique day of travel and attractions. Tomorrow, Fernando has a day off and we will be driven around Albuquerque by Herrera Tours.
Day 8: Sunday, September 11, 2022
Everyone was grateful this morning for that extra hour of sleep, and we did not need to leave until 8:45 AM! Breakfast was excellent, typical of the Drury Inn. David, our Herrera Coach driver, arrived early and did a wonderful job for us all day. Our first stop was the Balloon Museum. Albuquerque is famous for its magnificent Balloon Festival every October. The Balloon Museum teaches the history of ballooning, which began on September 19, 1783, in Versailles, France. It depicts the many successes and failures as ballooning pioneers struggled to perfect multi day/week balloon trips. The Museum also provides information on weather conditions and other factors that affect the success of a hot air balloon trip. Short videos, life size dioramas, and short anecdotes are used to teach the history of ballooning. We enjoyed our time at the Balloon Museum.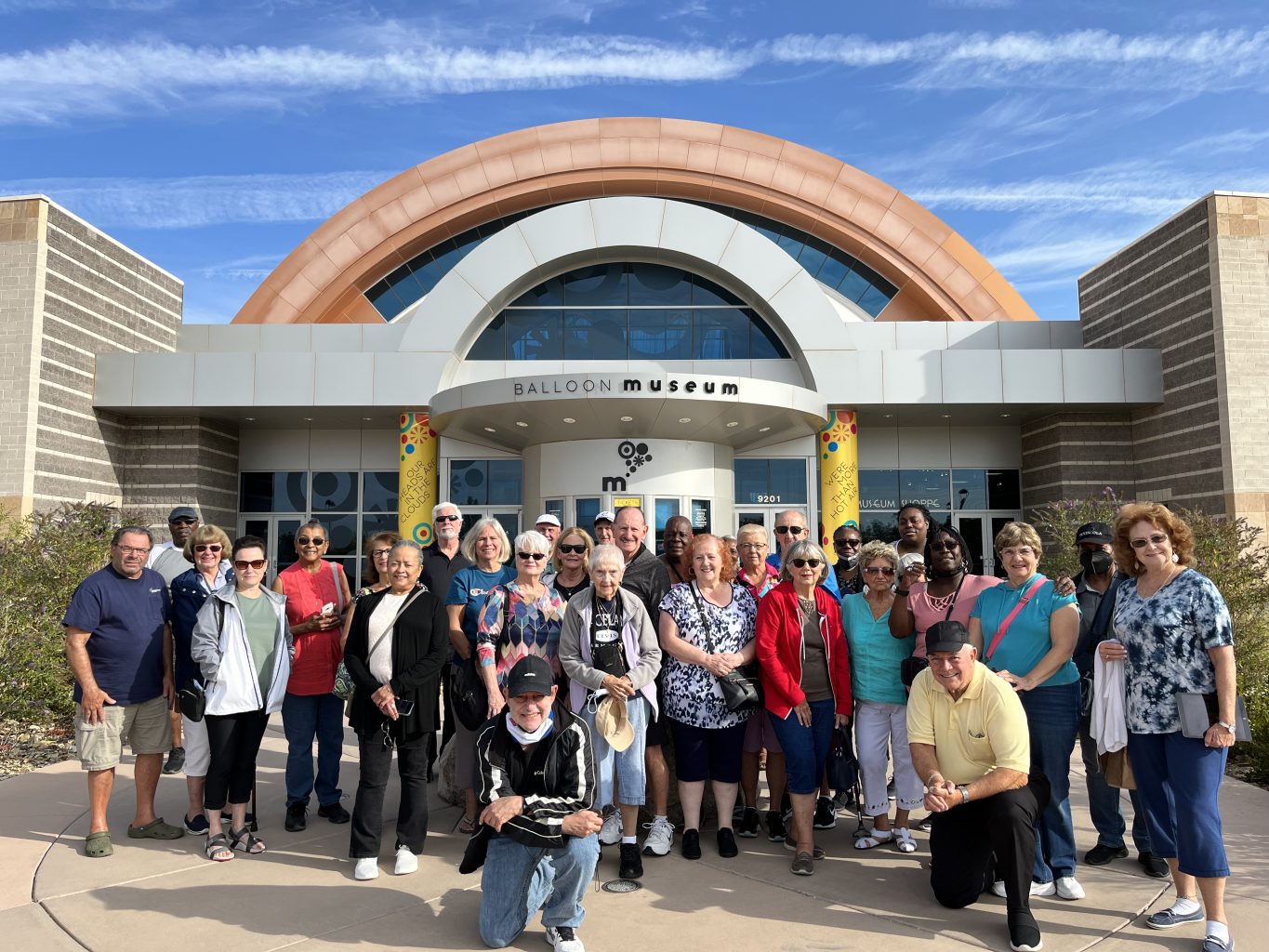 Our next stop was in Old Town Albuquerque for shopping and lunch. It was delightful just walking around with temperatures in the upper 70's. Old Town takes us back hundreds of years with its Spanish architecture and narrow alleys. Red peppers are hung at many doorways to "Welcome" all visitors. Men and women sell jewelry and other related trinkets from blankets spread over the ground. Many shops were open selling colorful clothing, mini hot air balloon replicas, and New Mexico souvenirs. The tour guests had made fine choices for lunch and most returned to the bus with purchases. Everyone enjoyed their time in Old Town.
Our final stop of the day was the Indian Pueblo Cultural Center. We witnessed a wonderful traditional Native American Dance with others chanting and banging drums. The dancers were extremely talented, and their costumes were dynamic. Audience members were invited to dance with them in the giant circle and many in our group got up to dance. It was fun and entertaining to watch.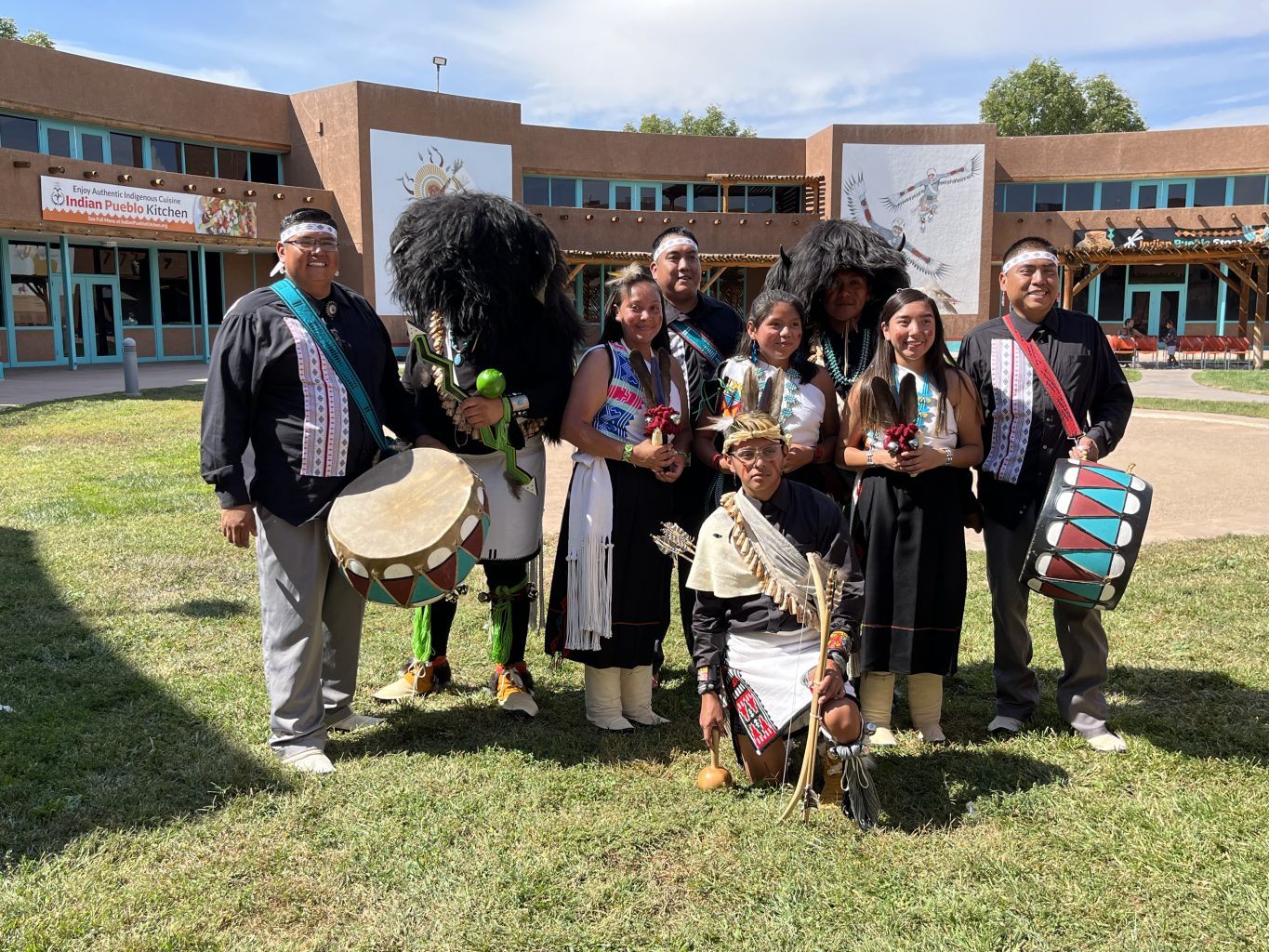 Following the dance performance, we had an hour guided tour throughout the Museum given by John, the curator and leader of the Cultural Center. He's a native New Mexico American Indian whose purpose is to teach Pueblo (village) life of his ancestors in this region. He is a brilliant and passionate historian and provided us with great insights into Pueblo life from the 1500's to present. This is an important stop to experience a culture that is generally not prevalent at home.
Today was an important day to provide perspective into the lives of the great Native Americans who reside in the great Southwest.
Day 9: Monday, September 12, 2022
Breakfast was perfect, as usual, for Drury Inns. Panera Bread delivered our lunches at 7:15 AM and I handed them out to each passenger in the hotel lobby. Everyone received a boxed lunch consisting of a sandwich, bag of chips, a pickle, a chocolate chip cookie, and a bottle of water. It was to be eaten at the Painted Desert later in the day.
We departed Albuquerque and continued west through New Mexico. The terrain is now all desert with high, colorful, flat cliffs called mesas dotting the background. One could see for miles in all directions. Many long freight trains were chugging along on tracks to our right. Our group stayed focused on the scenery while I played a few songs, mostly by request, to honor those of us celebrating an event.
We soon arrived at our first rest stop, the rest stop that we were anticipating since Day 1, the Navajo Welcome Center at Exit 16 off of I-40 in Gallup, New Mexico. You can purchase a large Mexican Blanket for only $4.99 along with the opportunity to buy many unique Navajo and Route 66 gifts. Many walked out with at least one blanket but not more than two since they limited purchases to two blankets per person at that low price.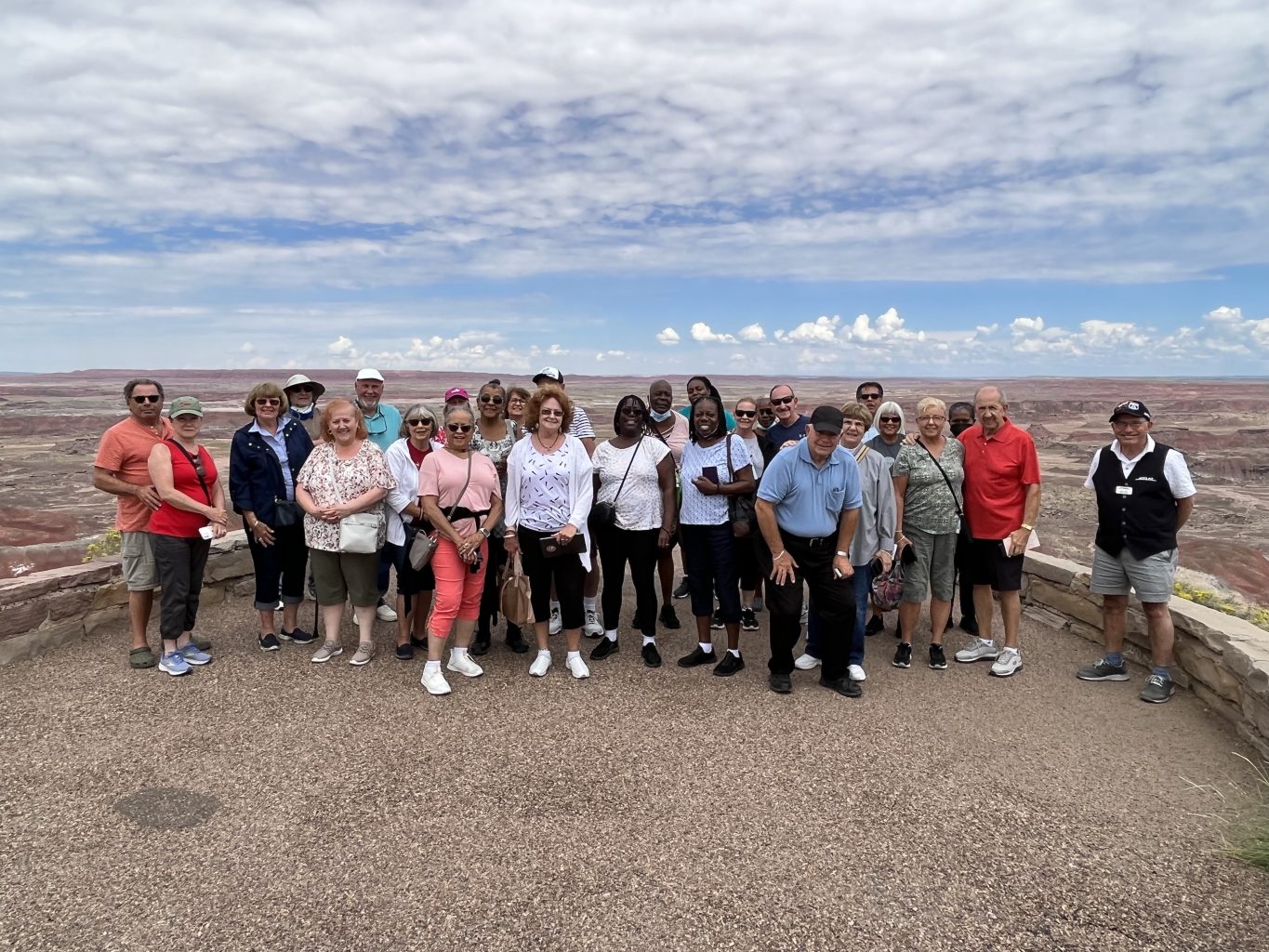 We resumed travel and soon crossed the border into The Grand Canyon State, Arizona. I played the 18 minute National Park Service movie on the Painted Desert and Petrified Forest that is shown in the Visitors Center. It was an excellent introduction to what we will be experiencing. We soon pulled into our first National Park, the Painted Desert. After paying the entrance fee, we stopped at the Kochina Overlook and took our first glimpse into "Canyon Country," nature's artistic and colorful work. Guests commented that this view was worth the price of our magnificent trip.
We continued onto Chinde Point where we all disembarked and ate our boxed lunch from Panera. Chinde Point has 16 covered picnic tables that seat up to eight people each. Everyone enjoyed their Panera lunch and many saved half for dinner tonight.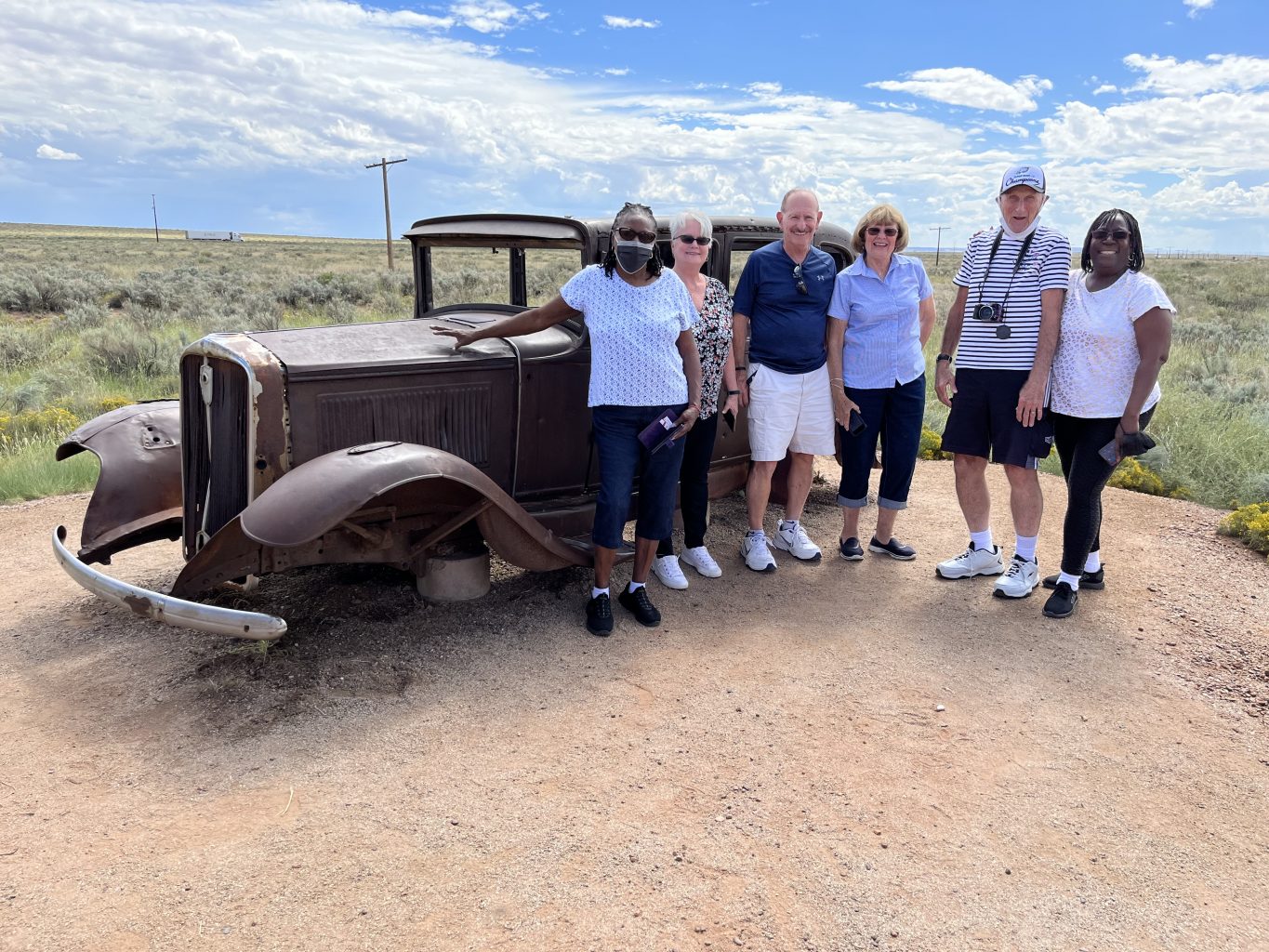 Continuing on, we stopped at several magnificent overlooks, each as distinctive as the other. There was a Route 66 stop where we took pictures of a 1930's automobile (stripped to its frame). Agate Bridge is a long log of petrified wood that spans a small canyon below. The National Park Service needed to fortify the petrified wood with cement to preserve it for future generations. And our final stop was the Crystal Forest. Here, thousands of pieces of petrified wood of all sizes sit on the ground. The large majority of our tour guests chose to take the .75 mile circular hike into the badlands of the Petrified Forest to experience many more colorful pieces of petrified wood. The hike was pleasing to the eyes and invigorating to our bodies. Everyone thoroughly enjoyed the Painted Desert and Petrified Forest National Park.
After a stop at the Visitors Center complex where many purchased their National Parks stamp book and souvenirs, we continued our travels into beautiful Sedona. We ran into many sporadic heavy rainstorms that Fernando did a magnificent job driving through. We arrived at the Holiday Inn Express in Sedona only 30 minutes behind schedule. This is a beautiful hotel and very comfortable with a friendly staff. There are many restaurants adjacent to the Holiday Inn Express for tour guests to choose from for dinner.
Today was another special day and enjoyed by everyone. Tomorrow, we look forward to exploring beautiful Sedona and our Pink Jeep Tour.
Day 10: Tuesday, September 13, 2022
After a filling breakfast, we departed the hotel and traveled a short distance to the Pink Jeep Tour. Upon arrival, we divided into three groups of 6 people and two groups of 7. The Pink Jeeps are windowless vehicles with a full roof and plenty of handles and padded poles for tour guests to hold on to when the going gets rough. Our extremely talented Jeep drivers provided wonderful commentary about Sedona while traveling the route. The road had its bumps and small rocks causing us to hold on and experience the thrill of off-road riding. We all disembarked and were led to a beautiful pond surrounded by magnificent views of the amazing red cliffs, an oasis in the desert. The blue skies with puffy cumulus clouds added to the beauty of the moment. Many pictures were taken including some group photos. We then drove to a second viewpoint with breathtaking 360° views of the red cliffs and vistas. Everyone thoroughly enjoyed this experience through the badlands of Sedona.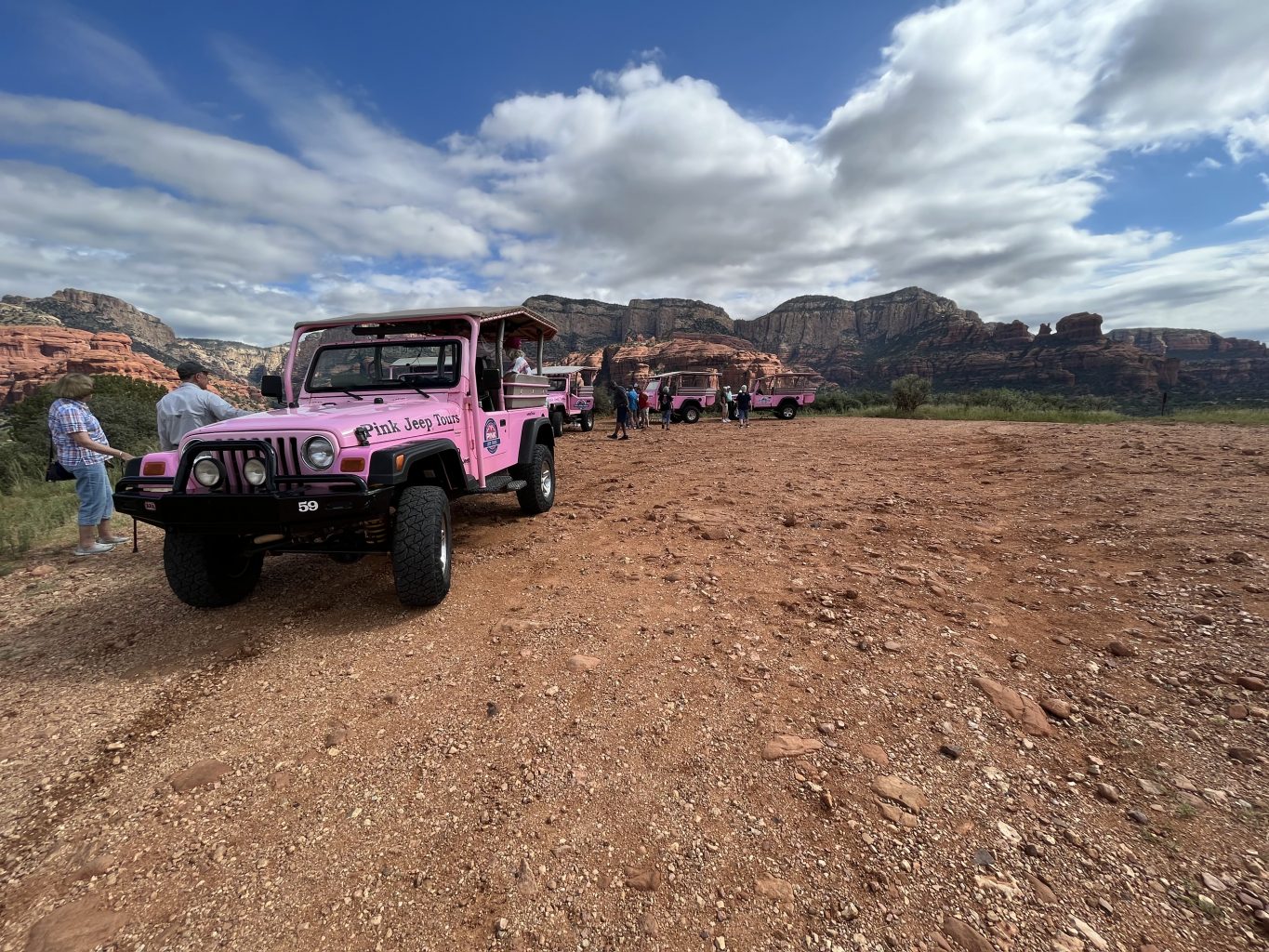 Next on the itinerary was some free time to explore Sedona, a quaint town with many unique shops and wonderful restaurants all within two short blocks. Most chose to eat in the Cowboy Club, famous for its rattlesnake sausage, cactus fries, and prickly pear sauce. Yes, many tried rattlesnake for the first time and the consensus was positive!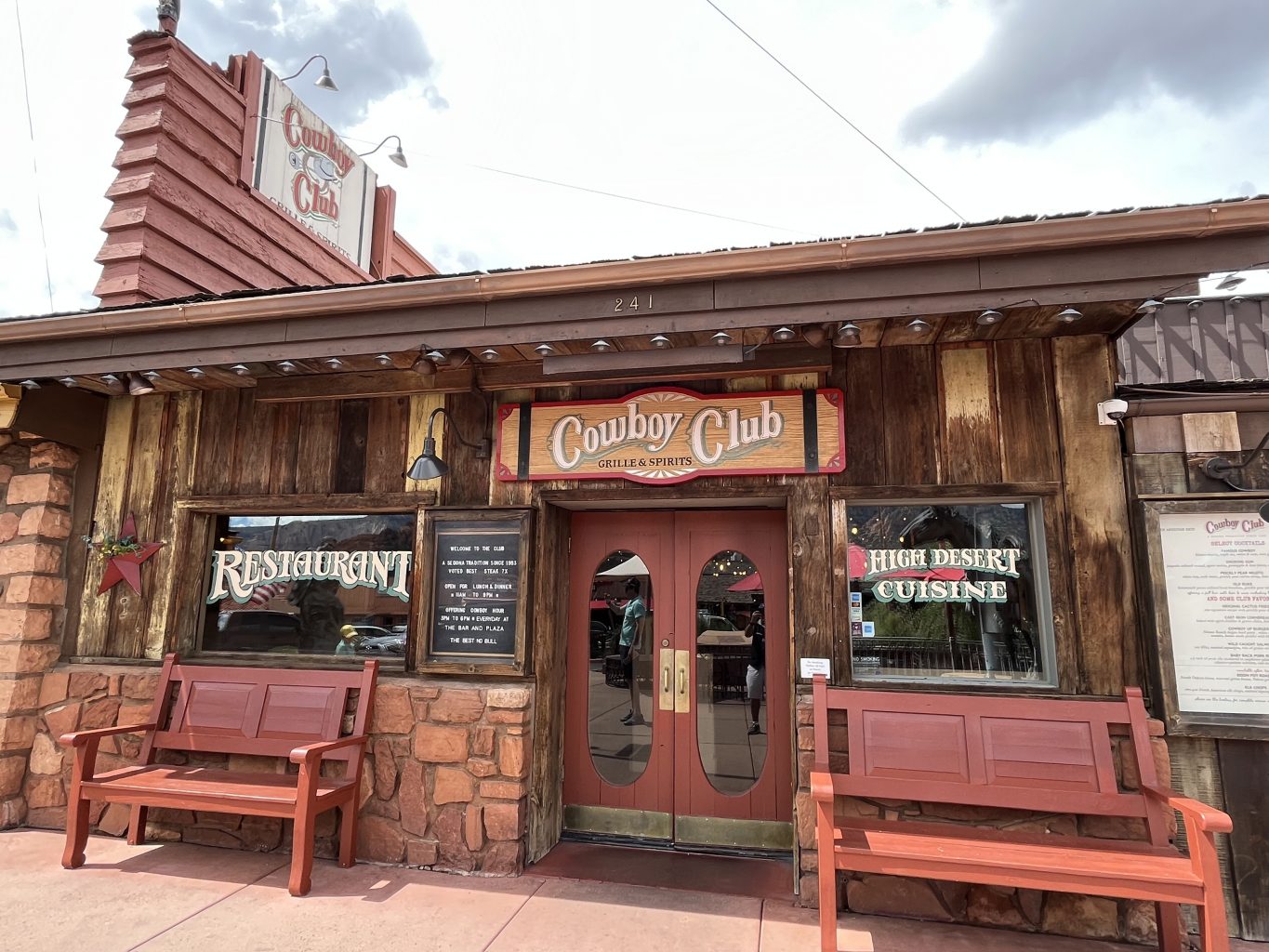 After, we traveled southwest towards Scottsdale, a suburb of Phoenix, the capital city of Arizona. We descended in elevation to less than one thousand feet above sea level. We were driving through the Sonoran Desert that is famous for Saguaros. Saguaros only grow in elevations under 3000 feet and only in the Sonoran Desert. The desert extends south into Tucson where Saguaro National Park is located. The tour guests marveled at the numerous Saguaros that seemed to be waving to us as we passed by. Many worked hard to capture photos of this Arizona State Cactus while on the moving bus. Saguaros, 30-45 feet tall with extended arms, can be between 150 and 200 years old!
We arrived at the Western Spirit Museum in Scottsdale and to the delight of our guests, saguaros were lining its landscape. Of course, we took many pictures. The Western Spirit Museum, a subsidiary of the Smithsonian Institute, opened in 2016. Two extremely knowledgeable guides took groups of sixteen around the Museum. We were shown artifacts from the Lewis and Clark expedition, Native American clothing from the 19th century, and brilliant works of art along with bronze statues depicting life in the West from the past 200 years. Everyone loved their tour and gained a further appreciation of the "Wild West."
The Drury Inn in Chandler, a suburb nearer to Phoenix, was our home for the night. Many ate dinner at the Kickback while eleven rode to the Fashion Center Mall, one mile away, for dinner and shopping. Today was another exciting day of attractions as we traverse deeper into the western section of the United States. Tomorrow, "California Here We Come!"
Day 11: Wednesday, September 14, 2022
Breakfast was once again delicious. We left Phoenix and within minutes were traveling through the desert. The Sonoran Desert extends well into California. Dry, desert land and blue sunny skies could be seen for miles in each direction. I played the movie, "The Founder" starring Michael Keaton as Ray Kroc since the original McDonalds was located in San Bernardino near Los Angeles. Most watched intently. After a short rest stop, we continued the final 60 miles to the California Border. We had made it across our country! The Beach Boys serenaded us in song as we crossed the California border and entered the Golden State.
We stopped for lunch in El Centro, California. Most of the tour guests ate at Farmer Boys, a fast-food restaurant specializing in sandwiches, burgers, salads, and pizza. You order your food at the register, take a number, and your food is delivered to your seat. Everyone enjoyed this lunch stop that also included a supermarket.
We continued traveling through the desert towards San Diego at elevations of 90 feet below sea level. The Sierra Nevada Mountain Range began looming up ahead and we began slowly climbing in elevation until we reached the peak at 4000 feet. Large boulders monopolized the scenery. Our decent brought us into the San Diego County limits and civilization. We soon arrived at our hotel, The Best Western Plus Bayside Inn, in downtown San Diego.
The staff was extremely friendly and eager to please us. After checking in and a quick rest, Fernando drove us to Old Town San Diego for dinner and shopping.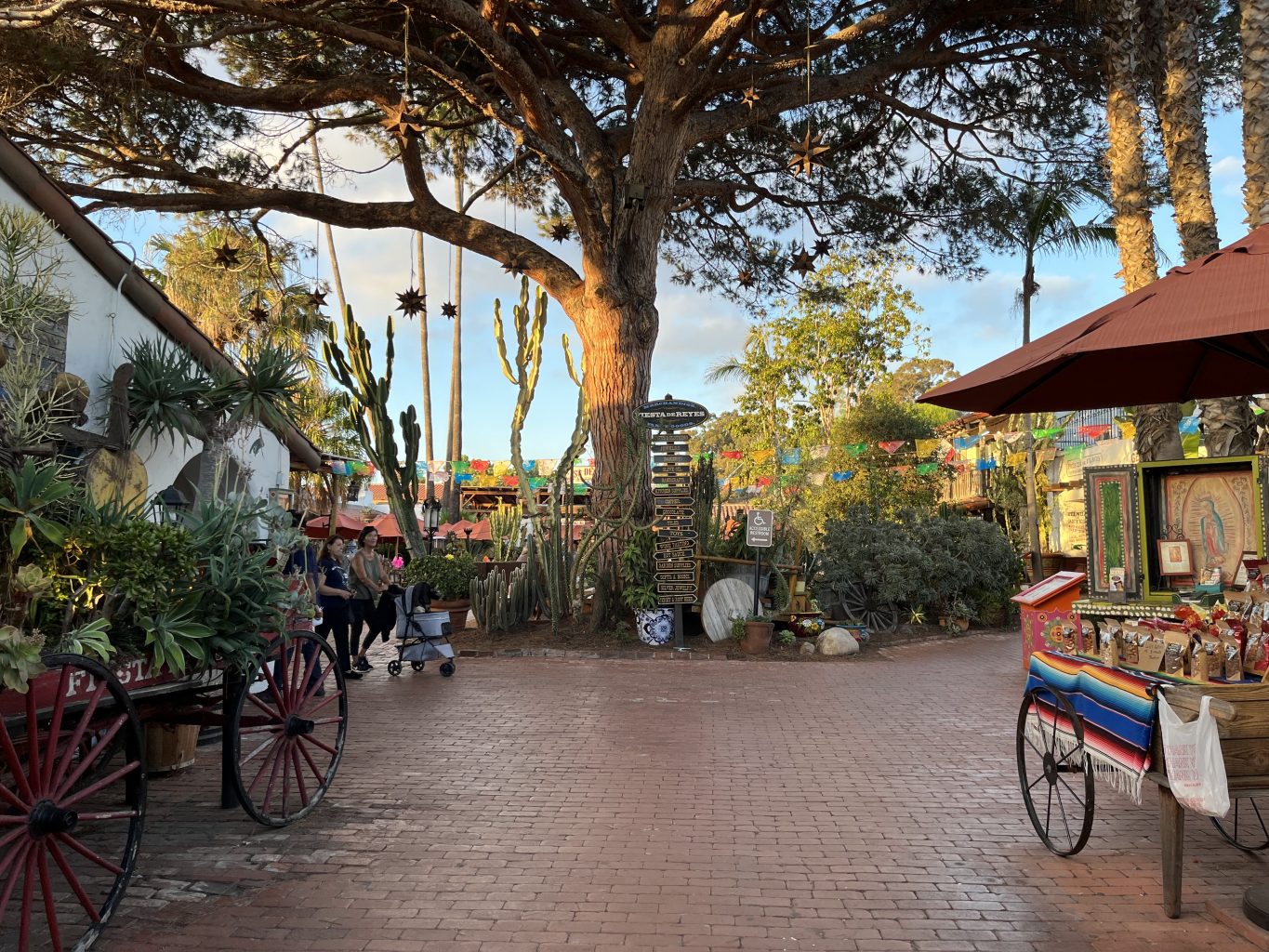 Old Town is a quaint part of town with complete Mexican flair; the architecture of the buildings, food choices, and colorful shops. Everyone enjoyed their time strolling around, shopping, listening to music, and eating dinner. It was a very pleasant evening.
Tomorrow, we look forward to playing with the animals at the iconic San Diego Zoo.
Day 12: Thursday, September 15, 2022
We boarded the bus and quickly arrived at the San Diego Zoo. After I picked up the tickets, we took a group photo under the giant lion at the entrance. Upon entering, we all boarded the double-decker bus for our introductory tour around the Zoo. Following the ride, everyone was on their own to walk around the Zoo, eat lunch, ride the Skyride, and enjoy the next four hours. One unique highlight of the San Diego Zoo is the Koala exhibit, and everyone was eager to see them perched in their trees. Everyone had a wonderful morning and enjoyed the zoo tremendously.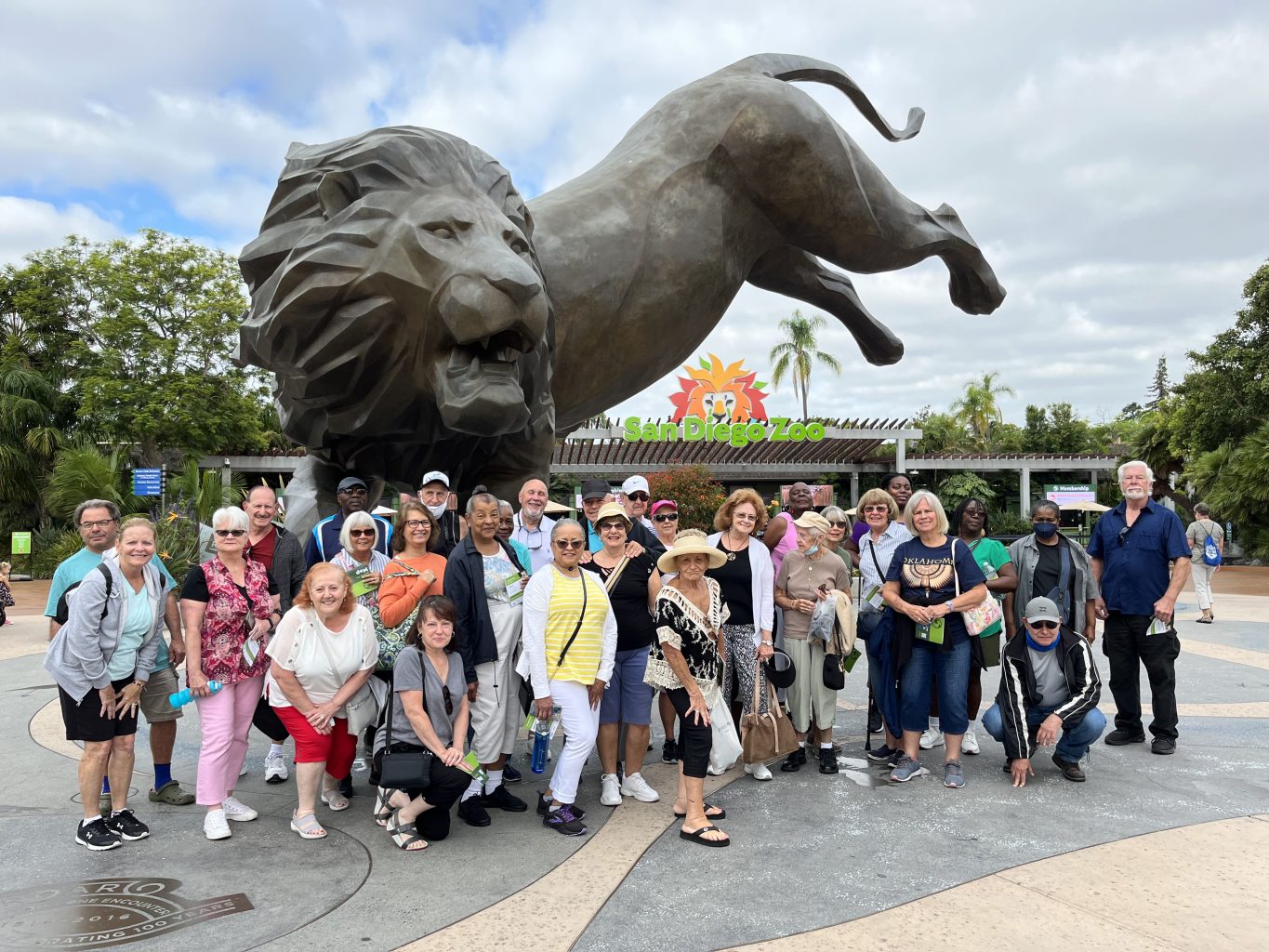 We returned to tour hotel to refresh before going out again for our two hour boat cruise on San Diego Harbor. Our hotel is located just three blocks from the wharf as some tour guests chose to take a short walk and enjoy The Port of San Diego on this beautiful day.
Upon arrival to the Flagship Pier, we lined up at Gate 1 and made our way down the gangway to board the Spirit of San Diego. The cruise was narrated by a knowledgeable young man as we cruised by the United States Naval Fleet, the island of Coronado, the two mile Coronado Bridge, and the beautiful skyline of San Diego. After one hour, we returned to the pier to drop off and pick up other passengers. The second hour of the cruise took us near the Pacific Ocean, a sea lion rookery, and training centers for our Navy Shipmen and Seals. The magnificent San Diego sunset over the bay was an additional highlight. Everyone enjoyed the cruise.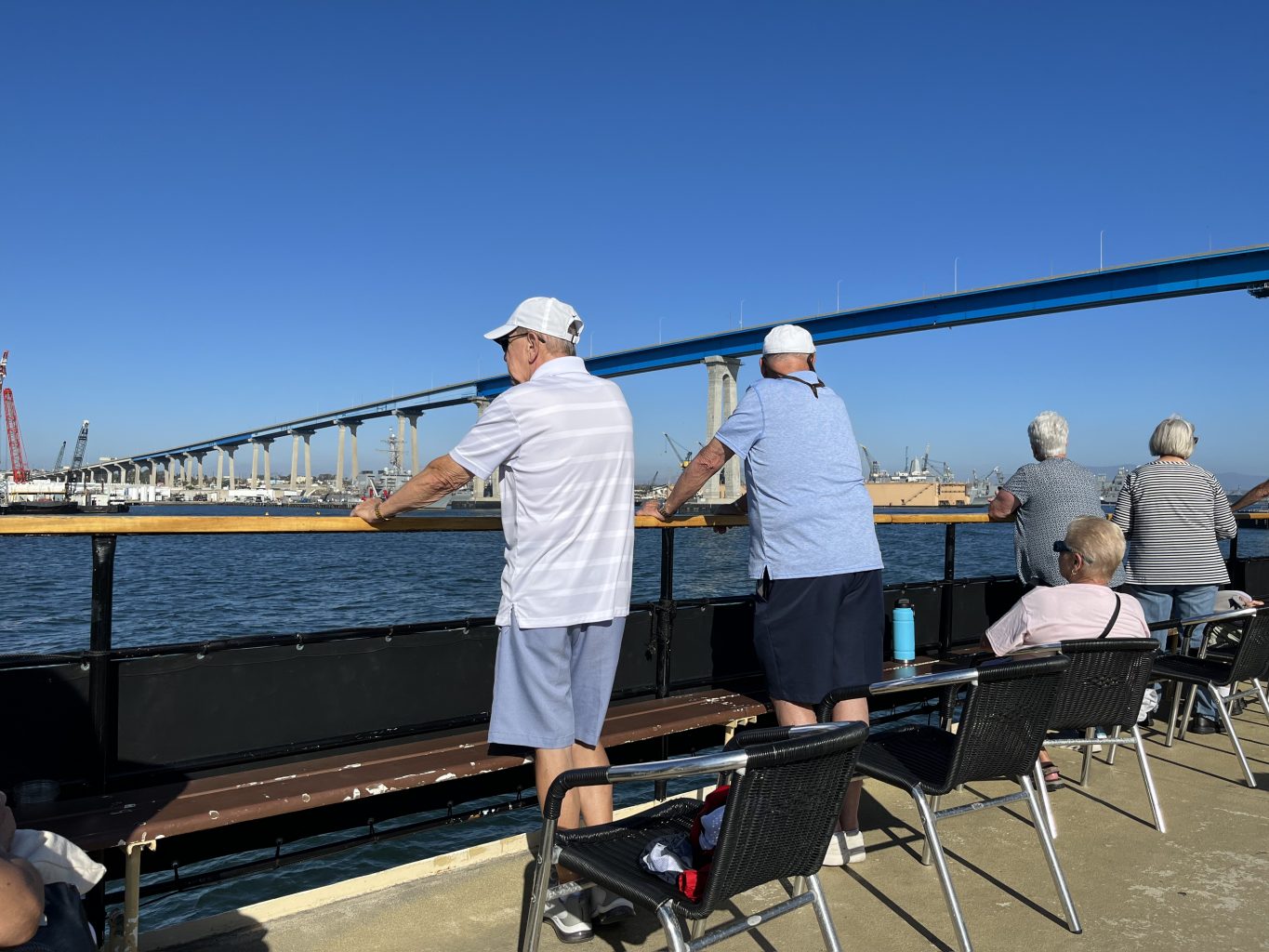 We returned to the hotel, and everyone was on their own for dinner to explore Little Italy and other magnificent restaurants within four short blocks of our hotel. The location of the hotel is perfect for our itinerary and the staff is friendly, efficient, and welcoming. Today was another fun-filled day completing our first full day on the West Coast.
Day 13: Friday, September 16, 2022
This morning we departed San Diego and began our travels north, toward Los Angeles.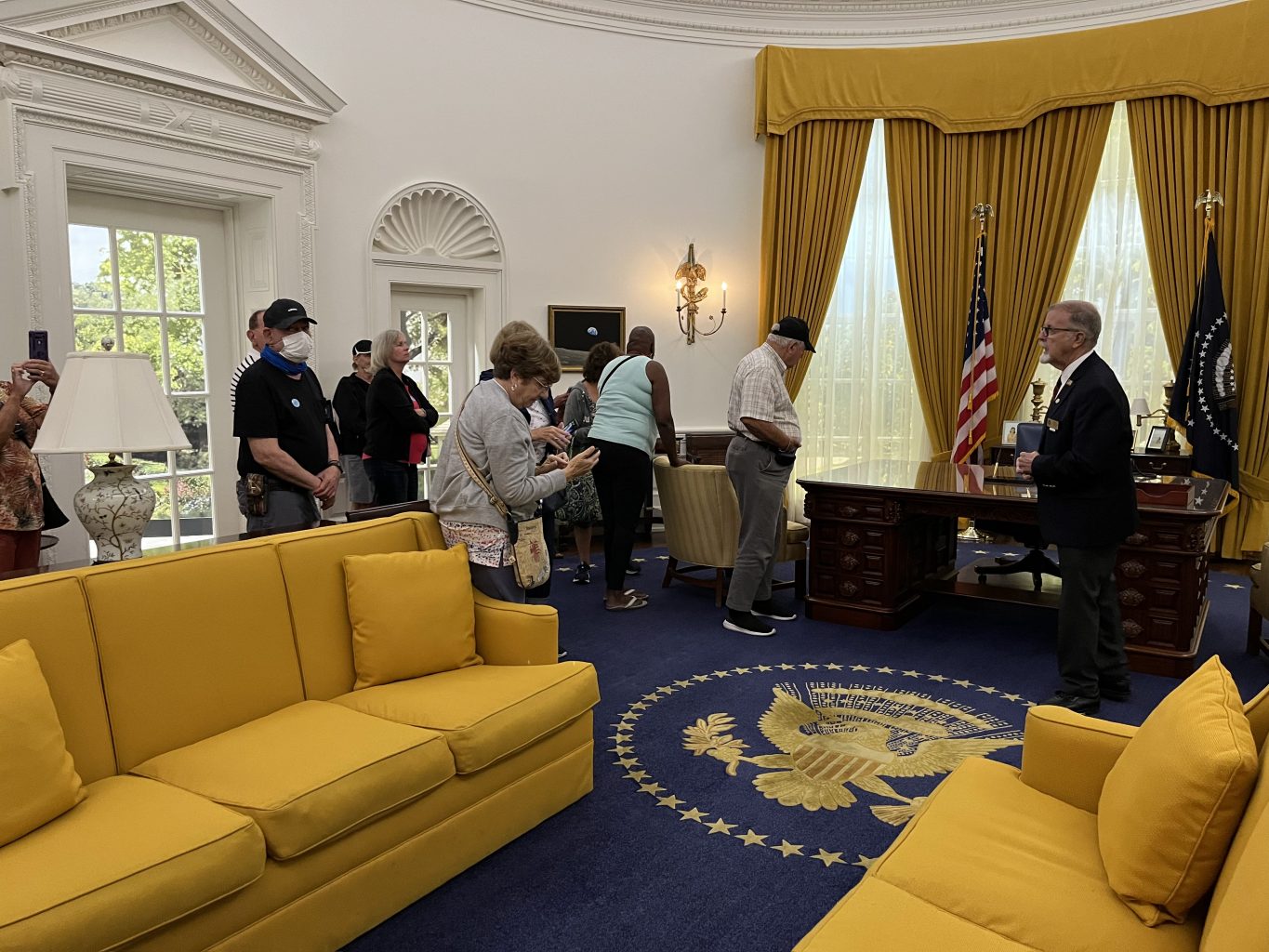 Our first stop today was in Yorba Linda, home to the Nixon Presidential Library. Upon arrival, we divided into two groups and began our tour. Our guides led us through rooms showing Nixon's domestic accomplishments, his foreign policy including his opening of China, and the tumultuous Vietnam War protests. The fascinating guide told stories of how Elvis showed up at the White House one day and presented Nixon with a gun to the fright of the Secret Service. We learned that Nixon was a huge proponent of cleaning the environment and started the Environment Protection Agency. He fought for equal rights for women and people of color. The museum concludes with his resignation due to Watergate and does a great job explaining the entire Watergate scandal.
Additionally, we were shown the gravesites of Pat and Richard and were allowed to see, up close, the Presidential Helicopter, the same helicopter that took Nixon away from the White House following his resignation. We entered his childhood home and our guide told us about his family and boyhood life. A short film summarizes our entire tour ending this magnificent experience. For a few hours, we were taken back to our twenties and thirties, a time when we were so involved with work and family that we were unable to gain a full perspective on this time period. Everyone loved this historic attraction.
Lunch was in the Yorba Linda Town Center just a half mile away. New restaurants continue to open, and we had a great choice of healthy and unique places to eat. An hour later, we all boarded the bus and traveled to Los Angeles. Despite pockets of traffic on I-5, we arrived at the Hilton Garden Inn Burbank on schedule.
This is a perfectly situated hotel surrounded by numerous restaurants along San Fernando Boulevard. Our fabulous bus driver FERNANDO was especially proud that this hotel was sitting on his namesake boulevard!
Shortly after arrival, most of us chose to experience Universal Studios Citywalk. This particular Friday night happened to be the first night of fright night at Universal Studios in celebration of Halloween. Our guests enjoyed the excitement, the unique stores for shopping, and the many fine restaurants and other food establishments selling ice cream, popcorn, and donuts. Everyone enjoyed reliving youthful moments and had a wonderful time.
Day 14: Saturday, September 17, 2022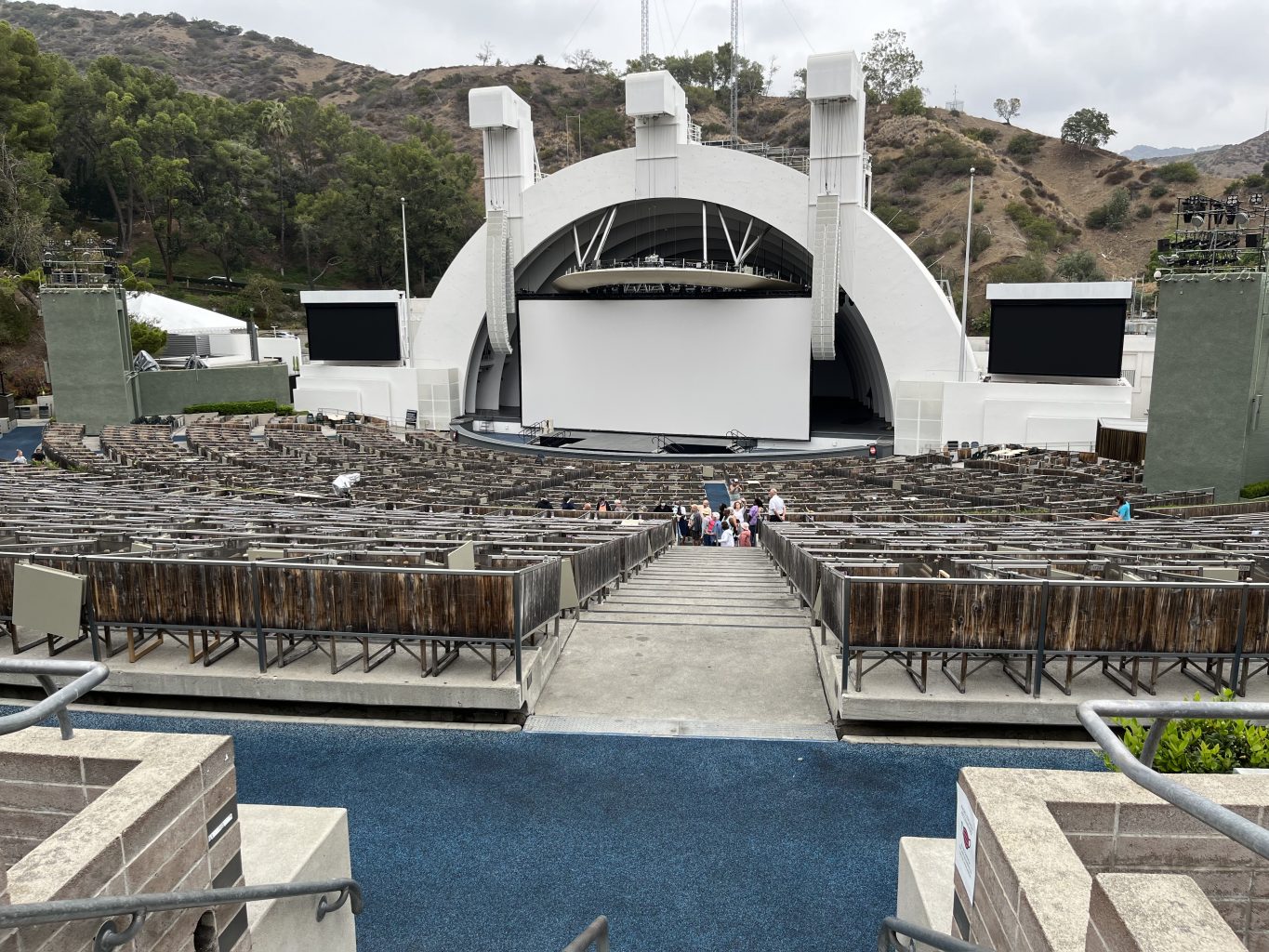 Judy, our extremely knowledgeable and personable local Los Angeles Tour Guide for two of the past three years, met us at the hotel after breakfast. We were so fortunate to have her with us. Our first stop was the Hollywood Bowl, the iconic concert hall that seats 17,000 plus. Frank Sinatra, Barbra Streisand, and the Beatles have all performed here. For the first time on any of our Los Angeles Tours, the Hollywood Bowl was open for us to walk inside. We were all very excited as Judy provided great narration. What struck me the most was the seats seemed very uncomfortable. The box seats located in the lower quarter of the arena were simply two green beach chairs partially enclosed by two foot wooden walls. Wooden bleachers composed the remainder of the seating. The show tonight was "The Sound of Music" with live music accompanying the movie. Workers were making preparations. Everyone was thrilled with this stop
We continued on to the TCL Theater (formerly the Graumans Chinese Theater) and the Hollywood Walk of Fame. Judy lead us up the famous staircase that becomes the Red Carpet during the Academy Awards and towards the Dolby Theater. She shared great information about the Oscars and how they transform this complex to look like a first class theater instead of a shopping mall. Judy then leads us to an overlook where the HOLLYWOOD Sign is in view. We then had 45 minutes on our own to shop in the many souvenir stores and take pictures of the stars on ground.
We continued our tour by traveling near Beverly Hills (it is illegal to drive down many of these streets to maintain the privacy of its residents). We stopped and took pictures of the famous Beverly Hills Sign and the Ringo Starr Peace and Love Statue. We passed Rodeo Drive and saw the shop that Julia Robert's was thrown out of in the movie, "Pretty Woman." Our next stop was the original Farmers Market where we were given time on our own for lunch and shopping. The Grove is an outdoor shopping center adjacent to the Farmers Market where many tour guests also walked. Everyone enjoyed their lunch in this very famous section of Los Angeles.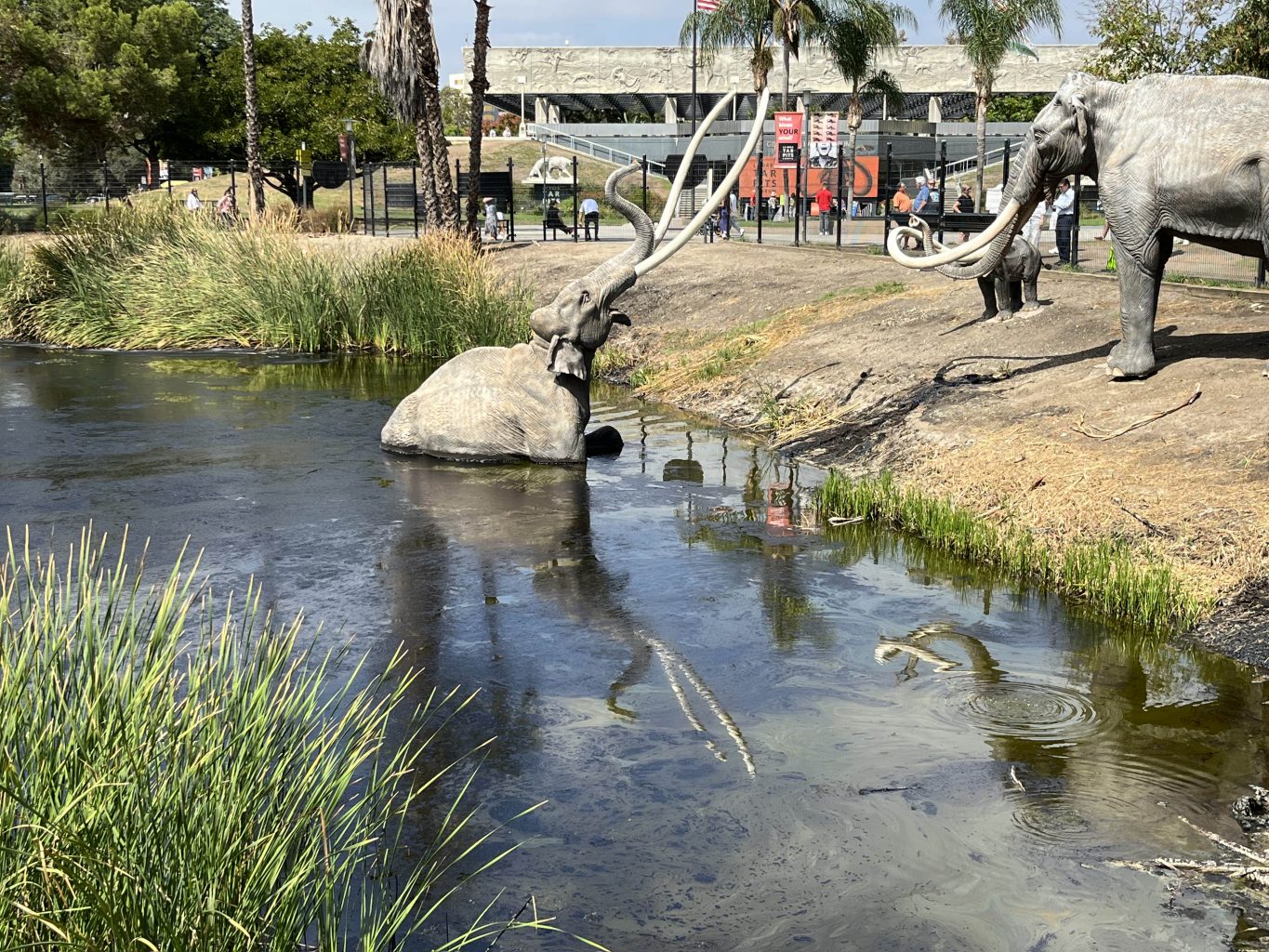 Our final stop was the LaBrea Tar Pits. Prehistoric animal parts from woolly mammoths, giant sloths, and saber tooth tigers were excavated and continue to be from these tar pits. Judy provided a great narration as we took many interesting pictures. We completed our tour by riding past the Robert Kennedy School Complex (formerly the Ambassador Hotel) in downtown Los Angeles where Robert Kennedy was assassinated in June of 1968. Judy did a fabulous job and gave everyone an amazing perspective of Los Angeles. Kudos to Fernando who was equally as amazing negotiating the streets, many under construction, in Hollywood and Los Angeles. Everyone thoroughly enjoyed this in-depth tour.
Everyone was now on their own in beautiful downtown Burbank for dinner and shopping. We leave California tomorrow and start our journey eastward.