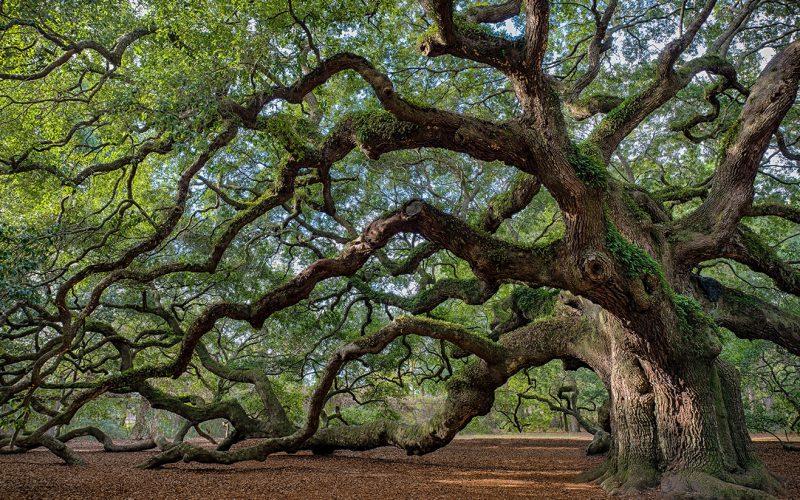 One of the first multi-day trips by bus I escorted as a Tour Director for Starr, about 12 years ago, was to Savannah and Charleston.  I had never been to either city before but had heard so much about both southern destinations. I was excited to go and, of course, so were my passengers.  Savannah was a place that I'd heard about way back when I first became a Brownie Girl Scout in 19__??  Well, you can guess that one. 
I wanted to see the Juliette Gordon Low house where the first Girl Scout meeting was held and where Forrest Gump sat with his box of chocolates. I also wanted to see the Mercer House where the story behind "Midnight in the Garden of Good and Evil" happened and was filmed.  So much to see in such a small town.
We saw all that and more.  In Charleston, I discovered why the city was named "the friendliest city in America" – everyone smiled and said hello! I wanted to return, but I didn't get that opportunity again until last year. I would finally get to see those two cities again, and it would be even better.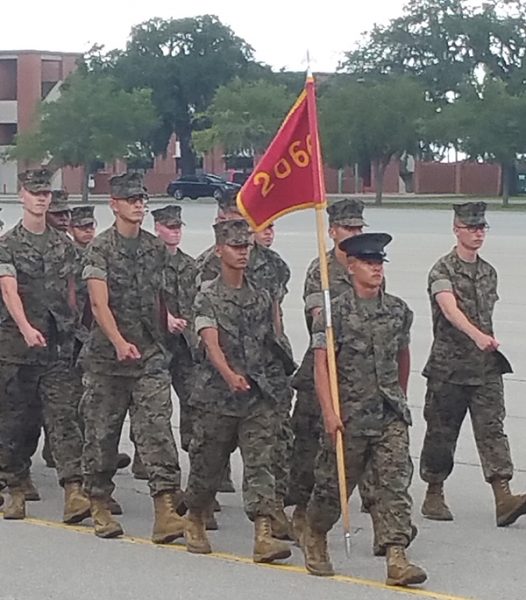 The trip now includes a stop in Beaufort, SC, a lovely small, southern town with a big mission…it's home to Parris Island, the Marine Corps Boot Camp. I was excited to see where my Marine friends and family spent 13 wonderful weeks of their young lives (well, it might not have been so wonderful at the time!). We enjoyed a complete tour of Parris Island including a stop at the museum and gift shop.  From there we went to Savannah, for two nights in a lovely hotel right in the historic downtown.
When I awoke on my first day in Savannah and turned on the weather channel (a habit all Tour Directors have), the weatherman was being pelted with rain and wind from Tropical Storm Julia, which he said had developed overnight and was now hitting Savannah.  Huh??  I immediately ran to the window, pulled back the curtains and looked outside.  It was cloudy, but there was no wind or rain.  I wondered if was he on some sound stage at the Weather Channel and someone was throwing buckets of water at him while a big fan blew stuff around? T'was a puzzlement. So we proceeded to our morning trolley tour, which would go on rain or shine. Sure enough, they picked us up, on time, at the front door of the hotel and we rode around Savannah, hearing wonderful stories about that lovely city. There was some rain, but nothing out of the ordinary.
We made a stop at the Massie Heritage Center, a pre-Civil War building that was originally a school for Savannah's poor children.  It is now a museum and has an outstanding exhibition documenting the Greek, Gothic, and Roman influence on Savannah's architectural history. In addition, an educational program called "The Nineteenth Century Classroom," allows youngsters and adults to experience a 19th century school day. It was so much fun!
When our tour ended at noon on River Street, I found out what that weatherman was talking about! The rain suddenly came down, the wind came up, and I was instantly soaked (even with my rain poncho)! So were my passengers, but they smiled and we decided it was time to go inside for lunch. Good timing! With so many restaurants to choose from, everyone found what they wanted and sat out the worst of the bad weather. Afterwards, with all of the various and wonderful shops so close together, it was easy to get in and out of the rain and buy lots of good stuff from local merchants!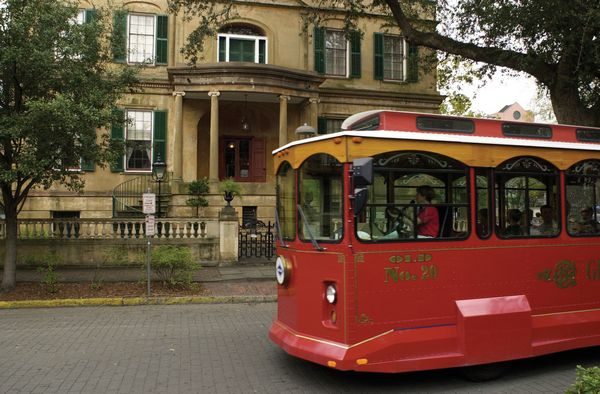 Our tickets for the trolley allowed us to get on and off for the rest of the day, which was so convenient in the rain. So with umbrellas and raincoats and unlimited transportation, the passengers thoroughly enjoyed everything Savannah had to offer…even in the bad weather!
That evening we saw a delightful Broadway-style show at the Savannah Theatre. The next day we hopped aboard our bus and headed north to Charleston, where we met our local guide who showed us all around the city she loved, including the Citadel, which both her husband and son had attended.
With time on our own in the afternoon, we walked through the Charleston City Market filled with so many wonderful shops. Our biggest decisions were what to buy!  Again, so many friendly people and smiling faces and delightful weather as a bonus, in spite of the weatherman's report that Tropical Storm Julia was going to Charleston with us.  Other than a brief sprinkle, I don't know where Julia was, or that weatherman for that matter!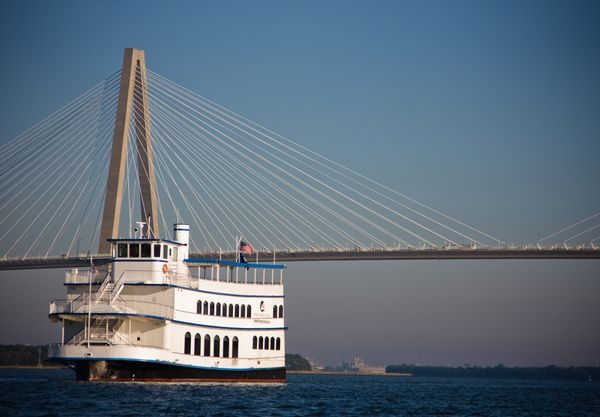 A dinner cruise along the Cooper River capped off a relaxing evening. The next morning we set off for our final stop at Magnolia Plantation, a 17th century estate.  It felt like we had stepped back in time. The nature train tour took us around the beautiful gardens,  ancient magnolia trees covered with Spanish moss and past a number of ponds where alligators were resting in the sun!! WHAT??? ALLIGATORS??? Only a few feet from where we passed?  Our guide assured us that they were not hungry… Well, he thought that they weren't hungry so, we were safe… I think!
As we made our way home on our comfortable Starr bus, we talked about all the wonderful things we had seen and the friendly people along the way.  It was truly a delightful trip that I was so happy to have been able to take again and hope for more visits in the years to come. Now that I have shared one of my favorite memories, what are your favorite memories of the south?
Happy travels,
Bette Barr, Starr Tour Director
Photo Credits: Giant Oak by Nagel Photography, Marine Recruits by Bette Barr, Savannah Trolley Courtesy of Savannah Chamber of Commerce, Dinner Cruise Courtesy of Spiritline Cruises