Our annual Cross Country trip returned last week! Starr Driver Walt Deminski and Tour Director Gene Gray led 16 travelers across our great country over the course of 27 days. On each of our trips, the Starr Tour Director is responsible for providing a write up of everything that goes wrong, and right, while on the road. Gene goes above and beyond to make sure his passengers are well informed, and entertained, and even manages to keep those of us stuck in the office entertained with his Tour Director report, which does not disappoint. Like last year, Gene's report is a fun and vivid retelling of their adventures. For your reading pleasure, here are Days 1-14. Stay tuned for the second half of their amazing "Journey of a Lifetime" next Friday!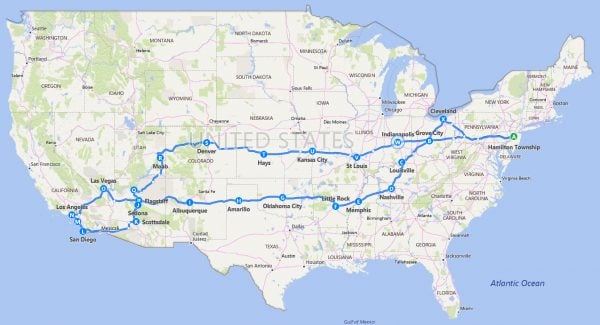 Overnight Tour Summary Report – Cross Country 2019
Date:  June 30 – July 26, 2019
Tour Director:  Gene Gray
Driver:  Walt Deminski
Coach #: 206
WESTBOUND
Day 1: Sunday, June 30, 2019
We had a wonderful send-off. Pete Borowsky, Starr's President, met us in Bensalem with two boxes of donuts and a huge smile. Every tour guest was picked up without incident. We were able to check everyone in, count the luggage, and leave each pick up location ahead of schedule. A great start to our bus trip! It's clear that we have a wonderful group of tour guests who are eager and energetic.
After Pete's words of praise and appreciation, we began heading westbound. After reviewing the Starr Welcome Letter and showing the short video about Bus Safety, I officially got our Cross Country Trip underway in style by playing Ray Charles and Alicia Keys singing "America the Beautiful." I followed up with the Armed Forces Medley as we especially honored Willie, our sole Army Veteran onboard.
After reviewing the first few pages in the Cross Country Packet that each tour guest received (I slaved over this for months preceding this trip – a labor of love!), we arrived at our first rest stop along the Pennsylvania Turnpike. Upon returning to the bus, I asked the tour guests to fill out my "Celebration" sheet by providing a reason to celebrate, the date, and favorite songs they'd like to hear. I was thrilled to receive a vast array of ideas and music requests.
We were soon at Exit 146 along the Pennsylvania Turnpike which is where we stopped for lunch. Most guests ate at Hoss's while four chose the adjacent Wendy's. We were back on the road an hour later. We continued riding through Pennsylvania, into West Virginia, and soon after into Ohio. In order to pass the time, I played the movie "The Bucket List" starring Morgan Freeman and Jack Nicholson which was enjoyed by many, even those who had seen it before. The others rested, read or used their personal electronics. This Cross Country trip certainly touches on many "bucket list" items for each guest and, in my opinion, "The Bucket List" was the perfect movie to begin our bus trip.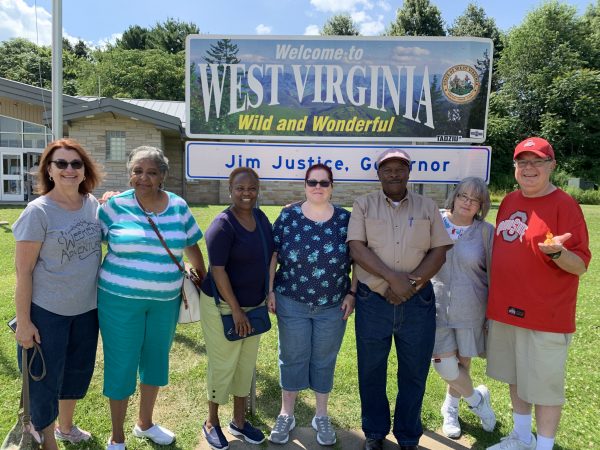 After a brief rest stop at the West Virginia Welcome Center, we arrived at the Drury Inn in Grove City, Ohio fifteen minutes ahead of schedule. Today was actually our longest planned day of riding. Our driver, Walt, did a fabulous job driving all day and getting us into central Ohio just south of Columbus. This is a beautiful Drury Inn (our first of many!) with a spacious lobby and a large eating room. The Kickback was well underway when we arrived. As the tour guests waited on the bus, I picked up the room keys which were ready for us at the front desk. The porter service began piling the luggage on carts while I quickly handed everyone their keys so they could proceed to their rooms. It was now time for everyone to grab a bite to eat and relax. This hotel is an easy walk to numerous eating establishments and a mall. Many tour guests ate at the Drury Inn's Kickback while some walked to the mall and stopped for ice cream at Dairy Queen. This is a wonderful hotel situated in a very convenient location. We are so far West within the Eastern Time Zone, the sun was just setting at 9:30 PM. Today was a great first day!!!
Note: Drury Hotels offer a 5:30 Kickback® each day where hotel guests can relax and recharge with a variety of snacks — like salads, soups, nachos, wings and more — and cold beverages! Additionally, Free Soda and Popcorn is offered in the lobby every day.
Day 2: Monday, July 1, 2019
Breakfast was the typical delicious buffet that the Drury Inns always serve. The weather was sunny and 70° as we left Grove City and drove towards Louisville, Kentucky. I played two morning songs and reviewed today's itinerary. Since we were heading South along I-71, I thought it would be perfect to show the 2019 Academy Award Winning movie, "Green Book." And it was. The movie mesmerized the tour guests including me. The time passed quickly. En route, we stopped at a "Love's Travel Stop" in Kentucky for a short break. We then completed the last hour of travel today as we pulled in front of a giant Louisville Slugger bat.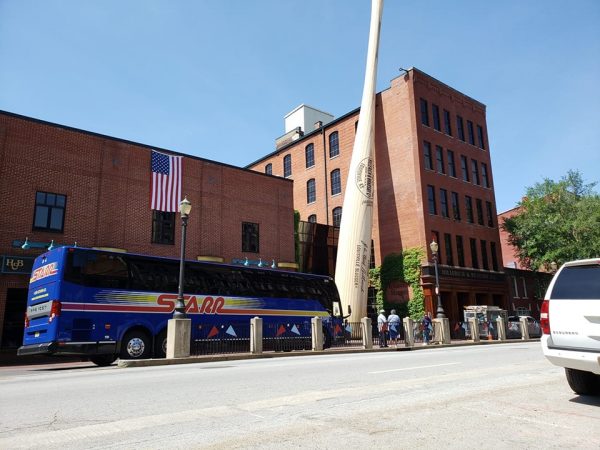 What a fabulous place! We took a wonderful group photo next to the huge Louisville Slugger Bat outside the entrance to the Louisville Slugger Museum & Factory. After securing our tickets, we were directed upstairs (via elevator) to a room with tables. In the front of the room were large bags filled with our boxed lunches from Subway. Our lunch included a six inch sub, chips, water, and a cookie. It really hit the spot and was enjoyed by all.
Our guided tour began at 1:00 PM so we had ample time after lunch and before the tour to explore parts of the museum or shop in the large gift shop. A few tour guests ordered a personalized Louisville Slugger Bat, which took about an hour to create. (I had to have one personalized as well – of course with the Yankees logo!) The guided tour was very interesting. We saw a video explaining the types of trees that make the best bats. Maple, Ash, Birch, or Bamboo trees are the woods of choice. The company that cuts down the trees and saws the lumber to size is actually located in Pennsylvania, which was surprising. They ship the cut and shaved "billets" to Louisville where they are shaped into bats. We were lucky enough to see skilled employees hard at work in the different steps of bat making. The company makes professional bats for MLB players as well as bats for kids and for souvenirs. Of course, the professional bats are made to strict standards and are endorsed by the pros. Players that have endorsed the Louisville Slugger Bat include Honus Wagner, Babe Ruth, Jackie Robinson, Hank Aaron, and Derek Jeter.
Everyone enjoyed the tour and afterwards explored more of the Museum. The Museum featured bats from Derek Jeter, David Wright, Babe Ruth, and Jackie Robinson that were hands-on for the visitors to hold.  Bat carving demonstrations were provided by skilled craftsmen. Life-sized replicas of Ruth, Jeter, Robinson, and Ken Griffey Jr. stood so visitors could take photos up close and personal. Some tour guests finished exploring the museum earlier than others and based on when everyone was finished, I recommend departing about 15 minutes earlier in the future. This was a wonderful attraction enjoyed by everyone.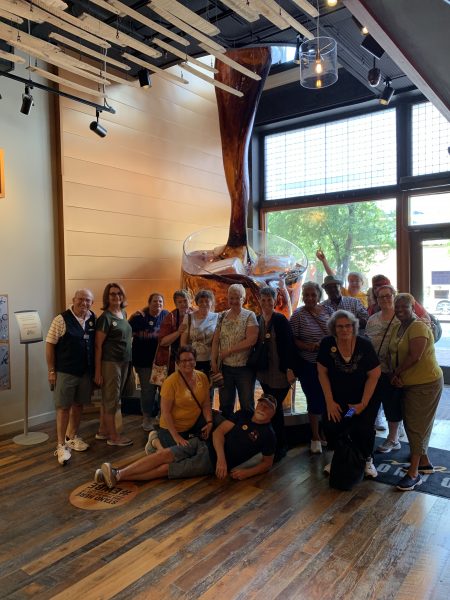 We hopped back on the bus and traveled five minutes to the Evan Williams Bourbon Experience. We had no expectations entering the Evan Williams Bourbon Experience, and left having enjoyed every minute of our visit. We arrived a little early and had time to take a group photo in front of Evan Williams oversized bottle of Bourbon. Our guide was personable, humorous, and filled with knowledge about Bourbon, its history, and distilling process. We learned that Bourbon had to be at least 51% corn and the rest a mixture of rye and barley. We saw a short movie on the life of Evan Williams, saw Bourbon being distilled, and then sat at tables and began our taste test. Bourbon has to be a minimum of 86% proof (meaning 43% alcohol). Our guide taught us how to first smell the aroma of the Bourbon with your mouth open and then taste it slowly by swirling it around our tongue before swallowing. We tasted four distinct Bourbons – one costing as much as $130 a bottle! By the end of the taste testing, which lasted at least 30 minutes, the room was loud and people were laughing. Most agreed that the powerful taste of Bourbon must be acquired over time to enjoy it. Our tour ended through the gift shop where many Bourbons and Evan Williams souvenirs were available for sale. It was a really fun experience for all.
We arrived at our next Drury Inn a little after 5:00 PM. I reviewed our itinerary for tomorrow and handed out the room keys. We were soon relaxing in our rooms. Most chose to eat dinner at the complimentary Kickback while a few went out to dinner at a nearby restaurant. It was a fun-filled day enjoyed by everyone.
Day 3: Tuesday, July 2, 2019
We awoke to a warm, humid, and sunny morning. Most tour guests ate sparingly during breakfast knowing that we'd be eating together at the Backstretch Breakfast Tour at Churchill Downs. Traveling to Churchill Downs, I told about its history, spoke about some of the greatest horses, and played the Kentucky Derby anthem, "My Old Kentucky Home," as well as the beautiful song, "Run for the Roses" by Dan Fogelberg.
We were greeted upon arrival by Ronnie, the administrator of the Churchill Downs Museum and Backstretch Tour Guide extraordinaire. He is a young man with an absolute passion about everything related to Churchill Downs. We walked through the area where the trainers and workers reside. Many of their apartments were above the horse stables and had an air-conditioning unit sticking out of the window. There were 140 stables that could house up to 1,400 horses at one time. We saw many workers bathing the horses after the horses had completed their morning run on the track. We saw young two year olds being trained by jockeys galloping as fast as 40 miles per hour around the oval track. Some riders even stopped to chat with us and we were able to admire their magnificent horses up close. It was a fascinating experience that everyone enjoyed. We even took a group photo of all tour guests standing in the starting gate of Churchill Downs. By the way, we did eat a delicious breakfast upon arrival consisting of eggs, bacon, sausage, biscuits, gravy, and a beverage.
After, we boarded our bus and rode around to the main entrance to the Churchill Downs Racetrack. We all took pictures of the famous entrance and then entered the Museum to begin our Racetrack Tour. The names of every Kentucky Derby winner since its inception in 1875 are nailed to the outside perimeter of the old wood buildings. We walked into the grandstand and up to the racetrack where the two famous steeples stood tall above the building. We saw where the winner's circle is located for Kentucky Derby winners. After this, we were led indoors to a 360° movie theater and saw a wonderful movie in the round on the many exciting races that have taken place over the years. The movie even included the 2019 Kentucky Derby finish when Maximum Security was disqualified and Country House was awarded the victory. Country House paid a cool $132.40 to win.
The Museum featured all the greatest horses, jockeys, trainers, and owners in Kentucky Derby history. All 145 races dating back to 1875 were included. Some horses, though, did have their own special recognition cases such as Affirmed, Justify, American Pharaoh, and of course, the greatest horse of all time, Secretariat. Secretariat, in 1973, still holds the record for the fastest time winning the Derby at 1:59.4 Minutes. We were told that when Secretariat passed away at age 19, doctors did an autopsy to try to figure out why this horse was so special. An average heart of a thoroughbred weighs between 7 to 9 pounds. Secretariat's heart weighed 25 pounds which provided superior respiratory and power!
We thoroughly enjoyed the thoroughbreds and had a fabulous morning. Next, we departed Churchill Downs and began our ride to Nashville. We passed into Central Time and watched our electric devices turn back one hour. We stopped for a small lunch at Bob Evans in Bowling Green, Kentucky. Afterwards, we continued our drive to Nashville, arriving at our third Drury Inn fifteen minutes ahead of schedule. The tour guests had a half hour to freshen up while their luggage was being delivered to their rooms. We soon began the second half of this fabulous day and rode into Nashville to the Gaylord Opryland Hotel for free time and dinner followed by a show at the Grand Ole Opry.
The Gaylord Opryland Hotel is a must see. Twelve restaurants, a plethora of shops, a boat ride in a canal that meanders throughout, and a magnificent conservatory covered with plants, trees, and flowers from around the world make up this massive structure all under one roof. The Gaylord recently opened up the largest indoor water park in Tennessee as well. Walkways take you up to all three levels. Upon entering at the Cascades Hotel Registration (one of three Hotel Registration Desks), we all walked in together. We found a desk that provided us with a detailed map of the pathways and three sections of the property. We got our bearings so we knew where our exit would be to meet the bus. Once everyone felt comfortable, we eagerly walked off to explore this manmade wonder.
Two of our tour guests were able to meet their daughter at the Gaylord. They were thrilled to spend a few quality hours together. Other tour guests also have plans to meet family or friends throughout our journey.
After walking, having dinner, exploring the shops, taking in the atmosphere, and two chose to take the boat ride, we all successfully met the bus and headed over to the Grand Ole Opry, which is actually on the same property as the Gaylord, but takes 10 minutes to drive around to get there. We learned the line up of acts for the evening and were thrilled to learn that headlining tonight's show was Lee Greenwood, famous for his anthem "God Bless the U.S.A." Also performing tonight were American Idol star Kellie Pickler, up and coming singer Eric Paslay, and the polished country band, Diamond Rio. Lucky us!
We entered the Grand Ole Opry after going through metal detectors and most tour guests took the advice to do souvenir or snack shopping immediately. We had very good seats on the lower level and a great vantage point to see the show. The seats at the Grand Ole Opry are like rows and rows of church benches with soft padding with every spot numbered. You sit elbow to elbow and make good friends with the people sitting on either side of you. Once the show begins, you forget about the tight seating arrangements and just enjoy the performances. And that we did!!! Each act was extremely entertaining. The Grand Ole Opry shows are all broadcast live on 650 WSM radio. The sound system is magnificent. The venue is historic. This is where so many country music performers got their start. It is like the Mecca for Country Music and is a bucket list experience for all.
The final act of the evening went to Lee Greenwood. He sang two songs from his albums before closing with his Anthem. On this Fourth of July week, he especially wanted to honor our great country and that he did. As soon as he began "God Bless the U.S.A.," the audience stood and sang, "If tomorrow all the things were gone I'd worked for all my life…" As each verse was sung, the audience sang louder. It was truly amazing. The curtain then fell without fanfare and we slowly made our way back to the bus and to our hotel. I reviewed details for tomorrow and played "Hound Dog" as a sneak preview.
Upon disembarking from the bus, tour guests passed me and thanked me for making this an unforgettable day they will never forget. One said she can now cross off Churchill Downs and The Grand Ole Opry from her bucket list and that she only wished her loved ones would take the opportunity to travel to these places while they were still able. The day was truly remarkable. And to think today is only the end of Day 3……
Day 4: Wednesday, July 3, 2019
All the tour guests were ready to leave ten minutes ahead of schedule. The enthusiasm on the bus has transcended itself from last night. We hauled it into Memphis with only a ten minute bathroom break at the Patsy Cline and Chet Atkins Rest Area on I-40 West. We were determined to maximize every minute at Graceland.
My morning songs of the day included "The Wonder of You," "Heartbreak Hotel," "Are You Lonesome Tonight," and many more. I then showed the movie "Elvis" that tells about his life from childhood to his 1969 breakout concert in Las Vegas. The tour guests were totally engrossed in the video and the four hour drive from Nashville to Memphis flew by.
Graceland was built in 1939 and given its name by original owners Dr. and Mrs. Thomas Moore. Graceland was named after original landowner Grace Toof – Mrs. Moore's Aunt. Elvis bought Graceland from the Moore's for $102,500 in 1957. He put down a $1,000.00 cash deposit. Being a strong family man, Elvis and his parents lived there. Gladys, Elvis's Mom, passed away in 1958 just after Elvis joined the army. Elvis's aunt, Minnie Mae, moved in about that time. Elvis and Priscilla were married in 1967. The furniture and rooms in Graceland are decorated to reflect Elvis's life in 1957.
We pulled into the newly revamped parking lot at Graceland. I walked into the ticket building and was told to go to the Guest Services Window. The friendly employees provided me with a map, ticket, and $15 lunch voucher for each tour guest. Tour guests chose to either eat first or take the Graceland Shuttle across the street to tour Graceland. At this point, everyone went their own way.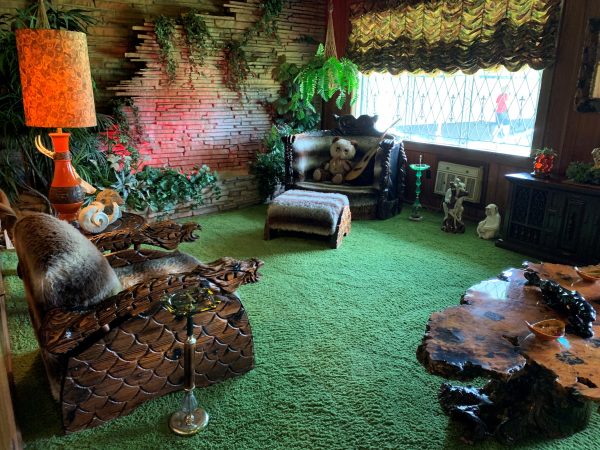 Today was a very quiet day at Graceland. We were each provided with an iPad and headset for our walking tour. Despite the lack of crowds, we had to wait on a line for 45 minutes to take the shuttle across the street. I'm not sure what created this back log but I imagine it was because there were only two (of four) shuttles running. The wait usually isn't as long. Once across the street, we entered Graceland and followed the information and instructions from the iPad. We saw Elvis's greeting room, his parent's bedroom, his dining room, kitchen, the famous Jungle Room in which his band and Elvis recorded his final albums, and two man cave rooms downstairs that included 3 television sets, a stereo system, and a pool table. Each room was uniquely decorated to suit its purpose. The Mansion tour finished up outside at the Tranquility Area that consisted of 5 graves including Elvis's mom, Gladys, his father, Vernon, his twin brother, Jessie, who was still born, his aunt, Minnie Mae, and of course, Elvis himself. Also outside in a separate building is Elvis's racquetball court. Sofas were conveniently set up so that guests could sit and watch the racquetball matches. Elvis had a piano in the room as well so he could play after his matches. On the day of August 17, 1977, Elvis completed his racquetball match, sat down at his piano and sang "Blue Eyes Crying in the Rain," and went back to his room upstairs in the Mansion. He was found dead in his bathroom hours later, possibly from a heart attack.
We then returned to the Graceland Exhibition Center across the street via shuttle. This newly renovated area opened up in March 2017 and they really did a wonderful job. They moved all of Elvis's show outfits along with his gold record display from a building across the street at the Mansion to a beautiful brand new spacious Museum on the Exhibition side. This shortened the time one needed to spend at the Graceland Mansion significantly and ended bottlenecks when people would stop to read all showcases in narrow spacing. Two hours visiting the Graceland Mansion and two hours spending on the Exhibition side for lunch, roaming each museum, and shopping is a good recommended itinerary for this day. Graceland was enjoyed by all our tour guests.
We drove away from Graceland and headed west on I-40 toward Little Rock, Arkansas. We arrived at our hotel in a little over two hours. The friendly and efficient manager met me outside and handed me the room keys. A team of luggage porters were already marking each suitcase with room numbers. By the time I explained to the tour guests about the breakfast coupons that needed to be handed in each morning and handed out their keys, the luggage was already delivered to the rooms.
I arranged a time to walk down to the River Market and invited all the tour guests to join me if they so desired. Ten of us met to walk. It was four blocks and zigzagged down to the Arkansas River. We arrived at the River Market and many of us ate together in a delicious southern fried chicken restaurant named Gus's. We were looking forward to celebrating our nation's birthday tomorrow in style.
Day 5: Thursday, July 4, 2019
Happy 243rd Birthday, America! Our day began with a wonderful breakfast at the Hilton Garden Inn featuring an omelet station. We were all dressed in our patriotic clothing as we prepared to celebrate our day exploring Little Rock. After arriving at the William J. Clinton Presidential Library & Museum, we watched a twelve minute movie on Clinton's life from birth to President. After, we walked into a replica of the Presidential Cabinet Room where all major discussions took place in the White House. The chairs were all labeled with the many Cabinet positions; Secretary of State, Secretary of Education, President, etc. The Oval Office replica was on the 3rd floor. After a short talk by an official, we had the opportunity to purchase a picture taken from the Presidential Chair in the Oval Office. Some of us took advantage of this unique opportunity. I was one of them. The Clinton Presidential Library had wonderful displays of highlights from each of Clinton's years as President along with a potpourri of pictures and artifacts telling about his life living in the White House. It was a wonderful experience and all the tour guests enjoyed this attraction.
We boarded our hired bus and traveled to Central High School. Walt Deminski, our Starr Driver, was off today (Starr drivers must have a day off every 7-8 days) and joined us on our half day tour of Little Rock. Little Rock Central High School is still a working school as well as a National Historic Site with a Ranger in charge of the Central High School Museum across the street. The Ranger spoke to us with such passion about the events of September, 1957 that twenty minutes later I had to interrupt him due to our time restraints. He was so vivacious and vivid with details that we were able to picture and experience the pain and agony those nine students had to endure for simply wanting to go to school. We could have listened to him for hours.
Anthony, our bus driver and guide, brought us around to the front of Central High School where we all took many wonderful pictures. I set up a picture of all of us linking arm in arm in front of Central High School in solidarity. I continue to teach the September, 1957 Central High School events to my middle school students. I couldn't believe I was standing here where the violence once took place. It was quite emotional for me, the same feelings I had standing in Dealy Plaza in Dallas where President Kennedy was shot and in front of the Lorraine Motel in Memphis where Martin Luther King was assassinated. Being at Central High School in Little Rock was another moving highlight of this great trip for all of us.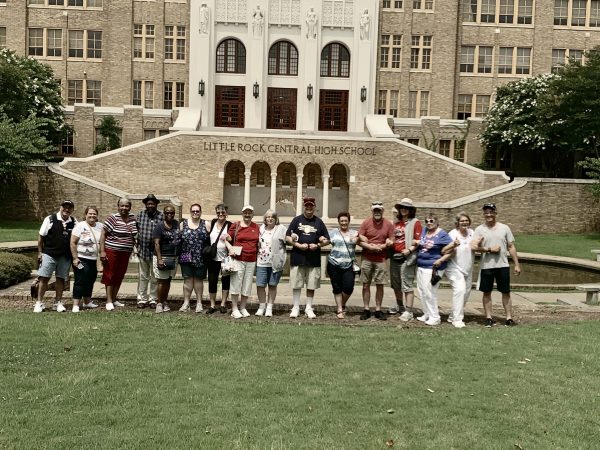 We continued our Tour of Little Rock by riding past many old and beautiful homes; one was used for the show, "Designing Women." We proceeded to the Governor's Mansion and took pictures through the fence. There was a bust of Bill Clinton adjacent to the sidewalk to honor his three terms as governor of Arkansas. We completed this fabulous tour by stopping at the Old Mill, a very unique and antiquated park with bridges over a lake and stone buildings, one of which is a mill with a circulating water wheel. Although I can't remember the exact scene, they say that this scenic area was the setting back in 1939 for the epic movie, "Gone With the Wind."
Nine of our tour guests chose to be dropped off at the River Market for lunch and the rest were dropped off at the hotel. I had arranged to meet at 7:30 PM in the hotel lobby for anyone who wanted to walk to the fireworks and Arkansas Symphony Orchestra event at the River Market. Only one tour guest wanted to go, so Carol and I walked down to the Arkansas River together. Although there were many people, the crowd control was excellent. Not sure where to sit, Carol and I just followed the crowd, passed through a security check point, and found rows and rows of stadium seating in front of the amphitheater. We easily found two seats directly in the center. People were also seated on the lawn behind the seats.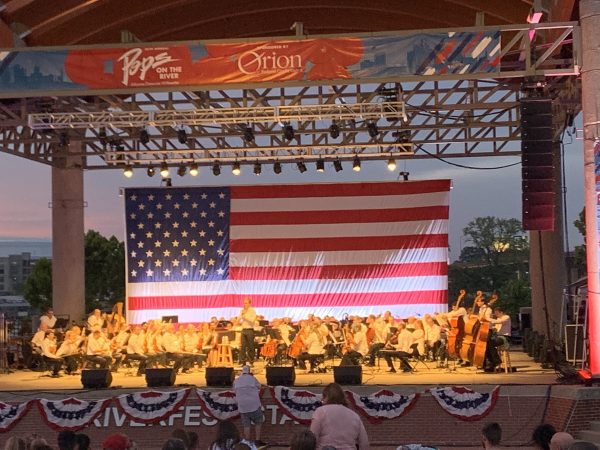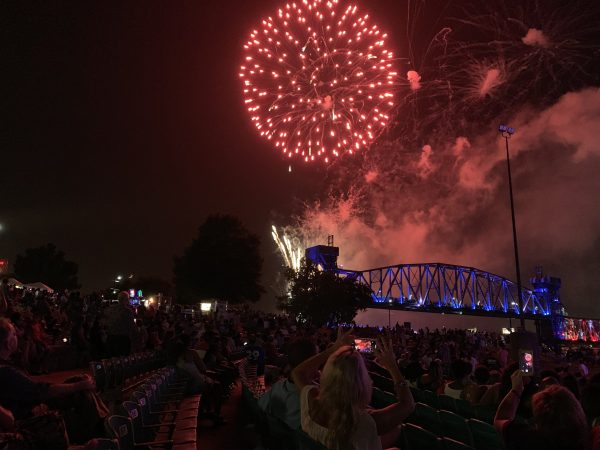 We were each handed a miniature American Flag as the atmosphere was electric. As the sun was setting, nature entertained with a magnificent sunset of oranges, reds, and blues. The Arkansas Symphony Orchestra took the stage and began warming up. Their first number was the Armed Forces Medley, paying tribute to Veterans of each branch of the Armed Forces, as people stood upon hearing their song. After performing two beautiful classical pieces, the Orchestra jumped into Sousa's "Stars & Stripes Forever." The skies were now dark as red, white, and blue lighting reflected off the bridge that spanned the Arkansas River to our left. This entire scene was a total multi-sensory experience and the fireworks hadn't yet begun. The Orchestra then treated the audience to a magnificent medley from "The Sound of Music." Afterwards, the fireworks began as the Arkansas Symphony Orchestra enthusiastically performed Tchaikovsky's "1812 Overture." The fireworks, accompanied by the Arkansas Symphony Orchestra, boomed for thirty minutes. The entire experience was beyond description and exhausted all our senses. It was a spectacle Carol and I have never experienced live and in person. What a perfect ending to an outstanding Fourth of July in Little Rock, Arkansas.
Day 6: Friday, July 5, 2019
Over another delicious omelet for breakfast, I learned that every tour guest enjoyed the Fourth of July fireworks last night. Many were on the roof of the hotel at the restaurant while others watched from their room window. We all boarded the bus and were eager to continue with our journey.
I played "Oh! What a Beautiful Morning" and "Oklahoma" to start the day. After about an hour of quiet, I played a potpourri of Country Music from Alabama and Alan Jackson to Glen Campbell and Johnny Cash. We crossed over the border from Arkansas into Oklahoma and I replayed songs from the show "Oklahoma." We arrived at a Pilot Travel Center and took a short restroom break. Following the break, I showed the movie "Walk the Line" about the life of Johnny Cash. The movie was terrific and well appreciated by the tour guests.
We stopped for lunch at Mazzios, an Italian Restaurant in Shawnee, Oklahoma that featured an unlimited pizza and salad buffet with drinks for $8.00 per person. Tour guests could also order off the menu if they desired. All but one chose the buffet. The food was very good and we were able to eat and be back on the bus in 45 minutes.
We arrived at the Oklahoma City National Memorial and Museum earlier than expected. We waited for Terri Talley, a bombing survivor, to tell us how she survived that horrendous day of April 19, 1995. We were led to a conference room, sat in comfortable swivel chairs, and listened intently as Terri shared her story. She was off from work for two days and returned on Wednesday morning, the morning of the bombing. She began the day by talking to her boss before sitting at her desk to begin work. She had her legs crossed around the bottom of her chair, a pose she often used. The next thing she knew, she was falling three floors to the basement. She never heard a noise. She thought she was having a dream. The first time she awoke, she saw nothing. Her breathing was shallow. This was a dream she told herself. The next time she awoke, she heard the sound of people. She tried to speak but couldn't. She was covered in rubble, dust, and still seated in her chair with her legs crossed. Holding onto her chair with her legs crossed, Terri contends, might have kept her alive, created a buffer, and prevented her body from being tossed around.
It was still dark. Rescuers passed by her and didn't see her. Then, one man noticed her elbow and ran to her. He screamed out, "We have a live one." The men were able to pull Terri out of the rubble despite orders for all people to evacuate due to another bomb threat. The men did not listen. They eventually were able to take Terri out to an ambulance and off to a hospital. Her body was blue from lack of oxygen. She sustained a broken right ankle, major neck and shoulder injuries, and temporary blindness due to the dust in her eyes. She was forced to wear a neck brace for several months.
Terri was down there in the rubble for two hours before being rescued. She was a lucky one. 168 people died that morning including 19 children. Terri's boss and best friend both perished that day. Terri further shared that in order to go on with her life, she had to undergo intensive therapy and forgive Timothy McVeigh for committing this horrific attack. Many bombing survivors are still living in anger which has destroyed their lives. Terri has come to be at peace with it and speaks not from emotion, but from what occurred. Her story was incredible and we were lucky to have met her.
After hearing Terri Talley's account, we were all drained emotionally. Then we entered the Museum. The Museum shows scenes from 9:01 (before the bombing on April 19, 1995), 9:02 (you stand in a room and actually hear and sense the actual bomb going off that was actually recorded during a meeting in the building next door), and then move into 9:03 (the aftermath of the bombing and rescue). One feels the experience of being in a bombing attack. Showcases display numerous bent and charred artifacts that were found in the rubble such as computer monitors, telephones, and a file cabinet filled with files. The final section highlights Timothy McVeigh and Terry Nichols, their psyche, capture, and trial.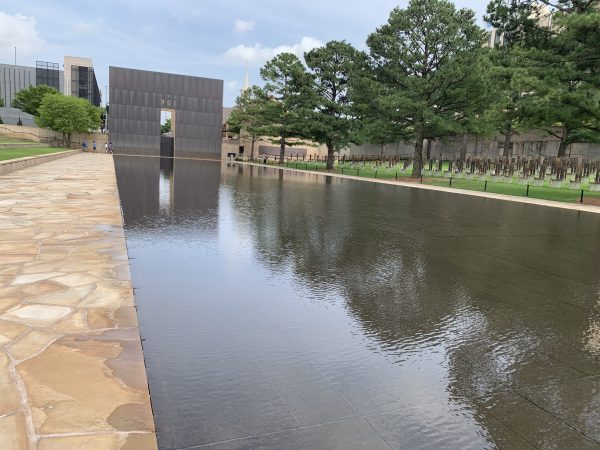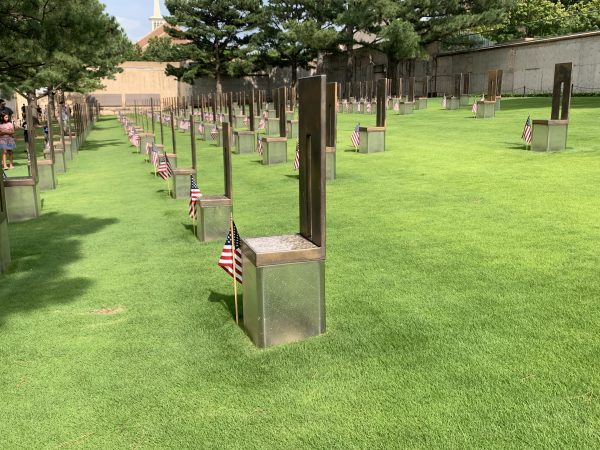 The site of the ruined building has been replaced with a beautiful Memorial Park consisting of chairs; one chair for each of the deceased. The street (5th Avenue) from where the rental truck exploded is now blocked off and is a reflecting pool. Two monoliths border each end of the Reflecting Pool, one with 9:01 printed on it and the other with 9:03. The Oklahoma City National Memorial and Museum is a brilliant tribute to those who perished and survived this horrific event. The many docents are extremely knowledgeable, friendly, and went out of their way to provide the best possible experience.
It was time to be on our way again. After driving to our next hotel, a Hampton Inn, Walt agreed to drive those who wanted to go to the Penn Square Mall, five minutes away. Ten of us chose to go. The Mall had a wonderful food court and provided us an opportunity to eat dinner, walk and shop.
Day 7: Saturday, July 6, 2019
With so many hotels on this trip, it wasn't a total surprise that one wasn't up to our standards. The Hampton Inn on NW Expressway in Oklahoma City had problems. Not only did they not realize we needed luggage service, upon arrival, our keys were not ready so there was a delay in getting to our rooms. The morning of our departure, even though I gave them many reminders, no one arrived to collect our luggage. Accordingly, Chick (one of our tour guests), and I grabbed the luggage carts and picked up the luggage while Walt put the bags on the bus. Even with all this drama, we managed to depart Oklahoma City on time.
After playing a few morning songs including "This Land is Your Land" and "Route 66" by Nat King Cole, I spoke a little bit about Amarillo, Route 66, The Big Texan Steak Ranch, and Cadillac Ranch. I then proceeded to show the 50 minute History Channel Documentary "Modern Marvels, Route 66." The video is fascinating with terrific footage from the 1930's and beyond explaining the history of the "Mother Road." Our guests watched with great interest.
We stopped at a Travel Center of America for our rest stop and soon crossed the border into the state of Texas. Once again, as tradition has it, this New York Giants fan (me) led everyone in singing the "Fly Eagles Fly" song in hopes of defeating the Dallas Cowboys this year. I then began my music set with the upbeat tune, "Deep in the Heart of Texas" by Moe Bandy which delighted everyone. My playlist continued with Texas, Western, and train songs as they all related to the changing scenery outside. The skies were filled with beautiful cumulus clouds and blue sky (I played "Home on the Range"). The land was flat with parched traces of grass and weeds growing on it. The color of the land was a mixture of green, yellow, and brown ("Tumbling Tumbleweeds"). One could see for miles and miles in every direction. A diesel engine was pulling over a hundred freight cars towards Amarillo ("Folsom Prison Blues" and "Take the A Train"). One could easily picture cowboys and cowgirls riding and living off of this vast expanse of land 100 years ago ("Back in the Saddle Again").
We left the Interstate and traveled fifteen miles on the desolate back roads of Texas until we reached the small town of Clarendon, Texas, our lunch stop. Clarendon sits on Texas Highway 287 and extends about two miles of shops, restaurants, and gas stations. They have a population of 2,016 according to the 2010 census. People travel from miles around to fulfill their needs here. This is rural Americana.
Our guests chose to eat at either Subway or The Outpost Deli. Prices were very reasonable. For example, I had two large pieces of fried chicken, a soft fresh roll, and a 20oz. drink for $3.99. The Outpost Deli also included a full pharmacy, religious store, and gift shop under one roof. The staff were extremely friendly and within an hour, we were back on the bus.
Texas Highway 287 is 60 miles south of Amarillo. Once we left the city limits of Clarendon, Highway 287 turns into a four lane highway with a speed limit of 75 mph with absolutely no traffic. We arrived at the Jack Sizemore Traveland RV Museum in Amarillo earlier than expected.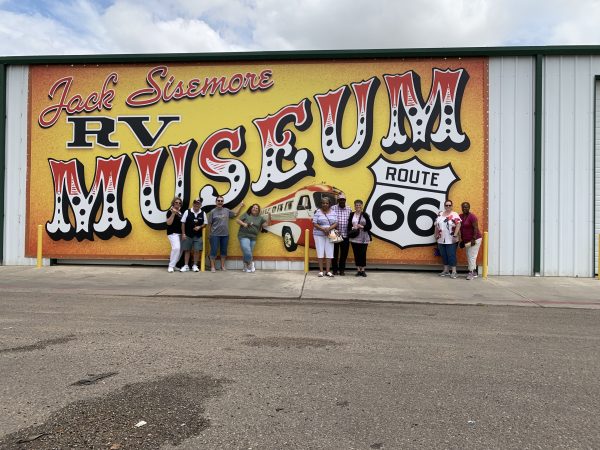 The Jack Sizemore Traveland RV Museum is over six acres of Recreational Vehicles for sale. However, since 1988, Jack and his partner Trent sought antique RV's and opened this unique museum in 1996. Campers dating back to 1948 were restored inside and out and visitors are able to step inside each vehicle to experience all the amenities. I was surprised to realize that these earlier vehicles had the same conveniences as those of today. Also included were motorcycles, a gas station from 1963 (Jack's original business), a Coca Cola machine from the Sixties, and a wooden phone booth with a pay phone inside. This museum brought back memories from our childhood and was nostalgia at its best. Everyone really enjoyed this attraction.
Many tour guests requested a need to replenish supplies so we stopped at Walmart, located down the street from the Jack Sizemore Traveland RV Museum. We then rode to our hotel, the Country Inn & Suites. The hotel was ready for us and within ten minutes, everyone's luggage was in their room. We had more than an hour to freshen up before going to dinner at the Big Texan Steak Ranch.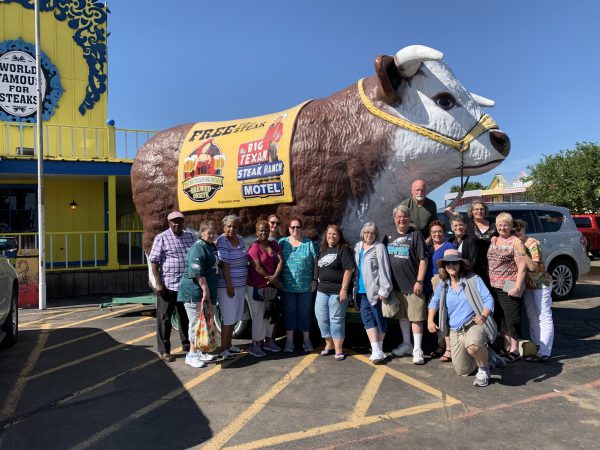 Upon arriving at the Big Texan Steak Ranch, we took our traditional picture at the large bull outside. Once inside, we were seated immediately despite a huge wait for other patrons. I learned that the Big Texan Steak Ranch has the capacity of seating and serving 800 people at one time. However, to my dismay, we were seated in a side room of the restaurant and not the big room where the Contest takes place. The manager apologized and offered everyone a free drink. As it turned out, this room was roomier and much quieter than the big room and no one attempted the Contest (to eat a 72 ounce steak and all the sides within 60 minutes or else pay $72) anyway while we were there. Everything turned out perfectly.
Service was swift and timely (not rushed) and we were each done eating in an hour. We were served two delicious 8 ounce filet mignons, salad, string beans, and a baked potato already skinned. Cheesecake was on the table for dessert. Two tour guests had a tender 16 ounce breast of chicken. Everyone enjoyed their dinner although most did not finish it.
After dinner, we took fun pictures of each other in a huge chair and behind bars in jail. We had an hour to shop in the gift shop and explore the Big Texan Steak Ranch. We were back at our hotel by 8:00 PM and most retired for a good night's sleep. Today was a day filled with fun experiences, great food, and a lot of laughs.
Day 8: Sunday, July 7, 2019
Breakfast was very good as was the Country Inn & Suites. We departed to the sounds of Bruce Springsteen singing "Cadillac Ranch." Ten minutes later, along Route 66 west of Amarillo, we were walking a semi muddy path to see Cadillac Ranch, invented and built by a group of art-hippies imported from San Francisco along with Amarillo billionaire, Stanley Marsh 3. Stanley wanted a piece of public art that would baffle the locals, and the hippies came up with a tribute to the evolution of the Cadillac tail fin. Ten Caddies were driven into one of Stanley Marsh 3's fields, then half-buried, nose-down, in the dirt (supposedly at the same angle as the Great Pyramid of Giza). They faced west in a line, from the 1949 Club Sedan to the 1963 Sedan de Ville, their tail fins held high for all to see on the empty Texas panhandle. We stopped to view these ten Cadillacs – completely stripped and spray painted. After a few pictures, we strolled back to the bus where Walt met us with spray cleaner and paper towels so we could clean the mud from our shoes.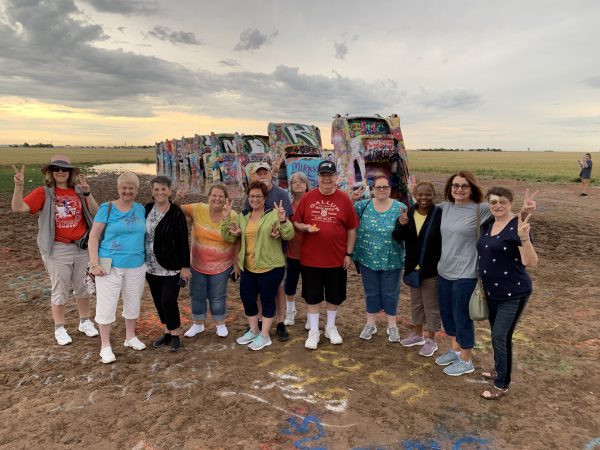 After reviewing details about today, I showed the Academy Award winning movie "Hidden Figures." It took place at NASA in Houston, Texas and told how instrumental three brilliant women of color were in launching John Glenn into orbit and returning him safely back to earth in 1962. The movie was enjoyed by all.
We crossed into New Mexico and needed to pull into the Port of Entry for our paperwork to be verified by the New Mexico Motor Transportation Police (MTP). Walt was told to park the bus and go inside to present his paperwork for verification and to pay a fee. After we were approved in less than ten minutes, we were back on the road. Soon after, our electronic devices went back one hour designating Mountain Time.
After a brief rest stop, we continued into Albuquerque. The landscape had changed remarkably. The grass was yellow from lack of water. Plants survived only by the ability to store water in their leaves. We were climbing in elevation to 5000 feet. Mesas, (mounds of dirt and rock with flat tops) red in color from iron and feldspar, dotted the horizon. We were now in the desert.
Albuquerque is a sprawling city with a population of over 500,000 and growing rapidly. The summer climate can get into the 100s with 20% humidity. Winter nights can dip well below freezing. New construction of roads is evident from I-40. We arrived at Old Town Albuquerque. Old Town, as it is known, is made up of stores with quaint Spanish architecture from the 1880's, narrow streets, and a shaded, grassy town square where people could bring lawn chairs and listen to music playing. A beautiful church was in the town center as well. We all enjoyed a two hour block of time strolling along the streets, eating lunch in one of the many restaurants, and shopping for unique gifts.
We left Old Town and rode to the Sandia Peak Tramway, 25 minutes on the other side of Albuquerque. The skies were beginning to cloud over when we arrived. The elevation was now 6,000 feet. We would soon be climbing to over 10,000 feet. A few tour guests chose not to go to the top since they felt discomfort at this level. Fourteen of us, including Walt and me, were soon ascending in the cable car to the top of Sandia Peak.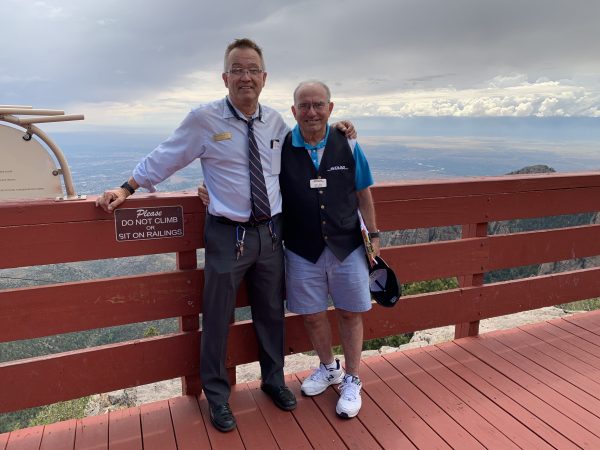 The higher you go in altitude, the air gets thinner and holds less oxygen. Some find it harder to breathe. Also, the air does not hold the heat as well and temperatures are colder. It was 20° cooler at the top with a wind chill of 15 mph. The temperature at the top felt like the mid 50's. We walked around the manmade ramps to take pictures of this spectacular view from different angles. One could see 9% of all New Mexico from this vantage point. It was certainly a sight to behold.
After another new and exciting day, we all were glad to take comfort in our Drury Inn hotel for the night. Many tour guests stayed in and took advantage of the Kickback for a light dinner. Others enjoyed one of the many restaurants located in walking distance. Today was another wonderful day.
Day 9: Monday, July 8, 2019
We awoke to a beautiful morning and the skies remained a magnificent dark blue the entire day. After a delicious breakfast, I met Brent from The Savoy Cafe who delivered all of sandwiches for our lunch today. Beautifully boxed, each meal consisted of a thick sandwich, cup of fruit, bag of chips, brownie, and bottle of water. I put a boxes on each of our tour guests' seats prior to them boarding (I suggested that they please look before they sit down to avoid squishing their lunch). Thankfully, we had no mishaps.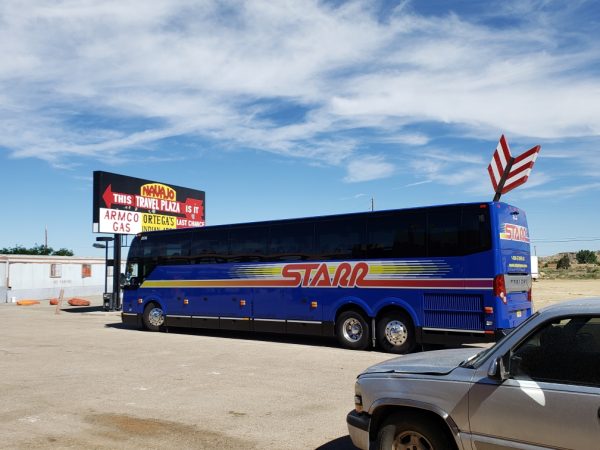 Our rest stop today was at Exit 16 in Gallup, New Mexico, the favorite Navajo and Loves Rest Stop on our trip. The Navajo Store has many unique items for sale at good prices. Examples are Navajo turquoise jewelry, Mexican blankets, Route 66 souvenirs, and Navajo books and pottery. We stopped for 40 minutes and everyone enjoyed their shopping experience. Many of us have started to expand upon the luggage that we initially brought. It was inevitable!
Upon entering Arizona, we pulled into the Arizona Port of Entry and we were waved through. Our electronics turned back one hour since Arizona is the only state not to follow daylight saving time due to its extreme heat. We continued on to the Painted Desert and Petrified Forest National Park.
The first sight of Canyon Country leaves an indelible impression on all people. The vastness of the desert and the brilliant colors of the formations provide an eye-opening experience. The cloudless deep blue sky and shining sun brought out the brilliance of the landscape even more. Many group and individual pictures were taken and shared.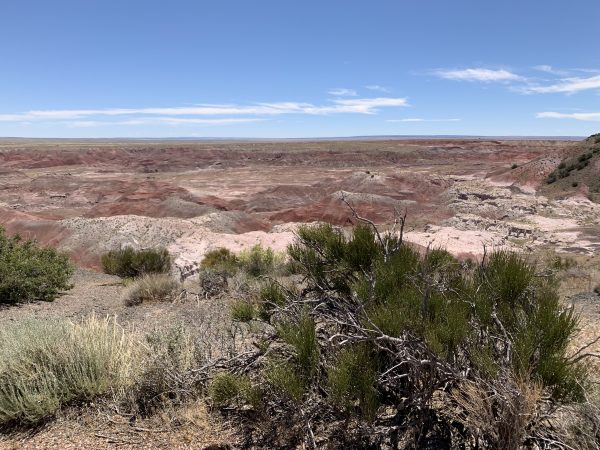 Our traditional lunch stop was closed and under renovation so we ate our lunch at our previous stop since it also had bathrooms. Everyone enjoyed their boxed lunch from the Savoy Cafe. We continued driving through the Painted Desert and stopped at two additional magnificent overlooks before crossing Route 66 and entering into the Petrified Forest National Park.
The Petrified Forest National Park holds the largest amount of petrified logs in the world. Petrified wood is simply trees that have fallen 225 million years ago and was buried with layers of silica and quartz among other minerals. As time passed, the wood rotted away and the spaces were filled with this mixture of minerals. These petrified logs are strong, glossy, and filled with brilliant color. At one of our stops in the Petrified Forest, many tour guests took a .75 mile circular hike into the badlands. Petrified logs were everywhere and many pictures were taken. The hike was also great exercise. To experience the weight of a small piece of petrified wood, I lifted one small piece that fitted in my hand. It was heavier than a bowling ball. The park is very strict about visitors "stealing" pieces of petrified wood and makes that announcement often.
After stopping at the Visitors Center, we exited the Painted Desert and Petrified Forest National Park completing an eye catching and invigorating day. We then drove the harrowing steep, long, and winding road (Arizona Highway 89) through Oak Creek Canyon and to the Hampton Inn in Sedona. Walt did an amazing job maneuvering the bus through these narrow twists and turns and received rousing applause when the road eventually straightened out on the bottom. We soon arrived at the Hampton Inn, got our keys, and 15 of us crossed the street to the Italian Restaurant, Pizarro's, for dinner. After dinner, upon walking back to the Hotel, we marveled at the beautiful sunset as the last rays of sunlight shone on the red rock formations that make up this magnificent town of Sedona.
Day 10: Tuesday, July 9, 2019
The Hampton in in Sedona, Arizona, was a wonderful hotel. Jenna, the friendly and knowledgeable person in charge of the front desk, provided us with the best scenic directions to drive to Chandler. She assisted our tour guests to settle a problem or two that came up. She went above and beyond to make us feel at home, even giving us a list of good restaurants to go to within the area of the hotel. Breakfast was delicious and by 8:20 AM, we were on our way to ride the Pink Jeeps into the Sedona back country.
Every tour guest chose to ride a Pink Jeep and I was thrilled. We had three Jeeps at our disposal and were divided up into two groups of six and one group of five. Before long, we were on our way. The extremely skilled and knowledgeable drivers provided much information on the city of Sedona, taught us about the many varieties of cactus we saw, and carefully drove over huge boulders of rock to keep our rocking back and forth to a tolerable level. One driver commented that last week, he gave a group of teenagers the ride of their lives by going over the rocks so fast, the wheels hardly touched the ground.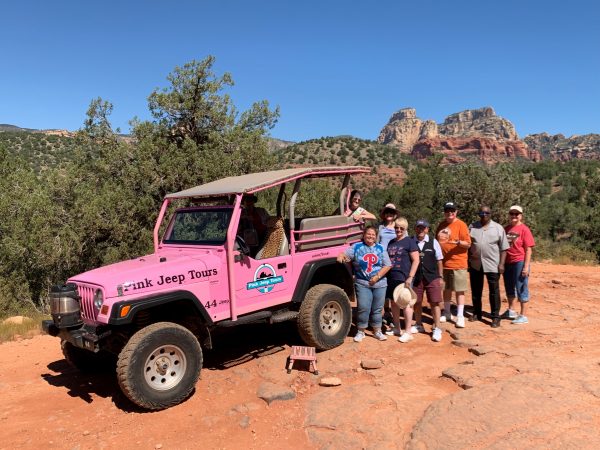 We stopped at two vistas that displayed the sheer beauty of the Sedona mesas in their spectacular morning colors. Many of us got out of the Jeeps and took pictures. The drivers volunteered to take our handsome group picture with the Sedona mesas in the background. We were all having so much fun, hanging on with every bump in the road. Upon returning to the starting point 1.5 hours later, everyone crossed the street together and headed directly to the bathrooms. We were all proud to have had such a successful experience on the Pink Jeep Tour and left feeling invigorated. We soon boarded our bus and said goodbye to Sedona as we traveled on Arizona Highway 179 to I-17, the scenic route to Scottsdale, Arizona.
For the first time in years, Starr Cross Country Tour guests were treated to the sight of a Saguaro Cactus. Saguaros are those tall cactuses that grow many arms and grow sharp needles all over to protect themselves. Saguaros grow in elevations under 3,500 feet and need the unique warm and dry climate Southern Arizona has to offer to thrive. We first saw the Saguaros on our decent into the suburbs of Phoenix and Walt remarked "Don't try to hug 'em." Both Scottsdale and Chandler are considered suburb cities of Phoenix and sit at elevations of 2,000 feet.
Lunch today was in Old Town Scottsdale (also called downtown Scottsdale). I had researched Old Town Scottsdale several months ago and printed out a map and a list of restaurants for the tour guests to refer to as they walked the few blocks looking for a place to eat. The area had fine stores such as an Apple Store, Sophia, and H&M. The section known as The Quad had tables, chairs, shade, and mists of water falling down from buildings to keep us cool. It was a lovely place to have lunch and everyone enjoyed it. But we were all baffled. We were supposed to eat in a more historic section of Old Town Scottsdale; but this area was extremely modern. Hmmmmm….
Walt picked us up at the Bus Stop that came equipped with a modern shaded structure we all could sit under to wait for the bus. I asked Walt what he accomplished while we were eating and he said, "I was riding around trying to find Old Town Scottsdale and succeeded." HISTORIC Old Town Scottsdale was 30 minutes away on the opposite end of Scottsdale Road. I couldn't believe it! How could I have gone wrong? Was my research wrong? Was Google wrong? It was certainly confusing!
Next up was the Western Spirit Museum, also called Scottsdale's Museum of the West. Two docents divided our group in half while I went up to the register to pay. I was totally confused about this "Old Town Scottsdale" thing and politely asked the kind people at the counter to help me understand the difference between the two "Old Towns." They handed me a helpful map of Old Town Scottsdale along with a great list of restaurants in a short three block radius. I told them about my research a few months ago and they enlightened me by saying, "By Googling 'Old Town Scottsdale', you were taken to that more modern section of Scottsdale for some unexplained reason. You needed to go to www.experiencescottsdale.com to find information on Old Time Scottsdale."  WHO KNEW?  Later on the bus, I explained what I just learned and apologized to the tour guests. They were very kind in responding that they enjoyed that area and had a good lunch anyway. As I thought about it more, it might have been too uncomfortable in this 104° heat to walk around unshaded Old Town. Perhaps this was a case when things just happened for the best.
The Western Spirit Museum was magnificent. This is only its fourth year in operation. The Museum had some extremely valuable and unique artifacts from 1803 to the 1940's, the time period experts define as "The Wild West." The "Wild West" began when Thomas Jefferson purchased land that doubled the size of the United States from Napoleon in 1803 known as the Louisiana Purchase. Encased in the Museum is one of two artifacts that still exist from the Lewis and Clark expedition that explored these new lands we purchased from France. It is a tomahawk owned by Meriwether Lewis donated by a recent heir of his.
In addition, the Western Spirit Museum displays valued pottery from Native American Tribes, authentic clothing and accessories worn by cowboys and ranchers, and original artwork and sculptures depicting life, customs, and ruthlessness that existed in the "Wild West." Our fascinating docents were instrumental in bringing the Museum into reality for us and everyone thoroughly enjoyed this award-winning attraction.
We drove through rush hour traffic south into Chandler and to another Drury Inn & Suites. I handed out the keys and the luggage was brought up to the rooms. Six tour guests chose to travel the one mile distance from the hotel to the Fashion Center Mall, a huge complex with a food court and twelve restaurants for dinner. Others chose the free hotel Kickback. Today was another wonderful day filled with new experiences and unexpected surprises.
Day 11: Wednesday, July 10, 2019
"Oh what a beautiful morning" to quote the famous song from "Oklahoma." We all enjoyed our breakfast and were ready to roll out of Chandler by 7:45 AM. Walt avoided I-10 due to an accident on the highway and instead, made a left out of the hotel to Arizona Route 347 to Route 238 which eventually merged onto I-8 West. He made terrific time. The temperatures were going up to 114° in Phoenix today so I played a few summer morning songs such as "Summer in the City" and "Heat Wave." I showed the movie, "The Founder," starring Michael Keaton as Ray Kroc. It tells the story of McDonalds that began with one restaurant in San Bernardino, California and was eventually bought by Ray Kroc who turned this into a multi billion dollar empire worldwide.
After a quick rest stop, we continued onward until we crossed the border into California. A plethora of California songs entertained the tour guests such as "California Here I Come," "Hooray for Hollywood," and "California Girls" by The Beach Boys. We soon reached the Golden Corral, our lunch stop. This all-you-can-eat buffet was enjoyed by all and we were back on the road in exactly one hour.
We climbed to over 3,000 feet through the scenic Sierra Mountains and descended back down to sea level as we drove into San Diego. We arrived at the Doubletree Hilton at 3:00 PM. We were all given rooms on either the 17th, 19th, or 22nd floor of the hotel providing magnificent views of San Diego and the Pacific Ocean. The friendly people at the hotel greeted us with cookies and walking maps of the area as well as a map of Old Town San Diego.
Since breakfast was on our own the next few days, many of us walked two blocks to the 7-11 and bought breakfast foods. At 4:45 PM, all but one of the tour guests chose to travel the two miles to Old Town San Diego to explore, shop, and eat in this festive part of town. Walt nicely agreed to drive us. Old Town San Diego depicts San Diego when it was part of Mexico prior to 1850 as well as the Western influences on the city in the 1890's. Colorful pottery, clothing, and trinkets with the Mexican flare can be seen in shops and restaurants.  Leather goods and western apparel can be found in other shops. We enjoyed our two and a half hours in Old Town. It was enough time to stroll the entire area, check out the colorful shops, and eat a relaxing dinner.
The weather in this beautiful city was 80° with a light breeze and crystal clear blue skies. We all are looking forward to another adventurous day tomorrow as we further explore San Diego.
Day 12: Thursday, July 11, 2019
We were all scattered for breakfast this morning. Some ate in their room, some went out to a convenience store to buy breakfast foods, and others ate in the Doubletree Hotel Restaurant named Arianas. At 8:25 AM, we stepped onto the Sun Diego Bus Company's shuttle bus driven by a very friendly driver, Robert Clark. We were at the San Diego Zoo at Balboa Park in ten minutes.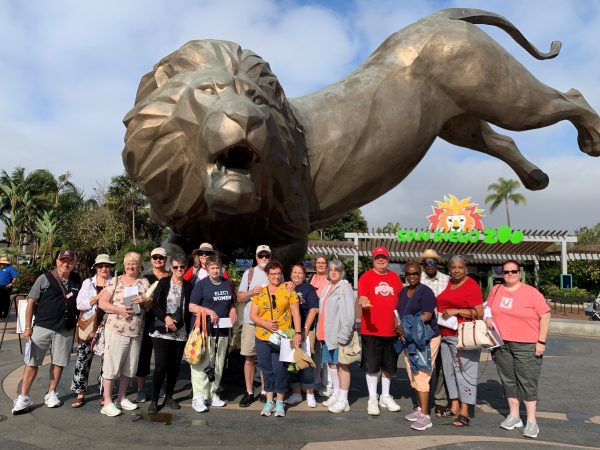 We had a group picture taken at the entrance to the San Diego Zoo. We waited for the Zoo to open at 9:00 AM and walked directly to the guided bus tour to help orient ourselves as to where the different animals were located. This 45 minute tour was terrific and I recommend it for all newcomers to the San Diego Zoo. We were able to follow our maps along with the Bus route so when the tour concluded, we knew exactly where we wanted to go.
Despite the walking and moderate hilly terrain, the Zoo was easy to navigate. The giraffes recently had two births in the herd. They were adorable to watch. The baby's at birth were 6 feet tall and weighed 140 pounds. Adult giraffes can be as tall as 20 feet and weigh 1800 pounds. The koalas we're slowly moving their heads and seemed to be yawning and napping while cuddled on the branch of their eucalyptus tree. The elephant viewing area was being cleaned by elephant handlers who were feeding the elephants while locked in their huge cages to keep them satisfied. Once completed, the elephants were led out of their caged inside area and were free to roam around. The Zoo has a huge elephant area and I counted at least six elephants. Many tour guests took the Skyride that crossed the Zoo on a diagonal from the remote Polar Bear area back to the front entrance. It was a great morning. The San Diego Zoo is considered the greatest Zoo in the country and we saw why.
We departed the San Diego Zoo at 2:15 PM and went back to our hotel for an hour to freshen up. At 3:30 PM, we all took our jackets and headed towards the San Diego Bay waterfront for an informative two hour cruise of the famous San Diego Harbor aboard the Spirit of San Diego. The first hour of the cruise took us South for glimpses of the United States Navy Seals Training Base off of Coronado Island located across the bay from San Diego. We cruised under the 200 foot high Coronado Bridge that spans 2.1 miles. We then journeyed close to the guarded fleet of United States aircraft carriers that were currently docked in port awaiting further instructions. The Navy Base housed a Navy Medical Ship as well as smaller aircraft carriers where helicopters and planes with the ability to jump off without need of a runway were housed. The larger aircraft carriers, with runways of 998 feet in length, were too large to go under the Coronado Bridge and were docked further north.
After a brief return to the dock of the Spirit of San Diego, we cruised to the North passing a sea lion refuge and experimental area, saw the end of San Diego Bay providing glimpses of the Pacific Ocean, and viewed helicopters landing at the Naval buildings where aircraft go for repairs. We also passed the San Diego Airport. The San Diego Airport has only one runway. Planes land or take off every 90 seconds. Buildings in San Diego are limited to a maximum of 500 feet in height due to airplane safety. It is the busiest one runway airport in the world.
Afterwards, we were driven back to our hotel for dinner and rest. Many of our group were tired and content with all we accomplished today and stayed in. Others walked three short blocks to Little Italy. Six blocks of India Street house fabulous Italian restaurants, burger places, and unique ice cream parlors. It is a nightly festival and very well attended by the locals.
We all had a magnificent experience in fabulous San Diego. It's now time to head north into Los Angeles.
Day 13: Friday, July 12, 2019
We said our "Good-byes" to San Diego and had a very nice ride on I-5 to the Mission of San Juan Capistrano. I played Beach Boys songs and reviewed today's itinerary. We drove through La Jolla while listening to "Surfin' U.S.A." and hearing The Beach Boys sing, "All over La Jolla…."   La Jolla is a northern suburb city of San Diego.
We arrived at the Mission of San Juan Capistrano early and was welcomed by the person checking us in. Our first look into the Mission revealed beautiful flowers, fountains, and much area surrounded by thick walls all around forming a large square. Our Mission Guide was Jerry and he was extremely passionate and knowledgeable about this historic Mission, completed in 1776, and spanning over 200 acres. San Juan Capistrano was the second of nine Missions established by Father Juniper Serra for the purposes of colonizing the West coast for the Spanish and converting the Aejachemen (pronounced "Ah-a-she-men) Native American tribe to Christianity. As we strolled from room to room, Jerry explained the life and customs of the Aejachemen and the philosophy of the missionaries towards the Native Americans. The Mission was once a self-sustaining village raising cattle, pigs, and growing crops and had as many as a thousand inhabitants working together.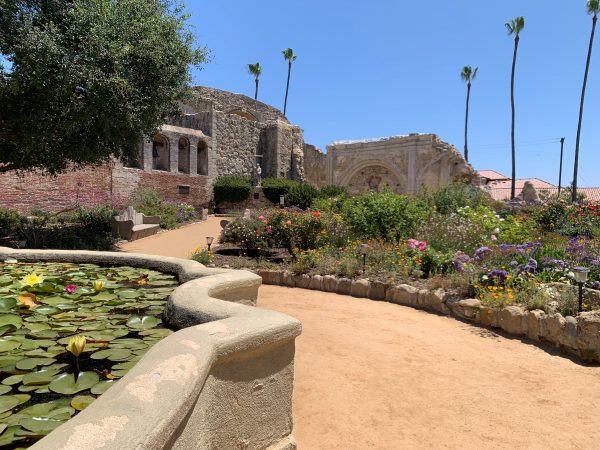 The earthquake of 1812 destroyed the Great Stone Church. Its remnants can be seen inside the Mission. Father O'Sullivan arrived to San Juan Capistrano in 1910 and was instrumental in restoring the smaller church inside the Mission. He also played an important role in restoring the rest of San Juan Capistrano to the way it looks today.
Following our 90 minute tour, all the tour guests were on their own to eat lunch, visit the main church of the Mission (which was rebuilt outside the Mission and around the block), walk around Historic San Juan, or return to the Mission to revisit some of the rooms. We had 2 1/2 hours to leisurely enjoy San Juan Capistrano. At 2:00 PM, we were all back on the bus and on our way to Los Angeles.
Traffic was flowing smoothly until we entered the city limits of Los Angeles on The 101. The six lane highway in each direction couldn't prevent bumper to bumper traffic at 3:30 in the afternoon. It took us 40 minutes to travel seven miles. We arrived at the Sportsmen's Lodge at 4:15 PM. The luggage handlers were ready for us. The tour guests agreed to meet back on the bus at 5:00 PM to ride to the Universal CityWalk for dinner, shopping, and a fun experience.
The Universal CityWalk is a "happening" place. It is a festive open shopping area filled with restaurants to satisfy every taste. Many tour guests ate at Johnny Rockets. A few ate at the Hardrock Cafe. Some enjoyed dinner at Bubba Gumps. And everyone had a good time perusing the many shops including the Universal Studios Store, the Los Angeles Dodgers Store, and other unique establishments you don't see anyway else in the United States. Everyone enjoyed the two hours spent here.
Before returning to their rooms, many tour guests walked across the street to Ralph's Supermarket for breakfast foods. Today was another jam-packed day filled with lots of learning and exciting experiences. We are all looking forward to exploring Los Angeles tomorrow.
Day 14: Saturday, July 13, 2019
Today was the day I had been looking forward to ever since I learned I was providing our tour guests with a tour of Los Angeles. I reviewed my notes and was prepared to deliver the interesting information.
We left the hotel at 7:45 AM not knowing what traffic would be like as we headed to the Warner Brothers Studio Tour. We actually arrived in fifteen minutes, at 8:00 AM for our 9:00 AM scheduled tour. The good news was that since we were the first bus, Walt got the first parking spot next to the entrance. We waited outside for fifteen minutes, went through security, and waited inside until we were called for our tour.
With an expected crowd of over 3,000 people today, Warner Brothers has mastered crowd control and timing. We were ushered into a small theater of 70 seats. The short film, narrated by Ellen, showed scenes from popular movies and told about the history of Warner Brothers. We met our guide after the film and were whisked away outside to the cart we'd be riding in. Each cart holds 14 tour guests. Five groups of 14 then drove away within minutes of each other to begin the Studio Tour. Great organization by Warner Brothers.
We rode passed many facades of houses used in TV and film. We were shown full streets; one representing New York and another Chicago. The Chicago Street even had a replica of the EL that was used in ER starring George Clooney. A very small "Central Park" in New York inclusive of a jogging path and trees and bushes was used in a famous running scene in "Friends." Every episode of "Friends" was taped here despite its New York setting. A courthouse, fire station, and working gas pumps were also available as props. The Warner Brothers creative team has everything at its disposal to create each magical scene that is needed for a production. Movies and television are created almost magically, fooling the viewer into thinking a much more grander scale exists.
Our guide made three stops along the tour for us to walk into three of 30 sound stages on the premises. J.K. Rawlings, the author of the Harry Potter Series insisted that all the movies for the Harry Potter Series be made in England. The first sound stage we walked into was set up like a museum with costumed mannequins representing many of the characte
rs in the Harry Potter movies. These costumes were the extend of anything "Harry Potter" here in Los Angeles. Although really great to see, I thought more extensive sets from "Harry Potter" were located here in Los Angeles. They are all in England. Amazing outfits from "Aquaman" and "Wonder Woman" also adorned the museum.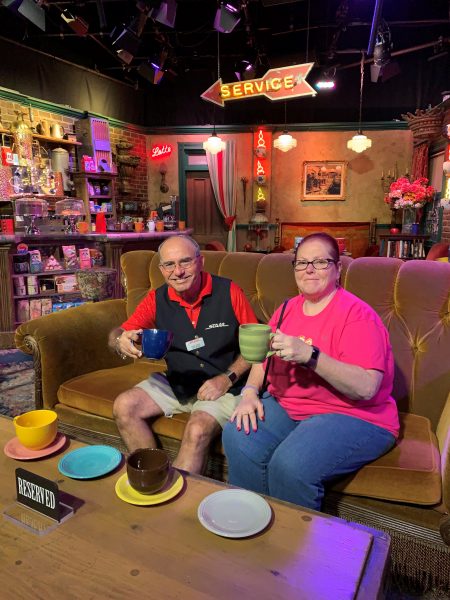 Our second stop was to sit in the sound stage overlooking the set for "Fuller House." These sets appear so small in real life compared to how one imagines them when watching the program. The final stop was the Batmobile Museum sound stage. This museum of cars housed the real Batmobiles used in the Batman movies. The "cars" are built to only travel 30 miles per hour and appear much faster in the movies due to the magic of special effects.
Our final stop was our indoor walking tour on our own. This part of the tour focused on more of a hands-on experience for the visitor. We were able to take our picture while sitting on the set of "Friends," make a movie using a green screen background, and hold a real Academy Award (it weighs 8 pounds). There were many costume displays for our viewing pleasure such as from "Casablanca" and "My Fair Lady." Of course, we exited into a large Warner Brothers gift shop for our shopping pleasure.
Another shuttle took us back to the entrance where we met our bus. It was now 12:00 noon and Saturday traffic was much more congested. It took us about an hour to navigate the streets to the Farmers Market for lunch and shopping. Many tour guests bought their lunch from MaGees, the first business to open in 1934. It features delicious corned beef, turkey, and ham sandwiches. Bakeries, pizza places, and ice cream stands, to name a few, dot this ever popular and historic venue of Los Angeles. Everyone enjoyed this bustling Farmers Market with over 100 vendors to choose from.
It only took us only twenty minutes to drive to the TCL Chinese Theater and the Hollywood Walk of Fame, arriving at 2:35 PM. I had learned from speaking to bus drivers at the Farmers Market that there was a huge movie premiere taking place at the Dolby Theater at 5:00 PM today and that the roads were already blocked off in preparation of the event. The premier was the showing of the new movie, "Hobbs and Shaw" from the "Fast and Furious" Series, starring Dwayne Johnson and Jason Stratham. Miraculously, Walt, our magical bus driver, was able to find a parking space on Hollywood Boulevard, two short blocks from the TCL Chinese Theater. We all disembarked and began our tour of the most famous three blocks in Los Angeles.
The crowds along Hollywood Boulevard reminded me of the crowds at Rockefeller Center in New York at Christmas, but much warmer. We were weaving around people with every step. However, we did manage to find our way to the spot where you can see the "Hollywood" Sign. Although the sign sits on a hill about 5 miles away, the 45 foot letters could be seen by everyone. It actually was the clearest I've seen the sign as smog levels were way down on this beautiful day.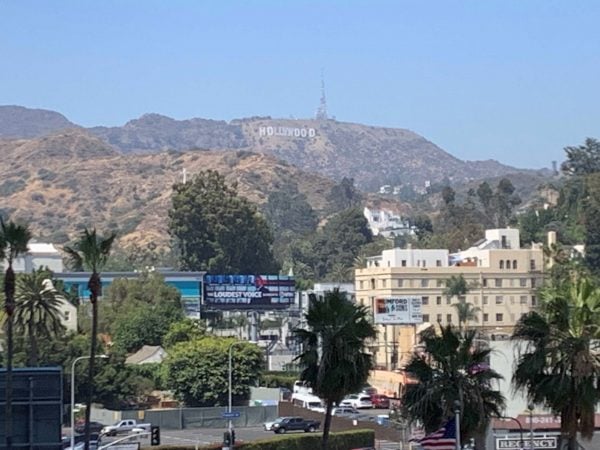 I then led the tour guests down the escalator to the front of the Dolby Theater, the home of the Academy Awards and for the Premier of "Hobbs and Shaw" tonight. We noticed a worker bringing in a case of popcorn into the Dolby Theater. And as I turned to walk down the Red Carpet Stairway from the Dolby Theater to Hollywood Boulevard, I noticed a gray Carpet with a red stripe down the middle covering the long walkway at the bottom of the stairs. There were barricades on both sides of the walkway with throngs of movie fans lining the barricades for a glimpse of the stars. We were able to walk down the staircase, take a fast group picture, and battle the crowds to finally arrive back onto Hollywood Boulevard. We made our way back to the TCL Chinese Theater and, despite the crowds, took a few pictures of the hand and foot prints of the stars in cement. The tour guests were then on their own until 4:00 PM to take pictures of the stars on the Walk of Fame and shop in La La Land, the major souvenir shop in the area.
Looking back on the day and given the many obstacles we had to overcome, I think the day was quite successful. We did complete our entire itinerary. The crowds and blocked roadways and walkways at the Dolby Theater were a bit stressful but we made the best of everything. I also give Walt much credit for doing an outstanding job finding parking spaces and maneuvering our big bus through the streets of Los Angeles. One thing I did learn for myself, stay away from the Dolby Theater during Oscar night!!!