Our 26-Day Cross Country trip returned earlier this week after driving over 7,300 miles across our great nation and seeing dozens of historic sites, iconic places, national parks, and more. After each trip, the Starr Tour Director is responsible for providing a write up of everything that goes wrong, and right, while on the road. Starr Tour Director, Gene Gray's report is a fun and vivid retelling of their Cross Country adventures. For your reading pleasure, here are Days 1-13. Stay tuned next week for the second half of their amazing "Journey of a Lifetime!"
Day 1: Saturday, June 24, 2017
I had been anticipating this trip for over 6 months and the day was finally here! The heavy rains poured down on us as we pulled away from the Starr garage and headed to our first pick up in Hamilton. Once in Bensalem, we met our 3 shuttles from our outlying pickup locations. Finally, when everyone arrived and all bags were accounted for, Starr's owners, Alan and Renee Glickman bid us a fond farewell (with some snacks) and off we went into the sunset, err, sunrise (the skies were actually clearing and we saw the first sun of the day).
I went over the safety regulations, welcomed everyone through song and speaking, and before we knew it, we found ourselves pulling into our first rest area on the PA Turnpike.  We then continued west. The trip was smooth with no traffic as we left Pennsylvania, drove briefly through West Virginia, and proceeded into the state of Ohio. I showed the epic 1962 movie, "How the West Was Won" throughout this part of the journey.
We arrived at the Drury Inn hotel in time for their "Kickback" (free food and drinks) and everyone seemed very pleased! Our first day was a successful one. We have a diverse group of wonderful, friendly people who are extremely pleased and excited to be on this "Trip of a Lifetime." Our driver, Buddy Maphis, did a magnificent job behind the wheel. Tomorrow we continue on to St. Louis.
Day 2: Sunday, June 25, 2017
After breakfast, as we were heading westward, it wasn't long before passengers in the middle and back of the bus began telling me about how bouncy the bus was for them. I went to the back and sat, and sure enough, I began leaving my seat on certain stretches of the road. I immediately told Buddy about this and he took control of the problem from there. During our lunch stop, Buddy was able to contact Starr's mechanics who found a company to fix the problem. A 6am appointment for Monday morning was made to bring the bus in to a shop that specializes in Prevost busses. Lucky for us!
After the Cracker Barrel we had planned to stop at for lunch had an unexpected crowd, we continued traveling west while I scampered to find a place for us to eat lunch. Thanks to my copy of The Next Exit, the wifi on the bus, and my iPad, I found a Bob Evans just fifteen miles away. I called and they were very happy to accommodate us. The service and food were very good and the passengers enjoyed it. We were soon on our way to St. Louis.
We arrived in St. Louis at our next Drury Inn right on time. After placing our personal belongings in our rooms, 30 of us boarded the tram for our optional 90 minute tour. The Guide was very knowledgeable and interesting as we drove through the streets learning about the old mansions, Forest Park where the 1904 World's Fair was located, as well as the Budweiser Brewery. After the tour, the passengers enjoyed another "Kickback" for dinner. Later, some went for a walk to the Arch, some walked to Cardinals vs. Pirates ESPN game of the week at Busch Stadium (just down the block), while others decided to relax in the comfort of their room. I walked to the Arch and was able to secure our tram tickets for tomorrow.
Day 3: Monday, June 26, 2017
Buddy drove the bus to the garage while I met our passengers for another fine breakfast. During breakfast, Buddy called me from the garage and said the bus had been fixed! It had "snapped a pin" (probably from a large pothole) near the shocks in the rear of the bus. The bus was repaired, checked thoroughly, and given routine maintenance.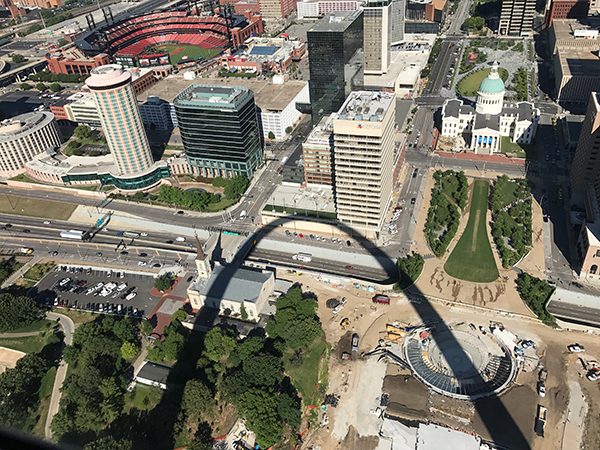 Meanwhile, I handed out the tickets for the tram ride to the passengers and organized a walk to the Arch. The tram ride to the top was unique, with 5 of us squeezed into this tiny cubby (but we became good friends afterwards). The view was spectacular and the passengers who did not suffer from height anxiety loved this excursion. After we returned back down to civilization, passengers enjoyed the gift shop, some viewed the movie, and then took a slow walk back to the hotel. Buddy had already returned, loaded our luggage, and soon we were on our way to Oklahoma, right on schedule.
We had a delicious buffet lunch on Route 66 in Rolla, Missouri at the Sirloin Stockade's all-you-can-eat buffet. Upon pulling out of the restaurant parking lot, I played the song, "Route 66," and showed a History Channel documentary on Route 66 to the delight of the passengers. Upon entering Oklahoma two hours later, I played more music ("Oklahoma") and showed half of the movie.
We arrived at the Hard Rock Hotel and Casino in Catoosa (Tulsa) at 6:15pm. The casino provided each passenger with a casino package and we were on our own for the remainder of the evening.
Day 4: Tuesday, June 27, 2017
Breakfast began with most of us (including me) having to return to our room to get our driver's license in order to be allowed into breakfast! In addition, we had to sign that breakfast coupon in 2 places. We all began making jokes that next, they'd prick our fingers and require blood samples. Even with these strict regulations, we realized the Hard Rock was an adult playground and was fun for one night.
Back on the bus, my passengers surprised me by singing "Happy Birthday." I felt extremely touched. In just a few short days, I'm feeling the close bonding of a wonderful group of people. We headed to Dallas through isolated rainstorms until we reached the Texas border where the weather cleared, but it was a hot and a humid 87°. I presented the passengers with a Kennedy lesson composed of 2 parts. First was the Lincoln-Kennedy comparison titled "Does History Repeat Itself." The second was titled "Who Killed Kennedy" and featured the Zapruder film. The passengers loved it and based on their enthusiastic discussions, it was the perfect introduction to our day at the Kennedy Museum Sixth Floor Depository where Oswald supposedly killed Kennedy.
Our passengers are comprised of an equal number of Eagles, Giants, and Cowboys fans. However, upon entering Dallas, one of the Eagles fans sang the Eagles Fight Song and all joined in on the fun.
The passengers were all instructed to view the map I provided on Historic Dallas and have a plan for themselves when they got off the bus. Their one stipulation was they had to find their way and walk to the location of the Book Depository to begin our Tour of the Kennedy Museum at 2:45. I had a delicious lunch at the Spaghetti Warehouse while others ate at their choice of about 15 establishments. And, to my delight, everyone found their way back to the Depository on time.
We were given headphones and an iPod-like device that would constitute our guided tour. It turned out to be fantastic as everyone went through the Museum at their own pace and interest level. For me, I've been teaching about this for 40 years and couldn't believe that I was actually in Dealy Square in Dallas. I got very emotional. The Museum was even better than I imagined. The best part is when you looked out of the window at the angle Lee Harvey Oswald shot his rifle and realized that he could never have been the one to kill Kennedy. Many passengers who were first realizing this too became upset, angry, and bewildered. And they wanted to know more. It was a great experience.
Our driver Buddy, as always, was wonderful. While we were playing in Dallas, he drove our luggage to the hotel and got our room keys. So, when we arrived at the hotel we were able to relax in our rooms for a solid hour. Dinner at El Fenix Restaurant was delicious. We talked and shared food family-style and laughed for over 2 hours.
I told the passengers they all successfully completed their first test today and passed. They were on their own in a strange city and were able to orient themselves and find their way. I emphasized the importance of this skill because they'll have many more opportunities to find their way in strange places in days to come. They were proud.
Day 5: Wednesday, June 28, 2017
This morning we took a leisurely ride "Deep in the Heart of Texas" to Amarillo. (You can guess which songs I played today.) By leisurely, I mean that we stopped at a really neat rest area for 30 minutes with plenty of Texas style shopping available. And, we stopped at a great shopping center for lunch with a Super Walmart for lunch and shopping across the street. The weather was beautiful, about 90° with 23% humidity. I showed the magnificent 2017 Academy Award winning video, "Hidden Figures." It takes place in Texas (Houston) and was extremely uplifting for all (no pun intended since it had to do with the brilliant minds working for NASA at the time of John Glenn's space flight).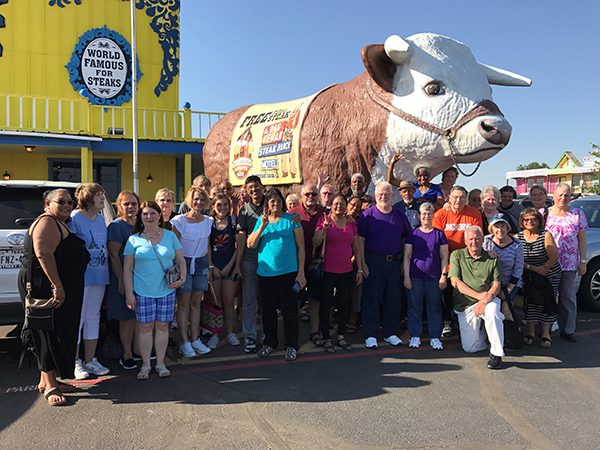 We arrived in Amarillo with time to relax before dinner at the Big Texan Steak Ranch. After taking a group photo by the giant bull, we were seated. The atmosphere was all Texas. Stuffed buffalo heads and deer with antlers hung from the rafters overlooking a giant room packed with tables and people. Straight ahead of us, in front of the kitchen, was the raised platform for customers taking the 72 oz. Steak Challenge. A young woman soon climbed up to the table on the platform and was ceremoniously announced as the next contestant. She was served and the timer began – she had 60 minutes to finish or pay $72. Meanwhile, most of us ate a 16 oz steak with baked potato and string beans (others ordered chicken or the veggie platter). I believe I was the only person to finish the entire steak (groan). It was delicious and the evening was a lot of fun with time to shop and take pictures in their unique settings.
By the way, the young woman ate a quarter of the steak and took the rest home.
Day 6: Thursday, June 29, 2017
Five minutes into our ride this morning, we noticed the Cadillac Ranch on our left and stopped for pictures. Ten Cadillacs were buried halfway with their front ends sticking up at an angle by two hippies in 1974. They are continuously spray painted in psychedelic colors and are a clever representation of art on the prairie. Bruce Springsteen has a song about it, "Cadillac Ranch," which I, of course, had to play.
We continued on I-40 into Albuquerque, NM. The scenery has begun to change. Red mesas and buttes began popping up and the ground was parched. Route 66 ducked in and out to our right. I played the video, "True Grit," the 1969 western starring John Wayne and Glen Campbell.
We arrived in Old Town Albuquerque for lunch and shopping. The temperature was 96°, the humidity was 3%, making it feel a comfortable 89°. It was a delightful change from our 90° and 90% humidity at home. Old Town Albuquerque had the feel of a Mexican or Spanish market with Native American relics thrown in the mix. People were actually selling jewelry from blankets placed on the sidewalks. The passengers once again used their maps and found their way nicely.
At the Sandia Peak Tramway, we caught our tram to traverse the mountain. During the 15 minute ride, the scenery was magnificent as we ascended to the 10,000 foot mark in elevation. We then stepped off of tram at the peak and walked around the top for 15 minutes until the next tram made its way up to bring us down.
We arrived at our next Drury Inn exactly as scheduled and the passengers were on their own for the evening with a mall across a small street to walk to if they wished. Tomorrow we hit Canyon Country!
Day 7: Friday, June 30, 2017
Everyone woke up anticipating a great day at Petrified Forest National Park and they certainly got what they were expecting and more. The weather was warm with no humidity, about 86° without a cloud in the sky. Breakfast at the Drury Inn was wonderful and enjoyed by all.
We left Albuquerque and made our way to Arizona. I explained a few facts about the Petrified Forest and Painted Desert and then showed a 20 minute documentary to reinforce the ideas. We stopped at a rest area in Gallup, NM that featured a Navajo Welcome Center and a Loves Truck Stop. The ladies excitedly commented that this was the best rest area as they walked out with Turquoise earrings, necklaces, and bracelets for 60% off the regular price. The men weren't commenting, but they bought a few things as well. Once back on the bus, we crossed into Arizona and our electronic devices jumped back one hour. I explained to the passengers about why Arizona stayed in standard time (because of the heat, they did not want to extend the daylight hours further into the evening). I also explained that the Hopi Reservations in Arizona did change to daylight saving time. The bus went through Arizona's Port of Entry and we arrived at the Petrified Forest National Park.
As we pulled in, our electronic devices jumped ahead one hour. We must have been near a Hopi Reservation Tower. We all got a kick out of that. Buddy began our tour through the National Park with me as his copilot. We stopped at 2 of the first 3 scenic overlooks and couldn't believe the beauty. The vivid and contrasting colors were striking. The passengers and I were excitedly taking many pictures of the scenery as well as family and group pictures for each other. The enthusiasm was a sight to behold. We are becoming a close knit group and caring about each other.
We stopped for lunch at a fabulous picnic spot under a metal awning. Passengers took their boxed lunches from The Savory Fare Café and really enjoyed their sandwich and all the extras that came with it like fruit salad, macaroni salad, chips, and a brownie. It felt awesome picnicking in 86° temperatures with no humidity in such a magnificent landscape.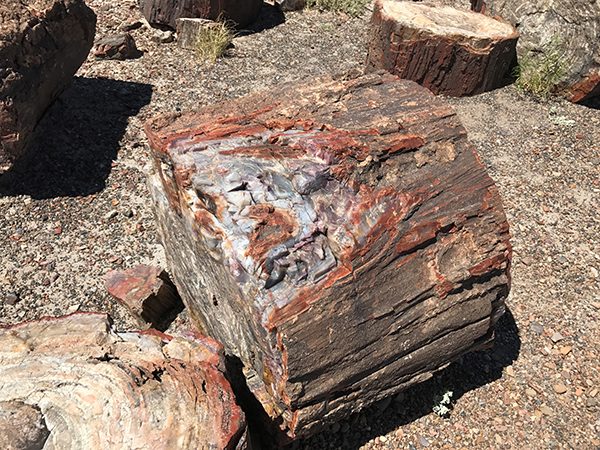 We continued our tour of the Park arriving at the Petrified Forest half. Each stop had its unique features; a Bridge of a large Petrified log over a vast cliff, small Petrified pieces scattered for miles, and finally, the greatest of all, Petrified wood all around us so that we could walk up to each piece, touch it, and take pictures. There was also a ¾ mile walk into the badlands that 7 of us took. The Petrified logs were spectacular along this trail being all different shapes, sizes, and brilliant colors. Nature is the greatest artist of all. We all took many pictures and the walk was just what we needed. The exercise felt invigorating and the day was exhilarating, to say the least.
We passed Winslow, AZ on our way to Flagstaff on I-40, so I had to play "Take It Easy" by The Eagles. Upon our arrival at the hotel, the gentleman handling our luggage met us immediately and got to work. The keys were ready for me and I handed them out to the passengers on the bus as is now customary. Buddy was going to Walmart for supplies and graciously took passengers who needed some things with him. Others went to dinner at one of the suggested restaurants. The restaurants were very close to the hotel and the passengers were able to walk without incident. Some passengers did a load of laundry before retiring for the night. A great day was had by everyone.  We are all excited about seeing the Grand Canyon tomorrow.
Day 8: Saturday, July 1, 2017
Today was as exhilarating as it was an exhausting day. Breakfast was superb with a spread of many different varieties of breakfast foods. We boarded the All Aboard America Bus as Buddy was washing our bus inside and out. It was his 8th day of work and thus his mandatory day off. I am not sure Buddy knows what a "day off" is! I begged him to rest today and he assured me he would after finishing up. Jan Duncan was our driver. He was very friendly and personable. He was a very good driver as well and enjoyed being with our group.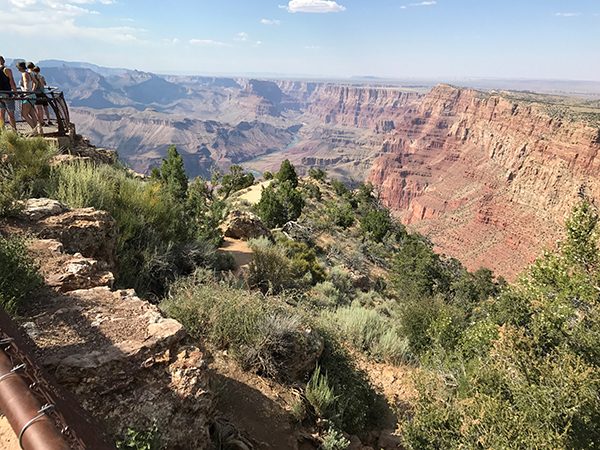 We met our Grand Canyon Harvey Girl Guide, Gail Solis, at 9:30 AM at the Desert View Watchtower Overlook. This was a perfect and beautiful view point for our passengers to first lay their eyes on the grandeur of the Grand Canyon. They could see the mighty Colorado River meandering through the colorful gorge and climb to the top of the watchtower to get a different perspective of the Canyon.
Our guide took us to 3 overlooks, all spectacular, while imparting many facts and stories about the Grand Canyon. For example, there exists a reserved area under lock and key for people who secure a permit to hold their wedding ceremony overlooking the Canyon rim. She also explained the differences among the 3 major types of trees along the rim; juniper trees, pinion pines, and Ponderosa pines. She then took us around the Grand Canyon Village telling us the history of the Bright Angel Lodge, the El Tovar Hotel, and the Hopi House.
I gave the passengers 2 hours to roam around the Village area (which had different spectacular views of the Grand Canyon) and the hours seemed to vanish in minutes. We all ate lunch, shopped for souvenirs, and viewed the Canyon in all its glory. Lunch in the Bright Angel Lodge was delicious. I joined 2 Starr couples and enjoyed eating and chatting with them.
We then drove to the newly built Visitor's Center Complex which included the Visitor's Center, another Grand Canyon Store, a Museum, and bathrooms. Upon leaving the bus to walk into the Visitor's Center, I spotted a huge elk nibbling on grass just a few feet away so I alerted a Park Ranger. About 20 minutes later, the elk had been escorted to safely frolic in a remote section of the park, but we were able to snap a few pictures before he left.
I purchased a video at the Canyon about the history of the Harvey Girls and showed the video during our trip back to Flagstaff. The passengers seemed to enjoy it. We arrived at our hotel exhilarated and exhausted after a full day of sensory stimulation.
Day 9: Sunday, July 2, 2017
After a great breakfast we began rolling and headed south towards breathtaking Sedona, AZ. Traveling on Route 89A was beautiful and hair raising as the right side of the bus was adjacent to a cliff as we meandered down this steep decline. Passengers feared looking out the window but Buddy kept us safe! I was playing Arizona songs including the song, "Sedona" by Donna Loren which helped everyone relax. We arrived at the Pink Jeep Tour to embark on our badlands tour of Sedona. Six passengers chose not to ride the Jeep Tour so they strolled around the quaint shops in town.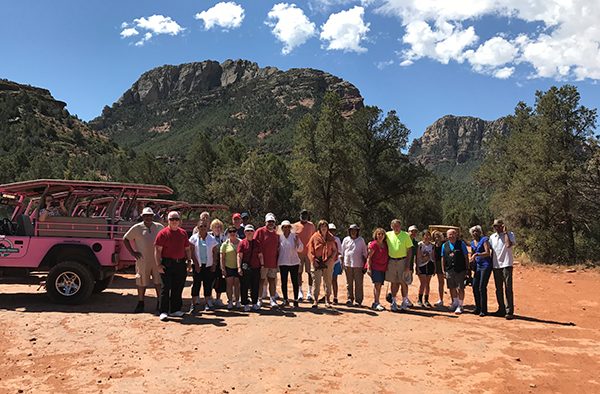 After meeting our Pink Jeep Drivers, we broke up into groups of 6 and climbed up into our jeeps, buckled our seat belts, and drove off the blacktop and up into the hills of Sedona. Each driver/guide spoke about the history of Sedona as we turned right, up a hill, and then a left onto a dirt, rocky road. And the bouncy bouncy began. Our driver identified the different trees along the road as the jeep's tires, which are made of the same material as a bulletproof vest, rolled over rock after rock while swaying us from right to left and back to the right again. The driver showed great driving skills to keep the Jeep from rocking too badly over this rugged terrain. It was great fun and everyone enjoyed the experience.
We stopped at the halfway point to get out, stretch, and take some pictures of the Jeep and wondrous landscape. The Drivers were kind to organize a group photo and took all of our devices and snapped away. The dirt we were standing on was the famous and sacred red Sedona earth, filled with iron. The dust got onto our shoes and I told everyone to be proud of your now reddish tinted shoes. That was Sedona dust!!!
The return trip was just as bumpy as our driver skillfully maneuvered our Jeep over the rocks. He spoke about the animals that live in the area as well as the geology of the area (same as the Grand Canyon). He told us Sedona has used up 93% of its legal building land and cannot grow much more or build more homes. That's why the average home costs $500,000 and since the average income for a family in Sedona is only $45,000 per year, most workers live away from the city. We reached the blacktop once again and soon our Pink Jeep Tour was over. The passengers all loved the experience and felt that they accomplished something unique in their lives (and survived).
We had 2 hours for lunch and shopping in this quaint 3-block town nestled beneath these gorgeous red rock sculptures in the distance. One of our passengers, challenged me to join him and his wife for lunch at the Cowboy Club. He was going to try rattlesnake sausage, buffalo meat, and cactus fries. Being in the frame of mind to try new foods, "When in Rome….." I shrugged my shoulders as to say "Why not?" and walked across the street to the Cowboy Club.
The menu said, "Appetizer Sampler: Cactus Fries, buffalo skewers, rattlesnake sausage, with prickly pear sauce." After hemming and hawing, I ordered it. And 15 minutes later, this plate of "food" was set in front of me. The server explained each item and he said to enjoy. Each food was actually delicious. The rattlesnake sausage tasted like a mild pork sausage and by dipping it into the prickly pear sauce, added a mildly hot after taste. The most mouth-watering was the buffalo. It tasted like a tender steak with a mild lime sauce. I ate the entire platter. And 6 hours later (while writing this), my stomach feels great.
I did some shopping, met up with many of our passengers, and soon walked back to the bus. Our next rest stop wouldn't be for 3.5 hours (since there's no stop anywhere in the Desert until Kingman, AZ). It was an absolutely beautiful day in Sedona, 85°, 6% humidity, and a mild breeze. And we were on our way to VEGAS!!!
I took the time to review my 12-page Las Vegas packet with the passengers. My goal is for them to have a plan for tonight and tomorrow. Some booked the Hoover Dam Tour while others began finding exact change for the Deuce shuttle. I then spoke briefly about the history of Las Vegas and showed a 50 minute History Channel video on Las Vegas. The trip on I-40 was long, the land was a big desert filled with tumbleweed plants, dry and flat, with very little scenery. When the video concluded, I let calm pervade the bus for a while. About an hour later, I put on the video, "Sunset Boulevard." Some watched, some read, some slept. Finally, we saw a rest stop in the distance. Was it a mirage or a real form of civilization? It was real so we made a stop!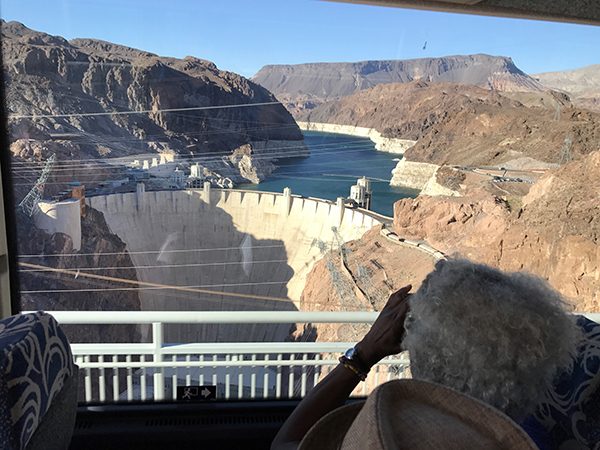 We passed the Hoover Dam 30 minutes from Las Vegas on the Nevada Highway and Buddy slowed down  so passengers could take pictures. He has done an absolutely marvelous job. Not only is he a great driver, he cares so much for the welfare of the passengers. He's constantly keeping the bus clean in every way. Everyone's comfort is his main objective.
We arrived at Las Vegas' New York New York Hotel & Casino at 7:00 PM. After going up to my room, I made plans with 10 passengers to get tickets for tomorrow night and then travel by the Deuce to Downtown Las Vegas at Fremont Street. We got tickets for Cirque du Soleil's "Love" featuring the music of the Beatles. I'm scratching off another from my bucket list.
Downtown Fremont Street under the 500 yard projection screen was wild!!! Four live concert bands were performing on stages, including an Elvis impersonator. Many individual performers displaying their talents included artists, guitar players, and contortionists. Restaurants and bars stood at every angle. And, I'd rather not describe the attire of some young ladies and men. They received their tips taking photos with the gawkers. A fun time was had by all. We took the Deuce back to the hotel and returned after midnight.
Day 10: Monday, July 3, 2017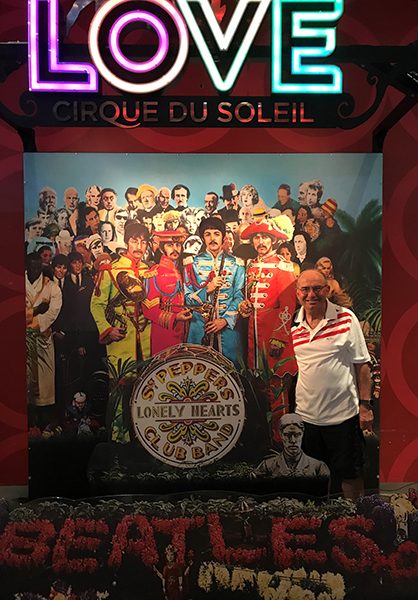 Today was our day in Vegas. I met a friend from my past who moved to Las Vegas 20 years ago and he and I went out for brunch. At 4:00 PM, 5 passengers and I who bought tickets for "Love" were planning to meet and take a nice walk to the Mirage.
It was a relaxing walk to the Mirage. It was hot, but not unbearable. We chose a wonderful Italian Restaurant in the Mirage and enjoyed our dinner. At 9:00 PM, the doors to the theater opened. The next 2 hours whizzed by. "Love" by Cirque de Soleil was the most indescribable show I've ever seen. The spectacular acrobatic performers, the ultra-amazing special effects, and the fabulous music by the Beatles were described by another passenger as a "Magical Mystery Tour." Masterminds created the most unique interpretations of the Beatles songs in movement, acrobatics, and special effects.  It was truly a sensory explosion!!!  I just couldn't believe what I was seeing.
Following the show, we decided to walk back to the hotel. We caught the Fountain show outside of the Bellagio and arrived at the New York New York Hotel after midnight…again!
Day 11: Tuesday, July 4, 2017
At 7:45 AM, many sleep deprived passengers and one sleep deprived Tour Director boarded the bus for our ride into Los Angeles. I asked the passengers to voluntarily jot down (I sent around 2 clipboards and pens) their highlights in Las Vegas. After compiling them, the following were the highlights our passengers shared regarding their accomplishments in Las Vegas:
Saw the Beatles Cirque du Soleil Show, "Love"
Saw Michael Jackson's Cirque du Soleil "One"
Visited Fremont Street in Downtown Old Las Vegas "Under the Giant Projection Screen"
Went to the Mob Museum off of Fremont Street
Walked through the different Hotels including the Bellagio, Caesars Palace, Mandalay Bay, MGM, Mirage, Venetian, Paris, the Wynn, and the New York New York
Accomplished the CSI Experience
Took the half day tour to the Hoover Dam
Saw the show "Legends in Concert"
Saw the show "Motown Hitsville USA" at Planet Hollywood
Ate at Pamas Brazilian Grill at Planet Hollywood
Good dinner on Fremont Street at the Paradise Cafe
Dinner at Portofino's at the Mirage
As we rolled away from Las Vegas, I honored America's Birthday by playing 4 patriotic tunes that included "Yankee Doodle Dandy," "God Bless America," and "God Bless the USA." I was texted 4 more requests from passengers on the bus! Soon, we entered California and I played "California Here I Come" by Al Jolson. I spoke to the passengers about the history of Calico, our next stop. We arrived at Calico Ghost Town and had plenty of time to walk into the Museums, the quaint shops, and the food establishments for lunch. The passengers enjoyed Calico, even though the temperatures were in the upper 90's. At 1:00 PM, we were on the road to Los Angeles. I put on the movie "La La Land" for the passengers to enjoy before arriving at the Sportsmen's Lodge.
The Sportsmen's Lodge is a wonderful and picturesque hotel and the passengers were on their own for the evening.
Day 12: Wednesday, July 5, 2017
I had 8 hours of sleep, and it was greatly needed. The passengers commented that they were out as soon as their head hit the pillow. The "Adult Playground" of Las Vegas does that to you.
I met our Los Angeles Tour Guide from Tucker Tours, at 8 AM and we planned out the day. Chris is a 5-year employee, 25 years old, and is a wealth of knowledge about every section of Los Angeles including Beverly Hills, Hollywood, Sunset Strip, Century City, and Hancock Park. We got off the bus 3 times throughout the day; first, at the Chinese Theatre where Chris actually guided us around to the Dolby Theater, home to the Academy Awards and the infamous Red Carpet. The Stars' "Walk of Fame" and the "Hollywood Sign" were also part of this stop. Chris commented that anyone deserving of a star, and about fifteen new ones are chosen each year, must pay $25,000 each. The money goes to daily maintenance including power washing and cleaning.
We rode all around Hollywood, the Sunset Strip, and Rodeo Drive. Many streets with famous homes are blocked off and it's illegal for a bus to drive down them. In fact, it was Lucille Ball who fought hard for her privacy from tour buses and eventually won in court. The law is known as The Lucille Ball Law.
We arrived at the Farmers Market and Chris told us his top 3 places to eat. I joined Chris, Buddy, and about a third of our passengers at McGees, the first eating establishment to open at Farmers Market in 1934. It served the most delicious corn beef sandwich I've eaten in a long while. It was lean and not salty at all. We then strolled around the Farmers Market and The Grove, shops adjacent to the Market.
We continued our bus tour of downtown Los Angeles and passed places like the beautiful stainless steel Walt Disney Concert Hall built in 2004 and the current Robert Kennedy School, an Elementary, Middle, and High School complex which was built on the exact location of the Ambassador Hotel where Bobby was assassinated in 1968. Our last stop was the Mexican Market on Olvera Street.
It was a magnificent day as Chris and Buddy worked brilliantly as a team to teach us more than we ever knew about The City of Angels. Buddy commented that Chris, by far, was the most complete and knowledgeable Los Angeles Tour Guide. The passengers greatly appreciated Chris's knowledge and delivery of information. He was very interesting to listen to. I took 10 pages of notes!
We returned back to the Sportsmen's Lodge where they offer a free shuttle to Universal Studios including the Universal Studios CityWalk that borders the park. CityWalk features many fine restaurants, shops, and a food court and it's free to walk around. Some passengers and I took the shuttle. We had a light dinner, did some shopping, and returned back to the Lodge in the early evening.
It is so heartwarming how we have gelled as a group with everyone caring for and respecting each other. Passengers make it a priority to meet time deadlines every day. We are all having a tremendous experience.
Day 13: Thursday, July 6, 2017
We departed LA right on time and drove to the Santa Barbara Courthouse. Cubby took us around for an hour telling us how the Courthouse was designed to reflect a Spanish castle and explained the meaning of the beautiful frescoes that adorned their main meeting room.
Our next stop was the Santa Barbara Mission. I gave each passenger a brochure with a map and they were on their own to explore. It was an easy tour to follow as signs always pointed you in the right direction. There was an 18 minute video and then an easy walk. The walk took us to the mausoleum, cemetery, church, and museum. It was very solemn and peaceful there.
The weather continues to be perfect. Temperatures in the mid-80s with low humidity. Santa Barbara is another beautiful city that many passengers would choose to live. They've said that about most cities on our tour thus far.
We boarded the bus for our 40-minute trip to Solvang and lunch. Buddy was not feeling well so, after dropping the passengers off in this quaint Scandinavian style town, I accompanied Buddy to a nearby hospital to get checked out.
I stayed with Buddy and kept in touch with the passengers via text and phone from the hospital. Tests were done and since the doctor could not guarantee that Buddy was 100% well enough to continue driving, we started developing a plan B. Naturally Buddy was upset. As he lay in the ER, he kept thinking of possible solutions and the welfare of the passengers.
I've only been with Starr for less than 2 years and the work ethic, connections, and the ability of management and employees to solve problems in a timely manner ceases to amaze me. Within 2 hours, Starr secured a new Starr bus driver (Tom Lardani), a plan to have him meet us in San Francisco, hotel rooms for both Buddy and Tom in Solvang, and most important, transportation for our group from Solvang to our hotel in Santa Maria and then transportation from Santa Maria to the Hearst Castle and onto San Francisco on Friday.  As far as the passengers were concerned, our itinerary will continue as planned and they were given 2 extra hours in Solvang while we waited for the Silverado driver/bus that our company hired.
When I knew Buddy was stable, I used my Lyft App to get a ride to where our passengers were waiting. I wanted to be with them when the Silverado Bus arrived. After boarding the bus, I directed the driver to the hospital where our Starr Bus was parked. Luckily, many passengers volunteered to help transfer the luggage from our Starr bus to the Silverado Bus. We then realized the greatness of porter service at each hotel and not having to drag our heavy luggage around!
We got settled in at the Radisson in Santa Maria at 7:00 PM and many of us had dinner in the hotel's restaurant. The passengers, despite the upheaval, were in good spirits, concerned about Buddy's health, and content that there will be no gaps in their trip.
This day, therefore, can be summed us as "Great teamwork all around," by Starr, Silverado, and Passengers on this marvelous Cross Country Adventure. We all love Buddy, will miss him, and wish him good health!!! (Note: Buddy made it back home – via Greyhound as he doesn't fly – and is feeling much better. He hasn't been released to drive yet but we expect he will be soon!)