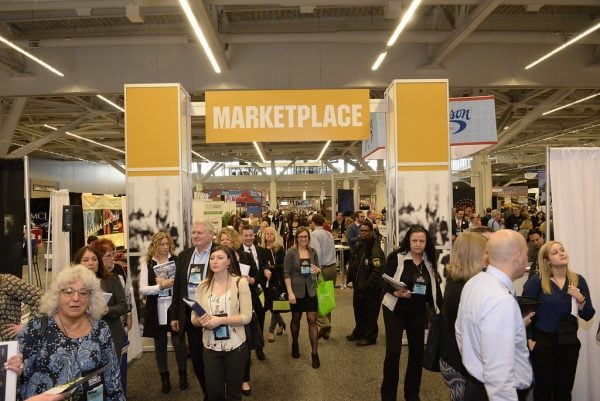 I just returned from the American Bus Association Annual Marketplace #ABACleveland and although it started on a Saturday morning and lasted 4 full days, it was worth it and here's why:
It's all about networking.
Meeting people in your industry is very valuable. Sharing "war" stories and successes is a wonderful thing because you may adopt an idea to your business that works! Or, you might have been thinking of an idea that didn't work for someone else – this is a way to avoid making mistakes! Building a network also helps increase your business. Industry friends are more likely to refer your company. Worse case scenario: you build friendships to last a lifetime. Case in point I sat next to someone on a FAM tour many years ago and not only do we both use the other's company (his a tour planning company and mine a charter bus tour company), now we call ourselves friends and will always have a special connection.
Get away from your office and think big.
Being stuck at our desk day after day sending and responding to emails and managing the day-to-day grind often doesn't allow us to "step outside" and generate business building ideas. Being away from your desk on a business trip allows you to be creative and brainstorm (with yourself or others) ways to improve your business. On this last trip, I developed two new bus tours that I am very excited about sharing with my customers.
Visit a destination you may not have otherwise visited.
Who knew I would love Cleveland as much as I did! The people were friendly, the city was clean, and the food was phenomenal. My hotel and the Convention Center were brand new, built for the 2016 Republican National Convention. Some surprise destinations I have visited and enjoyed were Branson, Indianapolis, Kansas City, Colorado Springs and so many more. After visiting new destinations, I use the information I learned to help me plan future bus trips.
Learn the newest developments in your industry.

Here I am attending a "Women In Buses" seminar. Another great avenue to network and learn at the same time.

Even though I get emails (and snail mail) from lots of organizations and Travel Partners, I am not always "in the know" about the latest innovations and trends. Attending an industry convention allows me to learn the latest and greatest things I need to know to improve my business and make it run efficiently. I can't always assume that I know what's going on in and around the charter bus and tour industry but attending conventions and industry events keeps me abreast and "in the know."

Take the opportunity to thank your Travel Partners.
We do lots for our Travel Partners but there are so many out there that are doing wonderful things for our company and our guests. Thanking someone over email is one thing but thanking them in person brings it to a completely different level. I like the personal interaction and being able to put a smile on someone's face.
So next time a convention alert pops up and you are thinking you're too busy or don't have the budget to attend, think about those benefits and maybe, just maybe, you'll change your mind.
Sandy Borowsky, VP Marketing