On Saturday, December 21, 2019, I traveled into New York City as a tour guest on Starr Bus #207 with  skilled Bus Driver, Andrzej Prawica. Our itinerary provided us with the magnificent Christmas Spectacular featuring the world famous Radio City Rockettes sandwiched between a generous five hours to explore the dazzling displays and holiday magic that only New York City can provide this time of year. Being that the temperature was below freezing, I decided to spend my entire day in the Rockefeller Center vicinity; 5th and 6th Avenues between 49th and 51st Streets.
Radio City and NBC Studios are the cornerstones of Rockefeller Center. Rockefeller Center was named after billionaire John D. Rockefeller, Jr., who leased the space from Columbia University in 1928 and developed it beginning in 1930. Since the Great Depression hit America in 1929, and money was difficult to come by, Rockefeller had the choice to abandon development of this property or finance the entire project himself. He choose the latter. Between loans from the Metropolitan Life Insurance Company and profits and sale of company stocks from his oil business, Rockefeller was able to supply the $250 million price tag in 1930 to commence construction. The buildings were completed and opened in 1939. The entire project employed over 40,000 workers.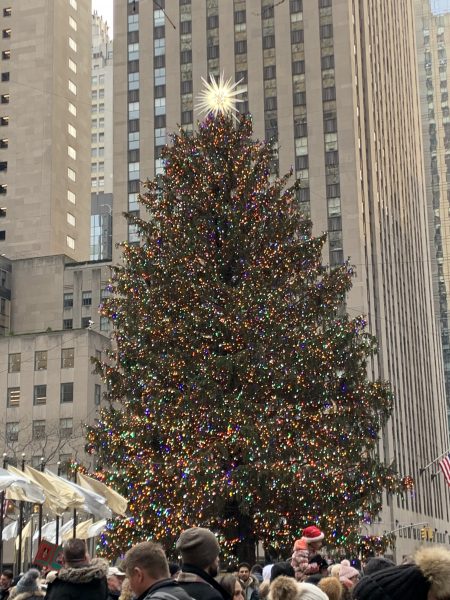 I first walked to the Rockefeller Center Christmas Tree. Adorned with over 50,000 colored LED lights stretching some five miles in length, this magnificent Norway Spruce from the city of Florida, New York, stood tall and proud, especially with its brilliant Swarovski Star planted at the top. People were everywhere snapping pictures and taking selfies. Ice skaters were giving their best efforts on the famous Rockefeller Center Ice Skating Rink below. The City was alive with people from all over the world as many languages and accents could clearly be heard.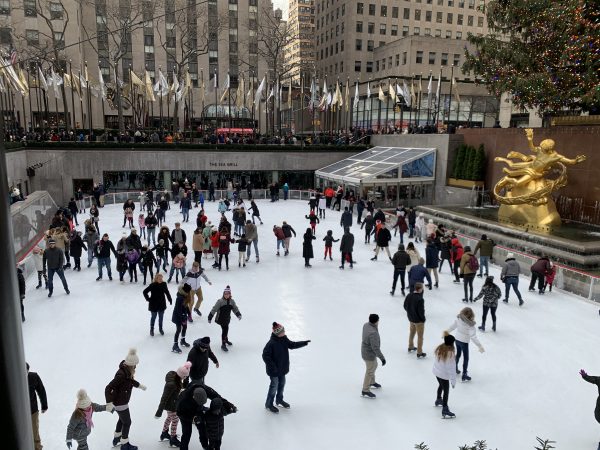 It was a bucket list item of mine fulfilled twenty years ago to ice skate under the Rockefeller Center Christmas Tree. While watching the skaters from above, many fond memories from that day came roaring back. Being a decent ice skater, I remembered skating with Santa Claus and dodging novice skaters as they slipped and fell. My exhilaration came from feeling the cold air against my face and staring up into the beautifully lit Christmas Tree and gold statue of Prometheus just beneath it. Today, you can wait on line and pay general admission to skate for 90 minutes on this prime New York real estate for $38 per person during the holiday season. Skate rentals are an additional fee. However, I learned that you could enter the ice from the very special VIP entrance, located in the basement of NBC Studios, for a mere $175 for 90 minutes (skate rentals included and no line to wait on). I also learned the VIP admission comes with free hot chocolate.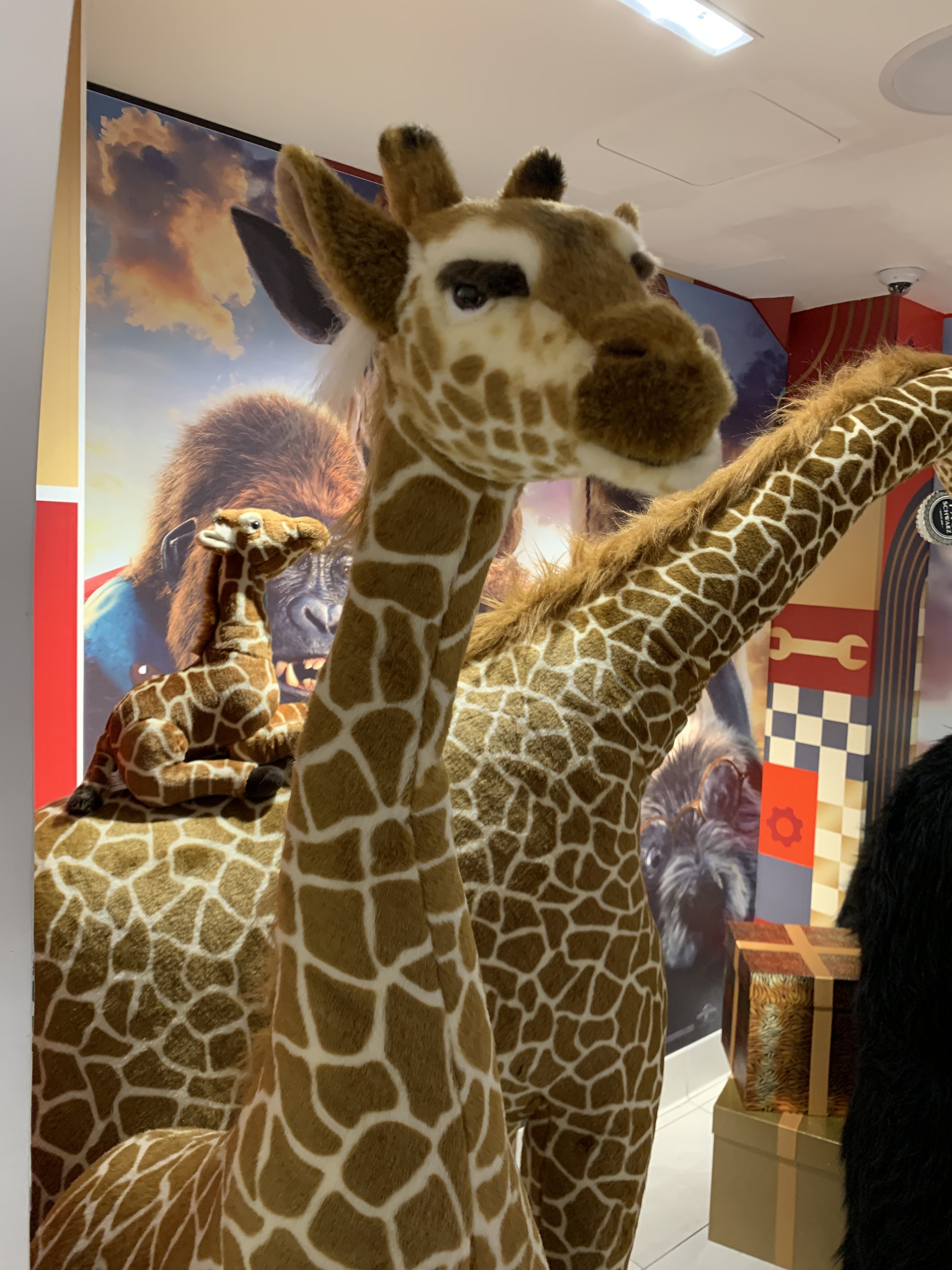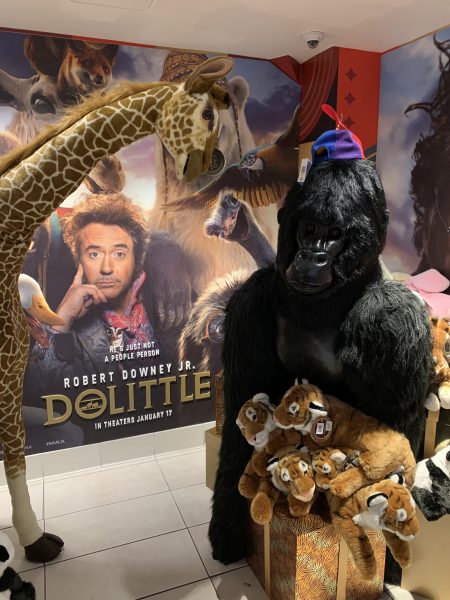 Last year, FAO Schwartz reopened their infamous toy store in Rockefeller Center. At 10:30 in the morning, there was already a fifteen minute wait outside to get into the store. I decided to wait and soon entered FAO Schwartz. At first glance, I was faced with giant stuffed giraffes and pandas lurking above me on platforms. Salespeople were demonstrating items from magical colorful drawing boards to flying objects that soar in the air. The stuffed animals placed strategically around the store are FAO Schwartz's trademark and prime sellers. Three floors of toys including a section for Legos and a Build A Bear Workshop provide children from ages "one to ninety-two" with smiles, dreams, and memories. It was a fun experience for me.
I was feeling a bit hungry so I walked into the NBC Studios Building for lunch. I learned there were many fast-serve restaurants one level down in the basement. But first, the NBC Studio Gift Shop was directly in front of me on street level, so I decided to walk in. There was much excitement going on today at NBC. This evening, Eddie Murphy was scheduled to host SNL (Saturday Night Live) with special musical guest, Lizzo. I learned that NBC creates a Tee Shirt commemorating each SNL show with the date, host, and musical guest printed on it. However, tonight's shirt had been sold out within minutes of being placed on the floor. The staff was putting an additional number of shirts out for sale at 7:00 PM tonight, but I knew I'd be leaving New York at 5:00 PM. I would have loved to have purchased this one of a kind shirt (despite its $40 price tag) but couldn't. I had a very good lunch consisting of chicken noodle soup and a half sandwich for under $10 (not bad for New York and Rockefeller Center). By the time I finished lunch, Radio City had opened its doors letting people into the 1:30 PM matinee.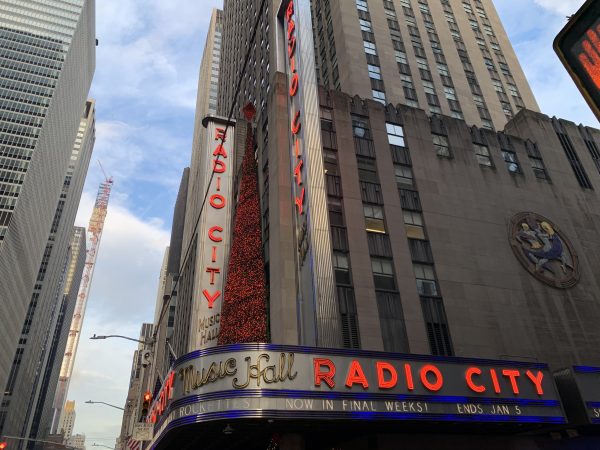 Radio City is arguably the most iconic Music Hall in the world and is the largest indoor theater with a seating capacity of 6,000. Radio City was built with funds supplied from both John D. Rockefeller and the Radio Corporation of America's (RCA) and was opened in 1932. The Art Deco Masterpiece was designed by Donald Deskey. The magnificent stage is 100 feet in length and 60 feet in width and still features the original hydraulic-powered elevators that allow for all the spectacular special effects used in staging their performances. In 1999, Radio City underwent a seven month, $70 million dollar restoration.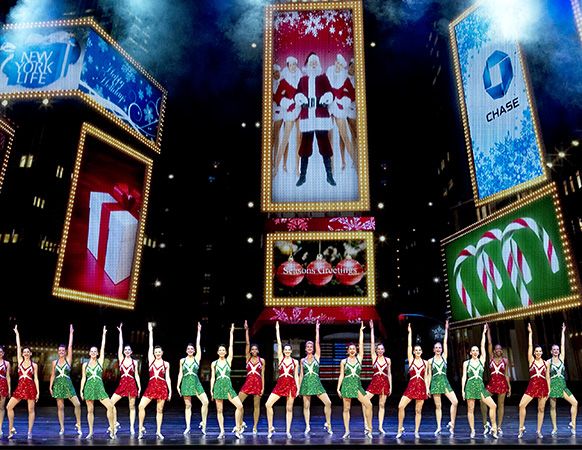 The Radio City Rockettes, as you would expect, were the highlight of the Christmas Spectacular. The first Christmas Show featuring the Rockettes occurred in 1933. At that time, a first- run movie was featured at Radio City followed by a 30 minute live stage performance featuring the Rockettes. In 1979, Radio City removed the movie and created the format, a 90-minute live stage show, that still exists today. The high-kicking, exact precision, and perfectly choreographed dance steps define the Rockettes. Adding brilliant costumes and creative scenarios, one sits in awe and amazement whenever this talented group of ladies perform. A well deserved standing ovation at the show's conclusion was eagerly provided by the audience. I was pleased to see that the Rockettes "March of the Wooden Soldiers" segment continues to be performed year after year and is, for me, the highlight of the show.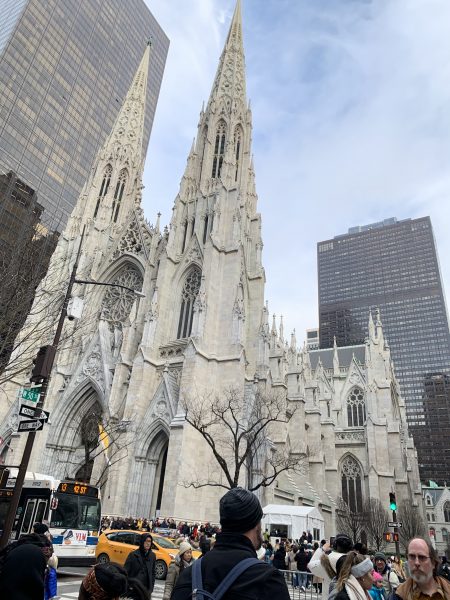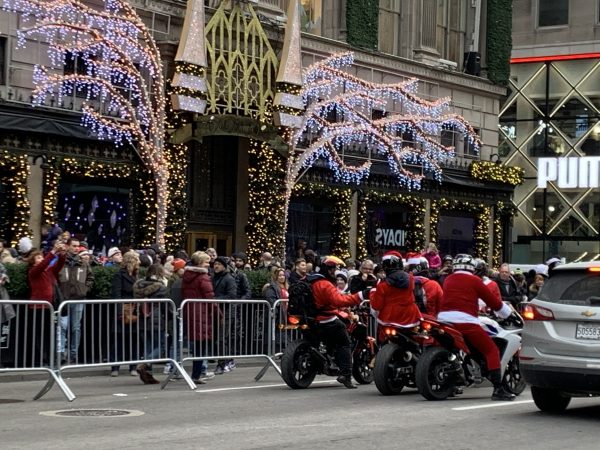 Following the Radio City Spectacular, I meandered around 49th Street to 51st Street taking in the larger crowds around the Christmas Tree. Tourists from all over the world were dancing in the streets (since the streets were closed to vehicular traffic) to the sounds of "Rockin' Around the Christmas Tree." I walked towards the majestic St. Patrick's Cathedral and the beautifully decorated windows of Saks Fifth Avenue. It was there I saw and heard motor-cyclers dressed in Santa Claus outfits roaring down 5th Avenue. After stopping into a few stores, it was time to return to the Starr Bus for our relaxing bus ride home.
It was a magnificent Christmastime visit into New York City, one that encompassed all the senses and brought back magical Christmas memories from years past. I highly recommend traveling into New York City during the Holiday Season, and especially with Starr. Starr offers lots of different bus trips to New York City. Creating new memories at Christmas is magical for children of ALL AGES.