Our September 2023 Cross Country trip just returned with Gene Gray at the front and Fernando Berrios at the wheel! Our Starr Driver and Tour Director (Fernando and Gene, respectively) led 47 travelers across our great country over the course of 27 days. This was Gene's 6th trip and the 2nd for Fernando! Seeing their smiling faces when the trip returned was proof enough that it was a success!
On each of our trips, the Starr Tour Director is responsible for providing a day-by-day recap of every aspect of the trip. Gene's reports always offer a thorough and real retelling of their adventures. It's clear that Gene goes above and beyond to make sure his tour guests are well informed and entertained but you can see for yourself.
For your reading pleasure, here are Days 1-14.
The second half of their amazing "Journey of a Lifetime" can be found here.
Overnight Tour Summary Report – Cross Country 2023
Date: September 3-29, 2023
Tour Director: Gene Gray
Driver: Fernando Berrios
Starr Bus #: 207
Day 1: Sunday, September 3, 2023
In Bensalem at 8:30am, people were bustling in all directions like Christmas in Rockefeller Center. It was a beautiful embarkation day! Our bus originated in Hamilton, NJ and we were joined by four shuttles of travelers from Maryland, Woodbridge, Toms River, Cherry Hill, and South Philadelphia. After boarding, we had a total of 47 Cross Country tour guests on board, all with great anticipation for our trip!
Starr's 2nd generation owners, Alan and Renee Glickman, were Starr's VIPs in attendance and provided a grand send off for our 27-day journey. Alan & Renee wished us a safe trip, thanked all the tour guests, and stood for the playing of the "Star Spangled Banner" sung by Whitney Houston. AND WE WERE OFF!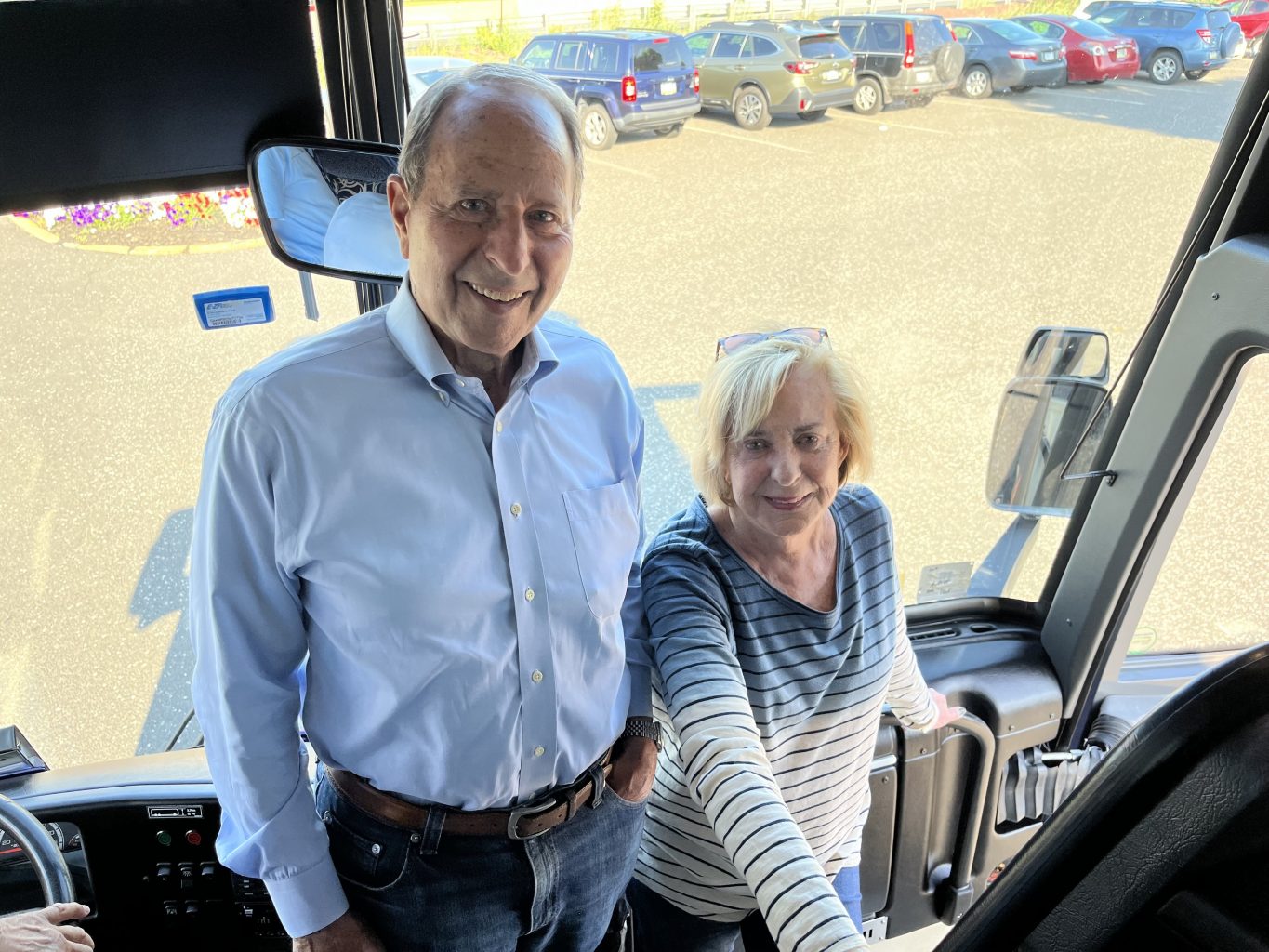 I began by welcoming everyone and introducing myself and our driver, Fernando Berrios. I then led a short orientation by reviewing the highlights for each day of the trip as each tour guest followed along in the 29-page booklet I created. I also passed around "Celebration Sheets" for tour guests to write down any event they are celebrating along with a favorite song. Time flew by and we arrived at our first rest stop (of many!), the Lawn Service Area on the PA Turnpike. After a short stop, we were back on the bus and continued west.
After some quiet time, just prior to our arrival at Hoss's for lunch, I honored our Military Veterans on board by thanking them for their service and playing the Armed Forces Medley. Hoss's seated all 49 of us within minutes and served us with equal efficiency. Everyone enjoyed their lunch. Hoss's salad, soup, and dessert bars were a popular luncheon item.
Following lunch, I played the 3-hour ABC Special from 1979 titled "Elvis," telling the detailed story of his life from age ten through his 1969 comeback tour in Las Vegas. The movie features his love for his mom, Gladys, his tour of Germany, his life with Priscilla, and his comeback as a singer in the middle to late sixties. Most watched with interest knowing that we'll be visiting Graceland on Wednesday.
We arrived at our afternoon rest stop for a short break before continuing westward towards the Drury Inn near Columbus, Ohio. We arrived in time for everyone to enjoy the "Kickback" that features alcoholic drinks and a buffet. Our travelers are now on their own to enjoy their first night after a very successful start to our trip.
Day 2: Monday, September 4, 2023
Labor Day started off with a lovely Drury Inn breakfast buffet. After all luggage was accounted for, and all tour guests boarded our bus, we departed for Louisville, Kentucky.
I began today's ride by playing three songs from the great Jimmy Buffet who sadly passed away just days before our trip departed. I played "Come Monday," his Labor Day song, "Take Me Out to the Ballgame" recorded at Fenway Park, and, of course, "Margaritaville". Our guests enjoyed the tribute, especially the few Parrotheads on board.
Following the music, I played the 2010 Disney movie, "Secretariat," the story of the greatest Kentucky Derby and Triple Crown winning horse of all time. We will be doing the Backstretch Tour of Churchill Downs tomorrow. Everyone watched with great enthusiasm and applauded loudly when Secretariat won the Kentucky Derby and then the Belmont Stakes to earn the Triple Crown. The movie ended just as we pulled into the Love's Service Plaza, our rest stop. We went inside dancing and smiling from the movie.
We arrived at the Louisville Slugger Museum & Factory ahead of schedule and went right into the lunchroom where our boxed lunches were waiting for us. The lunches were very good and included a sandwich on a hoagie, a chocolate chip cookie, a bag of chips, and a bottle of water.
The tour of the Museum was much improved compared to my previous visits. They highlighted 5 stops in the production of a baseball bat. Each stop now has a video displayed on large monitors with sound loud enough to overcome the loud sounds of the machinery in the background. The tour guide simply enhanced the videos and made this a most fascinating experience. We were surprised to see workers diligently making bats on Labor Day.
Our next stop was at the Prohibition Craft Spirits Distillery. The people working behind the bar welcomed us and invited everyone inside to relax, perhaps order a drink, and use their facilities. Upon entering, we saw a large bar spanning the length of the elongated room with a mirror behind it flanked by a multitude of bottles filled with different alcohol. The scene appeared to be taken from the old saloons in the Wild West – only missing the bullet holes in the wall. We milled about before Josh, our expert tour guide, introduced himself and took us to a large area behind the bar to begin our tour.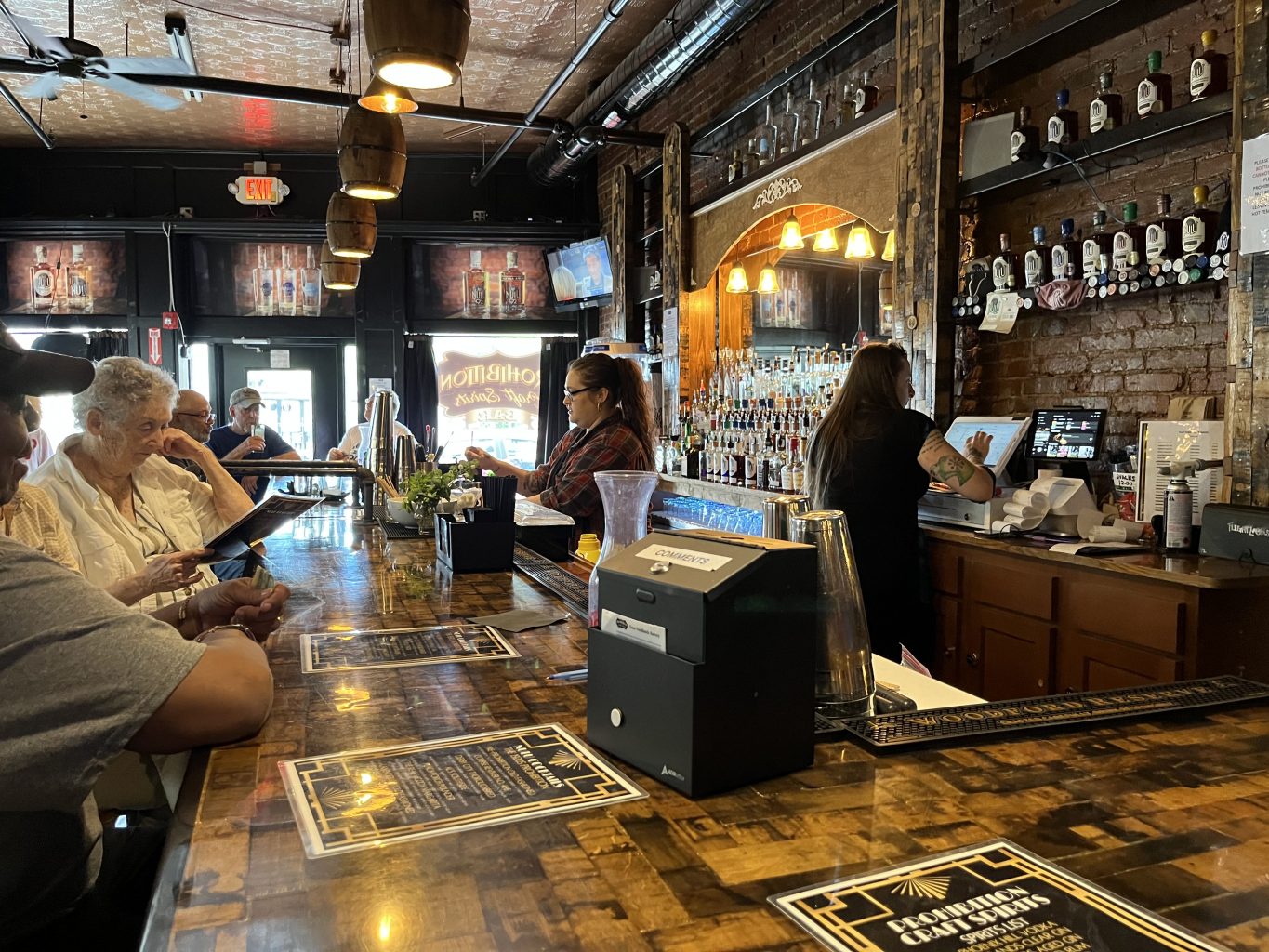 Josh spoke about the history of the distillery along with prohibition. He emphasized the bourbon making process and showed us the room that housed hundreds of barrels filled with 4- to 8-year-old aged bourbon almost ready to be opened and sold. Josh imparted a lot of information and was extremely knowledgeable about his bourbons. We then sat at a table set up with cups and napkins for our taste testing experience. Josh and a young lady, who we later found out was Josh's wife, proceeded to fill five plastic shot glasses, one at a time, and provided a description of each bourbon. One tasting of rye was also included. The bourbons were extremely strong, so strong that a slight sniff of the liquid sent a rush burning through your nose and up into your brain! A taste sent the same sensation around your mouth and down your throat. Everyone had a great time in this relaxed atmosphere. One sample of bourbon was extremely high – 114 proof. Not everyone indulged, but during this experience, we became very friendly with each other! And as you can imagine, the room got louder as more shot glasses were filled!
The Prohibition Craft Spirits Distillery was an extremely friendly place, run and owned by two families who were extremely grateful for our business. Josh sold a few of us bottles of alcohol and thanked us all for coming before saying goodbye.
Our hotel for the night, the Drury Inn, was just a short ride away, as we were filled with laughter and lifted spirits. Our tour guests thoroughly enjoyed today and shared many compliments. Upon arrival at our hotel, I handed out the room keys and the tour guests were on their own for dinner and relaxation. Everyone was now looking forward to a long day tomorrow beginning with the horses in Churchill Downs and culminating with a fabulous show at the Grand Ole Opry in Nashville.
Day 3: Tuesday, September 5, 2023
The odd thing about this morning is the tour guests had access to two breakfasts; one at the Drury Inn and one at the Backstretch Tour at Churchill Downs! Our wonderful Churchill Downs guide, Murray, was waiting for us as we pulled into the parking lot adjacent to the steeple.
It was a cool, sunny, and energetic day in the backstretch. Groomers were busily feeding, bathing, and grooming the many horses in residence. Two-year-old horses were galloping on the Churchill Downs track in preparation for racing when they become a three-year-old in 2024. We were treated to a delicious breakfast before finishing our backstretch tour with a group picture in the iconic Kentucky Derby Starting Gate.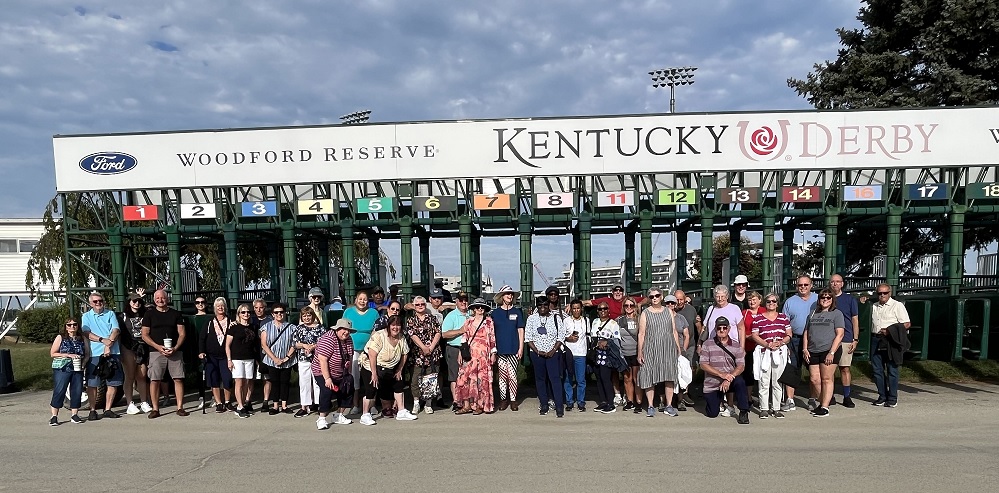 Murray was a magnificent guide sharing his knowledge with us before parting ways. Next, hopped aboard our bus to travel the very short distance to the entrance of Churchill Downs.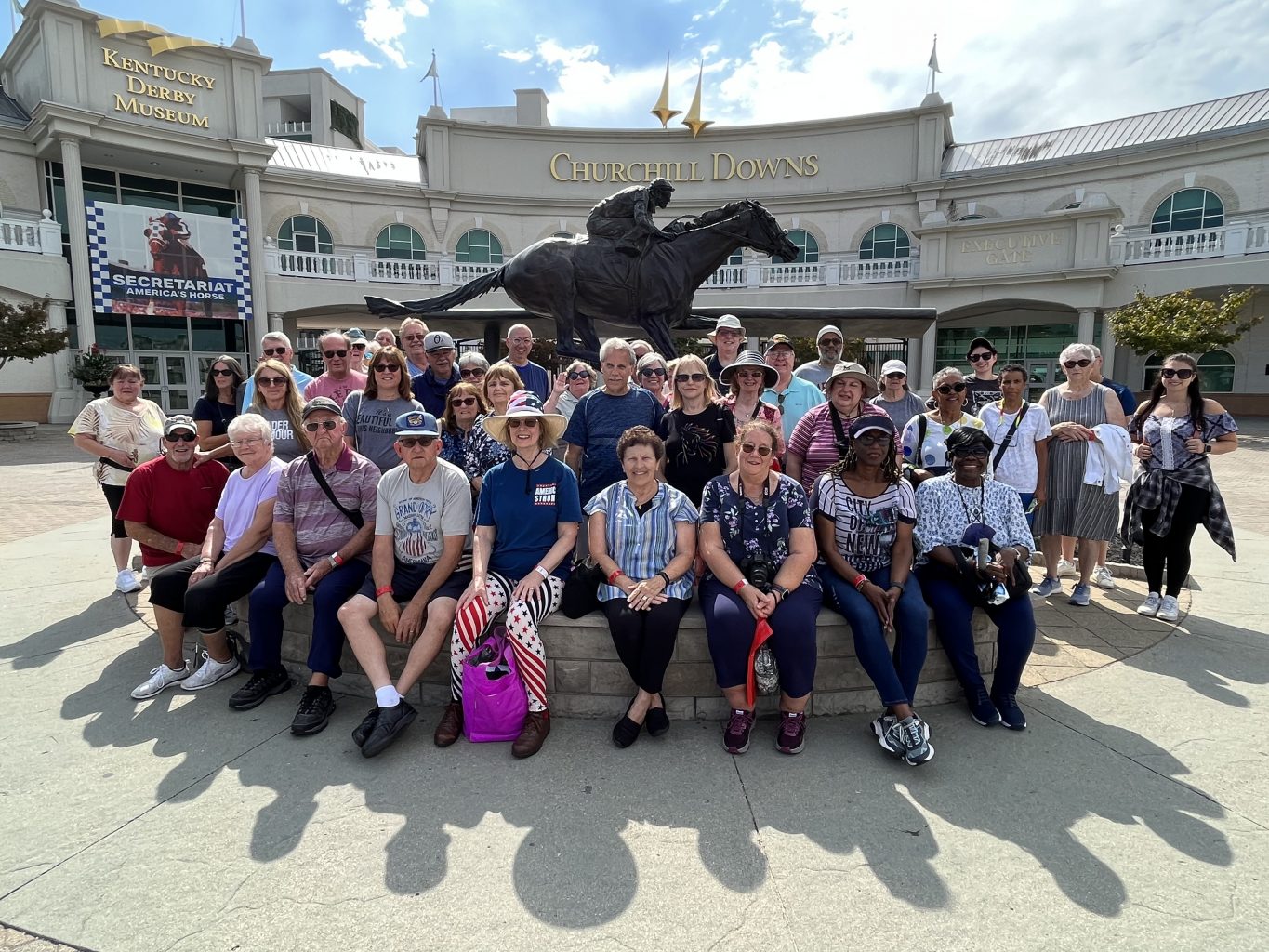 The two famous spires that are designated as National Landmarks greeted us as we pulled up in front of the entrance. Also visible was the monument and burial place of Barbaro, winner of the 2006 Kentucky Derby. Our tour of Churchill Downs began with our guide, Ally, who led us out to the track. Ally told us many stories about individual Derby winners along with details of how the track is maintained. We witnessed the track being smoothed over every hour (similar to the infield in baseball every few innings) and watered – just enough to provide the perfect steady ground to maximize a horse's speed. The tour was fascinating and enjoyed by everyone.
We saw the fifteen-minute theater-in-the-round film, a 360° racing experience that had us at the edge of our circular stools. It highlighted the the magnificent Kentucky Derby winners, powerful Kentucky Derby races, and a morning 'til night overview of Derby Day. After, we had time to look through the museum and purchase keepsakes from the gift shop. We departed Churchill Downs and said goodbye to Louisville after taking another group photo, this time in front of Barbaro's statue.
We were on our way to Music City, Nashville, Tennessee. Before arriving in Nashville, we entered the Central Time Zone and stopped for lunch in Smith's Grove, Kentucky. In Smith's Grove, we had a choice of five eating establishments and were able to eat, relax, talk, and return to the bus within an hour.
We arrived at the Hyatt Place Opryland in Nashville on time to relax for an hour in our rooms before traveling the short distance to the Gaylord Opryland Hotel.
From personal experience, I know that the Gaylord Hotel is huge and very hard to navigate! I made sure each tour guest had a color map of the Resort and I provided an orientation walking tour from the Cascade section to the Delta section. The tour guests marveled at the beauty of the Gaylord Resort, in many places replicating a rain forest. A few guests rode the Delta Flatboats through the winding indoor river. Everyone enjoyed their time here and found their way back to the bus for the short ride to the Opry.
After taking pictures of the Grand Ole Opry and entering this iconic music venue, we found our great seats on long, cushioned benches, a comfortable and relaxed setting.
The show, as always, was extremely unique. Despite not recognizing any of the performers, the music was fabulous, and the singing was dynamic. Charlie McCoy, an elderly Country Music Hall of Famer who recorded with Elvis and many others, received a standing ovation for his harmonica rendition of "Orange Blossom Special". The second half of the show was being filmed for television and starred a young country singer named Tyler Childers. They were promoting his new album that was set to debut on Friday. Everyone enjoyed their experience in this iconic venue.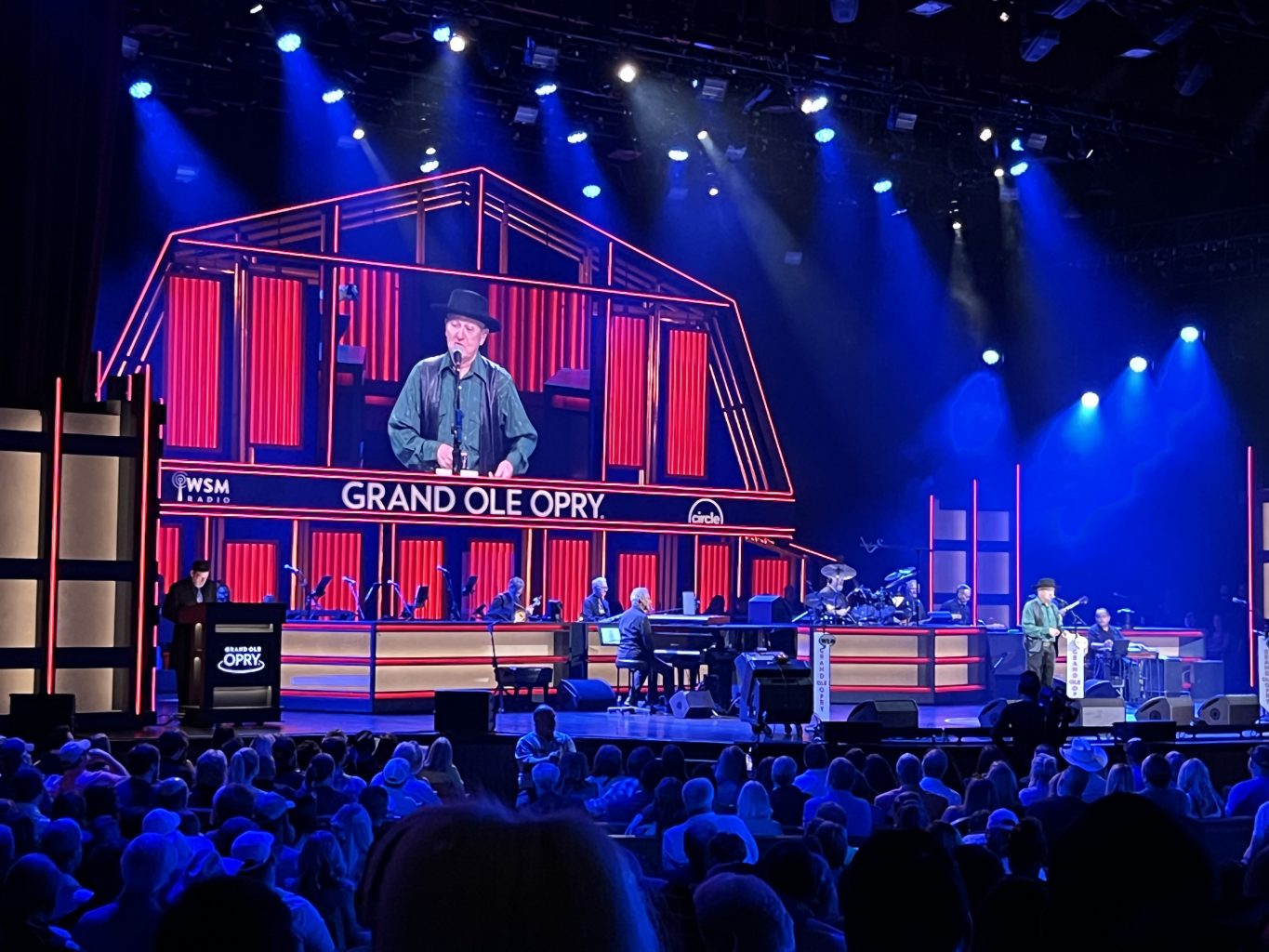 Tomorrow will be all about Elvis!
Day 4: Wednesday, September 6, 2023
After breakfast, we departed for Graceland. I began our ride westward by playing the song "Graceland" by Paul Simon. I then took requests for favorite Elvis songs. Following the music, I showed the 2022 movie "Elvis" starring Austin Butler and Tom Hanks. This powerful movie featured the segregated politics of the 50's, the fleecing of Elvis by his agent Colonel Tom Parker, and Elvis's struggles as a person. Many enjoyed this movie and were happy to have seen it.
We stopped at the Patsy Cline & Chet Atkinson Rest Stop for a short break before arriving at Graceland.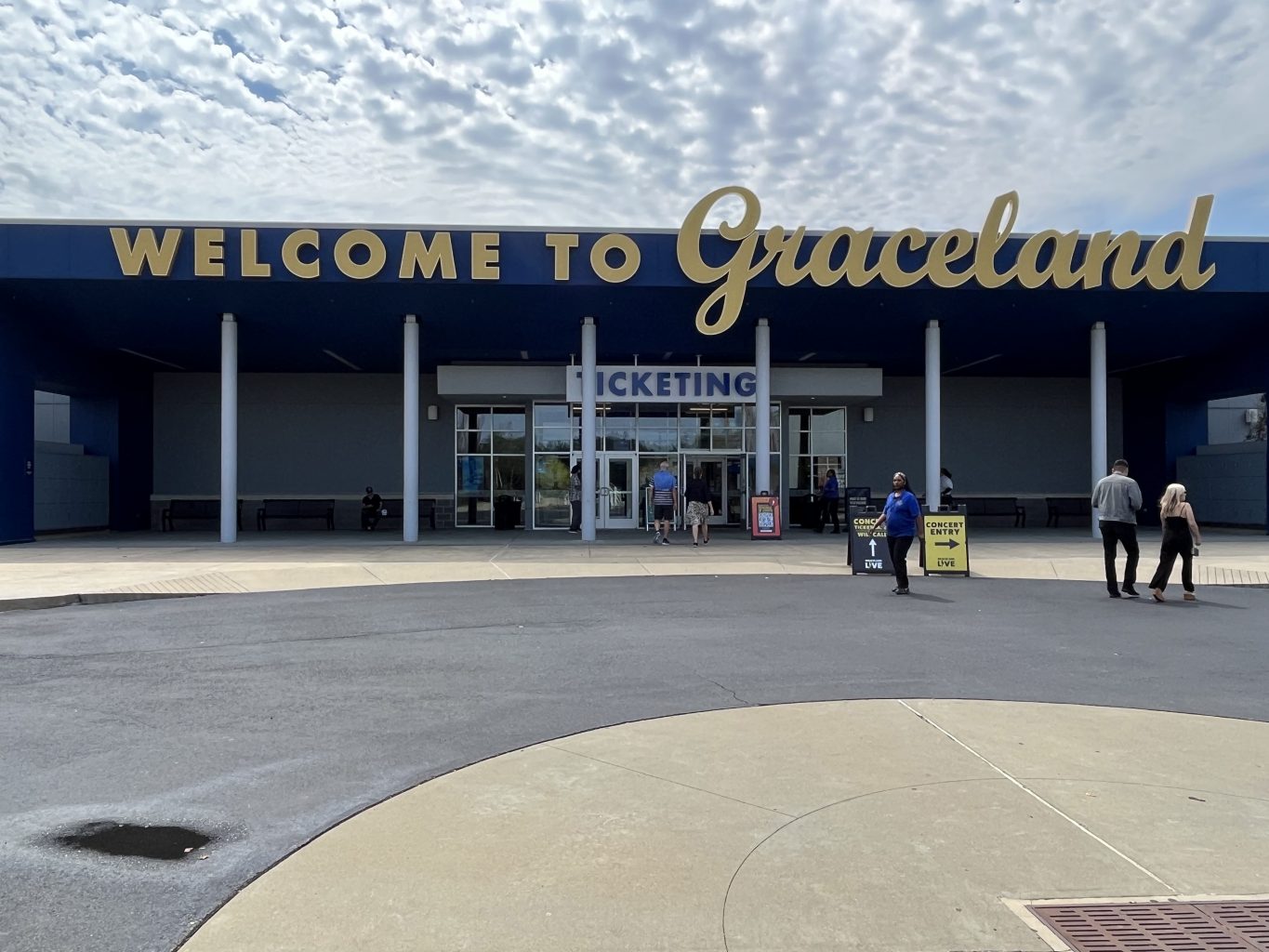 It was a great day to be touring Graceland as there were no crowds, no lines, and no wait time. Lucky us! We had the choice to eat lunch at either Vernon's Smokehouse or Gladys's Deli with our $15 vouchers. After seeing a seven-minute introductory film on the life and greatness of Elvis, we took the shuttle to the mansion where there was no line.
Most everyone took an iPad and headphones to listen to the tour of the Mansion and grounds. We saw Elvis's living room with the ten-foot white sofa. We passed through the kitchen and down the stairs surrounded by mirrors on all sides. We stepped into Elvis's TV room and billiards room, decorated with unique artifacts, wall coverings, and furniture. We walked up the stairs to the famous Green Room where Elvis recorded an album including his hit "Suspicious Minds."
Once outside in the back, we saw horses grazing. We walked into Vernon's office building and the Trophy Building that housed information on Elvis's Family Tree with fabulous photographs of his entire family. Another building housed pinball machines, a piano, comfortable sofas, and a full-sized racquetball court. The final leg of our tour took us past the gravesites of Elvis, his parents, his daughter, Lisa Marie, and his grandson, Benjamin. Some tears were flowing.
The guests enjoyed the many museums, gift shops, and the opportunity to walk through Elvis's airplanes, one named The Lisa Marie. They also enjoyed the new exhibit featuring costumes, photographs, and video segments from the 2022 film, "Elvis" starring Austin Butler and Tom Hanks. The skies opened up a few times throughout the afternoon delaying our departure from Graceland until all tour guests could walk back safely to the bus.
The Doubletree in Memphis was ready when we arrived with a warm chocolate chip cookie for each of us. Many tour guests walked the two short blocks to iconic Beale Street for dinner. I received a video in my text messages of many tour guests dancing to blues/rock music at a Beale Street restaurant. Others remained at the Hotel to eat in their restaurant, The Union Tap and Grill. Today was another fabulous day enjoyed by everyone.
Day 5: Thursday, September 7, 2023
After breakfast, we traveled less than a mile to the Lorraine Motel to pay our respects to Dr. Martin Luther King. There was much construction taking place around the Lorraine Hotel, but we were able to take many pictures and experience this hallowed site with respect. Was his assassination a conspiracy? We discussed that idea as well. April 4 was the 55th anniversary of his death.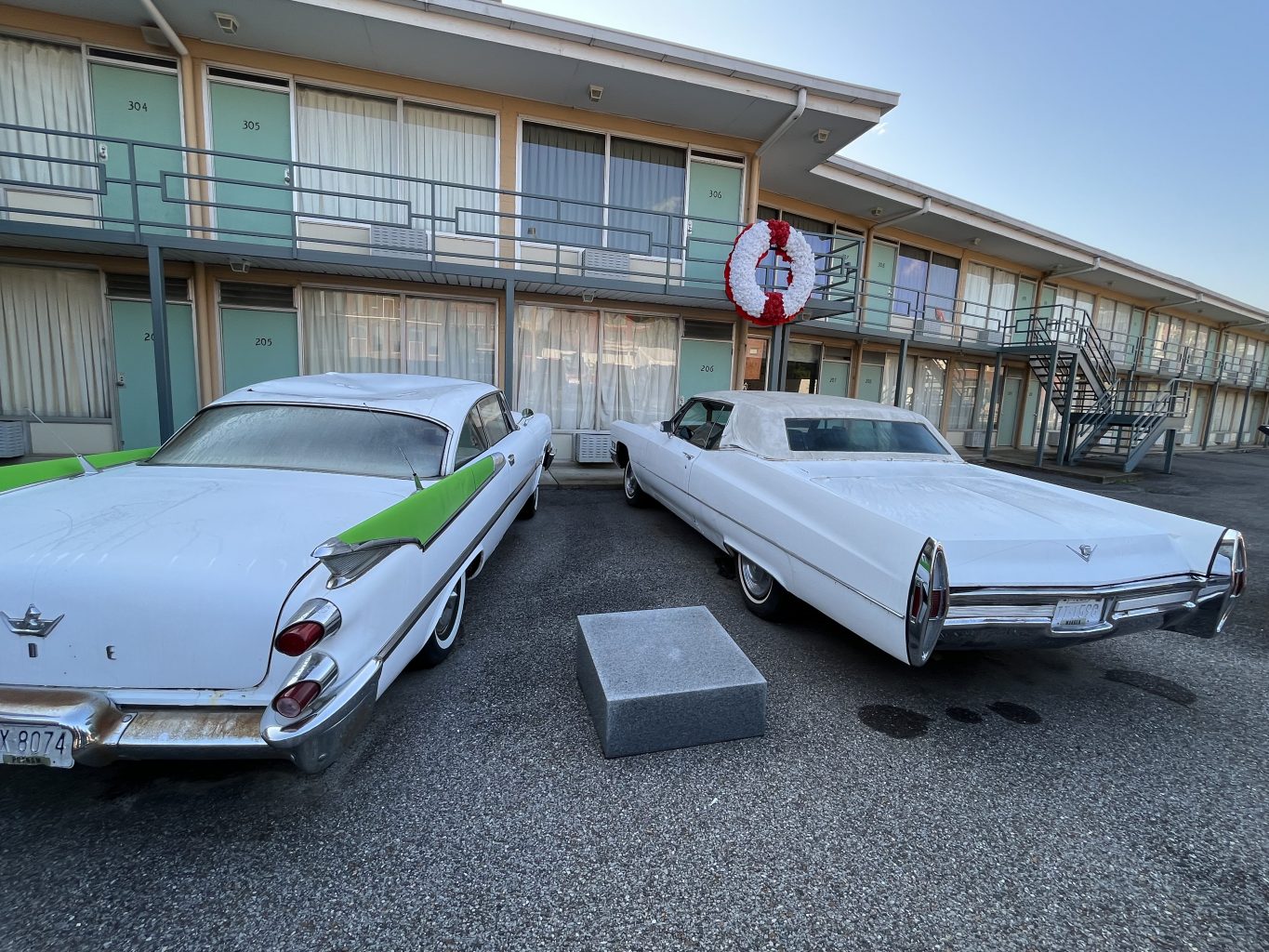 Back on the bus, we crossed the mighty Mississippi River into Arkansas. Today was a longer day of travel as we traveled to Oklahoma City. I played the songs "Abraham, Martin, and John" by Dion and "Old Man River" by Paul Robeson. The scenery in this part of the country is flat with green trees and some green fields. This scenery continues in Arkansas. I played the Academy Award winning movie, "Green Book," based on a true story of a black concert pianist and his driver/bodyguard negotiating the Jim Crow laws in the South. The Green Book was first written in 1936 by Victor H. Green as a travel guide for the black traveler. State by state, the Green Book lists places that were safe for black people to eat, sleep, and attend. It was updated every year. The guests thoroughly enjoyed the movie that tugs at emotion, joy, racism, and ultimate respect.
We made a short stop at a Love's Service Stop and continued west on I-40. We stopped for lunch in Alma, Arkansas, just 13 miles from the Arkansas-Oklahoma border.
We entered Oklahoma as the song of the same name rang throughout the bus. We are beginning to witness a change in terrain with a drier climate, shorter trees, and farms on either side of I-40. Temperatures hovered near 100°. But it was a dry heat and felt comfortable (to me at least). After another stop at a Love's Service Area, I played a few songs related to Oklahoma such as "Okie from Muskogee" by Merle Haggard before we arrived at the Hampton OKC Northwest hotel, exactly on schedule. We were greeted with keys, luggage service, and a bottle of water, which felt like gold in 100° temperatures.
Tonight's dinner arrangements consisted of an optional one-mile bus ride to Penn Square Mall along with a few eating establishments located adjacent to the Hotel. The Penn Square Mall is a large mall with a food court with many options for dinner. The Cheesecake Factory and a wonderful Italian restaurant were also very popular with our guests. We now look forward to tomorrow as we begin our journey on iconic Route 66 and arrive deep in the heart of Texas.
Day 6: Friday, September 8, 2023
After a hearty breakfast, we departed the hotel and stopped to pay our respects at the Oklahoma City National Memorial, site of the April 19, 1995 bombing of the Alfred P. Murrah Federal Building. Corey, a very knowledgeable Park Ranger, gathered our group together to provide many details of that fateful day. The Memorial consisted of two monoliths, one at either end of a shallow waterway. The waterway represents 5th Street where Timothy McVay parked the Ryder truck with the bomb at the rear of the building. One monolith has 9:01 imprinted at the top while the other has 9:03. The first symbolizes calm, the minute before the blast. The latter represents the beginning of healing, one minute following the blast. Chairs of different sizes representing children and adults who died in the blast are lined up in rows on a beautifully manicured lawn. We all learned a lot and were grateful to have visited this hallowed ground.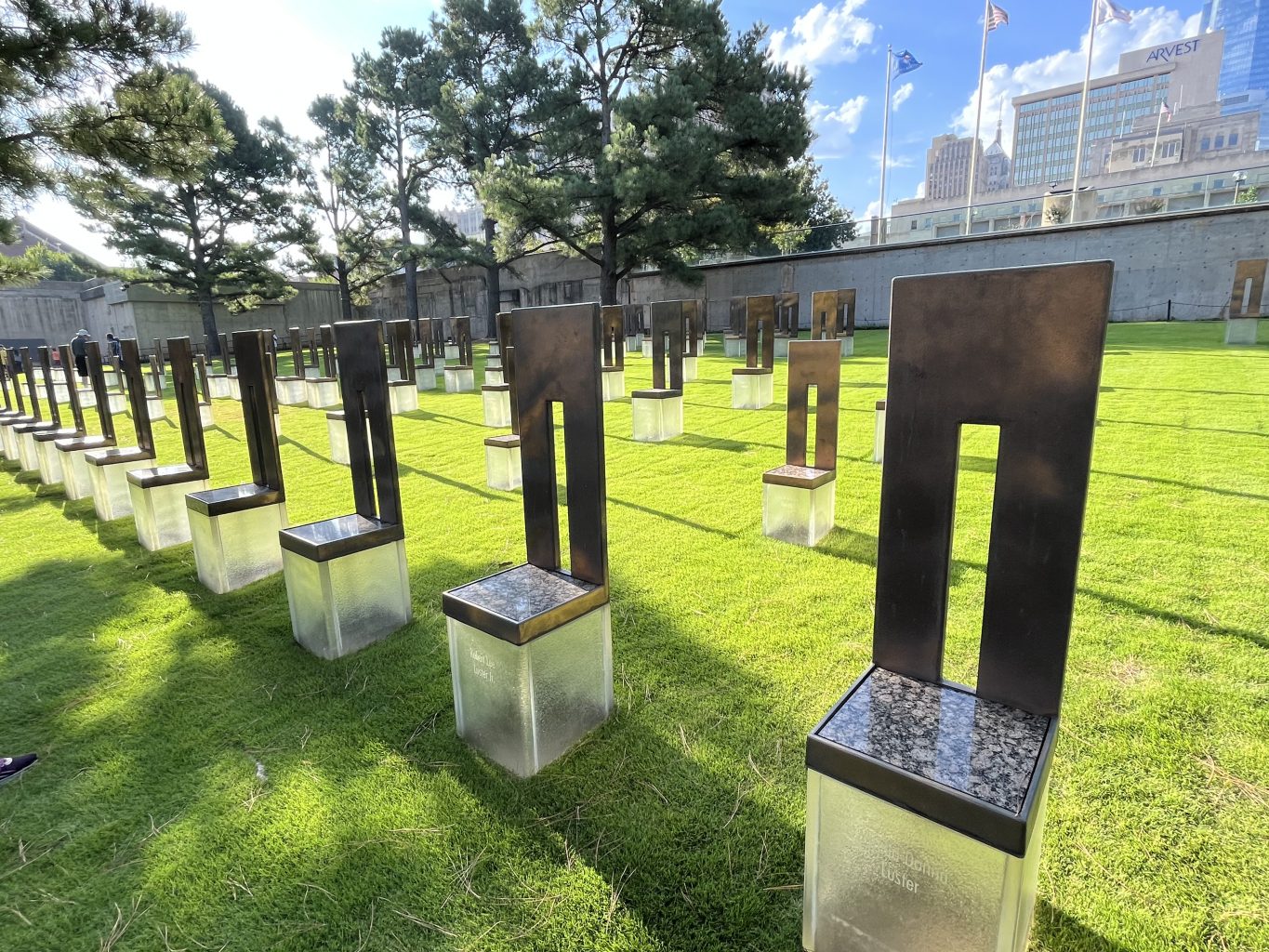 Everyone enjoyed our next stop, the National Cowboy and Heritage Museum. We divided into four groups of twelve, each with a docent who did a wonderful job interpreting the museum. Western paintings, statues, life-sized dioramas, and artifacts defined life in the "wild" west, which really wasn't as "wild" as depicted in the Western Movies. The Western Movies and TV stars were depicted in one room of the Museum. Following our 90-minute tour, a delicious sandwich buffet including chips, pickles, a chocolate chip cookie, and a bottle of water was set up in a private room for us. After filling our bellies, we departed for Amarillo, Texas.
Back on the bus, I showed the movie, "Hidden Figures", the story of Katherine Johnson, Dorothy Vaughn, and Mary Jackson who overcame discrimination at NASA to help launch John Glenn into space and safely home. They each had brilliant mathematical minds and engineering skills. Everyone thoroughly enjoyed the movie.
We stopped at a TA Service Plaza for a short rest stop and soon crossed the border into Texas. I played nine Texas songs beginning with "Deep in the Heart of Texas". Everyone enjoyed the music as we passed through very arid terrain with yellow grass and flat land as far as the eye could see. The elevation rose to 3,500 feet above sea level. Many guests texted me requests for songs and then sang along as their song played. Before long, we arrived at our next hotel, the Comfort Inn & Suites in Amarillo.
We were able to relax for about 45 minutes before boarding the bus to go to dinner.
And what a fun dinner it was! The Big Texan Steak Ranch was bustling with servers briskly walking in all directions serving a packed house of festive diners. We were seated at picnic bench style seating set up with salad and cheesecake. Before long, servers were bringing out majestic sixteen-ounce steaks or sixteen-ounce chicken filets deliciously charbroiled to perfection. A baked potato, corn, and a dinner roll accompanied the entree. Everyone enjoyed their dinner along with the festive atmosphere including two guitar players walking around to play requests. Everyone also had ample time to shop for Route 66 gifts and Big Texan Steak Ranch souvenirs as well as enjoy the unique photo ops on the outside back porch. A fun time was had by all.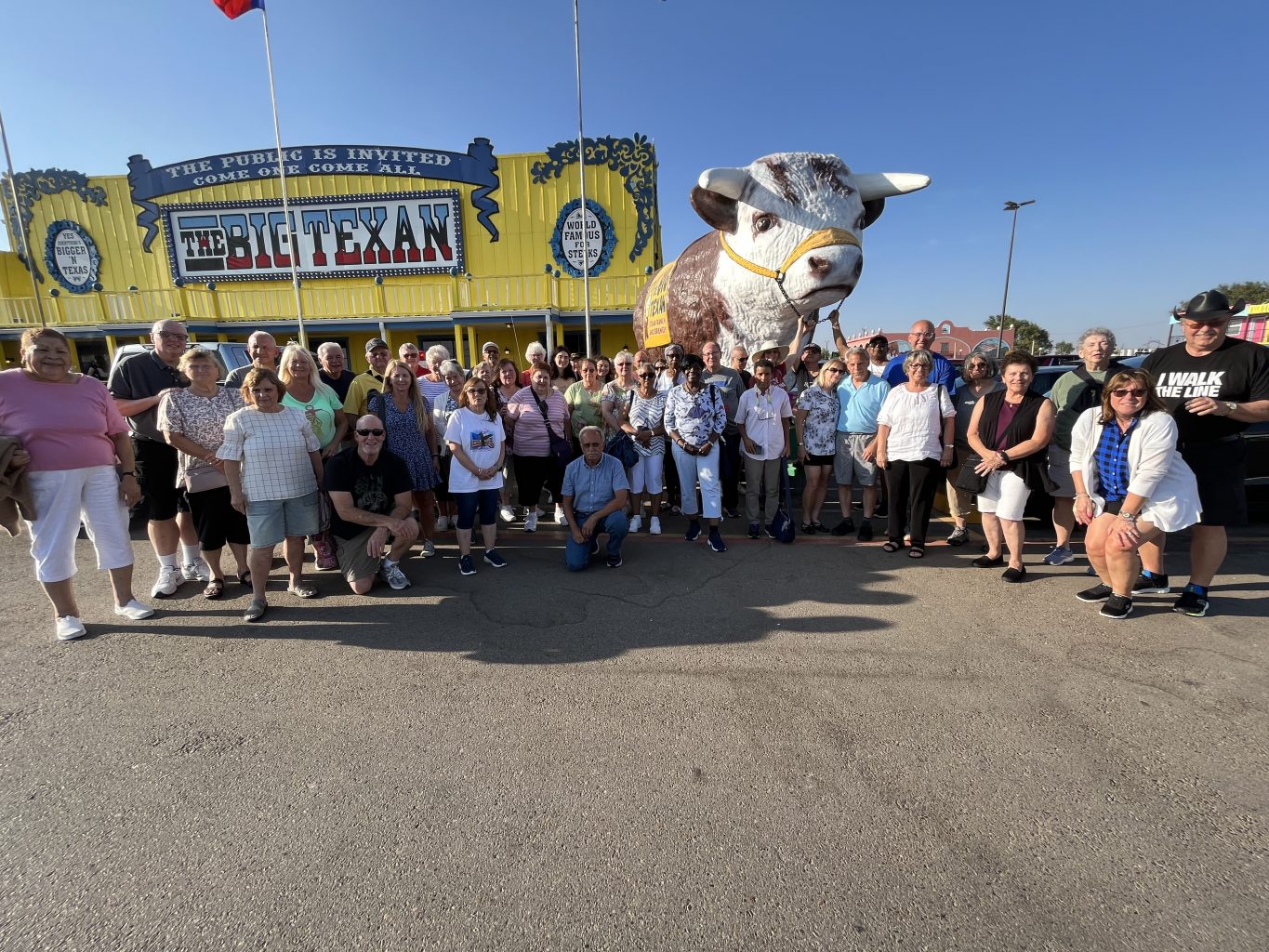 Tomorrow, we arrive in Albuquerque and will transition to Mountain Time.
Day 7: Saturday, September 9, 2023
After a buffet breakfast, we began our day stopping first at the iconic Cadillac Ranch on Route 66 for a photo op. Ten Cadillacs from 1943 to 1963 in the name of "art" were placed front down deep into the dirt. Cans of spray paint lay on the ground, and many chose to spray a name or design on the helpless cars. Cadillac Ranch opened to the public in 1974. Now, the Cadillacs are completely stripped so all that remains are parts of the frame. Their colors are dynamic – quite a sight.
I played the History Channel documentary, "Route 66" showing actual footage of the construction of this major US roadway. I explained its significance both then and now. Most watched with interest as we crossed the border into New Mexico, The Land of Enchantment. We were now on Mountain Time.
One mile into New Mexico, we discovered a Phillips 66 Gas Station attached to the Russell Service Center. We decided to stop here since the New Mexico Welcome Center at the border was closed for repairs. Upon walking into the building, we saw a nostalgic 50's style diner. Just up ahead and to the right was the Russell Museum with magnificent cars from yesteryear, life-sized replicas of Elvis and Marilyn Monroe, and many artifacts in showcases. A very large grocery store was also available. The Russell Service Center was an unbelievable stop that we found by accident and will make it a yearly tradition.
Our next stop was in Tucumcari, New Mexico on Route 66. We stopped for a photo op of the "Historic Route 66" sign as well as a decorative Route 66 sign in front of the Tucumcari Convention Center and New Mexico Route 66 Museum. We all actually walked on historic Route 66, and some joked to never wash their shoes again. It was a fun experience.
We continued onto Albuquerque and stopped at the Sawmill Market for lunch. The Sawmill Market is a plethora of predominantly international food kiosks under one roof providing a variety of foods and desserts. Everyone raved about this place and enjoyed their lunch.
It was now time to go up, up, and away on the Sandia Peak Tramway, 10,378 feet above sea level. The ride up was smooth, and the scenery was gorgeous. Once at the top, we instantly felt the 20°+ cooler temperatures. A boardwalk pathway meanders to many scenic overlooks culminating at the restaurant. With the thin air at this high elevation, those in the best of shape were huffing and puffing as we climbed up and down stairs to the different overlooks.
The Drury Inn was ready for us when we arrived, and we got to relax with a few drinks and food at the Kickback. Tomorrow, we'll board a bus from a different company while our fabulous driver, Fernando, takes a well-deserved day off and we visit the highlights of Albuquerque.
Day 8: Sunday, September 10, 2023
The Herrera Bus arrived and our driver for the day, Lawrence drove us to the Balloon Museum of Albuquerque. This is a small but informative museum presenting information on the history of ballooning around the world. Life-sized dioramas depict ballooning expeditions from the 1800's to some of the most frigid regions on earth. Most of the tour guests took the opportunity for a photo op in a display hot air balloon. Many authentic artifacts were on display including survival equipment brought on expeditions. Everyone enjoyed the uniqueness of the Balloon Museum.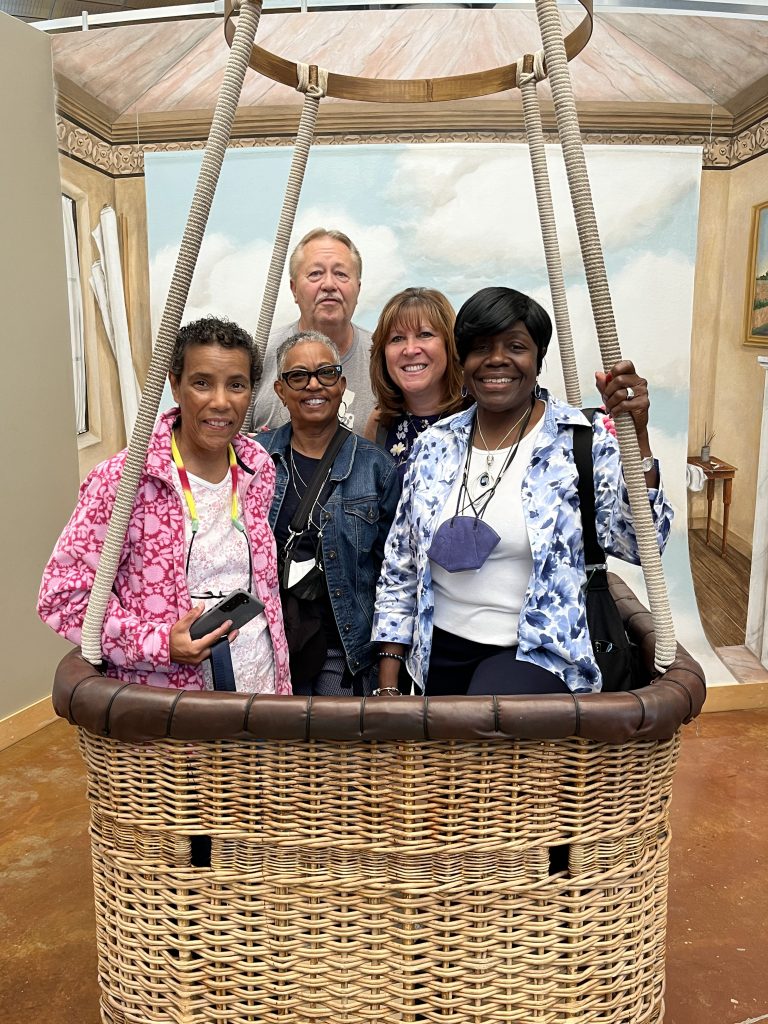 We arrived in Old Town Albuquerque, took out the maps and restaurant choices I had provided, and we were on our own for three hours to shop and have lunch. Many ate in the Church Street Cafe that features Southwestern-style sandwiches and mildly spicy dishes. The shopping is unique, as is the region. Cowboy hats, ponchos, and western style clothing are prevalent in the shops. Since Albuquerque is famous for its Hot Air Balloon Festival every October, balloon souvenirs can be found in many stores. Everyone enjoyed their experience in Old Town.
Our third and final stop of the day was the Indian Pueblo Cultural Center. First, we were treated to a wonderful performance by a family of Native American dancers. Each of the three dances was accompanied by a chanter and a drummer. The first dance was by a solo dancer dressed immaculately in Eagle garb as he flapped his colorful wings around the circular dirt stage to the beat of the drum. The second was by two women dressed in colorful clothing balancing a large piece of pottery on their heads. This was the Pottery Dance. And the third performance featured four dancers representing a Native American Social Dance. Each of the performances were very unique and enjoyable.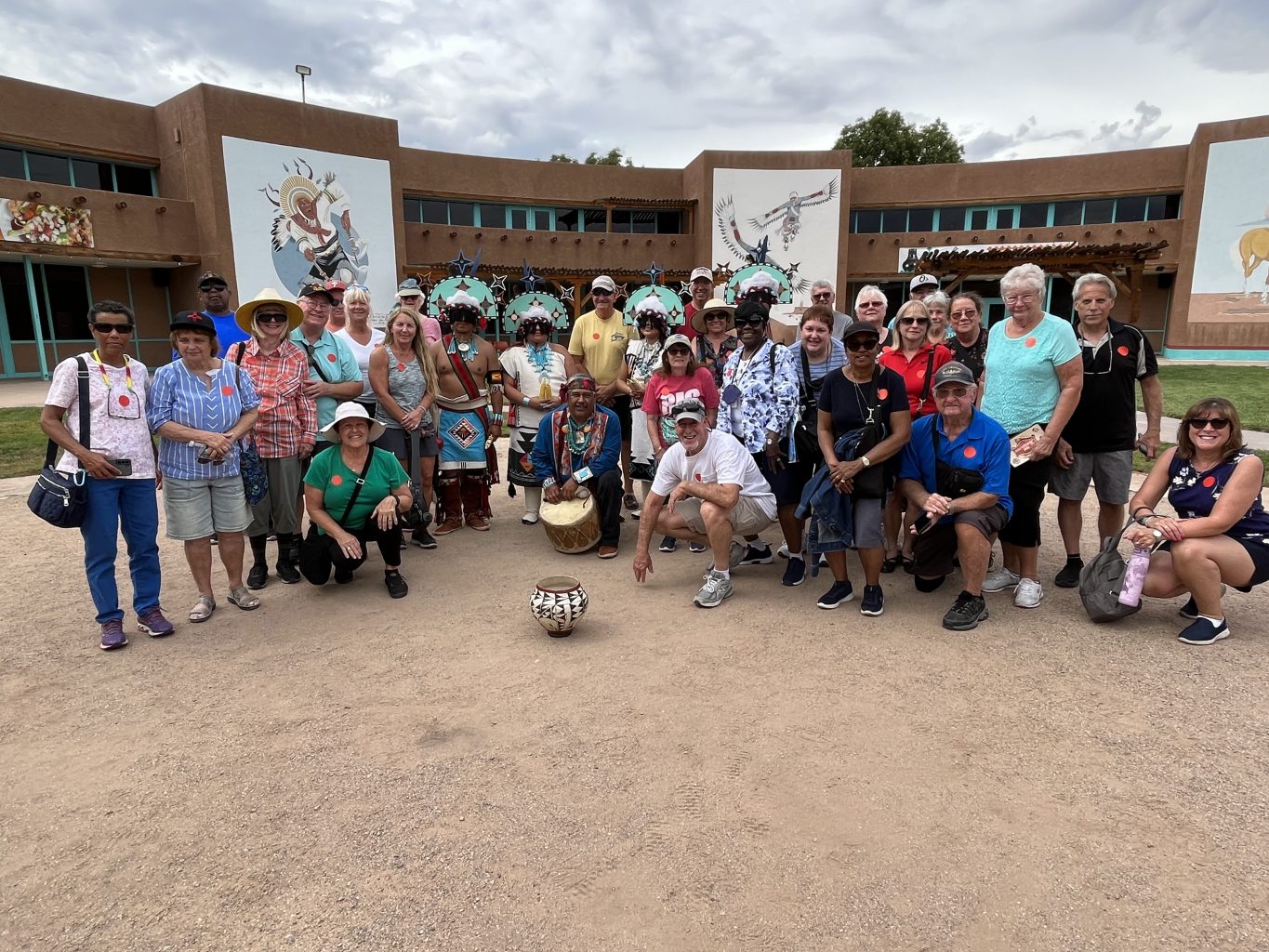 We then broke up into two groups for our docent-guided tour of the museum. The museum highlights the history of the nineteen Pueblos that exist from Colorado to New Mexico. The people of the Pueblo were taken over by the Spanish in the 1600's, gained their freedom in the 1700's, and then demoralized by white Americans in the 1800's and 1900's. We all hope that a degree of respect will come to all Native Americans in the 2000's. Most of the tour guests learned a lot from the passionate docents.
Back at the Drury Inn, we were on our own for the evening. Many took advantage of the Kickback while some walked to an adjacent restaurant. Many enjoyed socializing with each other. Some found the time to do their first load of laundry.
Tomorrow is our first look into Canyon Country.
Day 9: Monday, September 11, 2023
Today is September 11th, the 22nd anniversary of the terrorist attacks. I began the day with a ceremony remembering the events of the day and the lives lost. I spoke about the details of the day with the four airplanes striking different targets; the two towers of the World Trade Center, the Pentagon, and one that crashed in Shanksville, Pennsylvania. I then called for a moment of silence followed by the playing of "God Bless America" and Neil Young's, "Let's Roll". The tour guests were holding their flags during the music.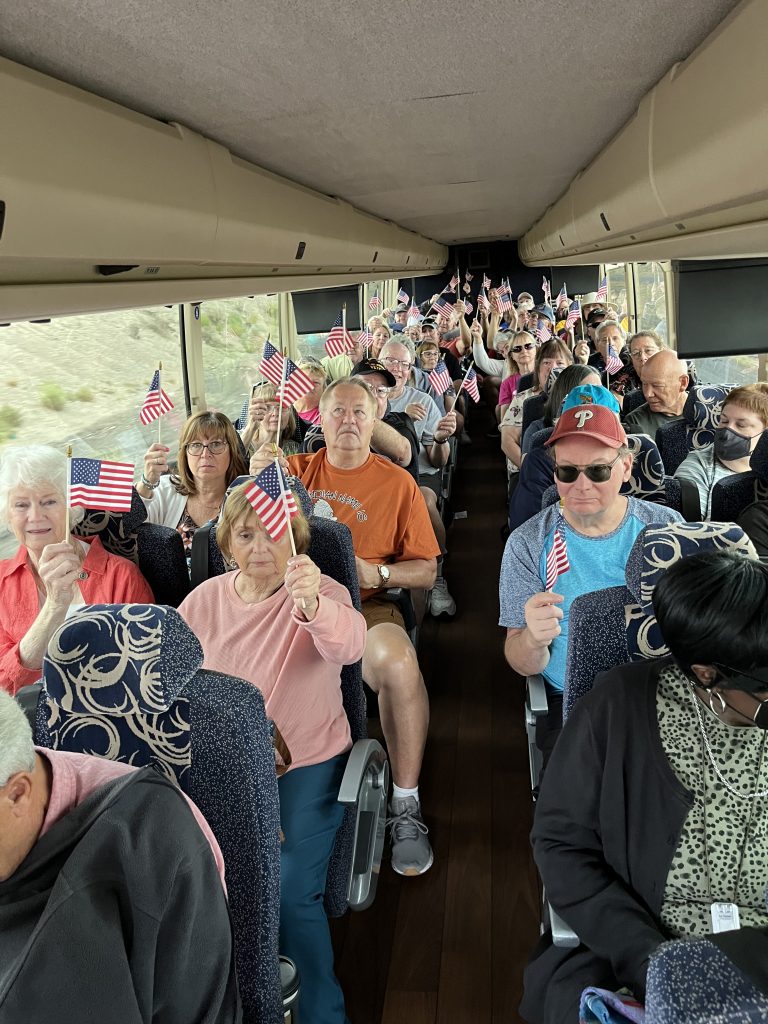 Our rest stop today was the Navajo Service Center in Gallup, New Mexico, home to the $4.99 Mexican Blankets. Many took advantage of this major bargain and also purchased Route 66 clothing and souvenirs. Navajo turquoise jewelry was also on display for purchase. This stop was enjoyed by everyone.
Upon entering Arizona, our devices turned back one hour. We are now on Pacific Time for the next ten days. Within an hour, we arrived at the Painted Desert National Park. I walked to the front gate to pay the bus fee while the tour guests had time to visit the National Park Store. I mentioned the National Parks Stamp Books that are available for purchase. You could also buy the yearly stamp set and then personalize your book by stamping today's date next to the National Park you're visiting. Many tour guests were interested in this program that highlights every National Park and Monument in the United States.
We began our tour of the Painted Desert. We stopped at the Kachina Point Overlook for our first amazing view of nature's beauty. The colors on the terrain were vibrant, helped a bit by the bright sunlight. Tour guests reacted with disbelief; the scene was magnificent, and no pictures could do this justice. Being here is so unreal. Unbelievable! As expected, many photos were taken.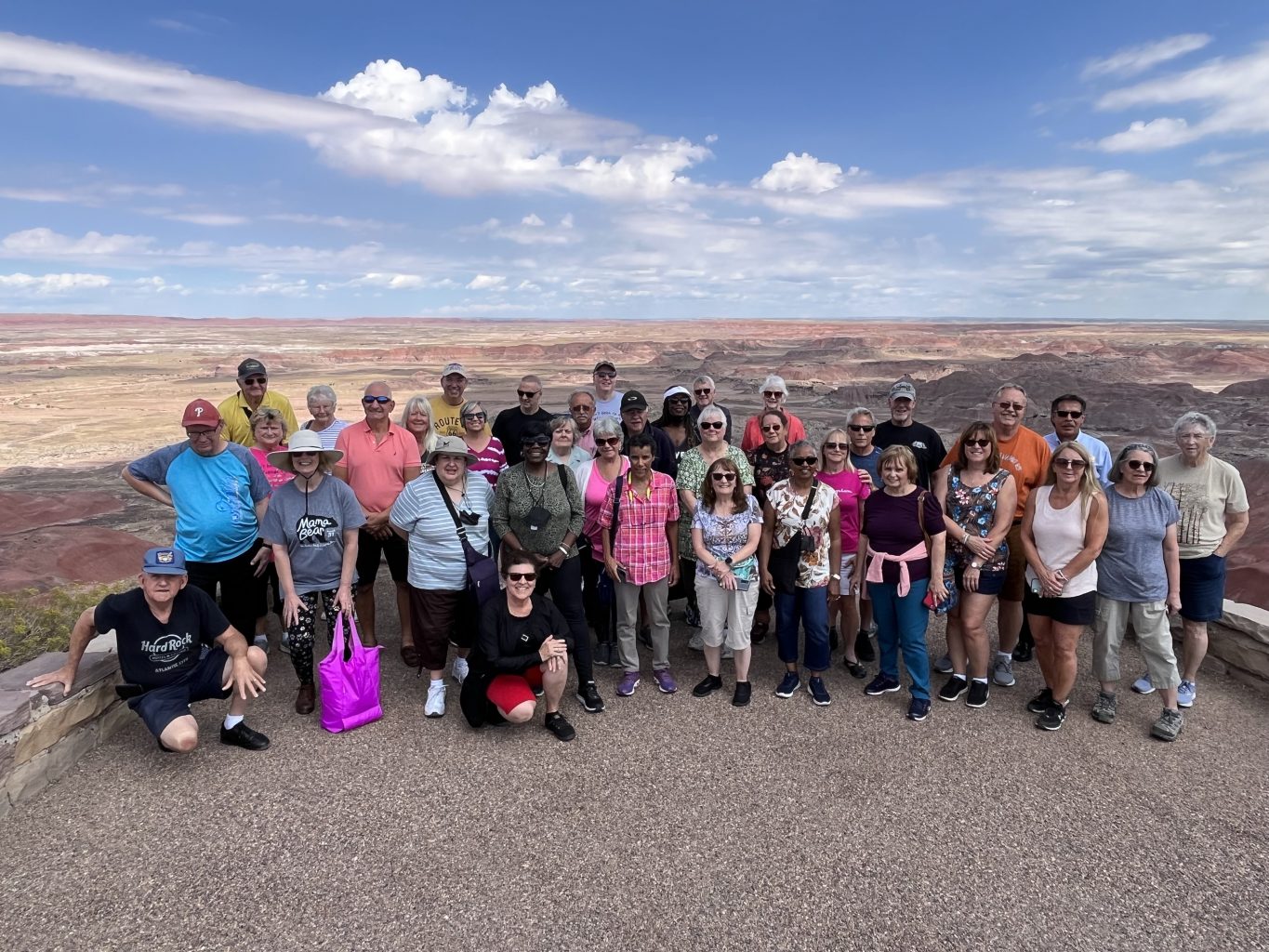 We drove to Chinde Point where covered picnic tables were available for us to eat our boxed lunches from Panera with views of the Painted Desert. The lunches were delicious and filling.
Pintado Point was our last look into the spectacular Painted Desert before crossing over Route 66 and into Petrified Forest National Park. Wood became petrified when silica (which glass is created from) infiltrated the logs from trees that had been uprooted some 200 million years ago. Petrified Forest has the most petrified wood of any place on earth. Our first stop was Agate Bridge. A giant petrified tree trunk traversed a riverbed below. Today, the petrified tree bridge had been reinforced with concrete and the water has dried up. Our pictures were fabulous.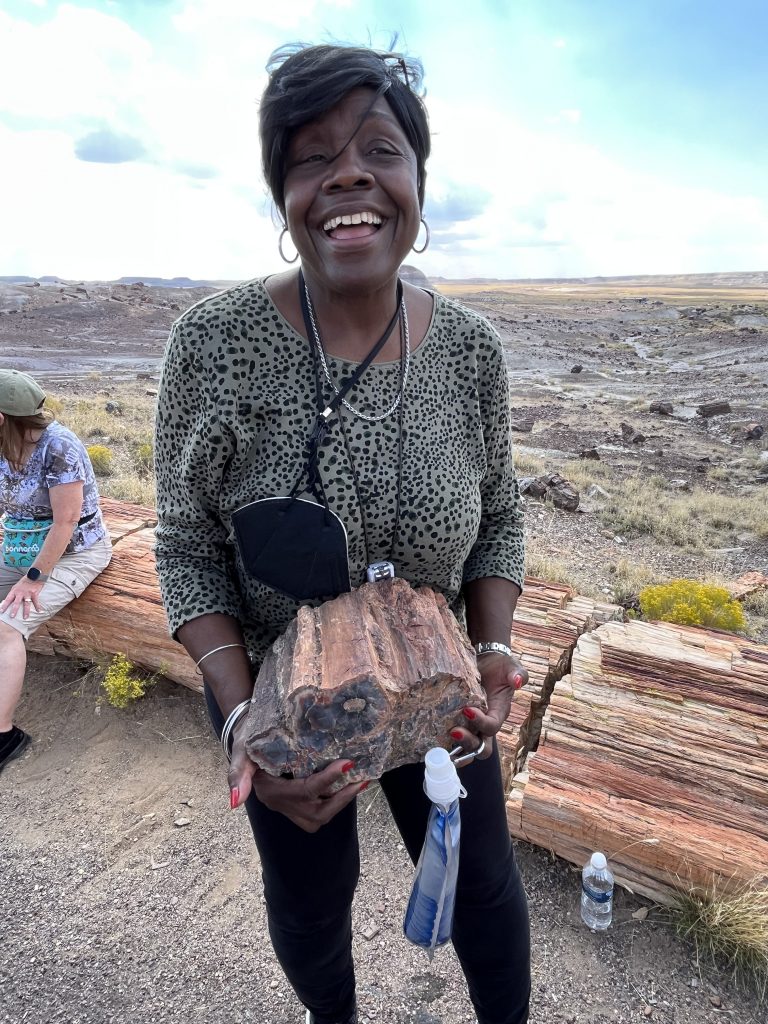 We drove to the Crystal Forest stop, the stop where you can see, touch, and experience petrified wood like nowhere else. Many tour guests took the .75-mile hike into the badlands of Petrified Forest to experience the thousands of pieces of petrified wood in all sizes and weights up close and personal. Many photos were taken sitting on or holding petrified wood. The rule is, you can pick up the petrified wood (if small enough because the silica makes the wood extremely heavy) but you must put it back in its exact spot. The hikers felt rejuvenated from this short but effective and fascinating walk.
Our final stop was the Rainbow Forest and Museum Visitors Center which has a National Park Store, a museum, a short walk among pieces of petrified wood, and a separate gift shop. We had time to create and purchase more memories of the Painted Desert and Petrified Forest National Park.
Winslow, Arizona was less than an hour from the National Park and since it's on our itinerary for the 2024 Cross Country Trip along Route 66, Fernando and I mapped out a route to offer everyone a quick stop. The song by the Eagles, "Take It Easy" immortalized Winslow with the lyrics, "I was Standin' on the corner of Winslow Arizona". Of course, I played the song (twice)! We took a five-minute detour off I-40 at Winslow and parked the bus on Kingsley Avenue, steps from the infamous "corner". We took many pictures of the statue of a man "Standin' on the Corner" (presumably Jackson Browne coauthor), a statue of Glen Frey, lead singer and coauthor of "Take It Easy" who passed in 2016, and a magnificent mural of a girl in a flatbed Ford painted on the side of the brick building. Individual and group photos were taken. Everyone was extremely excited about this unique piece of Americana sitting in the desert of Arizona.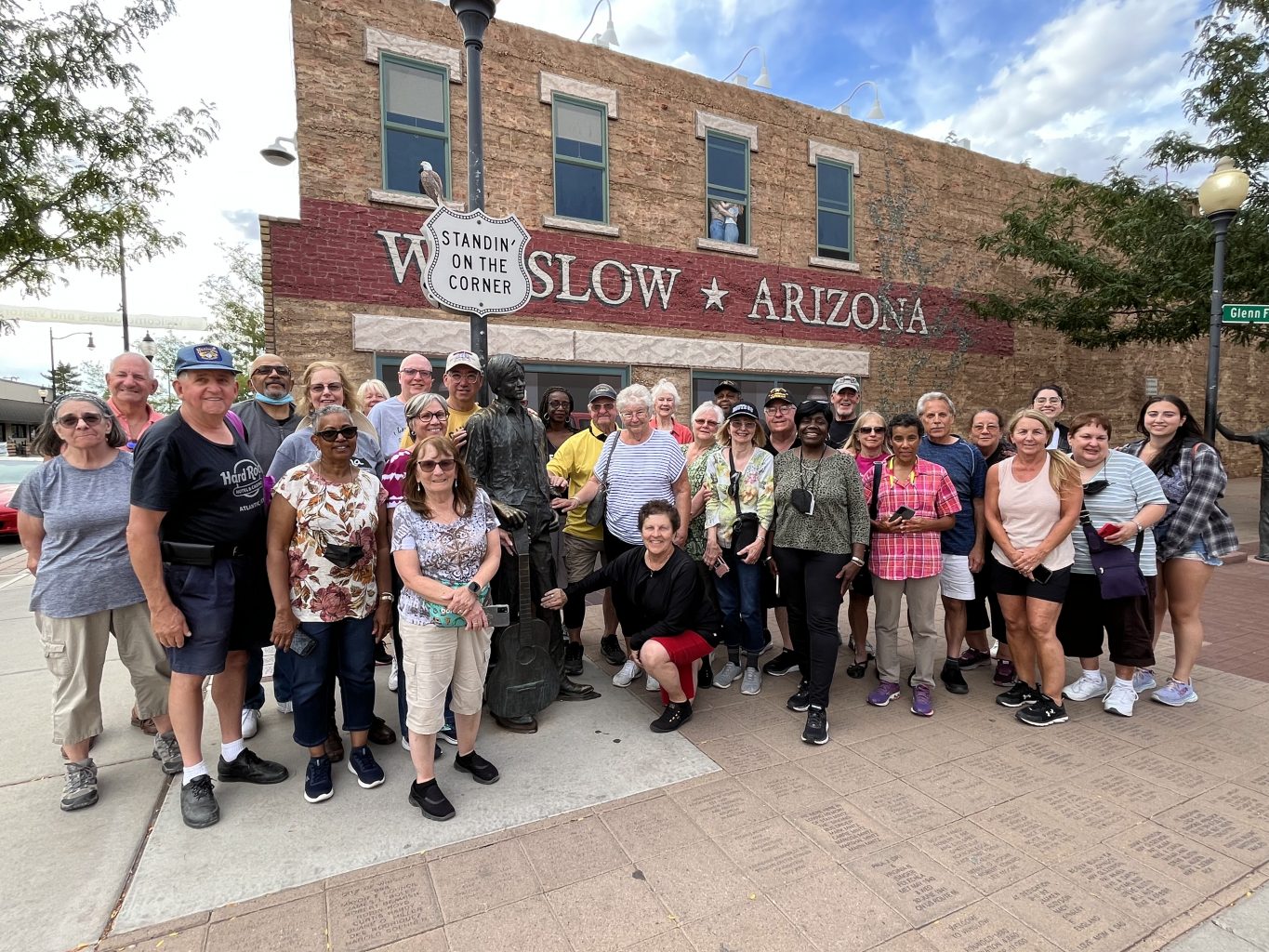 We arrived at the Holiday Inn Express in Sedona at sunset. We were now in one of the most beautiful towns in Arizona surrounded by majestic mountains made of red sandstone. We were on our own for dinner and to have time to enjoy this beautiful town.
WHAT A MAGNIFICENT DAY THIS WAS! Tomorrow is our exciting Pink Jeep Tour.
Day 10: Tuesday, September 12, 2023
The adventure continued after breakfast. We traveled a short six miles to the Pink Jeep Tour. We divided into groups of six and were ushered into one of eight pink jeeps.
The Pink Jeeps are opened on all sides with a roof covering you. Hand straps hang above you. Seat belts must fit snug around your body. The Pink Jeep drivers are all experienced off-road specialists as well as experienced guides. We were driven into the back country over large rocks that rocked us from side to side and up and down. We stopped at an overlook with the most amazing 360° views of the iron-rich red sandstone mountains. We walked around the area and took many pictures. The next stop was to an overlook looking down onto the city of Sedona surrounded by the magnificent sandstone mountains. The view was magnificent and showed the beauty of this Arizona city. Everyone thoroughly enjoyed the Pink Jeep Tour.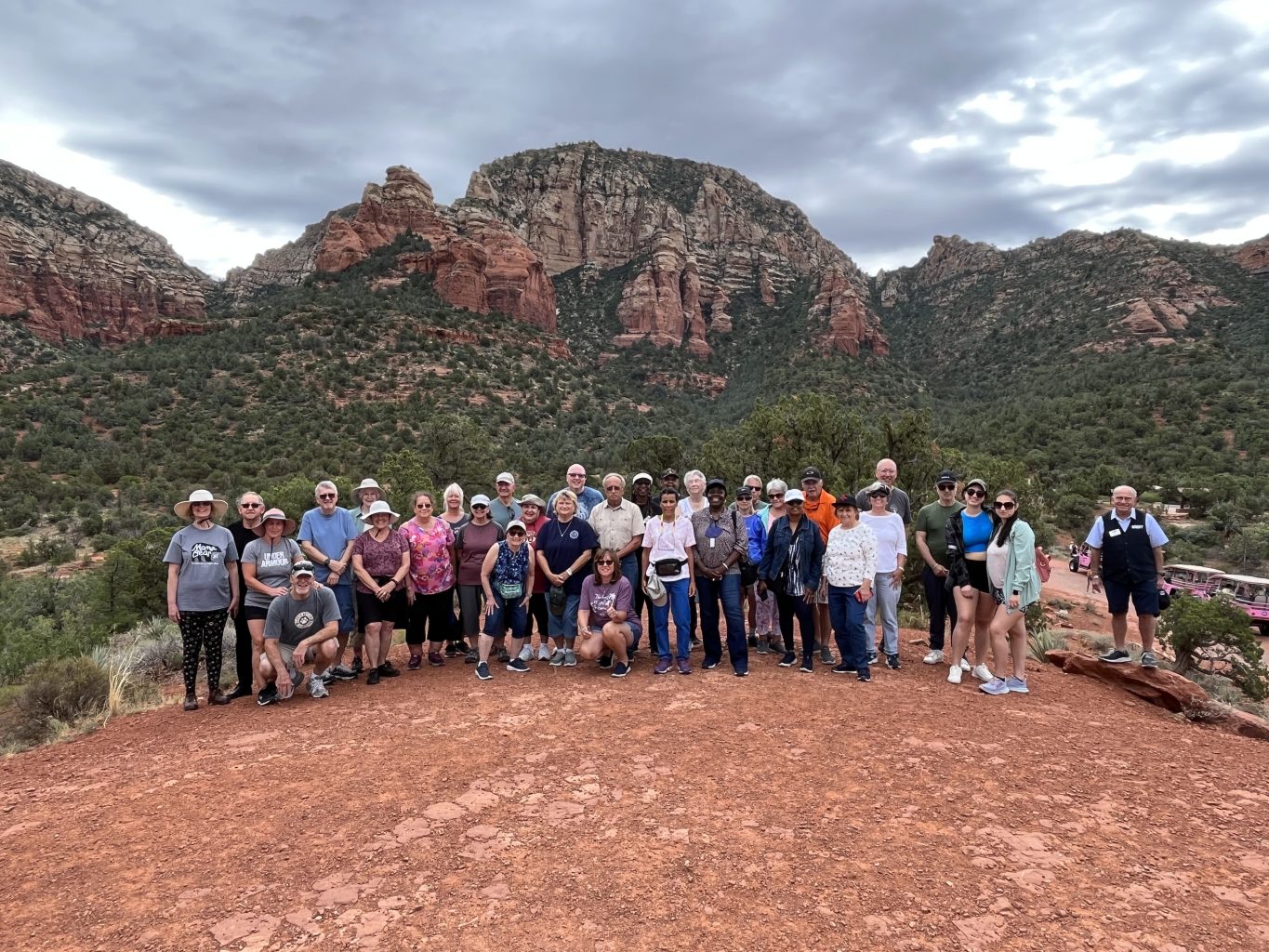 We were now on our own for the next 2.5 hours for lunch and shopping in this quaint, western city of Arizona. Most of us ate at the Cowboy Club and Grille which featured an appetizer sampler consisting of Rattlesnake, Bison, Cactus Fries, and western-style flat rolls. Those who ate the Rattlesnake agreed it tasted like Kielbasa, the Polish sausage, and were excited to have tried it. Everyone enjoyed their experiences in Sedona, and some commented they'd move here in a minute.
Our travels continued to the city of Scottsdale, Arizona, a suburb of Phoenix. En Route, we descended from 5,000 feet above sea level to 1,500 feet. We were traveling through the Sonoran Desert and when we were at the 3,200-foot elevation, Saguaro Cactus began dotting the desert terrain. Saguaros are the state plant of Arizona and are protected by the state government. Older saguaros, over 100 years old, grow arms in many directions and rise to 40 feet in height. We were able to take pictures of saguaros from the bus as well as around the building of the Western Spirit Museum when we arrived for our tour.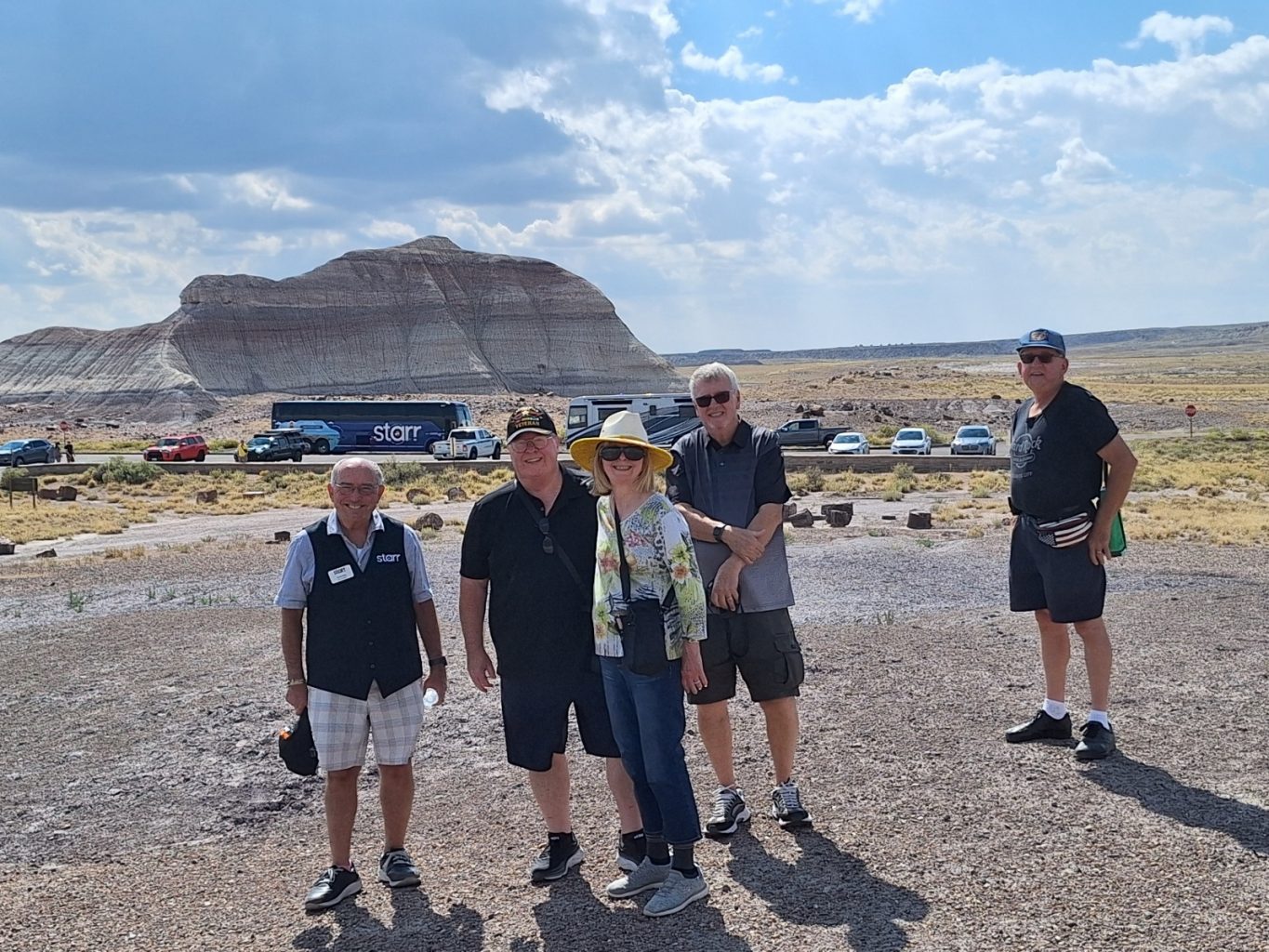 Our group was divided into two groups and docents showed us around the Western Spirit Museum, Scottsdale's Museum of the West and a part of the Smithsonian Institute. The Museum highlighted American history beginning with authentic artifacts and clothing of the Hopi Indian Nation, native to Arizona. Lewis and Clark's exhibit featured clothing, sculptures, and their original diary from their three-year expedition. Brilliant historic paintings adorned the walls telling stories of life on the prairie, cattle drives, and of Native Americans. Frederic Remington, Charles Russel, Herman Hanson, John Coleman, and Andy Warhol are just some of the famous artists featured in this museum.
The Drury Inn was ready for us upon our arrival. We were now on our own to enjoy the Kickback and each other. Everyone was enthusiastic after another day filled with excitement and learning.
CALIFORNIA HERE WE COME!
Day 11: Wednesday, September 13, 2023
We departed Chandler after a fine breakfast to the tunes of "By the Time I Get to Phoenix" by Glen Campbell and "California Here I Come" by Al Jolson. We continued riding through the Sonoran Desert and passed by fields of Saguaros. I played the movie, "Founder" starring Michael Keaton as Ray Kroc. It detailed Kroc's business savvy in creating and taking over the McDonalds chain. Since the original McDonalds was located in San Bernardino, California, this was the perfect movie to play. Most everyone watched with interest.
We stopped at the Mohawk Rest Stop in the desert off of I-8 for a short bathroom break. Signs were posted warning us to beware of snakes. The tour guests were quick to return to the bus.
We crossed the border into California to the tunes of "There's No Business Like Show Business", "That's Entertainment", and "Surfin' USA by The Beach Boys. The desert terrain was covered with mounds of sand for as far as the eye could see. I played a few more California tunes before we arrived at our lunch stop in El Centro, California. The elevation in El Centro, California is 60 feet below sea level while the temperature today was a dry, comfortable 99°. We chose from Farmer Boys, Applebee's, and Wendy's.
We crossed over and through the Sierra Nevada Mountains, an unusual terrain stacked with huge granite boulders in all directions. We ascended from 60 feet below sea level in the Mojave Desert to over 5,000 feet above sea level at the peak of the Sierra Nevadas. We began to see civilization once again as we descended into the suburbs of San Diego.
Upon arrival at the Best Western Plus Bayside Hotel near Little Italy in San Diego, the bus pulled into a reserved parking spot in front of the Hotel on Ash Street. The manager met the bus and welcomed us warmly.
All but five tour guests boarded the bus at 5:00 PM for a short ride to Old Town San Diego for dinner, shopping, and enjoying the perfect 72° temperatures with cloudless skies. Old Town recreates the Mexican Heritage of San Diego. Restaurant seating is mostly outdoors. Everyone enjoyed their time in Old Town.
Upon return to our hotel, I noticed a group of our guests preparing to take a night walk. Everyone was excited to have traveled 3,000 miles to California and were thrilled to be in beautiful San Diego.
Day 12: Thursday, September 14, 2023
This morning we had a "Grab N' Go" breakfast before getting on our way.
Today's first stop was the iconic San Diego Zoo. Our first activity was the narrated forty-minute Bus Tour around the Zoo. Most of the animals were awake and active on this mid seventy-degree morning. We passed the lions, polar bears, and many more. The Bus Tour is the best introduction to the San Diego Zoo.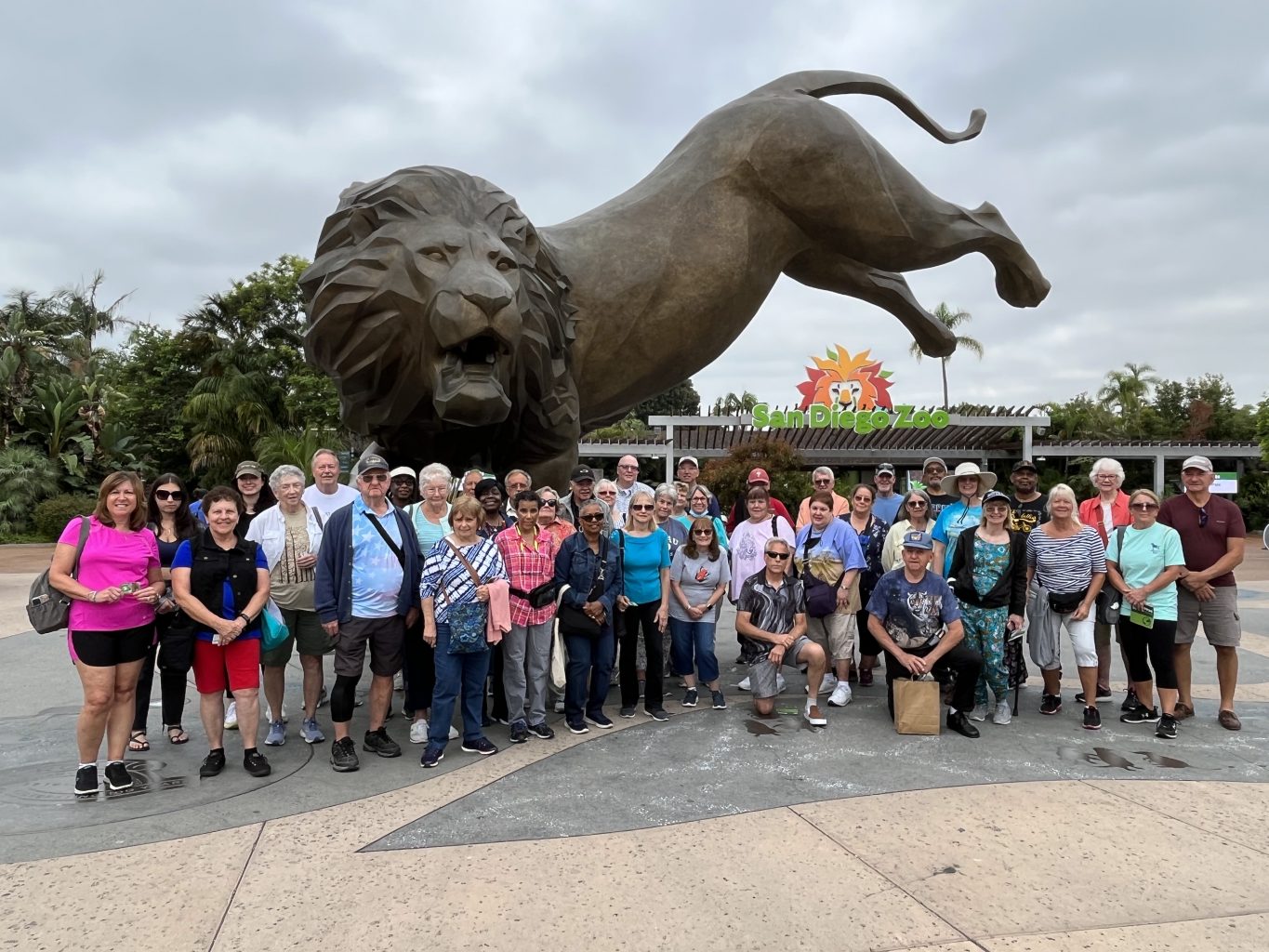 After the tour, we had time on our own to walk around and explore the Zoo. The male koalas were wide awake and posing as cute as ever for photos. The giraffes were busy eating their vegetarian diet from food placed high up in trees. As the temperature began to rise, many animals such as lions, polar bears, and elephants became less active. But they were still fun to watch. Everyone had a wonderful day walking around the beautiful San Diego Zoo, considered to be one of the best zoos in the world.
We returned to the Best Western Hotel for a rest before embarking on our afternoon boat cruise of San Diego Bay. The weather was perfect as we boarded the Spirit of San Diego. An extremely knowledgeable Navy Veteran narrated the cruise. He spoke about Coronado Island and each of the U.S. Navy Ships that were currently docked in front of us. One ship, the USS Somerset, was named for Flight 93 that went down on September 11th in Somerset County, PA. The ship was partially made from metal collected from the crash site. We saw cruisers, aircraft carriers, and three nuclear powered battleships. The power of the United States Navy was on full display for all to see.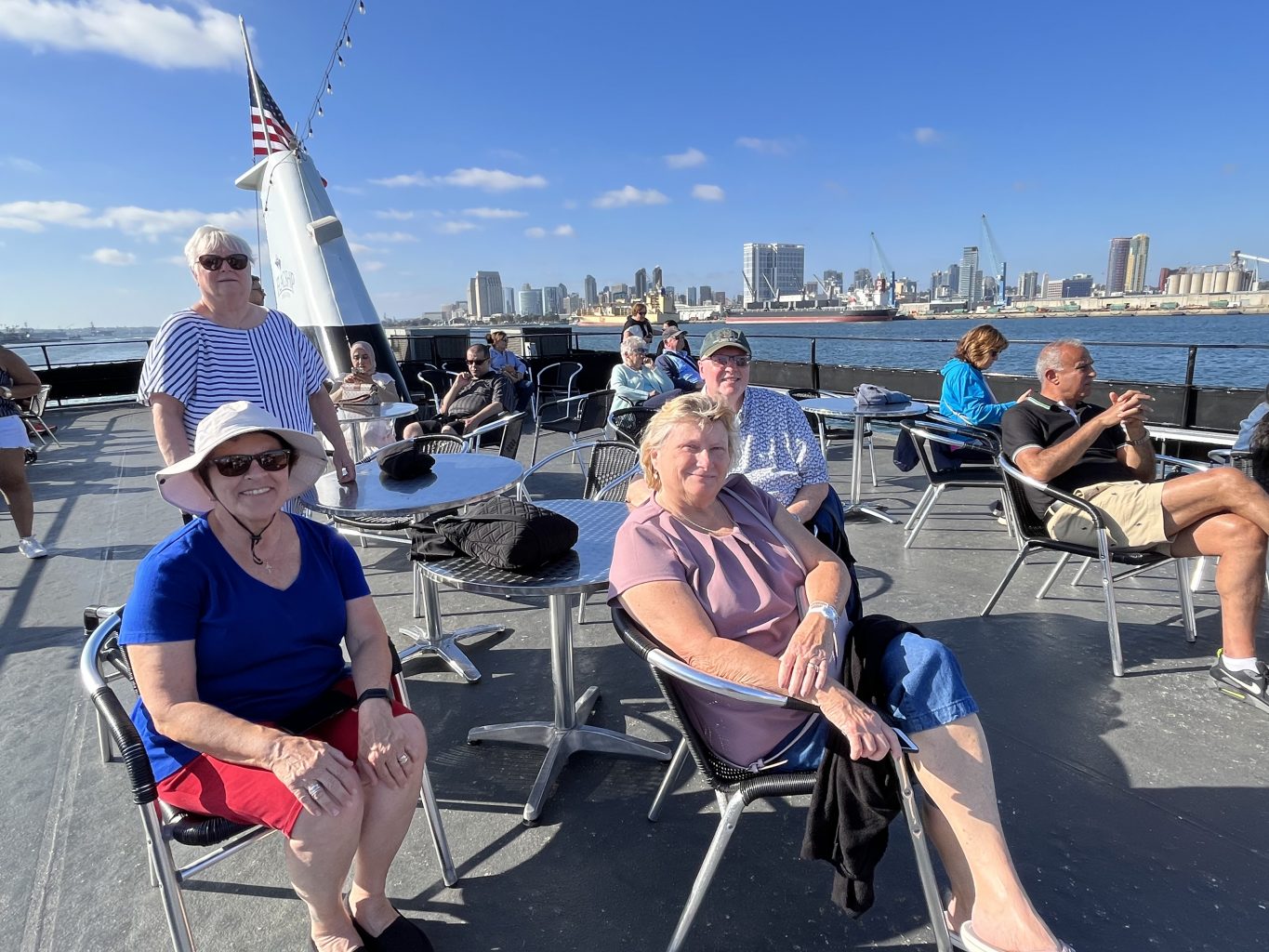 The second hour of our cruise took us past a sea lion rookery, the opening to the Pacific Ocean, and Navy helicopters, airplanes, and barracks where marines were working out. The sun was waning, and we were able to take the most beautiful sunset pictures. Everyone enjoyed this relaxing and informative two-hour cruise.
We were now on our own for dinner and exploring San Diego. Our hotel is perfectly situated two short blocks from Little Italy, and our restaurant choices were numerous. Many ate in one of these fine Italian restaurants. Everyone enjoyed this day in beautiful San Diego.
Day 13: Friday, September 15, 2023
It was time to depart San Diego and travel north. Our first stop of the day was the Richard Nixon Presidential Library and Museum in Yorba Linda, California.
Upon arrival, three docents ushered us into a ten-minute introductory film on Nixon's life from a young boy through his resignation as President. It featured his many accomplishments as President such as opening China to the Western World, starting the EPA (Environmental Protection Agency), and his passion towards equality for women and people of color.
Following the film, we broke up into three groups and began touring. Outside the Museum is Nixon's boyhood home which we were able to walk through. We also walked past the gravesites of Richard and Pat Nixon and through his Presidential Helicopter in which he flew away from the White House after resigning. The Museum featured exquisite exhibits on the Vietnam War, the POW's, protests at home, opening up China, his campaigns in 1960, 1968, and 1972, and the Watergate Scandal that lead to his resignation as President. The Nixon Presidential Library brought back many memories and provided realizations we didn't know about Nixon's accomplishments. It's a wonderful place to visit.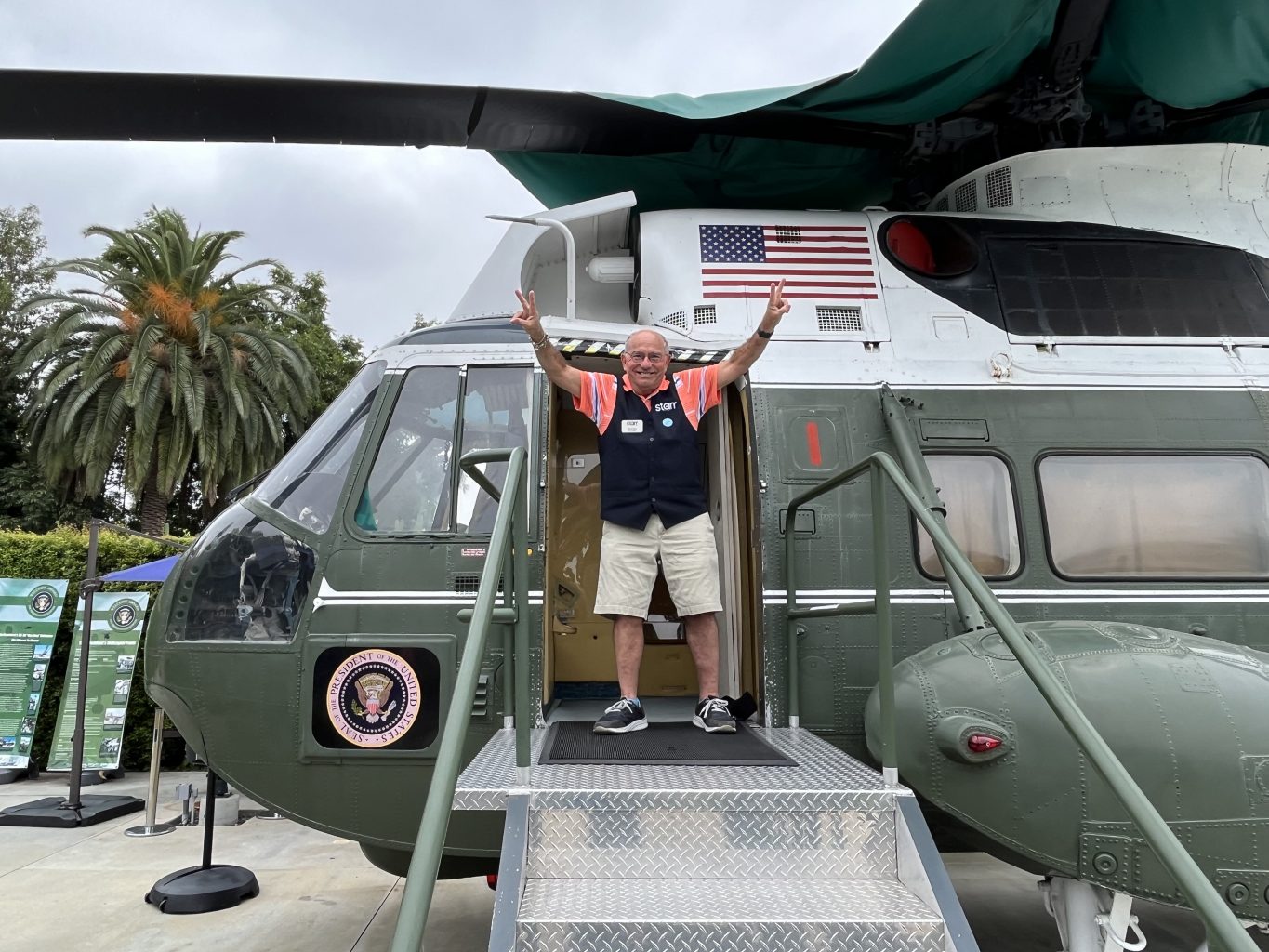 We stopped for a delicious lunch in Yorba Linda and continued on to Los Angeles. Traffic became bumper to bumper with long delays. Traveling thirty miles took an hour. I guess that's decent for Los Angeles traffic where a gallon of regular gas costs $5.50.
We arrived at the Hilton Garden Inn Burbank and after a quick turnaround, Thirty six of us chose to head over to Universal CityWalk for dinner, shopping, and people-watching. Tonight was the opening night for Fright Fest at Universal Studios and the CityWalk was filled wall to wall with teenagers. We spent two hours enjoying the festive atmosphere. With numerous dinner choices from Bubba Gumps to KFC, everyone had a good meal and enjoyed this exciting experience.
We made it to Los Angeles in 13 days. Tomorrow, we get up close and personal with The City of Angels with our seven-hour tour.
Day 14: Saturday, September 16, 2023
After a wonderful breakfast, we embarked on a comprehensive sightseeing tour of Los Angeles led by Judy Paresi, local LA Guide extraordinaire. Judy is extremely knowledgeable and enthusiastic about her beloved city and speaks clearly with excited intonations. Our first stop on the tour was the iconic Hollywood Bowl where we were permitted to walk inside and take pictures. One could just imagine the Beatles or Whitney Houston performing here. The seats are wooden benches with a back while the more expensive box seats closer to the stage are soft folding chairs.
We continued our tour and stopped at the TCL Chinese Theater formally known as Grauman's Chinese Theater. The theater was founded by Sid Grauman in 1926 and opened on May 18, 1927, with the premiere of Cecil B. DeMille's "The King of Kings". In front of the theater, stars from every decade in the 1900's were honored by putting their imprint into cement and writing their name. The Hollywood Walk of Fame extends along Hollywood Boulevard and has large stars on the ground with the names of famous performers from radio, television, movies, recording, and sports. Examples include Olivia Newton John, John Travolta, and Muhammad Ali. In total, as of August 2023, there are a total of 2,761 stars on the Hollywood Walk of Fame. We also walked up the famous staircase leading to the Dolby Theater, home of the Academy Awards.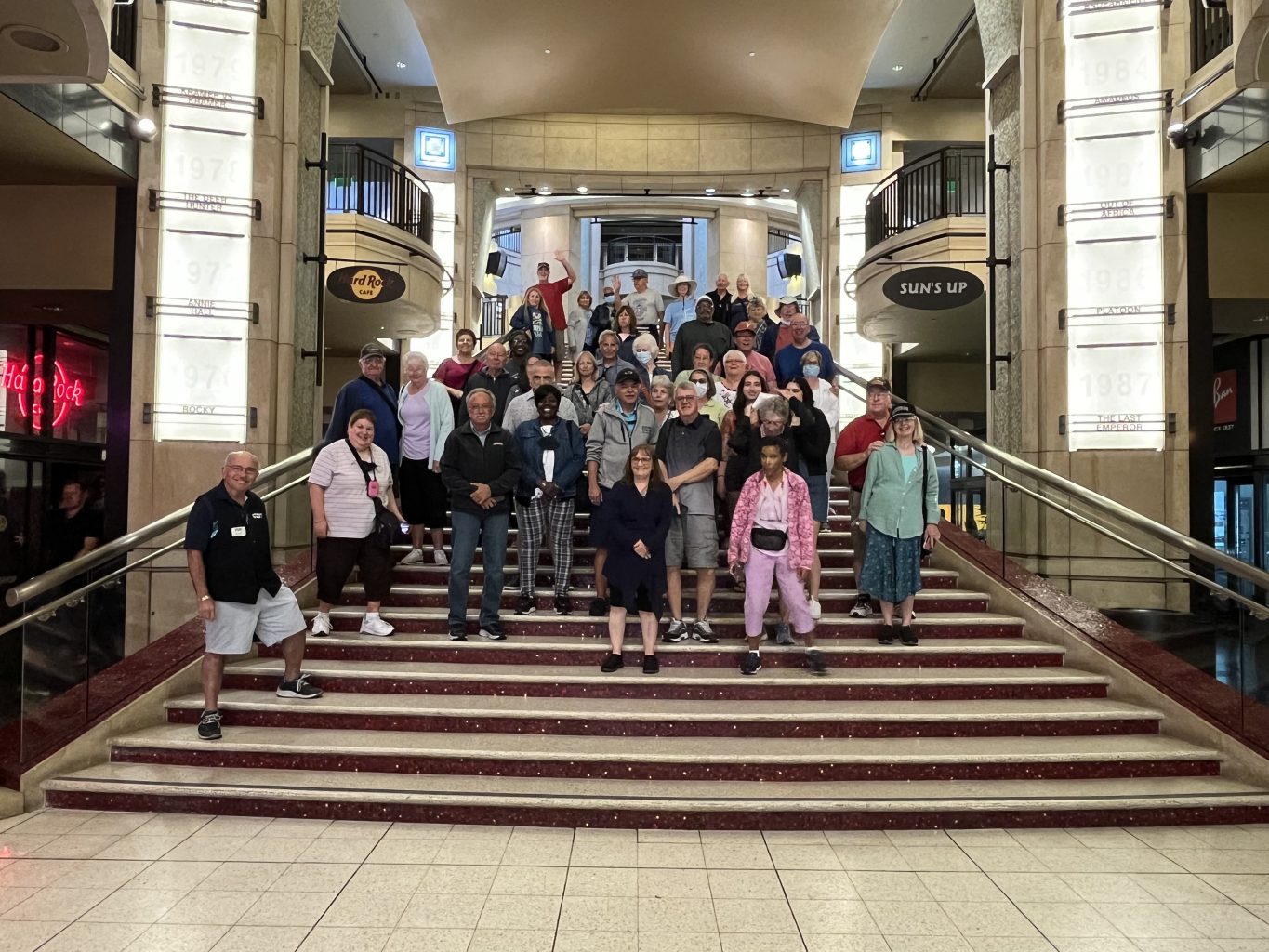 We continued our tour driving down Sunset Boulevard and the Sunset Strip. We passed places where Marilyn Monroe frequented and where Elizabeth Taylor got married. We also passed the hotels where John Belushi, Whitney Houston, and River Phoenix died. We turned onto Santa Monica Boulevard and stopped for a photo op at the Hollywood sign and the "Peace and Love" Statue given to Hollywood by Ringo Starr. We continued into Santa Monica and took pictures of the end of Route 66 sign as well as the Pacific Ocean.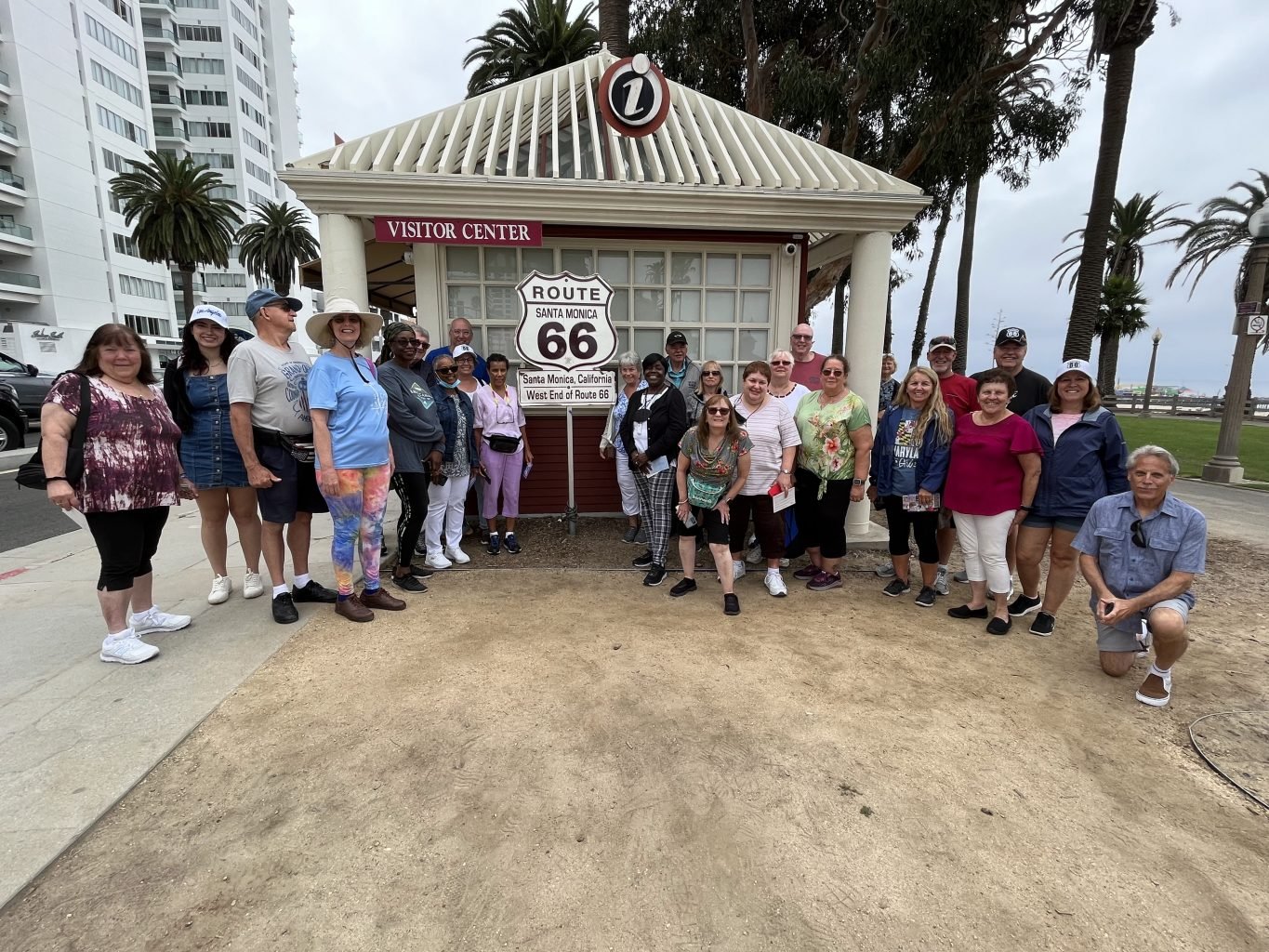 Our next to last stop was the La Brae Tar Pits before going to lunch at the infamous Farmers Market. Judy's stories had us entertained every moment of the day as we gained a vast appreciation for the beautiful city of Los Angeles.
Back at the Hotel, we were on our own to relax and enjoy a good dinner at one of the many wonderful restaurants along San Fernando Boulevard. Everyone thoroughly enjoyed these two days in Los Angeles.
Tomorrow it's onto Las Vegas where "What Happens in Vegas, Stays in Vegas".