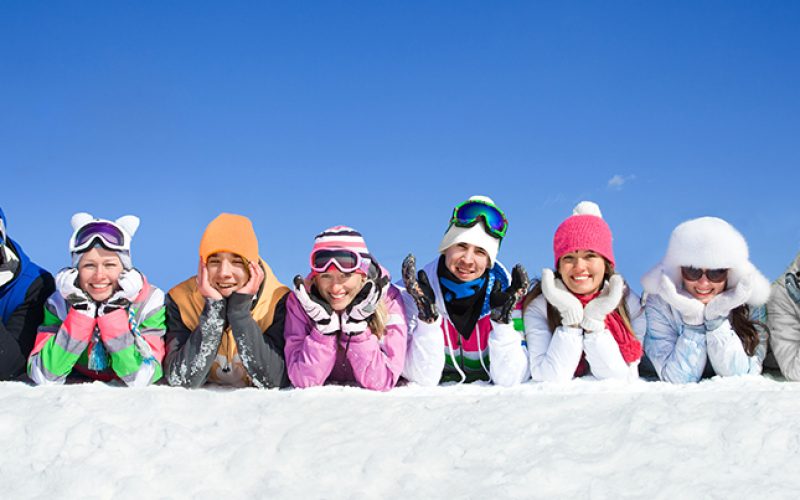 It's that time of year again! It's time for winter holidays, spending time with friends and family, and planning the perfect winter activity for your group. Well, look no further, because the best winter fun is right here. Get together your group of at least 35, or make it a real party with up to 56! Take a load off your shoulders and follow our plan for the best winter day trip that will have everyone buzzing: a Starr Charter trip to Shawnee Mountain in the Poconos.
3 Reasons Why You Need a Ski Trip
It's social
There is no better time to catch up with friends and family than on a ski lift taking in the beautiful view. Get closer with friends you already know, or rekindle old friendships, while taking in breathtaking winter views or watching skiers and snowboarders below. If you're with a group, there's no better way to get to know each other than the ski lift. You'll be so busy laughing and bonding, you won't even realize how quickly you reached the top of the mountain.
It's great exercise
In the wintertime, it can be hard to tear yourself away from a warm fire and a good book to go outside and get some exercise. Plus, with the holiday season there is sugary goodness all around. It can seem impossible to stay in shape during the winter with parties, holidays, and cold weather. Plus, why do the best movies always come out during the holidays? Instead of cursing the winter, why not incorporate it into your workout? Skiing downhill can burn up to 400 calories an hour and is an amazing full body workout.

Take your group out on the slopes, and then enjoy the latest Star Wars movie guilt free, with a big bowl of popcorn on your lap.
It's a great photo op
Does your instagram need a spruce-up? What about your Facebook? Nothing says I'm active and have a perfect life like a cool picture of you tearing up the mountain. So much of Facebook is just pictures of people's babies or boring rants. Do the world a service and add some spice. Or, for the more camera shy, act as a group photographer and capture the joyous moments for years to come. Making memories with friends is always fun and the mountain backdrop is the perfect place to do it. Plus, rosy cheeks from the cold are always a great look and show up beautifully in pictures.
So, you've decided you absolutely have to take a group skiing. But where do you go? There is really only one option if you want the best fun, services, and food. Plus, you get a handy discount if you book with Starr. Here are three reasons to take your group to Shawnee Mountain.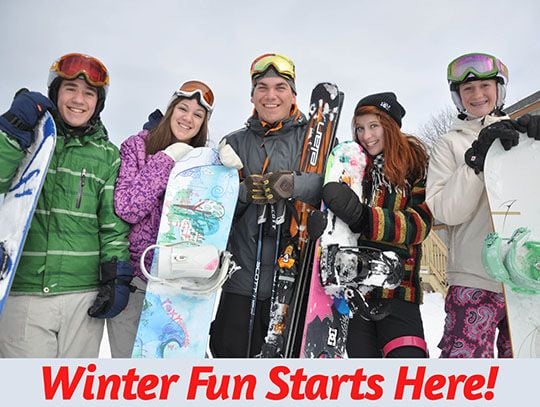 Endless Options
Do you have a group of younger kids? What about bored teenagers itching to try something new? Or maybe you've been dying to try snowboarding? At Shawnee Mountain, the options are endless. Take a chance with something new – you never know what kind of gems you will find. Take snow tubing, for example! It's sledding, with an upgrade, perfect for someone who isn't quite ready to strap on some skis or is craving a new adventure. If you've got some daredevils in your group, try Shawnee's two fantastic terrain parks, where you can try out jumps and tricks for people of all levels and abilities. Or, channel your inner Lindsey Vonn and ski your heart out on any of their 23 slopes and trails.
Food, Glorious Food
As said before, hitting the slopes in quite a workout. Picture this: you've been snow tubing all day and worked up quite the appetite. It's such a good time, you didn't realize how hungry you were until you smelled the delicious aromas of one of Shawnees five amazing dining options. With countless options catered to fit any taste, it's a far cry from the half frozen PB&J or stale fries offered at other mountains. You can sit down and nourish your mind and body. Then, after you've recharged, hit the mountain with a new burst of energy.
It's Friendly for All Levels of Experience

I
f you're sending a group to Shawnee, chances are not everyone will be the same level of experience and ability and that's okay, in fact it's encouraged. Only 25% of Shawnee's trails are expert level, and the rest are geared toward beginners or just average skiers. Shawnee staff is trained to help everyone of all levels, through lessons on skiing or snowboarding and everything in between. Just like how you can't have *NSYNC with only Justin Timberlake, Shawnee is here for you, regardless of your ability.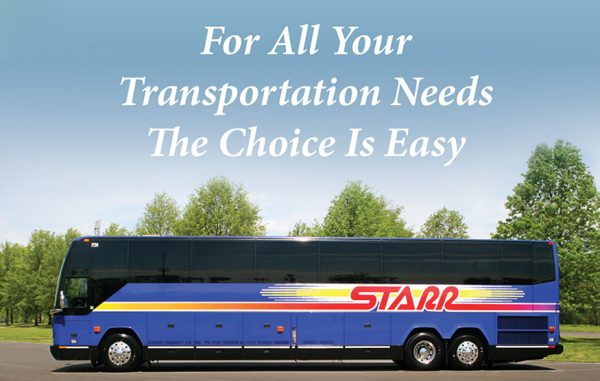 Now you're almost all set with your trip to Shawnee. All you have to figure out is transportation. Here are three reasons why you need to choose Starr buses for your Shawnee Mountain experience.
Great prices
Between gas money, random stops, and bribing cashiers to let you use their bathroom, road trips can be shockingly expensive. Cut to the chase and choose Starr. With affordable prices and guaranteed satisfaction, you can be sure to avoid those little fees, and it will definitely  be more comfortable than the backseat of a minivan. Avoid the awkwardness of the whole ¨you owe me gas money¨ conversation and let yourself relax. With prices as low as $26 a person, it's a sure deal, plus booking with Starr gets you a discount at Shawnee.
Safety First
Transportation can be such a bummer on a perfect day. You can have the perfect skiing trip planned, and have it all ruined by trying to make plans on who is going to drive who. Now, it's your responsibility to deal with Tommy's weird uncle, and figure out if Jill's grandma is too old to drive. It's understandable to be worried about safety so solve everyone's problems by hiring a professional. You'll give the entire group the thrill of a luxury bus and the parents peace of mind. With a professional and friendly driver, you're sure to get to your destination on time and completely safe. With one of the best driving safety rates in the industry, you can be sure to trust Starr.
Starr solves all of your logistical nightmares
Okay, so you're almost finished, you have booked, chosen and vetted every part of your trip, and you can almost taste the crisp mountain air – you're so close. But then you try to figure out rides and it's a nightmare. Julie can drive, but she has to be home by 2:30 for soccer, leaving three kids without a ride home. Kevin gets carsick, so he has to have a window seat, Anna and Hallie refuse go unless they can sit together, and if Robbie is anywhere near Colin, it'll be a bloodbath.  Between dealing with the schedules and preferences of parents and kids it's easy to get caught up in the mess. So take a Starr bus, and be guaranteed a safe, easy drop off and pick up. With the space and room of a deluxe bus, everyone can get what they want saving both the kids and parents of unneeded drama. Before you know it, you will have glided into Shawnee, stress free and ready to take on the mountain.
You've heard the facts, and the choice is clear. Skiing is the trip, Shawnee is the venue, and the Starr will take you there. All that is left is you. Make your group's reservation with Shawnee Mountain online. Then, contact Starr's Charter Department. Get ready for the jolly season and embrace all things winter.