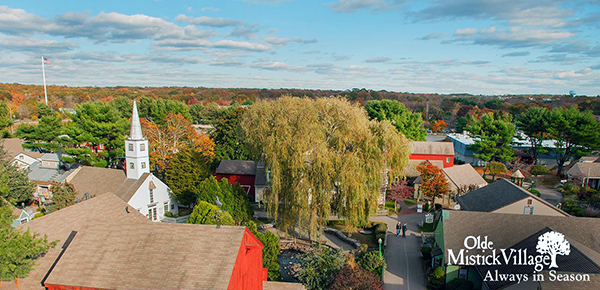 Olde Mistick Village is a top-rated hot spot in Mystic, Connecticut! A trip to this quaint New England village is like a journey into Colonial New England where fastidious attention to detail gives visitors an authentic historical experience into the 18th-century. Known for its tranquil and serene atmosphere, you can get lost in the charming shop windows and divine restaurants. There are no two places the same! So when you take your trip to Olde Mistick Village and you have some free time to explore, how on earth do you choose what to do?
Here are some inside tips to some of the best and most popular things to do in the area:
Browse the shops! Enjoy a leisurely stroll down the brick pathways, popping in and out of the adorable shops along your way. From specialty food stores highlighting products like honey, chocolate, and olive oil,  to international stores with items from Tibet, Ireland, and Scandinavia, you're sure to find unique items to bring home with you! There's even a general store! With men's and women's clothing, jewelry, home décor, and much more, these shops really have everything and more!
Feeling hungry? Grab some lunch or a snack at one of Olde Mistick Village's one-of-a-kind restaurants. Enjoy a classic wood-fired pizza at Mango's Wood-Fired Pizza Co. Watch as they prepare your pizza in the open kitchen with traditional artisan methods. This option is sure to be a hit! For a fun and modern setting, you might want to opt for some seafood at Go Fish. When you're back on the move and you have a bit of a sweet tooth, stop by Bleu Squid, known for their award-winning cupcakes, or Mango's Homemade Ice Cream!
Sit back and relax! After you've browsed the shops and found your treasures, grab lunch and sit outside. Picturesque settings of trees and flowers and a duck pond are the perfect backdrop to people watching and leisurely conversation.
At Starr, we love giving our customers the opportunity to go off on their own and explore the destinations a little more. This is exactly why we've added some "on own" time to your agenda! How you spend this time is all up to you, but there is no question that every minute is sure to be enjoyable in Olde Mistick Village. Between the shops, the dining, and the scenery, there is something for everyone!
You can visit Olde Mistick Village on the following tours:
Cape Cod & Martha's Vineyard
Cape Cod, Martha's Vineyard, & Nantucket
Gloucester Whale Watch
Newport Lobsterfest
Newport Flower Show
Olde Mistick Village Photo Courtesy of Mystic County Connecticut