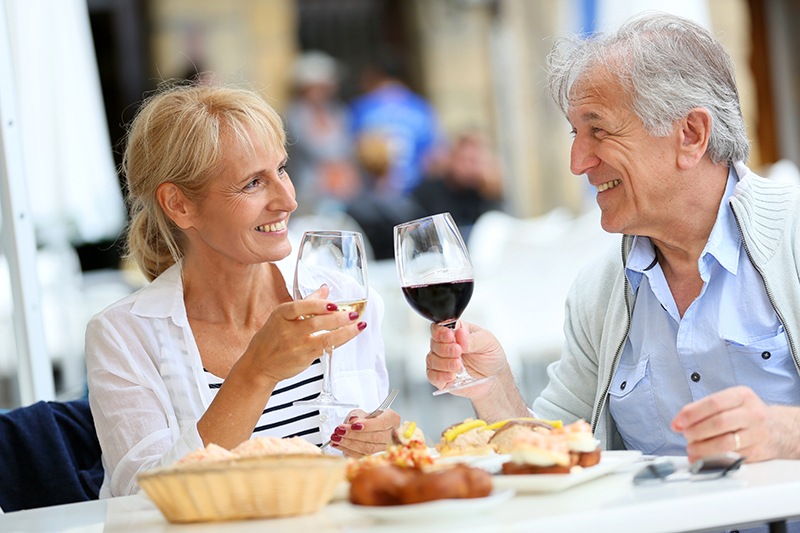 Wine is a wonderful way to complement nearly any meal. From seafood to steak, to the most decadent of desserts, a nice glass of something red or white can complete your entire dining experience. But do you know what pairs best with your entrée?
Here are some tips for picking the perfect pairing:
Light to Dark:
Experts say that you should always drink "light to dark." This means that with appetizers, such as cheese or salad, start with a light dry white wine. Examples of this could be Sauvignon Blanc, Pinot Grigio, or Albarino. Light dry whites also pair well with fish.
Your sweet white wines, such as Riesling, Chenin Blanc, or Moscato (my personal favorite), pair best with soft cheeses, carbs, cured or smoked meats, and desserts. Rich whites, like Chardonnay or Oaked Whites, go together with roasted veggies, carbs, rich fish (like crab/lobster) or white meat. If you prefer something sparkling, like champagne, the taste is best suited with appetizers or with fish.
All of your standard red wines pair best with meat, as they embody a fuller, richer taste. A light red wine like Pinot Noir can easily go with rich fish as well, like crab or lobster, and can also pair with chicken. For your red meats and cured or smoked meat, your best bet is to go with a deeper red (a medium or big red) like Merlot, Tempranillo, Cabernet Sauvignon, or Zinfandel.
Finishing off your wines with big flavor are the dessert wines – Port and Tawny Port, Sherry, or Lake Harvest. These wines naturally pair well with dessert, cured and smoked meats, or carbs.
Pairing by Flavor:
If you're more interested in pairing by flavor, with items such as pasta, which typically boasts of tomato-based red sauces, then look for a versatile wine like Pinot Noir. If your dish has a bit of a spicy kick to it then you might prefer a red wine like Sangiovese.
When all else fails and you find that your dish has a variety of flavors and cannot figure out which wine would go best, consult your waiter's opinion. They are usually very knowledgeable on these pairings as well and will be happy to help you find the right wine for your meal. Often times, a restaurant may even offer a tasting to help you see if the wine suits your preference.
For further consideration, I highly recommend this chart to help you better decide your pairing. Happy tasting!