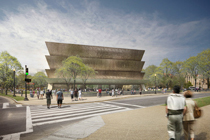 Ground-breaking history is soon to happen in Washington, DC as the new National Museum of African American History and Culture (NMAAHC) opens its doors to the public on September 24th. It will be the 19th and newest museum of the Smithsonian Institution. The NMAAHC captures the roots of African American history where you can explore the story of America through the lens of the African American experience. Like the Smithsonian museums in DC, cost to the NMAAHC is free to all, which makes this a great stop on any trip to the city.
The NMAAHC will exhibit showcases and stories of African Americans who paved the way as trailblazers, innovators, visionaries and history makers. The primary focus is on history, culture, and community. More than 33,000 artifacts have been collected and will be on display throughout the museum. Currently, "Through the African American Lens" is the National Museum of African American History and Culture's eighth exhibition and is on display at the Smithsonian's National Museum of American History until the NMAAHC opens its doors on September 24th.
The artifacts on display at the museum have been graciously donated by individuals across the nation. They cover a multitude of topics like education, military service, popular culture, religion, sports, and visual arts. These are wonderful and historic examples of the African American struggle, determination, and pride that has built our nation.
The National Museum of African American History and Culture is sure to be an educational and enlightening experience on any trip to the nation's capital. Let us take you there!