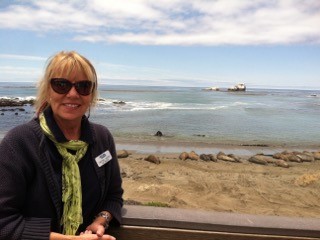 Escorting passengers three times on Starr's Cross Country tour has touched me with so many terrific memories. Of course, there were the famous landmarks beginning with the Gateway Arch in Missouri, the Grand Canyon in Arizona, Mount Rushmore in South Dakota, Old Faithful in Wyoming, and the Golden Gate Bridge in San Francisco. Not to forget the Grand Teton Mountains, the Great Plains, the Sonoran and Mohave Deserts, Lake Tahoe and streams and waterfalls, and the Pacific Ocean.  Even with all of this beauty and wonder, I will never forget the in-between memories that were reflective of the passengers on the tour as well as the people I had met along the way.
One day after being on the road for a week, one of our passengers asked me if he could talk on the microphone for a few minutes. Not knowing what he was up to but thankful for a talking break, I quickly agreed.  Little did any of us know, he was observing our daily activities and would spend his evenings writing lyrics about some missteps— like someone leaving house keys in a hotel room, meeting up with a snowfall in Nevada in July, or being awakened in the middle of the night by a hotel fire alarm because someone got stuck in the elevator.  Not only did he sing the song but he accompanied himself with a portable cassette player—remember them? We laughed so hard and so long that he never had to ask for the microphone again.  He had a standing gig on the bus each week thereafter. We could hardly wait to hear what and who he was going to sing about next.
Food was always on our minds when traveling cross country.  Starting with satisfying hotel breakfasts to surprise snacks shared by our passengers.  It was not unusual for a bag of grapes to suddenly appear being passed up and down the aisle followed by a big bag of chocolate candies.  Then there was the box lunch in the middle of the Painted Desert in Arizona – not another vehicle in sight as we savored the solitude and the indescribable landscape.  Dinners ranged from fine dining menus to pizza delivered to hotel rooms.  One of my favorite food memories was our stay in Los Angeles.  Our hotel was across the street from Ralph's Supermarket.  One of the passengers asked me what my dinner plans were for the evening.  I mentioned I was going over to Ralph's for a roasted chicken and something from the salad bar.  She thought that was a swell idea and joined me by the pool.  There we were surrounded by California palm trees and digging in to our dinner with plastic knives and forks.  Fine dining— at least in our minds!
Probably the number one question I get about the cross country tour is "What about laundry?"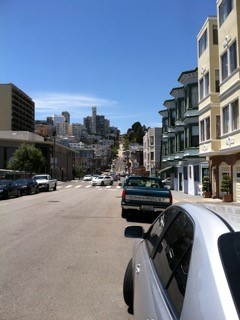 Starr has that figured to a "tee"! —pun intended.  Many of the hotels en route have laundry facilities on-site.  The passengers were great about taking turns doing their laundry to everyone's satisfaction.  After 14 days on the road, I decided to do my laundry in San Francisco.  Unfortunately, for me, there were no on-site facilities.  Desperate times called for desperate measures.  So after a few directions from the front desk, I packed up my dirty laundry in a small suitcase and rolled my way up a couple of hills in San Francisco to the neighborhood laundromat humming, "I washed my socks in San Francisco. . ."  Being in the heart of this famous town, game me a bird's eye view of its diversity when I met a young man from New Jersey who moved there a year ago for a job.  He was cleaning his apartment and doing his wash before his mom's visit that weekend.  Then there was the girl with multiple tattoos who ran in and out checking on her stash in the dryer.  While waiting for my wash to be completed, an elderly Chinese gentleman wearing a large straw hat, asked me if I was from Australia?  Somewhat amused, and somewhat flattered, I asked him why he would think that.  He said, "because everyone that comes in here is from Australia."   I had to chuckle because when I first arrived at the laundromat— a mother and daughter who helped me maneuver the money changer told me that they were on a three-week tour of the States – from Australia!
On our 26th and final day on the road and after traveling over 7,000 miles—yes, on a bus—yes, with the same people—a couple of our male passengers asked if they could say something to the group.  It came as no surprise that their comments brought tears to everyone's eyes.  They, too, spoke about their memories that no guidebook could explain nor postcard could picture—those in-between memories!
I hope you one day have a chance to collect your own treasure trove of in-between memories on our wonderful Cross Country tour!
Christine Durling, Starr Tour Director